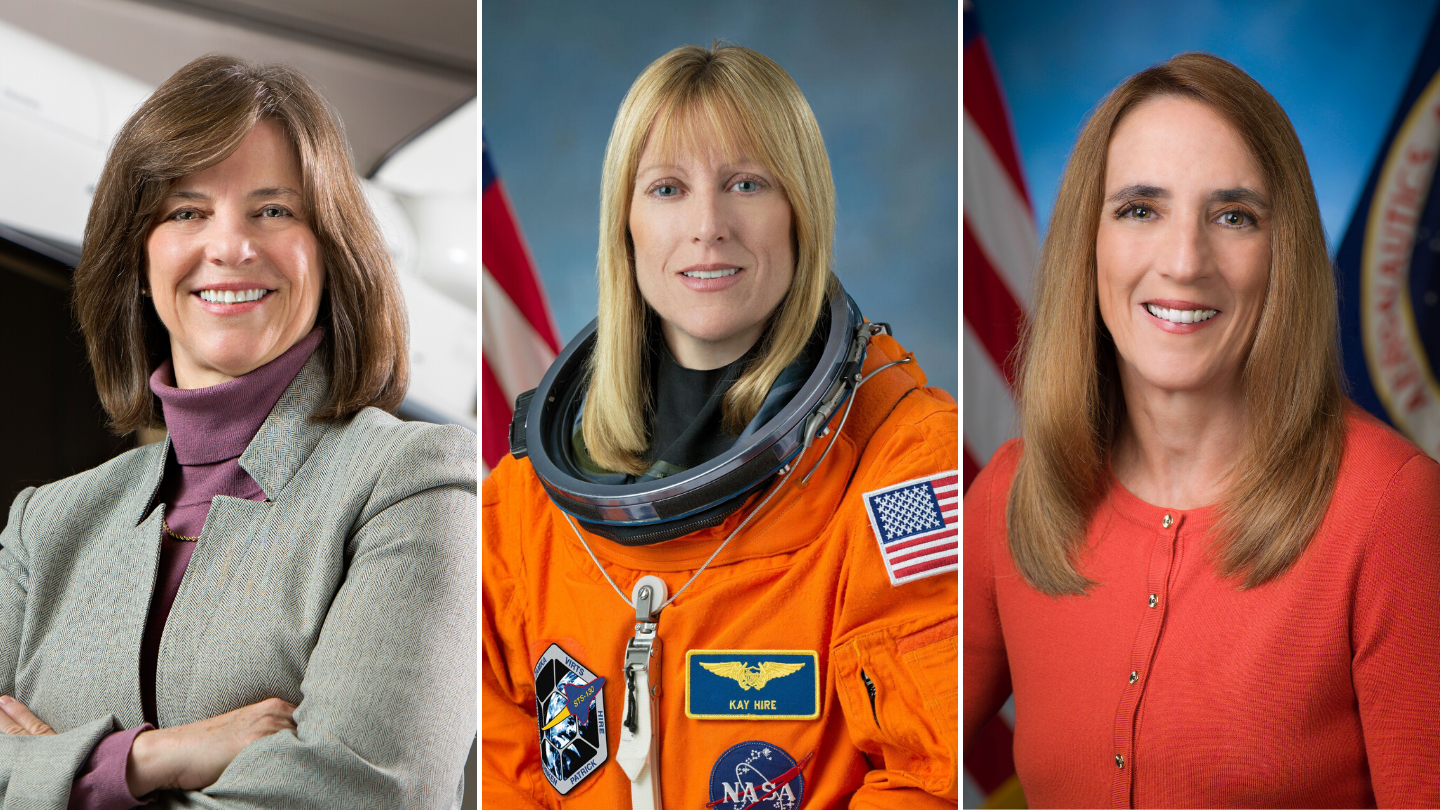 SXSW EDU is excited to announce three former NASA astronauts, Dr. Bonnie Dunbar, Captain Kathryn "Kay" Hire, and Dr. Nancy Currie-Gregg who will take the featured stage this coming March in conversation with President of the Aldrin Family Foundation, Andrew Aldrin.
With NASA's initiative to send humans to Mars in the 2030s, future astronauts and the team that will support them are currently in grade school. The former astronauts will discuss why we must inspire students and how to prepare future generations to continue deep space exploration. The conversation will also include how education played a role in Dunbar, Hire, and Currie-Gregg applying to the NASA Astronaut Corps as well as who inspired them.
Bonnie Dunbar – Dr. Dunbar is a retired NASA astronaut, engineer and educator, currently with Texas A&M Engineering as a Texas A&M Engineering Experiment Station (TEES) Eminent Research Professor in the Department of Aerospace Engineering. Dunbar, who is a member of the National Academy of Engineering, came to Texas A&M from the University of Houston where she was an M.D. Anderson Professor of Mechanical Engineering. There she provided leadership in the development of a new integrated university science, technology, engineering and mathematics (STEM) center and was Director of the Science and Engineering Fair of Houston. She also taught the Mechanical Engineering "Introduction to Engineering" course, and directed the SICSA Space Architecture and Aerospace graduate programs. She has devoted her life to furthering engineering, engineering education, and the pursuit of human space exploration. Dunbar worked for The Rockwell International Space Division Company building Space Shuttle Columbia and worked for 27 years at NASA, first as a flight controller; then as a mission specialist astronaut, where she flew five space shuttle flights, logging more than 50 days in space.
Kathryn "Kay" Hire – Commissioned as a Naval Officer in 1981, Hire earned her Naval Flight Officer Wings in 1982. She flew worldwide oceanographic research missions to 25 countries aboard specially configured P-3 Orion aircraft with Oceanographic Development Squadron Eight (VXN-8). She later taught airborne navigation for three years to over 600 student naval flight officers. In 1989, Hire left full time naval ranks and began parallel but separate civilian and military careers as a Space Shuttle Engineer and as a Navy Reserve Officer. On May 13, 1993, Hire, became the first female in the U. S. military to be assigned to a combat aircrew, when she reported to Patrol Squadron Sixty-Two (VP-62). She was recalled to active naval duty supporting Operation Enduring Freedom and Operation Iraqi Freedom as a member of U.S. Naval Central Command staff. Hire later resumed part-time reserve status and served as Commanding Officer of Space and Naval Warfare Systems Command (SPAWAR) Unit 1010. Hire started at NASA's Kennedy Space Center (KSC) in 1989 as an engineer for Lockheed Space Operations Company. During her six years at KSC, she processed Space Shuttles from landing through ground preparations and launch countdowns for over 40 missions. Hire reported to the Johnson Space Center for Astronaut training in March 1995. Hire flew on Space Shuttle missions STS-90 (1998) and STS-130 (2010). She has logged over 711 hours in space.
Nancy Currie-Gregg – Dr. Nancy Currie-Gregg has extensive experience supporting NASA's human spaceflight programs and projects. Selected as an astronaut in 1990, she accrued 1000 hours in space as a mission specialist on four space shuttle missions. A retired US Army Colonel and Master Army Aviator, she logged over 4,000 flying hours in a variety of rotary-wing and fixed-wing aircraft. Following the Columbia tragedy, she led the Space Shuttle Program Safety and Mission Assurance Office directing safety, reliability, and quality assurance efforts enabling the safe return to flight of the Space Shuttle in 2005. She then served in senior engineering positions at NASA, including Chief Engineer and Principal Engineer for the NASA Engineering and Safety Center. In the fall of 2017, she joined Texas A&M University where she is a Professor of Practice in Industrial and Systems Engineering and Aerospace Engineering and leads Agile Technology Development for Army Futures Command projects at the Bush Combat Development Complex.
Andrew Aldrin – Dr. Andrew Aldrin is President of the Aldrin Family Foundation, a charitable 501 (c)(3) organization dedicated to harnessing the inspiration of space to ignite a passion for education in students of all ages and backgrounds. He has served in leadership roles in this organization since 2014, and overseen the extension of educational programs to over 300 elementary schools and universities. Florida Tech and an Associate Professor of Engineering Management at Florida Tech. Before his current work in academia, Dr. Aldrin had a distinguished career in industry and government research including executive positions at Boeing, United Launch Alliance and Moon Express.
With the exciting featured session, we're also celebrating 48 mentors confirmed for one-on-one meetings, and over 50 new sessions that have been added to the growing lineup for SXSW EDU. More details follow below.
Mentors
Mentorship is one of the key networking components for SXSW EDU and we are thrilled to announce the initial line-up of participating mentors. Attendees seeking solutions and advice can sign up to participate in a 15 minute, one-on-one session with a mentor. This year, mentors bring expertise in areas spanning all 17 programming tracks. From Higher Education, Informal Learning, Accessibility & Inclusion, and more — take advantage of the opportunity to meet with a mentor and sign up when the RSVP platform launches in February.
Alexander Kopelman (Informal Learning)
Alexandra Ellison (Higher Education)
Andrew Frishman (K-12 Education)
Ashley Bass (Adult Learning)
Atish Gonsalves (Emerging Tech & Development)
Autumn Ottenad (Leadership)
Barbara Bray (Global Education)
Carolyn Foote (Informal Learning)
Catherine Spear (Equity)
Christopher Stanfill (Global Education)
Cody Sigmon (Policy & Civic Engagement)
Dave Poirier (Accessibility & Inclusion)
Dawn Kurtz (Early Learning)
Emily Santiago (SEL & Wellness)
Frederick V Engram Jr (Higher Education)
Graham Forman (Business & Investment)
Heather Haynes Smith (Accessibility & Inclusion)
Heather Stinnett (Student Agency)
Hudson Baird (Adult Learning)
Jacqueline Gardy (Global Education)
James Miles (Arts)
Jeffrey Abramowitz (Adult Learning)
Jen Tutak (Higher Education)
Jeremy Roberts (Business & Investment)
Jessica Falkenthal (Business & Investment)
John Troy (K-12 Education)
John Vitti (Student Agency)
Joseph DiLucente (Global Education)
Joseph Seivold (Leadership)
Josie McSpadden (Policy & Civic Engagement)
Jules Khong (Emerging Tech & Development)
Julie Willcott (Emerging Tech & Development)
Kanesha Baynard (Leadership)
Kate Fitzgerald (Informal Learning)
Lindsay Portnoy (Science of Learning)
Marc Cicchino (Science of Learning)
MarIa Garcia (SEL & Wellness)
Maria Martha Chavez Brumell (Policy & Civic Engagement)
Michael Mittelstaedt (Arts)
Monica Hammond (Adult Learning)
Patricia Wong (Equity)
Rebecca Sadwick (Business & Investment)
Rick Brennan (Informal Learning)
Sarah Louisa Birchley (Global Education)
Suchitra Gururaj (Higher Education)
Uzma Chowdhury (Equity)
Wendy Little (K-12)
Yu-Chih Wu (Arts)

Sessions
After revealing over 300 sessions and events, we are sharing more than 50 sessions newly added to the program. Days are now live in the official SXSW EDU 2020 schedule, so be sure to log in and start favoriting programming you'd like to attend each day.
Campfire
Interrupting the Pre-Prison to Prison Pipeline (Equity)
Election 2020: Experiential Learning & You (Higher Education)
Statistics: The Superpower Every Student Needs (Higher Education)
Designing a Human-Centered University (Higher Education)
Beyond the Buzzwords: Truly Centering Students (Higher Education)
Generation Regeneration: Hope Through Education (Policy & Civic Engagement)

Case Study
Schools & Philanthropy: SEL Heaven or Hell? (SEL & Wellness)

Future20
Failing Forward: Learning from 'Turnarounds' (Leadership)
Classrooms of Future / Data Models for Education (Emerging Tech & Development)
What Every Educator Needs to Know About AI (Emerging Tech & Development)
By Students for Students: Design for Mental Health (Higher Education)
Fighting for Edu Equality Beyond MOOCS in Cambodia (Global Education)
Sex Education for Everyone (K-12 Education)
Project LIT Community: Just Read It (K-12 Education)
Technology Fear Therapy (SEL & Wellness)
Student Empowerment in a Time of Crisis (Policy & Civic Engagement)
Shaping Education for the Future of Work (Higher Education)
The Storyplex: How Immersive Narrative Has Evolved (Emerging Tech & Development)
Family Engagement to Close the Achievement Gap (Early Learning)
Does Student Success Scale? (Higher Education)
View from the Canopy: Trends in School Innovation (K-12 Education)
Behind the Black Mirror EdTech Privacy & Security (Emerging Tech & Development)

Meet Up
Black Teachers Matter: Community Storytelling (Equity)

Panel
Bridging Opportunity Gaps with AI & Tutors (Equity)
Empowering Latinas: Education and Entrepreneurship (Business & Investment)
Behavioral Threat Assessment & Community Resources (Policy & Civic Engagement)
My Future Job: A Love Story (Business & Investment)

Podcast
Unlocking Student Behavior Challenges (K-12 Education)

Policy Forum
A Changing Texas: How Pub Ed Needs to Respond (Policy & Civic Engagement)
The Educator Vote: Why it Matters (Policy & Civic Engagement)

Talk
Youth Development Knows Social Emotional Learning (SEL & Wellness)
CTE & Esports: Gaming Your Way to Work (K-12 Education)
Connecting Higher Education and Employers at Scale (Higher Education)
Be Part of the Learning Revolution with Fortnite (K-12 Education)
Student Led Conferences (Leadership)
The EdTech Founder Sales Conundrum (Emerging Tech & Development)
Just Do It! Partnerships for Scaling Impact (Business & Investment)

Workshop
Playful Assessment Designathon (K-12 Education)
Rikers to Rutgers: Ending School-Prison Pipelines (K-12 Education)
No Textbooks, No Tests – the Hardest Class (Higher Education)
National SEL Challenge League (SEL & Wellness)
Making Educational Videos: Teacher-Created Content (K-12 Education)
Together! A Tool to Design with and for All Voices (Leadership)
Bankrolling Better Teaching (Higher Education)
Python For Asteroids: NASA Data for the Classroom (Emerging Tech & Development)
Designing Educational Engagement with XR (Emerging Tech & Development)
How Do We Love Our BLACK BOYS? (Equity)
Making: Big And Small. Scaffolding by Context (K-12 Education)
Relationships to Address Trauma in Early Learning (Early Learning)
Teaching Teachers Self Care (SEL & Wellness)
Teaching Breath: A Powerful Tool for Success (SEL & Wellness)
Focusing on Strengths in a Weakness-Obsessed World (Leadership)
Define Your WHY to Live and Learn on Purpose (SEL & Wellness)
Art in Motion (Arts)
Democratizing Purpose (Student Agency)
How to Scale Innovations in Education (Global Education)
Modeling Best Practices: Strategic PD for Educator (Adult Learning)
Design 4 Impact: A Student Led, K-12 Revolution (Student Agency)
Make Code You Can Touch (Emerging Tech & Development)
Navigating Research Uncertainty with UI/UX Design (Science of Learning)
Tell Your Story: Dream. Design. Deliver. (Business & Investment)
Art of Community: Designing & Measuring Community (Leadership)
The Nimble Innovator: Prioritizing Prototypes (K-12 Education)
Evaluating Impact: A Case for Esports in Schools (K-12 Education)
Celebrating a Decade of Edcamp (Informal Learning)
Co-Parenting Shower (Early Learning)
Drag Queen Story Hour: The Power of Storytelling (K-12 Education)

Join Us at SXSW EDU 2020
Register now to hear from these speakers and more at SXSW EDU, March 9-12, 2020. Purchase your registration badge by Friday, January 17 to save $110 on the walk-up rate. SXSW EDU also offers group and student discounts.
Stay in the know with SXSW EDU by signing up for the SXSW EDU Event Update and follow us on Twitter, Facebook, and Instagram for daily updates.
Photos courtesy of the speakers (l-r) Bonnie Dunbar, Kathryn "Kay" Hire, Nancy Currie-Gregg, and Andrew Aldrin.