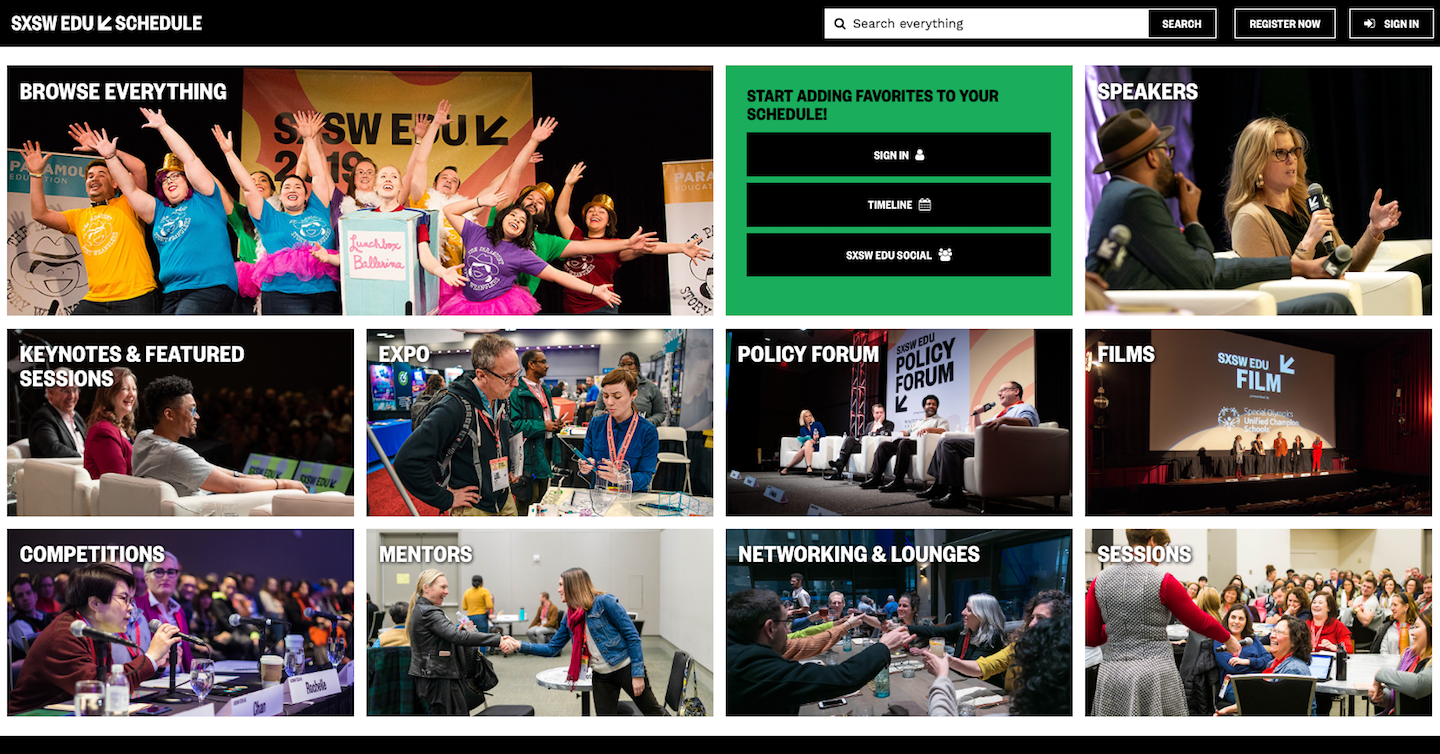 Whether you are registered to attend SXSW EDU or not, you can browse the continuously updated list of SXSW EDU sessions and events, and build your personal schedule online. Read the following for more information to help you get started.
Explore the 2020 SXSW EDU Schedule
How to Sign In
Simply click the Sign In text in the upper right-hand corner of the SXSW EDU Schedule and log in using the same username and password combination you use to log into your SXSW Account. Don't have an account yet? No problem – create a new universal SXSW Account.
Note: If you have previously created an account for SXSW, your log in information will be the same as last year. You will get a new "Link Code" to reactivate your EDU Social account once you have registered to attend.
Once you are logged in you can add events to your schedule by clicking the star icon on any event page. Additionally, you can view all events in your schedule by clicking the My Favorites tab located on the homepage or in the upper, right-hand dropdown on the online schedule.
If you are having trouble accessing your account, click Reset Password at the bottom of the Sign In window. Simply enter the email address you used to register for your SXSW Account into the Forgot Your Password? box and a password reset email will be sent to your email account.
Linking Your Badge
You will want to "link your badge" so that your
Once you have registered to attend SXSW EDU you will want to link your badge to your schedule account. Select "link a badge" in the upper right-hand drop down menu, under your name. Please paste the Link Code from your confirmation email to link your badge.
While in the online schedule you have the ability to "link your badge" and "unlink" from the schedule while signed in – this button is visible when logged in on either side of your screen. The badge link and unlink functions will still be available in SXSW Social.
Finding Events and Building Your Schedule
To add items to your personal schedule simply star them. You can view what you have stared at any time by selecting "My Favorites" in the right-hand drop-down below your name.
There are several ways to browse through the schedule to find sessions and events. Here are a few:
Browse by Day – You can only be one place at a time so browsing the schedule by day and time is an easy way to avoid over-committing yourself.
Browse by Track – Tracks are broad topics used to organize the program and help illuminate overarching focus areas such as equity, arts, or student agency. There are 17 total tracks for SXSW EDU 2020.
Browse by Format – The format reflects the structure, presentation style, and length of the session. For example, a Future20 is a 20 minute presentation with a single speaker while a workshop is a 90 minute, in-depth session with up to three speakers.
Browse by Tag – Tags are specific subtopics designed to help attendees find popular content areas on the program. Each session on the schedule has one to two tags associated with it such as libraries, school safety, or artifical intelligence.
Please note that date, time, and venue information will not be made available until closer to the event.
Share Your Schedule
The schedule has a built-in feature that allows you to share your personal agenda. You can turn this feature off if you prefer that your schedule remains private by unchecking the "Share my Schedule" box in your "My Favorites" section. When enabled, you will be provided a unique link that can be sent to your boss or colleagues, and shared with friends and followers on social media.
Sign in to the schedule and start making your plans for SXSW EDU 2019 today. Register to attend early to take advantage of discount savings and gain access to the best available hotel rates in downtown Austin during SXSW EDU.
Join Us at SXSW EDU 2020
Register now to hear from these speakers and more at SXSW EDU, March 9-12, 2020. Purchase your registration badge early to save off the walk-up rate. SXSW EDU also offers group and student discounts.
Stay in the know with SXSW EDU by signing up for the SXSW EDU Event Update and follow us on Twitter, Facebook, and Instagram for daily updates.