Announcing Launch Startup and Learn by Design Competition Finalists and More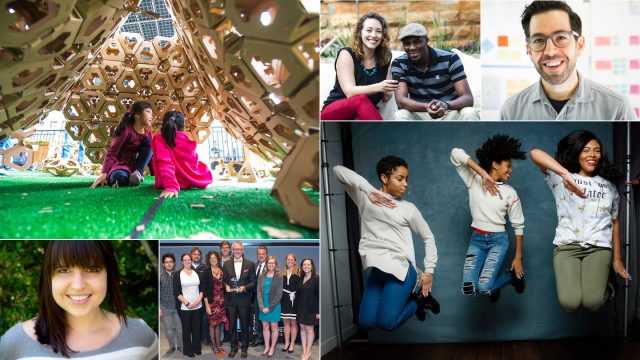 The new year is here and with it, exciting SXSW EDU news! For the 2018 Conference & Festival we are thrilled to announce finalists for the Launch startup competition, emcees and finalists for the Learn by Design competition, film screenings, performances and more.
This announcement offers a look at the 'festival' programming and events that will take place at SXSW EDU 2018. From film screenings to the performance series, festival programing is designed to offer attendees an array of opportunities for learning and professional development, discovering new ideas and encouraging discourse. This lineup augments the traditional conference elements at SXSW EDU including keynotes, policy discussions and more than 400 sessions and workshops.
Explore today's announcement below and browse through the online schedule for a complete look at SXSW EDU 2018.
Launch Startup Finalists
The Launch competition celebrates emerging innovations in learning with a fast-paced pitch competition featuring early-stage startups during SXSW EDU. With nearly a hundred applications received, this year's application process was very competitive.
From the use of artificial intelligence for personalized learning or revolutionary technology designed to help school districts find and hire teachers, to Africa's first mobile learning platform for primary students, these startups are some of the most promising companies from around the globe.
Learn by Design Emcees and Finalists
Learn by Design elevates groundbreaking work that explores the role of physical learning environments and their ability to impact pedagogy and learning outcomes.
The second annual Learn by Design competition will be co-emceed by Sam Seidel, author and Director of K12 Strategy + Research at the Stanford d.school, and Raechel French, DLR Group K - 12 Educational Planner. Both Sam and Raechel have extensive experience exploring innovative solutions to the challenges facing schools including researching and influencing educational spaces.
The ten projects selected as finalists for this year's Learn by Design competition distinctly explore design-based solutions to challenges within education. 40% of the projects take place internationally, 60% in the U.S., and they all range to impact either Pre K-12, higher education or informal learning.
Film Screenings
SXSW EDU celebrates the power of film for exploring critical topics and issues impacting education with screenings and Q&A discussions.
The first three films announced to screen at SXSW EDU are Fail State, directed by Alexander Shebanow, STEP, directed by Amanda Lipitz, Show Me Democracy, directed by Dan Parris, and the Texas High School Film Shorts.
Read the synopsis and watch the trailers to learn more about each of these films.
Performances
Performances, featured throughout SXSW EDU, offer attendees the opportunity to experience and reflect on the value of performing arts as a vehicle for deeper learning. Each of this year's performances will be followed by a workshop-style experience that will provide further understanding of the concepts that fueled the performance and in many cases, activities that can be adopted for the classroom.
Exhibitors, Booths and Displays
SXSW EDU features a number of dynamic exhibition spaces that encourage attendees to discover and learn in environments created to enhance their interactive experience at the event. Learn more about each of the exhibitions and explore the list of participating organizations and companies that will be available for to connect with during SXSW EDU.
The Learning Expo, March 5 – 6, is a community event designed to encourage and inspire learners of all ages to identify and reach their education and career goals.
View 2018 Learning Expo Exhibitors
The Innovation Hub, March 6 – 7, is a dynamic space designed to connect education professionals across industries.
View 2018 Innovation Hub Booths
The Playground,March 6-8, is a discovery-based learning environment for attendees to explore best practices, activities and technologies that can improve their teaching and learning.
Additionally, each exhibition will feature a unique lineup of session programming and networking events. Visit the Learning Expo, Innovation Hub and Playground pages to learn more.
More to Come...
We're not done yet! Stay tune as we continue to announce conference programming and festival events for SXSW EDU, March 5-8, 2018. If you have not already, explore previous announcements and login to the online schedule to begin building your personal schedule.
Register to attend SXSW EDU before this Friday, January 12 to take advantage of the January discount rate and save $100 on the price of your badge. Once you've registered to attend, book your hotel accommodations through SXSW Housing & Travel for the best available rates in downtown Austin.
SXSW EDU festival announcement photo (left-right, top-bottom) Learn by Design finalists HEART board Pyramid, Launch finalists M-Shule team, emcee Sam Seidel, emcee Raechel French, Launch finalists PAIRIN team, STEP film still.