SXSW EDU Film & Performance Lineup Announced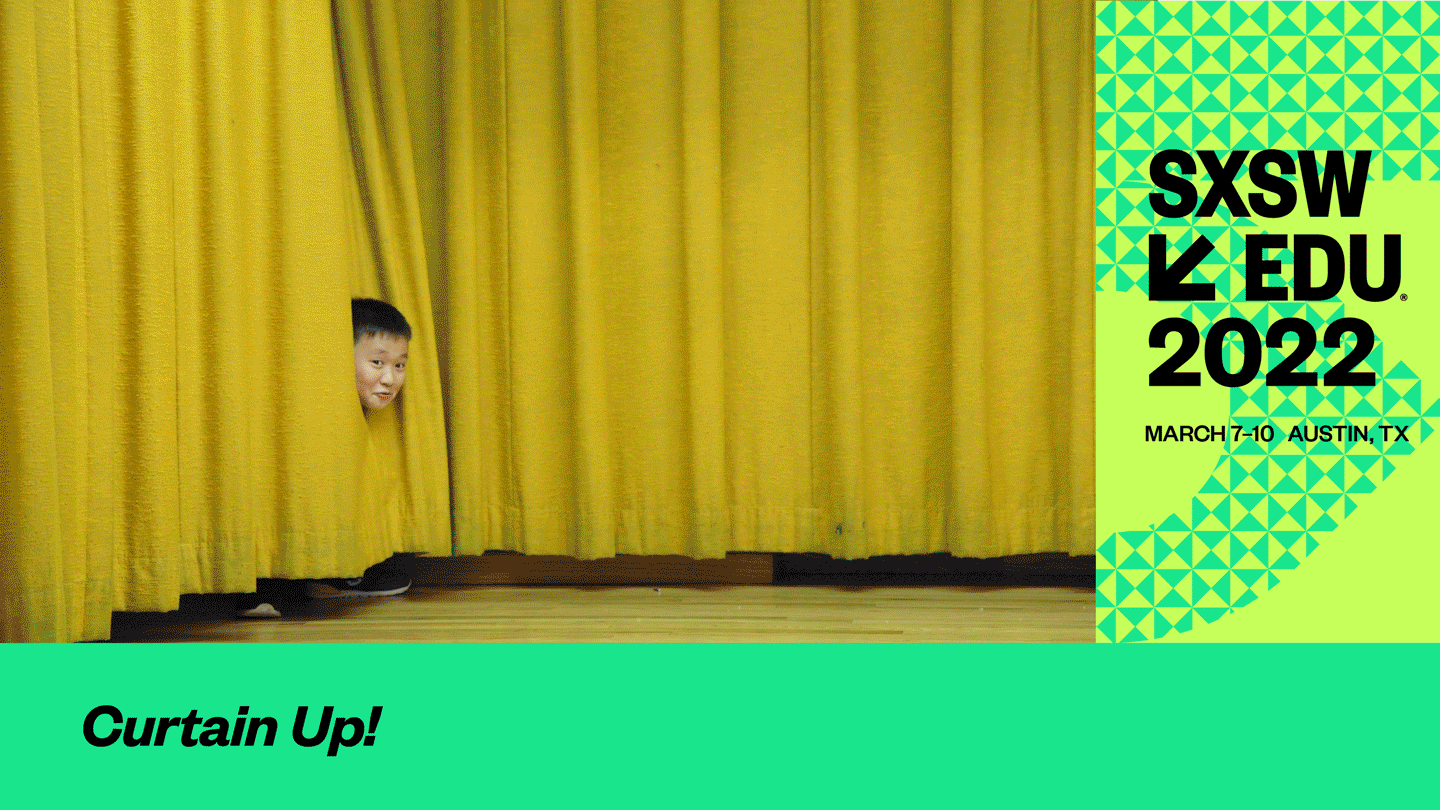 Today's announcement celebrates films and performances, both of which are key components that create the unique festival element of SXSW EDU, March 7-10, 2022.
These robust programs are an opportunity for attendees to experience the power of art as a path to a deeper understanding of experiences and challenges within education and beyond.
The film lineup features a diverse selection of poignant stories shining a light on issues such as school safety, pollution, and mental health. The exciting performances taking the stage share a mission to create more inclusive and accessible spaces through artistic expression.
Plus, we are thrilled to announce three immersive art installations that will be on display during the event courtesy of the SXSW Art Program.
Films
Beyond Men and Masculinity
Director: Alex Gabbay Beyond Men and Masculinity explores the harmful expectations of masculinity, facilitating discussions on shame, anger, and the transmission of patriarchy, and creating a dialogue around power, relationships, and diversity in gender expression.
By Design: The Shaping of Nashville's Public Schools
Directors: Katie Cour, Jennifer Hill By Design: The Shaping of Nashville's Public Schools examines historical moments of public schooling in Nashville dating to the 1800s and the effects of city policies and community priorities on schools.
Join Katie Cour, president and CEO of Nashville Public Education Foundation and Jennifer Hill, vice president, policy and programming, Nashville Public Education Foundation for a post-screening Q&A.
Curtain Up!
Directors: Hui Tong, Kelly Ng In New York City's Chinatown, the theater club of PS 124 is staging an adaptation of the film "Frozen". CURTAIN UP! shares a kid's-eye view of the wonders of discovering art, culture and identity.
Into the Circle
Directors: Scott Faris, Meg Griffiths Into the Circle tells the story of a resilient Indigenous family, their journey through life-altering tragedy, and the community that helped them reconnect with their Lakota heritage.
Join Universe Creative Co-founders, Meg Griffiths and Scott Faris and NACA Inspired Schools Network Executive Director, Anpao Duta Flying Earth for a post-screening Q&A.
Let the Little Light Shine
Director: Kevin Shaw A high-achieving elementary school in Chicago's fastest growing neighborhood is a lifeline for Black children—until gentrification threatens its closure.
Join Director Kevin Shaw and Producer Rachel Dickson for a post-screening Q&A.
Pulau Plastik
Director: Dandhy Dwi Laksono Through a collaboration between science, activism and the arts, three protagonists explore how plastic is polluting our food and our bodies and what can be done to address the crisis.
Join Dandhy Dwi Laksono, director and filmmaker, Watchdoc Documentary; I Gede Roby Supriyanto, musician and activist; Navicula Ewa Wojkowska, executive producer and co-founder & COO, Kopernik; and Angga Dwimas Sasongko, executive producer and film director Visinema Pictures for a post-screening Q&A.
Summer Nights
Director: Ohad Milstein Summer Nights offers a window into a child's world: his fears, his desires, his way of thinking. It is a journey into the subconscious of an innocent and ingenuous child, as he falls asleep and drifts into the depths of his own mind.
Tomorrow's Hope: The Promise of Early Childhood Education
Director: Thomas Morgan Tomorrow's Hope brings us into the journey of passionate educators and tenacious kids and their families on the South Side of Chicago, determined to carve out the future - despite a sea of incredible challenges.
Join Brenda Eiland-Williford, director, early childhood quality and impact, Start Early; Portia Kennel, senior advisor, Buffett Early Childhood Fund; Jamal Poindexter, student; and Cynthia Jackson, executive director, Educare Learning Network for a post-screening Q&A.
Us Kids
Director: Kim A. Snyder Determined to turn tragedy into action, survivors of a school shooting catalyze an unprecedented youth movement that spreads like wildfire across the world.
Join Director and Producer Kim A. Snyder for a post-screening Q&A.
The Wisdom of Trauma
Directors: Zaya and Maurizio Benazzo The interconnected epidemics of anxiety, chronic illness, and substance abuse are, according to Dr. Gabor Maté, normal. But not in the way you might think.
Performances
Approaching Dance from an Inclusive Perspective
Presenters will share their dance-educational pedagogies and practices that have been developed over many decades. The session will begin in silence, as silence is a way for everyone to be together because not everyone can speak. Body Shift Collective will perform, "Walk and Roll," and then participants will dive into the creation process; try some of the ways in which the choreography was created; and, discuss how material can be adjusted to different age groups and abilities. We end with a Q&A.
Silva Laukkanen, Director of Integrated Dance, Art Spark Texas Tanya Winters, Artistic Director, Art Spark Texas Veronica DeWitt, Master Teacher & Choreographer, Art Spark Texas
Drag Queen Story Hour
Drag Queen Story Hour celebrates reading through the glamorous art of drag. Our chapter network creates diverse, accessible, and culturally-inclusive family programming where kids can express their authentic selves and become bright lights of change in their communities. We envision a world where kids can learn from LGBTQ+ herstories and experiences to love themselves, celebrate the fabulous diversity in their communities, and stand up for what they believe in and each other.
Jonathan Hamilt, Executive Director, Drag Queen Story Hour
Show U How To Do This: Hip-Hop Educators Rock Mics
Hip-Hop educators and panelists become Hip-Hop practitioners and performers, showcasing the totality of their skill-set to captivate audiences. Expect dope beats, elite Emceeing, precise Turntablism, and stories from tour buses and classrooms alike.
Jason Rawls, Founder, Polar Entertainment LLC Richard Croce (MC Bravado), Emcee & Educator, Beats Not Bullets Vinson Johnson (Wordsworth), CEO, Wordsworth Production LLC Asia Matthews, Founder, Creative Outsiders Inc.
Art Installations
Offer Them Comfort. Offer Them Rest by Desireé Vaniecia
This title derives from a poem written by author Nayyirah Waheed regarding fear. In this exhibition, Desireé is documenting her fears of motherhood and coming to terms with situations she has no control over.
ORDER OF MAGNITUDE by Ben Grosser
ORDER OF MAGNITUDE is an epic supercut that chronicles Silicon Valley's 21st century obsession with growth. The film starts from this question: what does Facebook CEO Mark Zuckerberg most care about?
Server: Checks on the Block by Ciara Elle Bryant
Server: Checks on the Block, takes a deep dive look at where Nike Air Force 1's exist in present day culture. The replica wall of all white boxes and piles of used, worn, dirty, and fresh pairs of Forces provide a space for a celebration of culture to happen. Server: Checks on the Block, takes up space and is a visual bibliography of the impact of Blackness in the world of art and streetwear.
See You at SXSW EDU 2022
Mark your calendars for March 7-10, 2022! Register to attend in-person or online today.
Sign up for SXSW EDU email updates, check out the News feed, watch videos, and follow us on Twitter, Facebook, LinkedIn and Instagram.
Film stills, Performance and Art Installation photos courtesy of the participants.