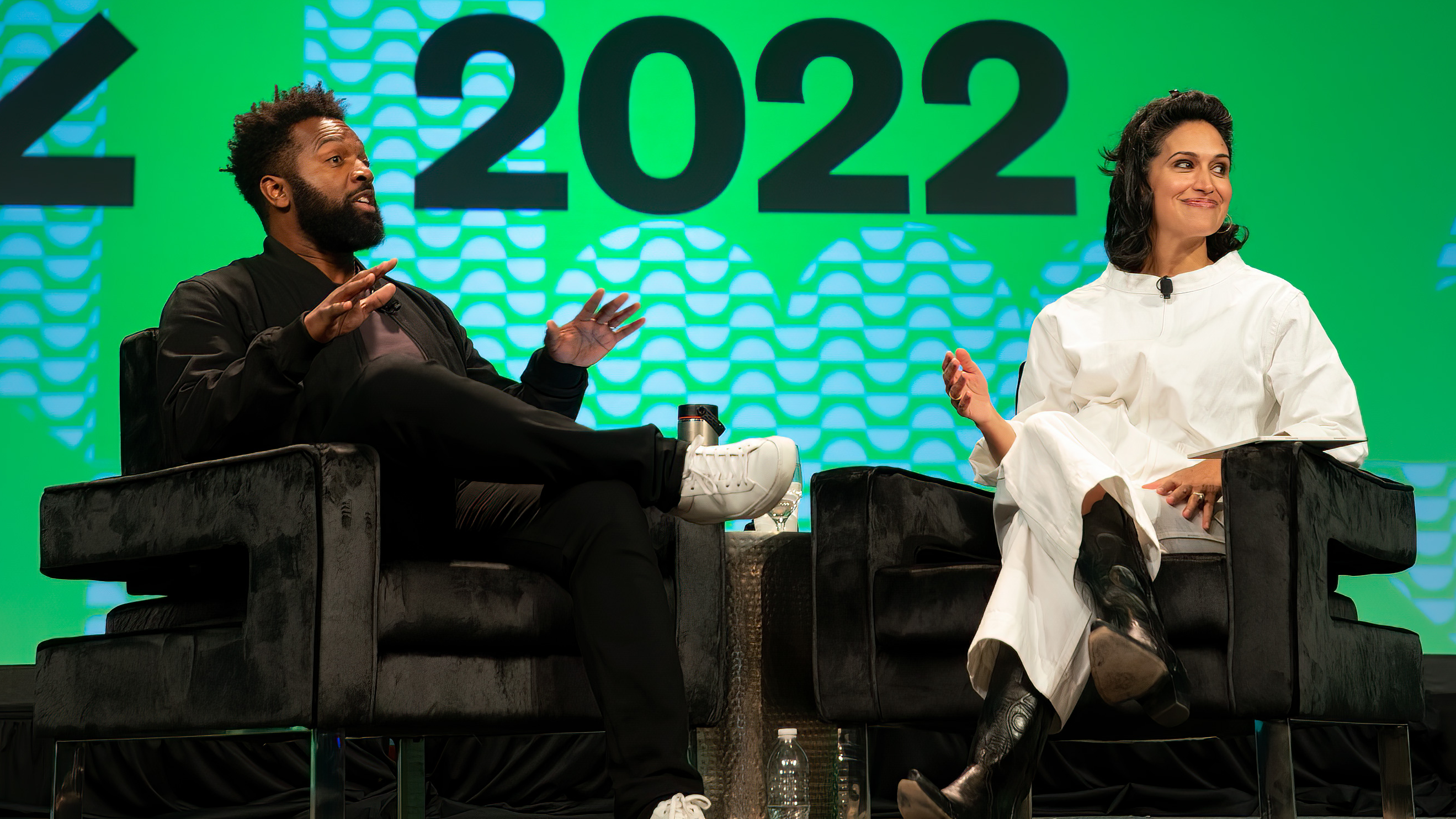 Did you miss SXSW EDU 2022 but still want access to the innovative and powerful content? Now you can with the SXSW EDU After Pass — on sale through April 10, 2022 with access to content through April 17, 2022.
The After Pass digital experience gives you access to more than 60 Session videos on demand (VOD) including all Keynote and Featured Sessions, Performances, exclusive interviews with select participants from the SXSW EDU Live Studio, and more. In addition to video content, browse through more than 150 audio recordings of sessions.
Your pass also provides you networking access to EDU Social, where you can browse the attendee directory and chat directly with other registrants from SXSW EDU 2022.
As a registrant of the full SXSW EDU 2022 in-person or online experience, access to the After Pass content is included in your credential. For anyone else, buy your SXSW EDU After Pass today and get inspired by the powerful thought leaders at this year's event.
Keynote Sessions
Powerful Teaching: Unleash the Science of Learning
Priya Parker & Baratunde Thurston
Reimagining Education with Students at the Center
When Culture Wars Come to School
Featured Sessions
Advancing Climate Action in Schools
Confronting Systemic Barriers in Higher Education
Disrupting Racial Inequities in K-12 Schools
E-V-O-L-V-E: Reimagining the Scripps Bee
Global Access to Education: Knowledge Is a Human Right
HBCUs Embracing the Future of Work
How Student Developers Are Saving the World
Infrastructure for the Future of Education R&D
Misinformation On Social Media: What Can Be Done?
Momentum & Movement: Black Women in Film
Talking Student Mental Health with DMC from RUN DMC
The Power of Data & its Limits
World Building: Prototyping Future of Education
Performances
Approaching Dance from an Inclusive Perspective
Drag Queen Story Hour
Raise Your Voices: Songs for Social Change
Show U How To Do This: Hip-Hop Educators Rock Mics
Special Programs
International Women's Day Celebration
The Future of Workforce Education Series
Studio Interviews
SXSW EDU Studio with Angela Duckworth
SXSW EDU Studio with Antonia Hylton & Mike Hixenbaugh
SXSW EDU Studio with Black Benatar & Lil Miss Hot Mess (Drag Queen Story Hour)
SXSW EDU Studio with Brittany Hogan and Nic Stone
SXSW EDU Studio with Secretary Cardona
SXSW EDU Studio with Dan Carroll and Craig Narveson
SXSW EDU Studio with Darryl "DMC" McDaniels
SXSW EDU Studio with James Miles & Mike Kleba
SXSW EDU Studio with John King
SXSW EDU Studio with Kailee Scales
SXSW EDU Studio with Kim Snyder
SXSW EDU Studio with Mary Schmidt Campbell and David Thomas
SXSW EDU Studio with Max Klymenko
SXSW EDU Studio with Dr. Pooja Agarwal
SXSW EDU Studio with Sam Seidel, Tony Simmons, and Dr. Michael Lipset
SXSW EDU Studio with Sarah Hernholm
SXSW EDU Studio with Tequilla Brownie
SXSW EDU Studio with Zaila Avant-garde
CPE Sessions
SXSW EDU has partnered with the Association of Texas Professional Educators (ATPE) to provide attendees with continuing professional education (CPE) credits. Explore this list of sessions accredited for CPE credits to find more than 40 sessions available on VOD providing a unique code at the end of each session.
Visit atpe.org to create an account and access their online professional learning to earn credits with SXSW EDU sessions. You do not have to be an ATPE member to claim credits. Learn more about how to claim your credits.
Audio Recordings
Browse the full list of sessions and locate the sound icon on more than 150 sessions to listen to the sessions available as audio recordings in the SXSW EDU Schedule.

Networking
Connect with other attendees in EDU Social. Get started by linking your credential to activate your account. Create your profile, explore the registrant directory, and chat directly in EDU Social.
Where to Watch
Watch VOD content and listen to audio recordings in the event listings in the SXSW EDU Schedule.
Enjoy a premium viewing experience by downloading the SXSW EDU TV app where you can stream VOD content. The SXSW EDU TV app is available for Apple TV, Roku, Android TV, and Fire TV, as well as on iOS and Android.
Get Started
Access your link code in your Registration Confirmation email to link your pass and activate your access. You can also find your link code in your Purchase History in the SXSW Cart.
Sign into your SXSW ID account at id.sxsw.com and then paste your link code. Now you're ready to access registrant-only content in the SXSW EDU Schedule and SXSW EDU TV app.
Stay Up To Date
Sign up for SXSW EDU email updates, check out the News feed, watch videos, and follow us on Twitter, Facebook, LinkedIn and Instagram.
SXSW EDU 2022 Keynote Session photo by of Steve Rogers