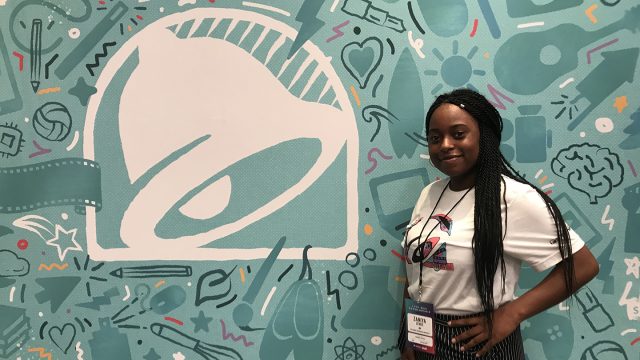 In today's education landscape, young people are pursuing knowledge and tools for lives rooted in social impact. This generation faces an uncertain future, but youth are steadfast in their motivation; 70% of Gen Zers globally are involved in a social or political cause.*
Zaniya Lewis is one such changemaker who translated her passion for social good into a career. In pursuit of social justice and community service, Zaniya created the YesSheCanCampaign to equip those overcoming adversity with tools to succeed in college and beyond.
The Taco Bell Foundation recognized that drive in 2016 by awarding Zaniya a Live Más Scholarship, which was designed for students like her to use their dreams as launchpads for change. Support and community are crucial to making dreams a reality, so we introduced Zaniya to like-minded mentors and scholars to further cultivate her growth while providing the YesSheCanCampaign with grants to facilitate a college and career readiness program. We all need others to champion our goals, and we're proud to be one of many advocates for Zaniya.
As we look to inspire the next generation, we invite other organizations to join us in empowering social entrepreneurs like Zaniya to create solutions for a better world.
*Source: Edelman: The Power of Gen Z
Photo provided by Taco Bell Foundation