Stop by the Coaches Pavilion at the Learning Expo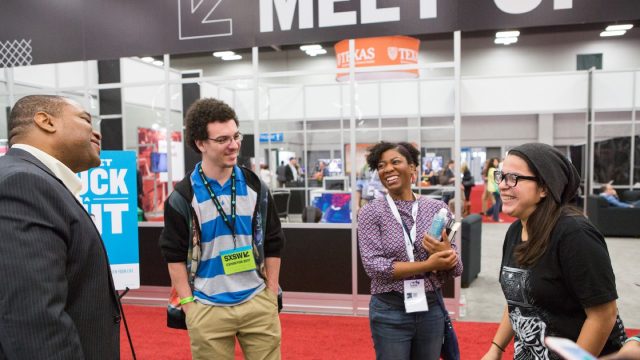 Join us for the Learning Expo, the unique two-day event during SXSW EDU with community showcases, hundreds of exhibitors, student startup competition and so much more. On Tuesday, March 6th the Learning Expo is free and open to the public with the opportunity for coaching available to attendees.
The coaches pavilion is a great resource whether you're a student, educator, administrator, entrepreneur, or seeking career advice -- there's a coach to cheer you on. Coaches have diverse backgrounds and skillsets ranging from blogging and social media, to nutrition, education and more.
These informal conversations can be one-on-one or with a small group, typically ranging from 5 to 10 minutes. No need to RSVP in advance, you can sign up for coaching onsite during the event, or simply stop by to see if a coach is available.
Meet the coaches to learn more:
9:30am-10:20am
Amanda Utter Voice Over Talent, Amanda Utter VO
Crystal Rose Executive Director of Academic Affairs, OZY Media
Jeffrey Davis Professor, Communication Design, Texas State University
Paloma Amayo-Ryan Training Specialist & Supervisor, City of Austin
Patricia V. Hayes Strategist & Attorney, PVH Consulting Group, LLC
Susan E. Kennedy Early Childhood Director, Melrose Public Schools
10:30am-11:20am
Amber Vasquez Physics Major, University of Texas at Austin
Kristin Marcum President, Elizabeth Christian Public Relations
Dennis Kelly Sr. Sports Producer, Spectrum News Austin/San Antonio
Erin Wike Career Coach & Lecturer, University of Texas at Austin
Melissa Chapman Designer & Professor, Austin Center for Design
Tannifer Ayres Business Owner & EMT Intermediate & Event Safety Expert, S.W.E.A.T & EMT
Travis Recek Sports Anchor & Reporter, Spectrum News
11:30am-12:20pm
Amanda Love Nutritionist & Real Food Chef, The Barefoot Cook
Kasandrea Sereno Senior Academic Advisor, University of South Florida
Lisa Hause Owner & Photographer, Lisa Hause Photography
Mark Terry Deputy Executive Director, Texas Elementary Principals and Supervisors Association (TEPSA)
Samantha Lopez Social Media Strategist, Spredfast
Trevin Smith Radio DJ, 101X (KROX-FM)
12:30pm-1:20pm
Beatriz Weakley Academic Advisor, Austin Community College
Hector Silva CFO & Managing Director, BIG EMBASSY
Jessica Anderson Community Manager & UX Researcher, Pocket by Mozilla
Josh Garcia Event Specialist, Austin Community College
Natalie Paramore Blogger, Natalie Paramore Media, LLC
Reagan Pugh Founding Partner, Assemble
Coaches Pavilion
Austin Convention Center (ACC)
EXHIBIT HALL 4
Sections: 439-538
Tuesday, March 6th from 8:00am - 3:00pm
RSVP

SXSW EDU 2017 Learning Expo Photo Courtesy Akash Kataria.