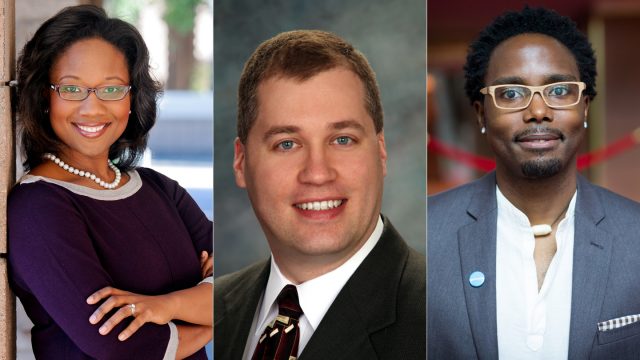 We are thrilled to announce Featured Speakers Talithia Williams, Hakim Bellamy and Mark Cousino for SXSW EDU 2018, in addition to more than 50 sessions from PanelPicker added to the program.
Keep reading to learn more about these speakers and browse the full list of new session programming for SXSW EDU 2018!
As a quick reminder – the November discount deadline is quickly approaching. Purchase your registration badge for SXSW EDU 2018 by Friday, November 17 to save $150 and take advantage of the best selection of downtown Austin hotel rooms.
Featured Speakers
Talithia Williams – Harvey Mudd College Associate Dean for Research & Experiential Learning and Associate Professor of Mathematics, Dr. Talithia Williams, has made a tremendous impact through her research and work in the community. She is helping to change the collective mindset regarding STEM in general, math in particular – rebranding the field of mathematics as anything but dry, technical or male-dominated but instead a logical, productive career path that is crucial to the future of the country.
Hakim Bellamy – The inaugural Poet Laureate of Albuquerque, NM (2012-2014), Hakim Bellamy is a national and regional Poetry Slam Champion, and holds three consecutive collegiate poetry slam titles at the University of New Mexico. His poetry has been published in the Albuquerque Convention Center, on the outside of a library, in inner-city buses and in numerous anthologies across the globe. Hakim will be joining previously announced featured speaker Mario Rossero as part of the session National Arts Networks and Stories of Impact.
Mark Cousino – The Director of Learning Design and Technology at The Boeing Company, Mark Cousino, is responsible for the global design and development of all new learning programs for the enterprise to include leadership, professional development, functional learning, industrial skills development, and knowledge management. His team is also responsible for the enterprise architecture of all learning technologies, digital strategies, and content curation. Mark will be joining previously announced featured speaker Anant Agarwal as part of the session Reinventing Corporate Education.
Explore the Session Lineup
Wait, there's more! The second wave of sessions, selected via PanelPicker, have been confirmed. The robust selection includes noteworthy speakers such as Ayah Bdeir, Richard Buery and Leah Clapman. This announcement features more than 20 Future20 sessions, which are short presentations highlighting new and emerging ideas as well as a notable number of Workshops. With this addition of sessions there are now 24 students confirmed to speak on sessions at SXSW EDU. Browse the lineup below to discover more highlights and sign in to the schedule to begin starring your favorites.
Arts
Creating Book-Based Maker Learning Opportunities (Workshop)
Microfilm and stills: art with a webcam microscope (Hands On)
Slam Poetry + Standup Comedy = Engaged Learning (Workshop)
Business
Getting to the Bottom of the Double Bottom Line (Talk (Industry))
Cognitive Process
5 Elements of Effective Thinking (Future20)
Educating Teachers: Closing the Digital Skills Gap (Future20)
What If? Unleashing Possibility Thinking In K12 (Future20)
Data
Democratizing Data for Student Attainment (Future20)
EdTech & Data Privacy: The Case for Transparency (Panel)
Get Your Hands on a Ton of Federal Education Data (Workshop)
Student Predictions, Student Protections (Future20)
Employability
College Prepping For The Workplace—The New Deal (Workshop)
Employability and the High School Experience (Future20)
Equity
0 to 60 – NYC Lessons in Scaling Community Schools (Case Study)
A Seat at the Table: Creating Inclusive Spaces (Workshop)
Closing the Digital Gap in Urban Districts (Panel)
Designing Education Policies for Humans (Workshop)
Disrupting the School-to-Prison Pipeline (Panel)
Engaging Parent Communities: A Blueprint (Case Study)
Fellowships are the Next Big Youth Extracurricular (Future20)
Future Learning: AI's Impact on Tomorrow's Worker (Summit)
How Do We Get (and Keep) More Girls in STEM? (Future20)
Racial Equity & Restorative Practices in Schools (Workshop)
Restorative Mediation to Boost Understanding (Future20)
Implementation
Beating Those 'Mon. Morning Social Media Blues' (Workshop)
Designing Lessons: Tips from Improv & Engineering (Workshop)
How AI is Shaping the Future of Higher Education (Future20)
How to Scale K12 Innovations Across Borders? (Talk (Industry))
The Keys to Transformation (Future20)
Think Globally, Act Locally! Discover & Implement (Workshop)
Toy Hacking, Robotics for the Rest of Us (Workshop)
What Makes a Teacher Community Excel? (Future20)
Who's Got the Remote? Makin' Learner Agency Real (Workshop)
Instruction
Design Thinking, Social Good & Breaking Higher Ed (Case Study)
Empathy Machines: Global Education via "Portals" (Case Study)
Empowering Student Creators through Public Media (Panel)
Genes in Space STEM Challenge (Talk (Learning Expo))
Is Your Curriculum Digital Enough? (Future20)
Push: First-year Students as Agents of Change (Future20)
Reimagining Calculus Teaching and Learning (Workshop)
Rigorous Whimsy: Understanding Through Creativity (Workshop)
StudioLab: Transmedia Knowledge Pedagogy (Future20)
Teaching with Play & Pretend: Using LARP in School (Hands On)
Language Learning
Enhancing immigrant family engagement through tech (Future20)
Teaching the First Majority-Minority Generation (Panel)
Leadership
Education from Cradle to Grave in Finland (Future20)
Growing an Engaged Education Innovation Community (Workshop)
Innovating at Scale: Nationwide E-Learning Leaders (Panel)
Where does AI leave teachers? Case: Finland (Future20)
Learning Spaces
Ambient Intelligence for the Connected Campus (Talk (Higher Ed))
LIVE FROM THE QUAD: Higher Ed & Live-Streaming (Panel)
Building the Social Emotional Learning Network (Panel)
SEL
Choosing Love After Sandy Hook with SEL (Future20)
Put the "A" back in Tech: Teach (Future20)
Selfies, Sexts & Self-Esteem: Girls & Social Media (Future20)
Special Needs
High Expectations & Shared Responsibility for All (Future20)
VR/AR