Announcing 2020 Competition Finalists, Emcees, and Judges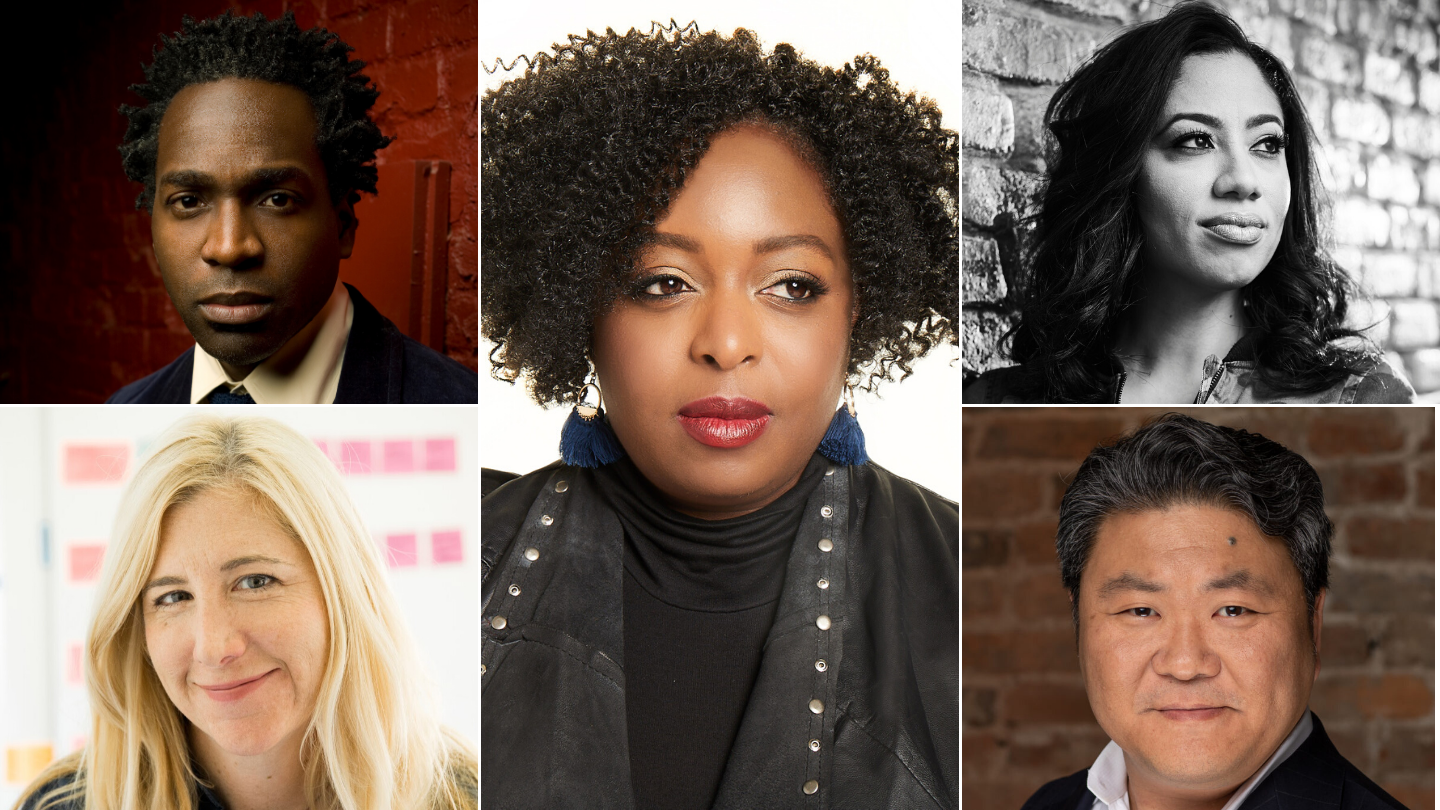 SXSW EDU annually celebrates and honors groundbreaking work in education through a series of fast-paced competitions. The competitions serve as a vehicle to showcase fresh ideas and solutions and ultimately connect these ideas to the community for impact. After several months of review and consideration by advisory board members and staff, we are thrilled to announce the finalists selected to compete in this year's Launch, Learn by Design, Amazon Alexa Challenge, and Student Startup competitions as well as emcees and judges.
Launch
Launch, founded in 2012, is a catalyst for early-stage startup companies in the education market. Applicants must be incorporated with a management team and public-facing website, able to convey a sustainable business model and demonstrated user traction, engagement, and adoption metrics, with no more than $5 million in total funding.
This year's Launch competition will be emceed by Kimberly Bryant, the Founder and CEO of Black Girls CODE, a non-profit organization dedicated to "changing the face of technology" by introducing girls of color (ages 7-17) to the field of technology and computer science. Judges include Teaching Channel Regional Director, Cherry Thompson; Oculus Co-Founder, Jack McCauley; EdSurge Senior Editor, Jeff Young; and Advanced Education R&D Fund Co-Founder & COO, Nancy Lue.
The pitch competition will be preceded by A Decade of Startups at SXSW EDU: What's Next, a session featuring past Launch participants. There will also be an opportunity to connect one-on-one with each finalists to demo products and offer valuable, real-time feedback during the Launch Startup Spotlight on Monday evening. The live competition will take place Tuesday, March 10 and the winner will be announced at the Competition Awards Party that evening.
Finalists
Cognitive ToyBox (Brooklyn, NY) – Cognitive ToyBox is a research-backed technology platform for school readiness. It offers a hybrid observation and game-based approach that makes assessment better and simpler for early childhood educators. Administrators and teachers can then leverage the data to effectively allocate resources and plan instruction, with the goal of optimizing student learning.
Kiri (Provo, UT) – Kiri is the world's first smart wooden block that helps kids learn language, STEM, and an expanding library of subjects, all without a screen. Using light, sounds, and haptics - together with its optional AI-powered app - Kiri creates a highly-personalized experience for children of all abilities, including those with special needs.
Learnabi (New York, NY) – Learnabi is brining personalized learning to students across the US. We are developing a learning app that provides high-risk, chronically absent students with adaptive academic support online. We provide customized content to students with significant credit and learning gaps to help them graduate on time.
Presentr (New York, NY) – Presentr is an AI-driven learning platform that helps people improve their speaking skills to become confident and effective speakers.
School Day Wellbeing (Helsinki, Finland) – School Day is a unique, AI-backed solution designed to amplify student voice in K-12 education to support social and emotional learning and help schools remove all barriers from learning. We empower education with real-time wellbeing data and bring kindness into learning.
Learn by Design
Learn by Design elevates groundbreaking work in the design of physical learning environments and how it impacts pedagogy and learning outcomes. Applicants include designers, educators, architects, and creatives of all kinds. Eligible projects include any physical space, installation, or facilitation of the use of a space that is helping solve challenges in education.
The competition will be co-emceed by Stanford d.school K12 Lab Co-Director, Laura McBain and San Diego Jewish Academy Director, Center for Innovation and Entrepreneurial Thinking, Kwaku Aning. Judges include Allsteel Director of Architecture and Design, AJ Paron-Wildes; Colloqate Design Founder and Design Director, Bryan C. Lee Jr; Drexel University Assistant Professor, Kareem Edouard; and Envision Learning Partners Deeper Learning Coach, Morgan Vien.
There will be an opportunity for attendees to view the designs up close and mix and mingle with the project designers during the Learn by Design Spotlight on Tuesday morning. The live competition will take place Tuesday, March 10 and the winner will be announced at the Competition Awards Party that evening.
Finalists
Canyon View High School, DLR Group (Waddell, AZ) – Canyon View High School fosters authentic, academic and curricular exploration by expanding the definition of a "place-based" high school. Blurring the lines between age and abilities, the new facility offers an open-source incubator for the art of teaching and learning. This forward-thinking campus empowers teachers to advance their professional skills, and students to develop critical competencies.
Dreamscapes Immersive Art Experience, Utah Arts Alliance (Salt Lake City, UT) – Dreamscapes manifests the surreal nature of the subconscious in a 14,000 square foot labyrinth suitable for all ages. As Utah's first environmentally sustainable immersive art attraction, the hands-on show fosters the arts in all forms in order to create an aware, empowered, and connected community.
Museum Lab, Koning Eizenberg Architecture (Pittsburgh, PA) – The Children's Museum of Pittsburgh's addition of the MuseumLab delivers exceptional museum experiences specifically for older kids. The space is a new kind of laboratory for learning that involves partners interested in what can be learned at the intersection of the informal and formal educational environments.
The Cheryl and Philip Milstein Center for Teaching and Learning, Skidmore, Owings & Merrill LLP (New York, NY) – Designed as the heart of Barnard College, the Milstein Center reimagines the role of the library in higher education. This distinctive space convenes students and faculty, facilitates collaboration, fosters dialogue and links departments and disciplines across campus. Combining technologies and learning spaces in interactive setting, actively bringing together academic disciplines to collaborate and discover.
The Living Lab, Rob Wellington Quigley Architects (San Diego, CA) – Ocean Discovery Institute uses ocean science to empower young people from urban, underserved communities to transform their lives, community, and our world as scientific and environmental leaders. The institute's latest addition, The Living Lab, continues to strengthen this mission by engaging thousands of students each year in hands on science programming.
Student Startup
The Student Startup competition supports youth entrepreneurs, serving as a platform for high school students to showcase their business ideas. Applicants are currently enrolled high school students, 13 years or older. Startups can be submitted by solo entrepreneurs or teams and are not limited to a specific business category.
The 2020 competition will be emceed by Liz Dozier, Founder & CEO of Chicago Beyond, an impact investor that exists to give all youth the opportunity to achieve their fullest human potential. Judges include BrighterGood Founder, Celia Alicata; Hack+ Executive Director, Sanil Chawla; WIT (Whatever It Takes) Founder & President, Sarah Hernholm; and Capital Factory Vice President of Partnerships, Sean Duffy.
The live competition will take place Wednesday, March 11, and the winner will be announced that afternoon.
Finalists
AmityConnections, Academies of Loudoun (Aldie, VA) – AmityConnect connects family members with the health of their elders by aggregating real-time health data from smart medical devices onto a single, mobile platform accessible by family members at any given time; thus providing them with a constant peace of mind. AmityConnect acts as an epicenter for numerous consumer-based smart medical devices that offer open application programming interfaces (e.g. FitBit, Apple, Hexoskin, iHealth, etc) to third-parties/developers.
Barronsol, David Crockett High School (Austin, TX) – We are pitching a biodegradable tire to help fight against tire waste which affects the global environment and developing countries.
MODAP, The Nueva School (San Mateo, CA) – MODAP is a cost-efficient, purpose-driven, automated drone system that streamlines the search and rescue and post-fire relief process. Due to the unpredictability in time and location of disasters, it is challenging to have a ground team or helicopter constantly at the ready to perform a manual rescue mission. MODAP intends to create positive change in the disaster-technology space in two key ways: providing autonomous search and rescue operations and facilitating payload delivery.
Seeing for the Blind, Lexington High School (Lexington, MA) – Seeing for the Blind is a patent-pending product that gives the blind greater spatial awareness. It uses echolocation and machine learning to tell users where and what objects are around them, and help them navigate with ease. This product is currently being piloted in India and will start to be mass-produced on the Indian market in the coming year.
Solis UVC Purification, Lake Forest High School (Lake Forest, IL) – 3.6 million people die every year because of dirty water; we would like to change that. Solis is a portable water purification bottle that utilizes high powered ultraviolet light and a micron filter to kill 99.9999% of all bacteria, viruses, and microorganisms and removes all sediments from your water. Solis is as simple as pouring in water from any source, pressing the button on the top of the bottle, and waiting 60 seconds for clean water without question.
Amazon Alexa Challenge
The inaugural Amazon Alexa EdTech Skills Challenge invites EdTech companies to develop the best use of voice application for education. The call for applications went out to the EdTech community and companies from all over shared how they would use Amazon Alexa to transform education.
The competition will be emceed by Managing Director for Global Education and Workforce at Amazon Web Services, Andrew Ko, whose focus is driving innovation and workforce development by increasing adoption of cloud-based programs and solutions in the US and internationally. Judges include Stanford d.school K12 Lab Co-Director, Laura McBain; The Entangled Group Head of Strategy, Michael B. Horn; STEM Innovators Co-founder and Student at the Kelley School of Business, Preethi Rajgopal; and PBS Vice President of Education, Sara Schapiro.
The live competition will take place Thursday, March 12 and the winner will be announced directly after.
Blast Learning is a memory reinforcement system designed to solve the problem of forgetting. Students learn a core concept once, and then Blast Learning reinforces the material in multiple personalized study "blasts" at timed intervals to activate the formation of durable long-term memories. Blast increases academic performance and training effectiveness.
Healthy Teen Network is a national nonprofit organization that works at the intersection of public health, human-centered design, and technology. They develop innovative educational solutions to improve the sexual health outcomes of young people.
NuMoola is an educational, family-focused consumer banking financial technology platform. Their software enables full family engagement in the financial well-being of a child through child-focused tools for personal savings, goal setting, investing, charitable giving, and gamified financial education. NuMoola's banking and educational services create engaged customers across the entire family network.
SayKid is a voice technology company that has developed the world's first screen-less, play-based learning platform. By combining conversational software in the form of an Alexa-enabled plush robot, SayKid help's kids learn in a safe, natural, and engaging way - by playing the role of teacher.
StrongMind partners with schools to build innovative digital learning solutions that address unique school challenges. With a consultative approach, engaging curriculum, leading-edge assessments, advanced reporting and analytics, and a mobile engagement engine, plus educational services, StrongMind supports student achievement and school success.
VOGO Voice designs and builds unique and engaging voice skills for industries including education, civic, transportation, business, and non-profits. We do this using our voice user interface designer that allows for data integration and in-depth customization.
Don't Miss All the Action
This year is not one to miss! Make plans to attend SXSW EDU, March 9-12, 2020, to take part in all of the competition action. Register to attend by Friday, January 17, to take advantage of discount savings.
Photo (l-r) Laura McBain, Kwaku Aning, Kimberly Bryant, Liz Dozier, and Andrew Ko.