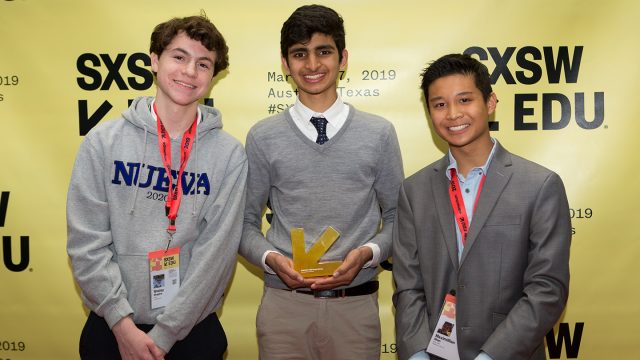 Last year, Stria Labs from Nueva High School in San Mateo, CA won the SXSW EDU Student Startup Competition. Maximillian Shen and Pranav Ram pitched their smart waistband designed to make navigating safe and convenient for the blind community. In this interview, we discuss the story behind Stria, future goals for the business, and personal goals as the team prepare for college.
Q. What is the startup story behind your business?
Max: Our team joined a club called Invention Studio where we identify problems in the community and try to create solutions for them. Our teacher said there was a blind user that wanted to get involved in the program and asked if we were interested in working with him. We had our first meeting with him in August of 2017. When we sat down with him, we realized right away that this was such a large population, there are 8 million blind people in the U.S. alone and are faced in a massive design niche. Although it's a lot of people, there hasn't been a lot of design in the blind sector for a long time, for example, the largest breakthrough in the blind design in the last decade has been a talking smart-watch that tells you what the time is.
Q. Why did you choose to focus on the blind community specifically?
Max: We realized with all the modern technology today, we can create a lot of solutions for the kind of problems blind people face. After we talked to the first user, Jimmy, we began working with him closely to identify a problem. We identified the problem of veering. We wanted to make sure it was a problem that everyone faces and not just this one singular person, so we launched a really large scale during our research phase. We went to blind centers, and talked to about 150 people in total. This was during the process of our initial brainstorming to try to identify the problem and see what kinds of solutions people wanted. We came up with the product that we wanted to put out in the market to help blind people, and now we're here, after years of working with users and going back and forth, getting the actual technical aspects.
"We realized with all the modern technology today, we can create a lot of solutions for the kind of problems blind people face."

The memory of walking home from that competition is one that I think everyone there, both Pranav and I hold very dear. The first thing we did when we got back to the hotel was call Jimmy, the person we've been working with since day one. We told him the great news and he said that, coincidentally, that day marked his third anniversary of when he became blind. He said if he could cry he would of, but his tear ducts got shut during his surgery. He said we had given him a lot of hope when he was in a really upsetting situation. That memory is something that we will always think about whenever we're going to give a presentation or a pitch.
Q. How did you come up with a waistband design, and what were some of the challenges of creating it?
Max: Initially, it was a hat that we had outfitted with LIDAR, and we considered bone conduction feedback. The deciding factor came from a survey we sent out to the blind community to ask what form would be most helpful to them. We offered a couple of suggestions, a hat, waistband, or armband, and the resounding majority chose that an unobtrusive waistband would be the most helpful.
Q. What's the best advice you would give to other teenage entrepreneurs?
Max: The biggest thing is problem first, solution second. A lot of people tend to come up with, "Oh, this is a great idea I want to create, let me find what this could be useful for." They identify a problem without really identifying if there is a true problem people need a solution for. When you look at it the other way around, you're able to come away with a product or solution that's a lot more refined and effective for a real problem. That's what set us apart in our application.
Q. Where do you see Stria in the future and what are some of Stria's future goals?
Pranav: One of the main things we've been talking about and that has come up more now that we're seniors applying to college is that it's going to go one of two ways. Either we go to school closer where we can continue collaborating and working on it, or one of us goes to a school where we know we can continue it based on the existing programs they have and it will continue with a different group of students. The second option is, we're thinking of ways that we can give some of the funding that we haven't used yet to another team that could use it in a way to make a similar impact. Short term, until the end of the school year, we want to get our product to our users. Our long term goal is to figure out if we can shift this to continue in college.
Max: In terms of tangible goals for this year, I think a big thing we're pushing towards is to actually have Stria in the hands of blind individuals, recently we've been pursuing our FCC approval and we've been working with a local manufacturer to start producing the product. Right now, we're in the phase of moving our product from a prototype to something that can be manufactured. We really want to be able to help blind people by having this accessible.
Q. As the SXSW EDU 2019 student startup competition winner, how was your experience competing and pitching in front of the live panel?
Pranav: The one thing that SXSW EDU did that was unique and really helpful was they let us have one practice run in front of a real simulated panel of actual experts, so you got a chance to give your presentation and receive feedback. It was really fulfilling that we could get feedback and use that feedback for the real pitch.
"At the end of the day, it started with a story of Jimmy and we ended up with the belt. Feeling that we could communicate that story and have the judges be receptive to that story was really fulfilling for us."

I think that pitching for SXSW was unique in that there was a lot of value placed in the message and story we were telling. It seemed like the judges that were selected appreciated us trying to tell that story. They even mentioned when they announced us as the winners that they felt like our story was being heard and conveyed. At the end of the day, it started with a story of Jimmy and we ended up with the belt. Feeling that we could communicate that story and have the judges be receptive to that story was really fulfilling for us.
Q. What was the best advice you received from any mentors during the days of the SXSW student startup competition? Was there any feedback that resonated with you that you found helpful?
Pranav: After the pitch was over, we set up a table and had all our fliers, that was where we got some more useful feedback. One of the coaches from another team, he was a robotics teacher, came up to our table and showed us three other types of sensors that we could use. Since then, we've looked into those sensors and compared them to the ones we were using. We talked to some of the judges afterward, and they gave us a lot of extra feedback like how to take a low-level product to a market, and what boxes we can check off. Another example was establishing contact from people in the field, one of the judges who gave us her business card told us that she runs a similar operation.
The judges were really helpful in telling us, "Okay, we appreciate what you've done so far, but we're also here as advisors to tell you how to get to the next step." They were really receptive to reaching out after the competition and giving us feedback rather than just judging us. It was helpful for us, considering that you don't get access to that every day. Going to a place where there are so many people interested in the same thing all in one space, we tried to make the best of it and talk to as many people as possible.
Q. Where do you see yourself in the future? What are some of your personal goals, and do you want to continue being entrepreneurs?
Max: In college, I'm looking to pursue innovative design in mechanical engineering. I'm continuing this process of working with users to create products. Historically, the way our society is set up, usually the way products are created there are two things: the design side and the engineering side. I think the idea of having people understand both worlds is something that's really helpful and helps push products to maximize their potential. My ultimate career aspiration is to work for Disney Imagineering.
Pranav: I want to continue working with the social impact element with conscious design. I'm interested in how it overlaps with business and economics. There are companies that I'm really interested in that are doing social good work using finance or developmental finance across the developing world. I think I am going to go into college and see where it takes me and take advantage of the opportunities on campus.
Visit Stria.org to read more about the Stria team and the development and function of the waistband. Learn more about Student Startup at SXSW EDU and submit an application by Sunday, November 10 for the 2020 competition.