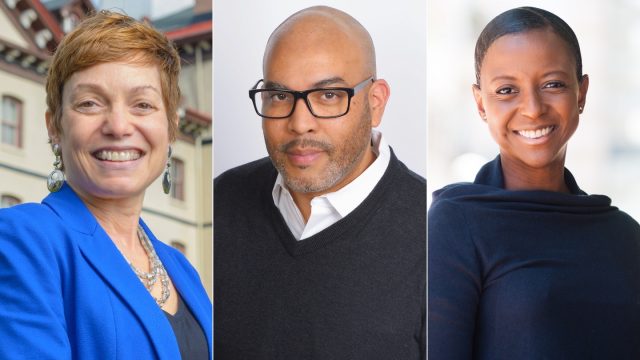 We're just a little more than a month away from SXSW EDU, March 5-8, 2018. In anticipation of the event, we are excited to share a myriad of announcements including additions to both the Featured and the Policy Forum lineup, competition judges, film screenings and late breaking sessions.
Explore the news below and purchase your registration to attend before the final discount deadline of the season, February 9, to save $50 off of the walkup rate.
Featured Sessions
Featured Sessions bring noteworthy thought-leaders and topics center stage.
Disrupting Medical Education in the Age of AI
Stephen K Klasko, M.D., M.B.A (Thomas Jefferson University and Jefferson Health)
What Do Early Childhood Teachers Want from Tech?
Charles Best (DonorsChoose.org)
Dawn Carlton (Clayton Elementary School)
Tena Nestler (Harvard Park Elementary School)
Jackie McPherson (Garfield Community School)
Free Speech & Civil Dialogue Online & on Campus
Julie Wollman (Widener University)
Jeffrey Rosen (National Constitution Center)
Policy Forum Sessions
The Policy Forum elevates and highlights policy-focused discussions that impact public and higher education. These sessions feature a diverse range of legislative voices, community leaders, and advocates, addressing critical issues impacting education. Check out the latest additions to the forum and explore the full list of policy-focused sessions.
Black Education in America
Chris Stewart (Wayfinder Foundation)
Margaret Fortune (Fortune School of Education)
Howard Fuller (Marquette University)
Rehema Ellis(NBC News)
The Dual Language Imperative
Barbara Jenkins (Orange County Public Schools)
Juan Cabrera (El Paso ISD)
Paul Cruz (Austin ISD)
Liz Willen (Hechinger Report)
Examining Our Faith in Educational Technology
Hugh Norwood (Trinity Education Group)
MaryEllen Elia (New York State Education Department)
Richard Culatta (ISTE)
Trauma-Informed Education Policy & Practice
Gisele Shorter (Turnaround for Children)
Rahn Dorsey (City of Boston, Mayor's Office)
Sarah Groh (America Forward/New Profit)
Sarah Iddrissu (Educators for Excellence)
Films
SXSW EDU celebrates the power of film for exploring critical topics and issues impacting education with screenings and Q&A discussions. Today's additions round out the 2018 film program which includes a total of 12 can't miss screenings.
Launch Competition Emcees, Judges, and Coaches
The Launch competition celebrates emerging innovations in learning with a fast-paced pitch competition featuring early-stage startups during SXSW EDU.
This year's Launch competition will be emceed by Beyond 12 CEO & Founder, Alexandra Bernadotte, and Cerego CEO & Founder, Andrew Smith Lewis. Alexandra brings more than 20 years of executive management and strategic development experience in both the nonprofit and private sectors to Beyond 12, a nonprofit that integrates personalized coaching with intelligent technology to increase the number of low-income students who graduate from college. Andrew is one of the inventors of Cerego's learning method, and started Cerego to create an open platform to improve memory and quantify knowledge.
Judges for this year's competition include: Bridget K. Cherry, Program Officer for K-12 Education at Walton Family Foundation, Z. Mike Wang, Director, Global Experience & Community Engagement at Minerva Project, Mark Miller, Managing Partner at Good Harbor Partners, and Chian Gong, Principal at Reach Capital.
Coaches include: Asha Aravindakshan, Peter Nilsson, Deborah Chang, and Darryl Adams.
Learn by Design Competition Judges and Coaches
Learn by Design elevates groundbreaking work that explores the role of physical learning environments and their ability to impact pedagogy and learning outcomes.
Judges for the 2018 Learn by Design competition include: Katie Kizziar, Associate Director of Research & Innovation at the Thinkery, Michael Ford, Co-Founder of Urban Arts Collective, Kelley Tanner, Owner of BrainSpaces | Connextions, and Dan Coleman, Chief Learning & Design Officer at Woodrow Wilson Academy of Teaching and Learning.
Coaches include: Carlos Moreno, Big Picture Learning, Taryn Kinney, DLR, Amy Jones President, O'Connell Robertson, and Adam Nye, Our Campus at Winchester Thurston School.
Lounges
Scattered throughout the SXSW EDU programming venues, lounges offer attendees a haven for relaxing, recharging and connecting. Lounges are sponsor-supported and customized uniquely to offer attendees a destination for discovery during the event.
Late Breaking Sessions
This year's conference lineup is jam-packed with a wide variety of sessions and workshops. With the latest additions, the SXSW EDU program includes more than 400 hundred sessions and just over a 1,000 speakers.
New additions include The Great American Teach-Off, designed to highlight the dynamic work of teachers, as well as Meet Ups, topic-focused networking events that encourage communities at SXSW EDU to connect with others who share similar passions or interests during the event.
Explore the latest session additions below and visit the online schedule for an exhaustive look at the 2018 event.
Arts
Student/Teacher Led Creative Learning for Schools (Panel)

From Page to Stage: Bringing Students' Stories to Life (Performance)

Rise Up: Young Leaders Using Art For Change (Performance)

Slam Poetry + Standup Comedy = Engaged Learning (Performance)

High School for Recording Arts 'Hip-Hop Pedagogy' (Performance)

Interlochen Arts Academy on Taking the Inside Out (Performance)

Interactive Arts Experience: CS+Game Design=Fun (Hands On)
Business
The Big Picture Learning Student Business Showcase (Summit)

Breaking Down the International Ed-Tech Market (Panel)

How Your University Can Act Like a Media Brand (Panel)

Higher Education: The Key to Local Economic Growth (Panel)

Shark Tank: Edu Edition (Panel)

ESSA Takes Hold: What K-12 Companies Need to Know (Talk (Industry))

Kickoff of Global EdTech Startup Awards 2018 (Workshop)
Continuing Education
Edtech: From Poverty to Powering Global Economies (Panel)

Let's Chat: Technology Creation vs Adaptation (Show & Tell)

Creating a College Going & Success Culture (Panel)

Break the Mold: New Models Connecting EDU & Work (Panel)

Collaborate to Innovate (Campfire)

Financial Literacy: Ticket to Success in Higher Ed (Panel)

Leaders: Build Your Personal Destabilization Plan (Workshop)

SXSW edYOU! Kick Off Your Most Impactful SXSW Yet (Workshop)

From Dorm Room to Board Room (Talk (Higher Ed))

Student Meet Up: Make Friends & Share Ideas (Meet Up)
Continuing Education
AI: Learning Game-Changer or Something to Fear? (Talk (Higher Ed))

Data, Districts, & Schools, Oh My! (Panel)

Can Evidence Even Keep Up with Edtech? (Panel)

Letters to a Young AI: Be an Ethical Educator (Future20)

Edtech & the Radical Disruption of Assessments (Case Study)

The State of the K-12 Market Meet Up (Meet Up)

What Do the Polls Say about Education & Politics? (Show & Tell)

Buying the Right Edtech ISTE Meet Up! (Meet Up)

Do You Know Where Your Graduates Are Going? (Show & Tell)

Synergistic Data Science & Causal Inference (Workshop)

Data-Driven Decision Making in Action! (Workshop)

Examining Our Faith in Educational Technology (Policy Forum)
Early Learning
Co-designing Better Outcomes for Young Children (Workshop)

TEACH: A Holistic Lens to Improving All Kids Lives (Panel)

Going Beyond the Screen (Panel)

Planting the Seeds for Success During K-12 (Panel)

Parents & Curriculum: Bringing Education Home (Future20)
Employability
Nonprofits & Corporations Partner on Education (Panel)

The Need for Students to "Dream Differently" (Talk (Learning Expo))

Implicit Bias & Gen Z Hiring (Workshop)

Learning is Arbitrage: Picking Skills That Pay Off (Show & Tell)

Closing the Soft Skills Gap with Video Assessment (Show & Tell)

Building Education Models for Tomorrow's Leaders (Talk (Industry))

Tackling the Education to Employment Gap (Show & Tell)
Equity
Be Proud: Visibility of LGBTQ Educators (Future20)

Leave No Child Offline & Leave No Teacher Behind (Future20)

The Movement Towards an Inclusive Austin (Panel)

Free College Comes with a Cost (Panel)

EdTechWomen Meet Up (Meet Up)

Personalized Learning & Competency Education Meet Up (Meet Up)

Excellence Gaps: Where Equity & Excellence Meet (Future20)

Disrupting the School-to-Prison Pipeline (Panel)

Techbridge Girls: "Role Models Matter" Training (Hands On)

Using Assessment to Help Develop Great Teachers (Panel)

Show Me The Money: Institutions & Affordability (Show & Tell)

From the Student's Seat: What's Important Today (Show & Tell)

Want to Connect w/ LGBTQ Students? Try YouTube (Workshop)

What's Public About Public Education (Panel)

Black Education in America (Policy Forum)

Trauma-Informed Education Policy & Practice (Policy Forum)
Implementation
LOOP: A Networking Experiment Meet Up (Meet Up)

Bridging the Gap: Piloting Innovation in Education (Summit)

Technology-Friendly Grants for K-12 Classrooms (Workshop)

CS Professional Development Recipes (Talk (Playground))

Go Big: Digital Educational Experience Design (Future20)

Higher Ed Solutions with Google (Panel)

Building Edu Apps with Classroom, Blockly & Poly (Panel)
Informal Education
Dance in Urban Education (Panel)

I Need A, I Want A – Meet Ups the New York Way! (Meet Up)

Science Storytelling: Communicating Complex Ideas (Talk (Playground))

From MOOCs to Teach-Outs: An Emerging Course Model (Case Study)

Ready to Code: Libraries Supporting CS Education (Panel)
Instruction
Design 4 Impact: Design Thinking in K-12 Education (Summit)

Genes in Space STEM Challenge (Talk (Learning Expo))

Texas Lesson Study: Teacher-driven Research+Design (Workshop)

The Rise of AI & What It Means for Education Meet Up (Meet Up)

Disrupting the Walled Garden (Talk (Higher Ed))

How to Build the Future of Higher Education (Talk (Higher Ed))

Using Technology to Enrich Classroom Learning (Show & Tell)

Personalize Programs-as-a-Service (Show & Tell)

Immersive Learning with Google (Panel)

Bringing a Custom Coding Platform to Your School (Show & Tell)
Language Learning
The Dual Language Imperative (Policy Forum)
Leadership
SXSW EDU 2019 PanelPicker Meet Up (Meet Up)

First Time to SXSW EDU Meet Up (Meet Up)

The Adult Student Meets the Network Effect (Panel)

United in a Statewide Vision for Transformation (Panel)
Learning Spaces
DISRUPTION 1.0 – Change is an Opportunity (Show & Tell)

DISRUPTION 2.0 – Change is not Familiar (Show & Tell)
SEL
Passion & Purpose for Learning: What Is Your Why (Future20)

Beyond the Lesson Plan: Creative SEL Strategies (Hands On)

Enhance Student Creativity with PBL (Workshop)
Special Needs
Disability or Special Needs – Which Is Correct? (Campfire)
VR/AR
Making a Case for VR in the Classroom (Future20)

Virtual Voyaging Through California State Parks (Talk (Playground))

Can Students Create VR? Short Answer: Yes! (Talk (Playground))
Julie Wollman, Chris Stewart and Alexandra Bernadotte.