International Influence at SXSW EDU 2024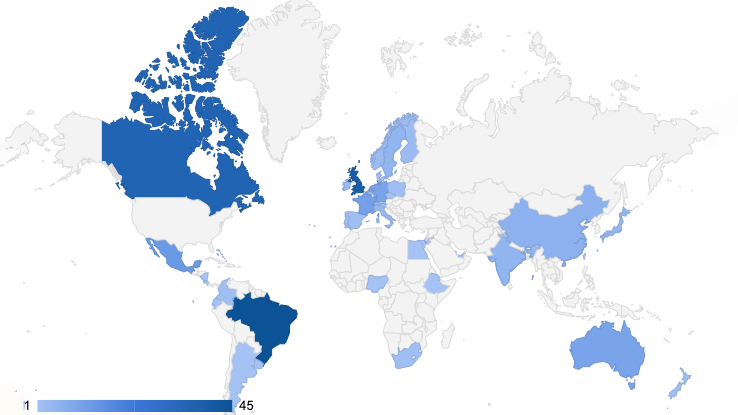 Innovators and educators from all over the world come together in March to exchange ideas, collaborate on educational initiatives, and shape the future of learning at SXSW EDU. Through the PanelPicker process, we gain insight into the priorities and emerging trends facing the global education community. This year, we received more than 1,600 PanelPicker proposals, with participation from 47 countries worldwide.
Countries Represented
Argentina • Australia • Bahamas • Bahrain • Belgium • Brazil • Canada • Chile • China • Colombia • Costa Rica • Czechia • Denmark • Ecuador • Egypt • Estonia • Ethiopia • Finland • France • Germany • Iceland • India • Ireland • Israel • Italy • Japan • Jordan • Mexico • Netherlands • New Zealand • Nicaragua • Nigeria • Norway • Paraguay • Poland • Portugal • Qatar • Singapore • South Africa • Spain • Sweden • Switzerland • Taiwan • United Arab Emirates • United Kingdom • United States • Uruguay
The countries with the most representation in PanelPicker (excluding the United States) are Brazil with 45 speakers, the United Kingdom with 39 speakers, and Canada with 35 speakers. Proposals spanned all 12 thematic tracks, with most international proposals focusing on:
Accessibility & Inclusion
Future of Tech
Leadership for Tomorrow
Teaching & Learning
Work Reimagined
Stay tuned! Later this fall, learn which proposals are selected to take the stage at SXSW EDU 2024.
Join Your Community in March
Join us for SXSW EDU 2024 from March 4-7 in Austin, Texas. Don't forget to register and book your hotel early, and subscribe to our newsletter to be the first to know of any event information leading up to the event.
Check out what's new for SXSW EDU 2024 and learn about all the ways that you can get involved.