Keynote Sir Ken Robinson, Featured Speakers Jason Reynolds, Arlan Hamilton, and More Announced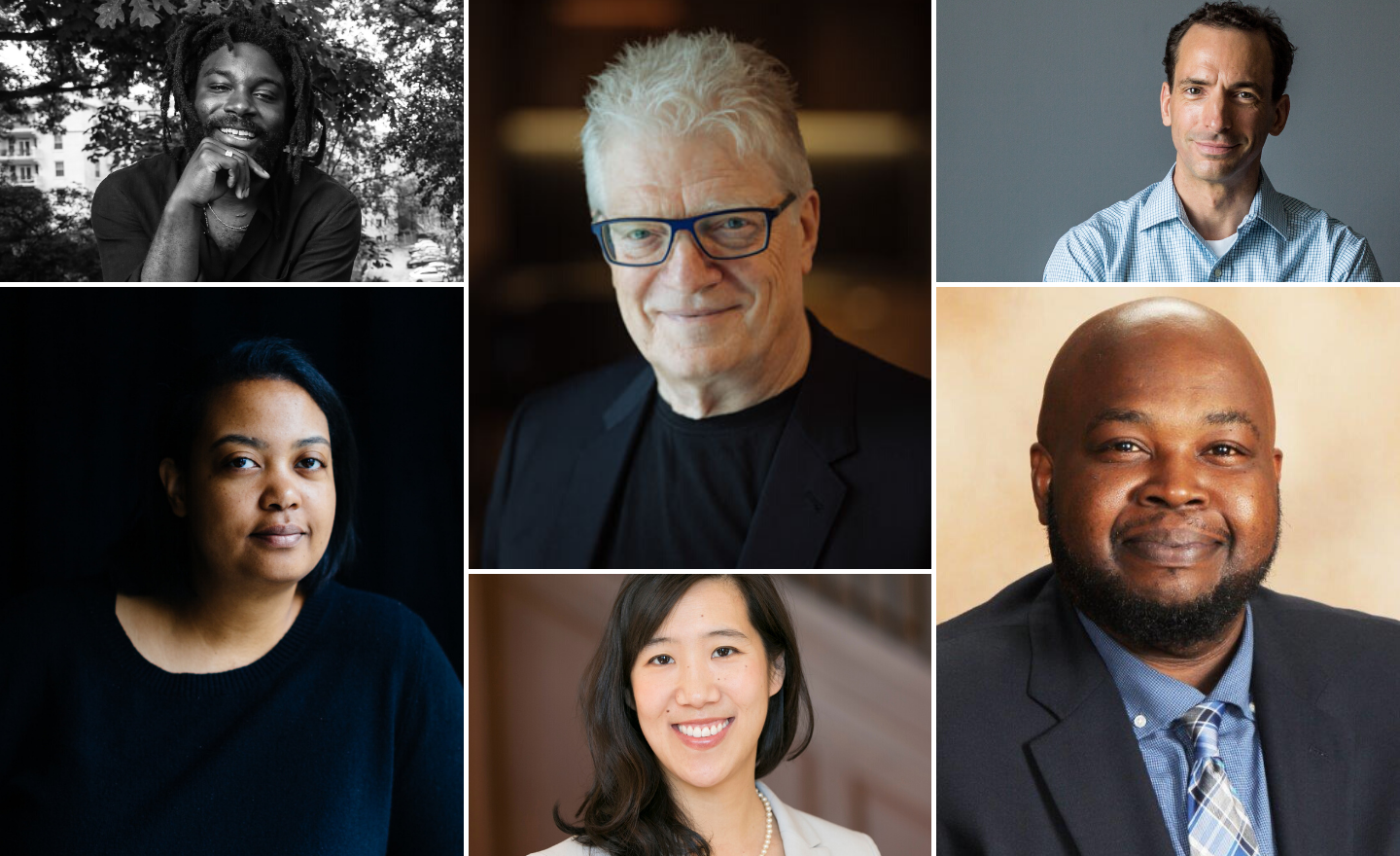 The 10th SXSW EDU Conference & Festival is only a few short months away and we are looking forward to celebrating a special milestone year with you all soon. We are thrilled to announce the keynote Revolutionizing Education from the Ground Up, with co-founders of Boundless, Sir Ken Robinson, an internationally recognized leader in education, and Ted Dintersmith, author, film producer, and venture capitalist, in addition to more voices to be announced.
Today's featured speaker announcement includes powerful voices in literature, venture capital, higher education, and the K-12 classroom. Arlan Hamilton and Laura Huang will discuss Laura's forthcoming book, Edge: Turning Adversity into Advantage. We'll be celebrating A Decade of National Teachers of the Year with five of Council of Chief State School Officers's National Teachers of the Year, including 2019 Teacher of the Year, Rodney Robinson. New York Times bestselling author Jason Reynolds will discuss his forthcoming book, Stamped: Racism, Antiracism, and You: A Remix of the National Book Award-winning Stamped from the Beginning by Dr. Ibram X. Kendi. Author Paul Tough, in conversation with Liz Willen, will discuss his latest release, The Years That Matter Most: How College Makes or Breaks Us.
This week we also released the Top 10 Programming Trends for SXSW EDU 2020. The trends reflect the biggest and most pressing ideas that have arisen from the thousands of submissions we received in building this year's program.
Learn more about the keynote and featured speakers below and stay tuned for future announcements.
Keynotes
Sir Ken Robinson – Sir Ken Robinson, co-founder of Boundless, is an internationally recognized leader in the development of education, creativity and innovation, a New York Times bestselling author, and the #1 speaker in TED Talks history. He advises governments, corporations, education systems, and some of the world's leading cultural organizations. For twelve years, he was professor of arts education at the University of Warwick in the UK and is now professor emeritus. He has received honorary degrees from universities in the U.S. and the U.K. and honored with the Athena Award of the Rhode Island School of Design; the Peabody Medal for contributions to the arts and culture in the United States; the LEGO Prize for international achievement in education; the Benjamin Franklin Medal of the Royal Society of Arts and the Nelson Mandela Changemaker Award.
Ted Dintersmith – Ted Dintersmith, co-founder of Boundless, is on a mission to give our kids a real chance to thrive in the innovation era. He organized and produced Most Likely to Succeed, an acclaimed documentary that premiered at Sundance and has been screened by thousands of communities around the globe. His top-selling book What School Could Be shares inspiring examples of learning at its best, based on his travels to all fifty states in a single school year. Earlier, he and education thought-leader Tony Wagner wrote Most Likely to Succeed: Preparing Our Kids for the Innovation Era. In 2018, Ted received the prestigious NEA "Friend of Education" Award. In 2012, President Obama appointed Ted to represent the U.S. at the United Nations General Assembly. Ted earned a PhD in Engineering from Stanford University and his undergraduate degree from the College of William and Mary, receiving High Honors in Physics and English. 
Featured
Arlan Hamilton – Arlan Hamilton built a venture capital fund from the ground up, while homeless. She is the Founder and Managing Partner of Backstage Capital, a fund that is dedicated to minimizing funding disparities in tech by investing in high-potential founders who are people of color, women, and/or LGBT. Started from scratch in 2015, Backstage has now raised more than $5 million and invested in more than 130 startup companies led by underestimated founders. In 2018 Arlan co-founded Backstage Studio, which launched four accelerator programs for underestimated founders in Detroit, Los Angeles, Philadelphia, and London. Arlan was featured on the cover of Fast Company magazine in October 2018 as the first Black woman non-celebrity to do so.
Jason Reynolds – Jason Reynolds is the New York Times bestselling author of many books, including When I Was the Greatest, Boy in the Black Suit, All American Boys (cowritten with Brendan Kiely), As Brave as You, For Every One, the Track series (Ghost, Patina, Sunny, and Lu), Long Way Down, and Look Both Ways. He is a National Book Award finalist; the recipient of a Newbery Honor, a Printz Honor, and multiple Coretta Scott King Honors; and the winner of a Kirkus Prize, two Walter Dean Myers Awards, and an NAACP Image Award, among other honors.
Jeff Charbonneau – Jeff Charbonneau has worked at all levels in the education spectrum. From 2001 to 2018, he taught chemistry, physics, and robotics at Zillah High School. Since the fall of 2018, he has served as the principal of Zillah Middle School in Zillah, WA. Charbonneau has also worked as an adjunct faculty member at Central Washington University in the Continuing Education Department. After being named Washington's Teacher of the Year in 2013, he was selected as the 2013 National Teacher of the Year by the Council of Chief State School Officers. President Barack Obama recognized him for his innovative teaching approach and success during a ceremony at the White House. In 2015 he was a finalist for the Global Teacher Prize.
Laura Huang – Laura Huang is the MBA Class of 1954 Associate Professor of Business Administration at the Harvard Business School. Laura's research examines interpersonal relationships and implicit bias in entrepreneurship and in the workplace. She is the creator of #FindYourEdge, an initiative dedicated to addressing inequality and disadvantage through personal empowerment. Her award-winning research has been featured in the Financial Times, The Wall Street Journal, USA Today, Forbes, and Nature, and she was named one of the 40 Best Business School Professors Under the Age of 40 by Poets & Quants. Previously, she held positions in investment banking, consulting, and management, for organizations such as Standard Chartered Bank, IBM Global Services, and Johnson & Johnson. Laura holds an MS and BSE in electrical engineering, both from Duke University, an MBA from INSEAD, and a PhD from the University of California, Irvine. Her first book is entitled Edge: Turning Adversity into Advantage.
Liz Willen – Liz Willen, editor-in-chief, and longtime education reporter, has been proud to lead an award-winning staff of The Hechinger Report since 2011. She was recently honored for commentary writing by the New York Press Club. Liz is a sought-after moderator at education conferences and events, has been an active New York City public school parent and recipient of the "Above and Beyond," award by the media company City & State for exemplary leadership. She and her team have won dozens of education reporting awards.
Paul Tough – Paul Tough is the author, most recently, of The Years That Matter Most: How College Makes or Breaks Us. His three previous books include How Children Succeed: Grit, Curiosity, and the Hidden Power of Character, which was translated into 27 languages and spent more than a year on the New York Times hardcover and paperback best-seller lists. Paul is a contributing writer to the New York Times Magazine, where he has written extensively about education, parenting, poverty, and politics. His writing has also appeared in the New Yorker, the Atlantic, GQ, and Esquire, and on the op-ed page of the New York Times. He is a speaker on topics including education, parenting, equity, and student success. He has worked as an editor at the New York Times Magazine and Harper's Magazine and as a reporter and producer for the public-radio program "This American Life." He was the founding editor of Open Letters, an online magazine.
Rodney Robinson – Rodney Robinson is a 19-year teaching veteran. He became a teacher to honor his mother, who struggled to receive an education after being denied an education as a child due to segregation and poverty in rural Virginia. In 2015, Robinson started teaching at Virgie Binford Education Center, a school inside the Richmond Juvenile Detention Center, in an effort to better understand the school-to-prison pipeline. Robinson has been published three times by Yale University and has received numerous awards for his accomplishments in and out of the classroom, most notably the R.E.B. Award for Teaching Excellence.  He is a member of Richmond Mayor Levar Stoney's Education Compact Team, and is working with city leaders and local colleges to recruit underrepresented male teachers into the field of education. He has also worked with Pulitzer Award winning author James Foreman on developing curriculum units on race, class, and punishment as a part of the Yale Teacher's Institute. Robinson earned a Bachelor of arts in history from Virginia State University and a master's in educational administration and supervision from Virginia Commonwealth University.
Sarah Brown Wessling – Sarah Brown Wessling is a 21-year veteran of the high school English classroom. While a member of the faculty at Johnston High School in Johnston, Iowa she has taught courses ranging from at-risk to Advanced Placement and has served the department and district in a variety of leadership roles. Sarah is a National Board Certified Teacher since 2005 and in 2010 was selected as the National Teacher of the Year. In that capacity she worked as an ambassador for education, giving over 250 talks and workshops in 39 different states as well as internationally. Currently she maintains a hybrid teaching position which keeps her in the classroom and allows her to write, speak and work on teacher leadership initiatives around the country. Sarah is Laureate Emeritus for the non-profit Teaching Channel. She is an author of Supporting Students in a Time of Core Standards and maintains a blog with the column "Ask Sarah."
Shanna Peeples – Shanna Peeples, the 2015 National Teacher of the Year, took the road less travelled on the way to her classroom. She worked as a disc jockey, medical assistant, and journalist before teaching, as she says, chose her. Shanna taught middle and high school English in low-income schools in Amarillo, Texas for 14 years. Because Amarillo is a resettlement area for refugees, students as diverse as the Karen people of Myanmar to the Bantu people of Somalia, make up classes in her former assignment at Palo Duro High School. Currently, Shanna is a doctoral candidate in Education Leadership at Harvard Graduate School of Education where she is a member of two teams working on solutions for some of education's thorniest problems: implementing equity and teacher shortages in STEM. Her book, Think Like Socrates: Invite Wonder and Empathy Into the Classroom, was recently chosen by the National Education Association Foundation and PDK International as a book choice for their membership.
Sydney Chaffee – Sydney Chaffee is a 9th grade Humanities teacher, department chair, and instructional coach at Codman Academy Charter Public School in Dorchester, MA. As 2017 National Teacher of the Year, she has spoken to audiences around the world about the limitless power of teachers and students to change the world. Sydney is a National Board Certified Teacher with a passion for helping diverse learners grow through authentic, relevant, interdisciplinary curricula. She earned her B.A. from Sarah Lawrence College and her M.Ed. from Lesley University.
Join Us at SXSW EDU 2020
Register now to hear from these speakers and more at SXSW EDU, March 9-12, 2020. Purchase your registration badge by Friday, November 22 to save $165 off the walk-up rate. SXSW EDU also offers group and student discounts.
Stay in the know with SXSW EDU by signing up for the SXSW EDU Event Update and follow us on Twitter, Facebook, and Instagram for daily updates.
Photo (t-b, l-r) Jason Reynolds (Photo Credit Jati Lindsay), Arlan Hamilton, Sir Ken Robinson, Laura Huang, Paul Tough (Photo Credit Paul Terefenko, The Lavin Agency), and Rodney Robinson.