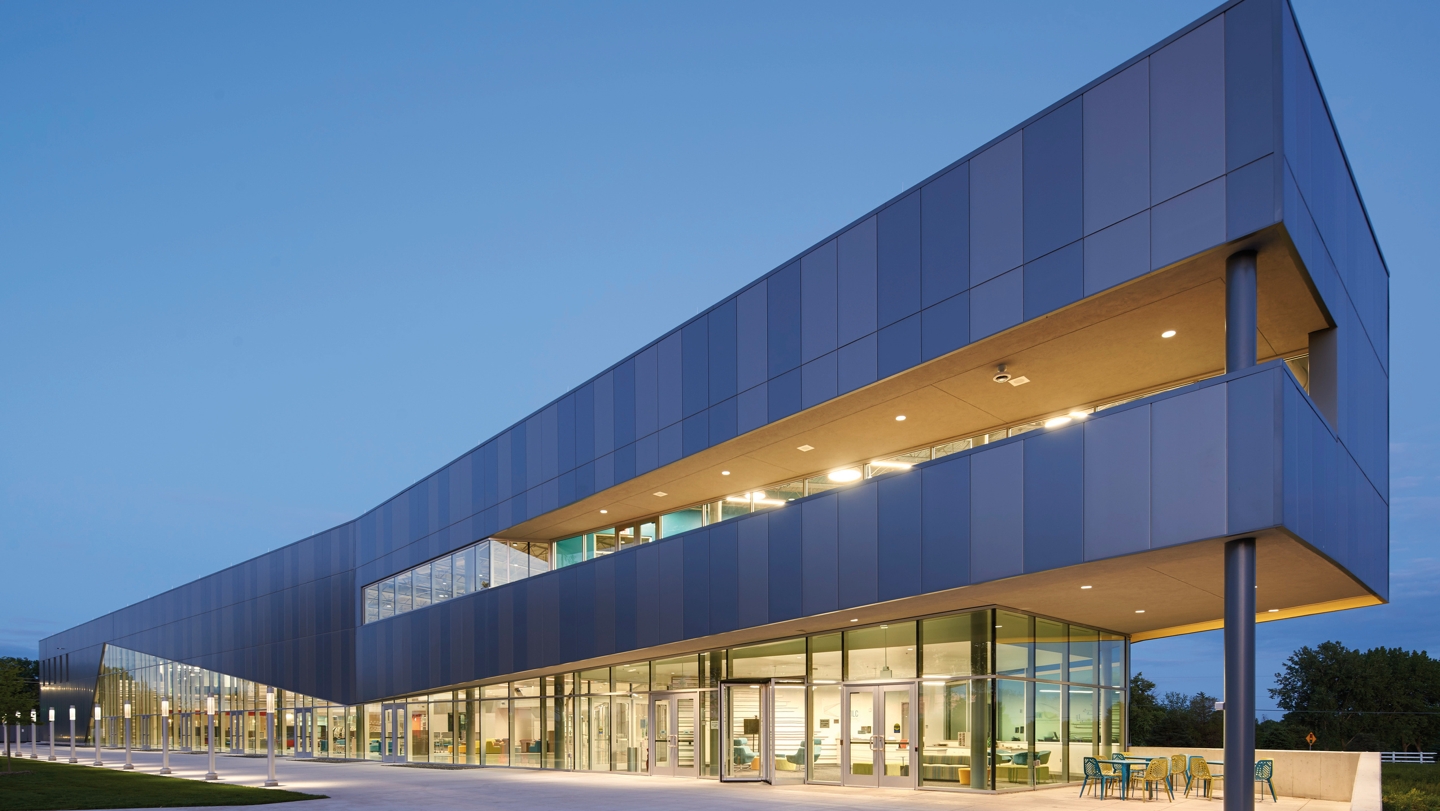 Earlier this year, SXSW EDU's Learn By Design Competition, presented by VS America, announced the winner of its 4th annual competition was the Waukee Innovation & Learning Center (WILC).
The WILC houses the Aspiring Professional Experience (APEX) program, by CannonDesign and INVISION Architecture. Learn by Design elevates groundbreaking work in the design of physical learning environments and how it impacts pedagogy and learning outcomes. The WILC's APEX program blends educational curriculum with business acumen through studios, workshops, labs, enclaves, and co-working zones.
Follow along as Michael Bechtel, principal architect of INVISION, Stuart Brodsky, PK-12 Lead of Educational Design at CannonDesign as well as Laura Peterson and Kerry Weig of INVISION relay what brought them to SXSW EDU, how competition set-up helped transcend their final presentation before a panel of judges, how the design of the WILC is impacting young people's learning outcomes in Waukee, Iowa, and what they hope to see for the future of design-based learning.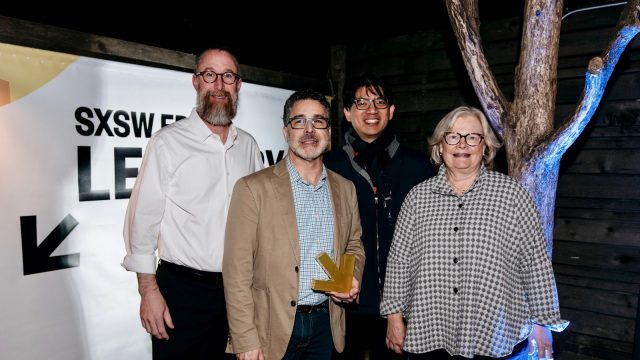 When asked about their personal tie to education, Stuart Brodsky relays he's been a part of the industry for 22 years, Michael Bechtel grew up with educators as parents and as a result, has been education adjacent for three decades, and Laura Peterson has been a competitive cheerleading coach.
How did SXSW EDU Learn By Design Competition come to you all?
Stuart: We had an opportunity to sit through the juried presentation just like Micheal and I delivered and thought it was very fascinating.
Bridget: We originally presented at SXSW EDU two years ago…[so] when the second opportunity came around we submitted it for the Learn By Design Competition and Micheal and Stuart were able to co-present this year...and it worked out.
When you were announced as finalists, how did you all start preparing for the festival and conference?
All: Well… [laughs]
Stuart: As a team, we worked really hard on defining the challenges, really talking about how the process made a difference, explaining the solution itself and how it supported and solved those challenges and was a reflection of the process. What became really evident in the practice for SXSW EDU was the big emphasis on being able to show what the results were: the results aren't the building, the results are the students and the teachers and literally measurable results that come out of the program for students both personally and professionally and that the program itself was growing.
Michael: The crucial part of the preparation, aside from practicing, and practicing, and practicing again, was the outline. We really broke it down into four sections: it was the challenge... the process, and then the solution and the results...and we really stuck to that and tried to keep it concise and clear [about what was] the specific work that we did that was successful for that project.
Any cool impact stories the WILC has had, post-development?
Michael: In our presentation, we told the story about a student...named Kane...he did not feel successful…[but] he found things that intrinsically motivated him to do work and to be in school......and if you read that, it's sort of a tear-jerker kind of thing to read, for a student that had so many challenges educationally coming up to that point, maybe [even] to the point of wanting to leave. We heard other anecdotal stories about students that really were looking for a way to become engaged in learning and those are the things- there's not a lot of statistics behind...you can't put numbers to that, but you can put a lot of stake in that.
Laura: One semester a few years ago, a business partner was working with a studio for an entire semester and the instructor [told] the business partner that the valedictorian and the student that was second bottom [in] the class were both in the studio and could this business partner guess which one was which. The business partner guessed the student that was second from the bottom as the valedictorian because that student had been engaged and the most active and the largest leader in the class...and that story always hits home with me when we talk about this program and what it can provide. People assume it's for the students at the top of the class and it's [actually] for each student to make it [their] own.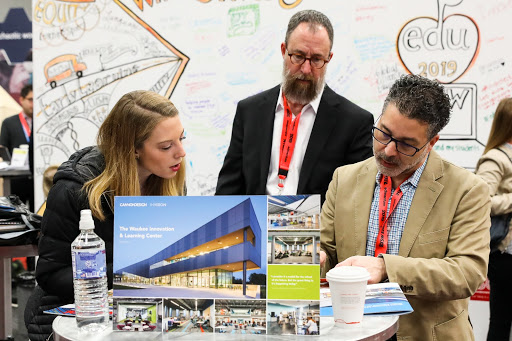 Why did you choose our competition? What is it about EDU that made you want to share your work?
Stuart: What we found is that at SXSW EDU there are a lot of educators that are interested in looking for what's next and looking for places of innovation and ideas that are going to make a difference for students moving into the future. Some of the risk-takers show up and present, but also some of the tried and true people, who have been around for a while and have a lot of true data and proven evidence of things that work [do too]. I think there's a real strong energy to the conference, and of everybody being in that setting.
Michael: ...going with Stuart, earlier this year was my first time at SXSW EDU...and I have to echo I found it really inspiring. Most of my time was spent preparing and taking care of the award stuff, but we did make it to several [sessions] and found it to be invigorating. I think what sets SXSW EDU apart from other conferences...is that there's such a broad topic coverage throughout that entire conference...but what SXSW EDU conference allows [is] for multiple people to go down and choose their path about what they're wanting to learn about next.
Stuart: A lot of the conferences that are education-based are often people speaking about solutions and they might talk about what influenced their solution, but it's really focused on solutions. This conference is focused on the things you would want to know that you can then take back to your studio and develop your own ideas about it.
Stuart is returning for SXSW EDU as part of the session Is Your Classroom Functioning as a Third Teacher?. He connected with and later collaborated with his co-presenters after participating in the competition. He says, "That would not have been possible at any other conference, I'm pretty convinced of it."
When asked how effective having the coaches help with their pitch was, they mentioned they were unsure of what to expect, yet pleased with the results. There was a focus on including storytelling as a part of their pitch in order to paint a picture to both the audience and the judges the effect on learning their project had on students. They said the feedback they received was, "very useful, very constructive and very thoughtful".
What do you hope to see in the future of your industry?
Michael: It's about reaching every one of these kids in a way that's meaningful for them. This project in particular and those that are following its footsteps outline that one pedagogy of delivering education just doesn't work for everyone and it's really about, creating scenarios for choice and opportunity for people that learn in a different way. I'd like to see a really clear focus on offering choice in the way in which a student can learn.
Laura: Finding a way to scale this idea of diversity of space-type and programming to all types of school districts...but not every district can build one of those and helping them understand that you can still provide that education type in a very simple space-. Helping districts understand that it doesn't have to be this beautiful and expensive.
Stuart: My hope would be that we could figure out a way for there to be all of these perspectives involved in the design process. We should have neuroscientists, psychologists, architects, educators, constructors and engineers on every design team so that the solutions that come out [are] truly reflective of what is going to work for students [for] when they come out in this uncertain world in the future, [for] when jobs are changing and skills will need to succeed in the future. My hope is inspiring a future where they can focus on what is truly human, and what machines can't do and that school is really about creating a stronger context for that.
Corn or flour tortillas and did you like Texas?
Stuart: I would say that I like both tortillas. We managed to go to three or four restaurants. Whether its music or food there isn't a day that Austin doesn't come up.
Michael: I have it on my list! We're going back. It's kind of like music for me, I waffle between genres- I'm going to go traditional, with corn. I'm excited to go back!
In closing, we would like to again congratulate the CannonDesign and INVISION team on their win and we look forward to next year's Learn By Design Competition finalists showcasing their design-based learning environments!
The 2019 competition was judged by Jim Determan, Principal at Craig Gaulden Davis Architecture, Jane Werner, Executive Director of the Children's Museum of Pittsburgh, Roosevelt Weeks, Director of the Austin Public Library, and Stephanie Santoso, Citizen Schools Director of Maker Initiatives.
Follow us on Facebook, Twitter, Instagram, LinkedIn, Youtube and Soundcloud to stay current with all things SXSW EDU. Join us in March for the 10th anniversary of SXSW EDU and the 5th annual Learn By Design Competition!
This is a shortened version of a more detailed interview. Read more about CannonDesign and INVISION's efforts to elevate learning by way of design here.
(1) Photo of The Waukee Innovation and Learning Center (WILC) provided by CannonDesign. (2) Photo (l-r) of Michael Bechtel, Stuart Brodsky, and competition emcee's Marc Chun and Lydia Dobyns at the 2019 Competition Awards Party, by Lisa Hause. (3) Photo of the CannonDesign and INVISION team presenting the WILC at the SXSW EDU Design Showcase the morning of the 2019 Competition, by Randy & Jackie Smith.