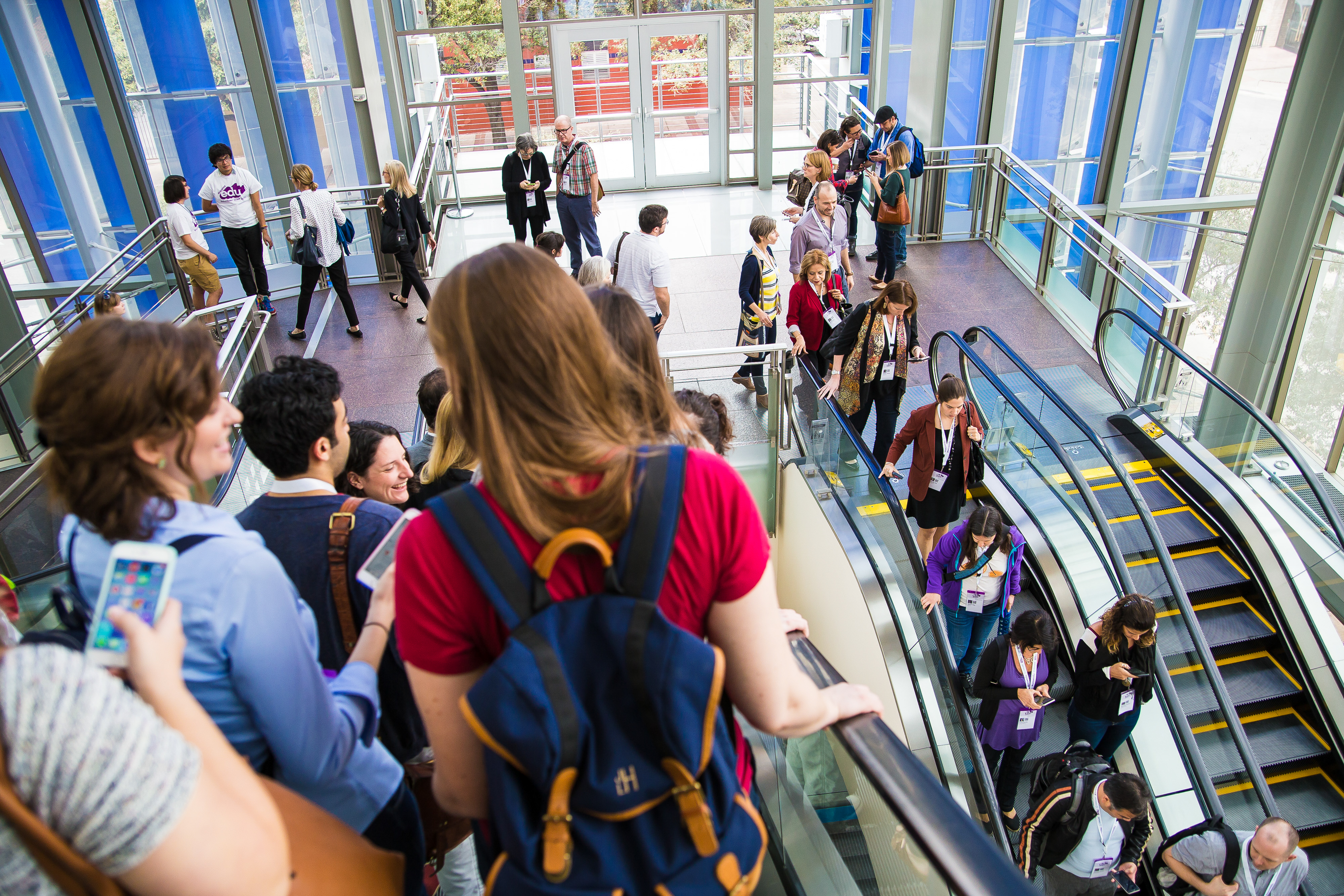 It's already been more than three months since we were last together in Austin for SXSW EDU! Feels like only yesterday we were learning about the power of vulnerability from Brené Brown or the realities of urban education from Chris Emdin, but since the last time we shared barbecue, we've been busy deconstructing the 2017 Conference & Festival and rebuilding our vision for the 2018 event. As we launch the season with the opening of PanelPicker on June 26 and the launch of our new website, I wanted to take some time to fill you in on what we've been working on and what's on the horizon for 2018.
Community Centered
It starts with you, the community! Once we recover from SXSW EDU and the ensuing 10 days of SXSW, we go deep into reflection mode—combing through registrant feedback, production notes and a thorough analysis of every component of the event. Though the 2017 event was our biggest and best event yet, we always know there's room for improvement and the best way for us to serve you is to continue to iterate. To set the stage, here's the 2017 event by the numbers:
SXSW EDU 2017
16,547 Total Attendance
7,857 Participants
8,690 Expo Attendees
1,231 Speakers
500 Sessions
47 Countries Represented
One of the big takeaways from this year is a renewed focus on creating a more simplified and connected experience both onsite and surrounding the event. From conference programming and competitions, to film screenings, exhibitions and networking events, there's no shortage of opportunities to learn and engage with great content at the event. The flip side is it's easy to feel overwhelmed and have FOMO from everything you'd love to jump into, but can't, especially for our first timers. With that in mind we're working hard to bring all the components of the event together in a more connected and easily communicated way.
New Year, New Look
As I'm sure you've noticed, SXSW EDU has a new, refreshed look and a completely overhauled web experience. In this new evolution, we've broken down the event into our four principle functions. We have a program that is comprised largely of our sessions and film screenings; we host learning-centered competitions for design projects and early-stage startups; we have three exhibitions that are all focused on creating interactive opportunities to engage; and we help people find and grow their own personal community through a variety of networking opportunities. We host a diverse audience of education stakeholders that span the full learning lifecycle, so within these components of the event we're interested in creating spaces to build bridges between various communities, while finding ways to support the more focused interests we all have in our day-to-day work.
Changes for 2018
At the center of it all, one of the main strengths of SXSW EDU as an event is the contagious energy of the optimistic, passionate and purpose-driven attendees that drives us forward. The serendipitous run in with an old colleague or new friend in the hallway can be as meaningful to our work as the programming itself. To that end, we've consolidated our programming to occur in the Austin Convention Center and Hilton Austin Downtown across the street to increase these attendee collisions. In a similar vein, we formed a new exhibition called the Innovation Hub that combines both the Industry Hub and Higher Ed Hub from last year into one space to help drive more energy and connect the two communities. There will still be an Industry stage and a Higher Ed stage to support these communities, but the exhibition will be fully integrated.
On the program side of things, we've tried to streamline our session formats to make your onsite decision-making easier, while still maintaining the variety of engagement and session duration that enables you to personalize your learning experience at the event. We will feature open audience conversations in our newly named Campfire sessions (formerly Core Conversations), short talks in our Future20 or Talk sessions and more in-depth research in our Case Studies. For those looking to get their hands dirty, you can jump into a quick 30-minute Hands On engagement in the Playground, or drill deeper in a two-hour Workshop or half-day Summit. Of course we still have the tried and true Panel discussions, but we always encourage you to step out of your comfort zone for programming at the event.
We also updated our tracks to better align with some of the larger trends in education today, but intentionally left them broad enough to encompass the diverse array of topics at the event. With a growing focus on higher education, workforce development and beyond, we expanded our tracks to include Continuing Education. Likewise, with a growing audience from libraries, museums and other out-of-school programs, we added an Informal Learning track to help capture the impact of learning outside of the classroom. Many of our tracks will remain the same as they continue to be relevant to what's going on in the space and I expect some of our most popular tracks will continue to be prominent this year – Instruction, Implementation, Equity and Leadership.
You Shape the Event
As I shared in the beginning, SXSW EDU is a community-centered convening and nothing is a better embodiment of that than our programming platform, PanelPicker. For those less familiar, PanelPicker is the official user-generated session proposal platform that accounts for the majority of our conference programming. What makes PanelPicker so unique is that after the proposal window closes, we actually post all the session ideas publicly so that everyone in the community can vote and comment on the ideas they most want to see at the event.
While public voting is going on our advisory board and staff will be doing a more in-depth evaluation of the proposals ensuring each idea gets a balanced and diverse array of perspectives weighing in on its viability for SXSW EDU. The final decision is then made up of 40% advisory board evaluation, 30% public voting and 30% staff grading. This is going to be the seventh year we've used PanelPicker to curate the event and over that time we've seen community programming proposals grow from a little over 300 for the 2012 event to more than 1,300 last year.
In addition to PanelPicker, we're launching applications for our competitions, exhibitions, mentors and performance series on June 26, so there's ample opportunity to showcase your expertise at SXSW EDU next March.
More to Come
It's great having this opportunity to share with you what we've been hard at work on since March and I look forward to more opportunities moving forward to share with you the direction we're heading in. Staying connected to you throughout the year is important to us and we're continually looking for new ways to engage the community. We'll soon be kicking off our summer Community Meet Up tour where we travel the nation hosting events in different cities to help build relationships locally as people work to submit their PanelPicker ideas. We'll also be at many of the major conferences coming up and would love to connect as we work to support our Event Partners.
Staying in touch with you is what keeps us passionately engaged in our work so I welcome and encourage you to reach out to me with any thoughts you have. You can reach me at greg@sxswedu.com.
See you in March!

Greg Rosenbaum
SXSW EDU General Manager
SXSW EDU attendees. Photo by David Zacek.