Advisory Board
The Advisory Board plays an important role in shaping SXSW EDU. The board is composed of leaders from all backgrounds in education, including professionals from early, K-12, and higher education as well as workforce development. Advisory board members are practitioners, administrators, business professionals, nonprofit leaders, entrepreneurs, policy makers, and students from all over the world, each offering unique, and diverse perspectives.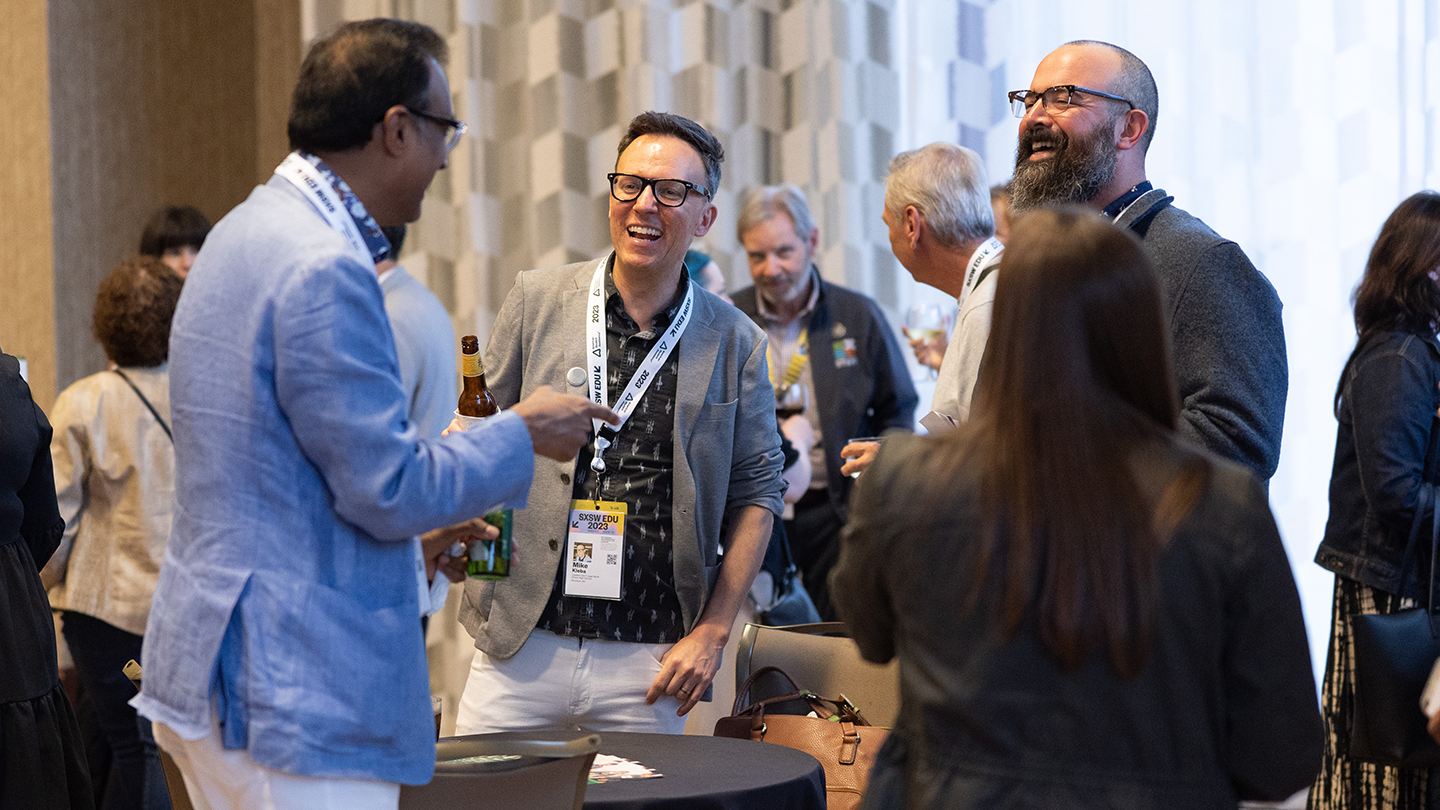 Advisory Board Mixer - SXSW EDU 2023 - Photo by Miguel Esparza
Members of the Programming advisory board committee share their time and expertise by evaluating proposed sessions submitted via PanelPicker. The board's participation weighs heavily in the overall session programming of the event.
* SXSW EDU Founding Board Member
Aaron Dworkin
CEO, National Summer Learning Association
Kensington, MD
Adam Gismondi
Director of Impact, Institute for Democracy & Higher Education, Tufts University
Medford, MA
AJ Crabill
Coach, CGCS
Austin, TX
Alan Buller
Internship Coordinator/Advisor, FEDC TechStart
Cañon City, CO
Alex Chandler
Chief Communications Officer, AVANCE
Cedar Park, TX
Alli Lee
Vice President, Programs, Book Trust
Denver, CO
Amber Oliver
Managing Director, Robin Hood Learning + Technology Fund, Robin Hood Foundation
New York, NY
Anita Givens*
Associate Commissioner for Standards and Curriculum, Texas Education Agency (retired)
Austin, TX
Anna Belle Burleson
Assc Director of Disability Services, SAFE Alliance
Austin, TX
Annette Q. Pedersen
Senior Consultant E-learning, University of Copenhagen
Copenhagen, Denmark
Benjamin Powers
Director, Global Literacy Hub at Yale Child Study Center
New Haven, CT
Beth Carls
CEO, Co-Founder, OneSeventeen Media PBC
Austin, TX
Bruce Douglas
Co-Founder, Frame Change
Chicago, IL
Caroline Vander Ark
CEO, Getting Smart
Federal Way, WA
Charles Hopkins
Director, Teaching & Learning, Council on Foreign Relations
New York, NY
Chris Fancher
Consultant, Chris Fancher Consultiing, LLC
Round Rock, TX
Chris Hopper
Technology Director, Lone Star Learning
Austin, TX
Christian Martinez
Founder, Camino Program
Oakland, CA
Clee Upchurch
COO, lead4ward
Austin, TX
Clyde Boyer*
CTO, Trinity Education Group
Clarksville, MD
Corinne Weisgerber
Associate Professor of Communication & PR, Concordia University
Austin, TX
Cory Colby
Professor of Political Science / SGA Faculty Advisor / ATPE Past State President, Lone Star College - Tomball
Tomball, TX
Cynthia Burrow
Owner, Strategic Education Solutions
Holliston, MA
Dagmar Kauffman
Founder & Executive Director, On Balance Parenting
Naperville, IL
Dan LaSota
Instructional Designer, University of Alaska Fairbanks
Fairbanks, AK
David Anderson*
Education Lobbyist, HillCo Partners
Austin, TX
David Conover
Teacher, PFISD
Austin, TX
David Roberts
Gifts Manager, Foundation Communities
Austin, TX
David Westerman
Associate Professor, North Dakota State University
Fargo, ND
Drew Davidson
Director & Teaching Professor, Carnegie Mellon University
Pittsburgh, PA
Elizabeth Gossens
Consultant, ESG Strategic
Historic New Castle, DE
Emily Kotecki
Principal & Founder, High Beam Strategies
Raleigh, NC
Erik Woning
Project Manager Innovation, ROC Mondriaan
The Hague, The Netherlands
Felice Nudelman*
President, Net Edge Training, LLC
Beavercreek, OH
Gail Conway
Senior Management Consultant, T Project Leadership
Winnetka, IL
George Rislov
Emeritus, Retired
Burnet, TX
Georgi Dimitrov
Head of Digital Education, European Commission
Brussels, Belgium
Greg Weatherford II
Youth Empowerment Program Officer, The Allstate Foundation
Frisco, TX
Hadeel Ramadan
Instructional Associate Professor, Visualization Undergraduate Program Director, Texas A&M University, School of Performance, Visualization & Fine Arts, Visualization Program
College Station, TX
Holly Custard
Senior Director, Strategic Partnerships , Strada Education Foundation
Austin, TX
Honoria Starbuck
Assistant Professor of Practice, The University of Texas at Austin
Austin, TX
Hugh Norwood*
CEO, Trinity Education Group
Clarksville, MD
James Miles
CEO, Fresh Professor
Seattle, WA
Jeff Wayman
President, Wayman Services, LLC
Austin, TX
Jennifer Groff
Founder & CEO, Learning Futures Global
London, UK
Jessica Slusser
Vice President of Growth & Impact, Getting Smart
Federal Way, WA
Jodi Lis
Vice-Chair, IEEE IC Industry Consortium on Learning Engineering
Washington, DC
Joel Thierstein*
Teacher, Cincinnati Public Schools
Cincinnati, OH
John Fitzpatrick*
Executive Director, Educate Texas
Austin, TX
John McKenna
Associate Professor of Special Education, University of Massachusetts Lowell
Lowell, MA
Jonathan Gates
Special Education Teacher, Rockford Public Schools
Rockford, IL
Jonathan Hamilt
Executive Director, Drag Story Hour
New York City, NY
Julie Dierberger
Paul Sather Distinguished Director, University of Nebraska at Omaha
Omaha, NE
Julie Willcott
Education Products Manager, zSpace
Corea, ME
Justin Nguyen
Founder/President, Declassified Media
Orlando, FL
Justin Tindall
Senior Director, Programs & Operations, It Gets Better Project
Los Angeles, CA
Kari Stubbs
SVP, Stages Learning
Kansas City, MO
Kathy Blankenship
Teacher, Kelly Lane Middle School
Pflugerville, TX
Kathy Hurley*
CEO, Kathy Hurley Consulting
Punta Gorda, FL
Kay Gallagher
Communications Specialist, Westat
Rockville, MD
Kelvin Chan
Executive Director, Black Family Philanthropies
New York, NY
Kierstan Schwab*
Executive Director, Texas PBS
Austin, TX
Kirsten Hund
Program Director, The Holdsworth Center
Austin, TX
Kristen Procko
Associate Professor of Instruction, The University of Texas at Austin
Austin, TX
Kristína Moss Gunnarsdóttir
Chief of Staff, Jobs for the Future
Boston, MA
Kwee Lan Teo
Head of Workforce Development, Samsung Austin Semiconductor
Austin, TX
Lakita Edwards
Arts Education Program Specialist, National Endowment for the Arts
Washington, DC
Langston Clark
Associate Professor, The University of Texas at San Antonio
San Antonio, TX
LaToya Rush
Program Director for Surgical Technology, Concorde Career College
North Hollywood, CA
Lindsay Knight
Executive Vice President of Social Impact, Blue Star Families
San Francisco, CA
Lindsey Own
Makerspace Coordinator, The Evergreen School
Seattle, WA
Lisa Brown
Professional Learning Specialist, The Charles A. Dana Center at the University of Texas at Austin
Austin, TX
Lizzy Perez
Founder/Owner, Lizzy Pérez LLC
San Antonio, TX
Lori Gracey*
Executive Director, TCEA
Austin, TX
Mallory Tuominen
Chief Program Officer, World Savvy
Minneapolis, MN
Mark Rogers
Teacher, Austin Achieve Public Schools
Austin, TX
Martin Moran
Head of Program & Lead MS/US Designer, Bennett Day School
Chicago, IL
Mayet Andreassen
Assoc Program Director of the BS in Visualization & Instructional Asst Professor, Texas A&M University at the School of Performance, Visualization & Fine Arts
Austin, TX
Megan Hickman
Sr Lecturer, Texas A&M University - San Antonio
San Antonio, TX
Meredith Crawford
Senior Program Coordinator, The University of Texas at Austin
Austin, TX
Michael Crawford
Director of Community Research, VELA Education Fund
Novi, MI
Michael DiMaggio
Vice President, Strategic Partnerships & Development, KnowledgeWorks
Cincinnati, OH
Michael Kleba
Teacher, Leaders Don't Lead
Brooklyn, NY
Michael Mills
Associate Dean, University of Central Arkansas
Little Rock, AR
Michelle Wallis
Executive Director, Austin Ed Fund/Austin ISD
Austin, TX
Mike Lawrence
Education Leadership Executive, Jamf
Placentia, CA
Monique Chism
Under Secretary for Education, Smithsonian Institution
Washington DC,
Natalie Minas
Manager of Special Education Compliance, Vertex Education
Phoenix, AR
Noreen Barajas-Murphy
Higher Education Ambassador, CDW
Claremont, CA
Peter Nilsson
Editor, The Educator's Notebook
Marblehead, MA
Rachel Vanausdoll
Multi-Tiered Systems of Support Facilitator, Special School District of St. Louis County
St. Louis, MO
Rakeda Ervin
Director of Community Education, Austin Film Society
Austin, TX
Raymond Rose*
Public Policy Chair and Online Learning & Accessibility Evangelist, Texas Digital Learning Association
Corpus Christi, TX
Robin Lerner
President & CEO, The Texas International Education Consortium
Austin, TX
sam seidel
Director of K12 Strategy & Research, Stanford d.school
Oakland, CA
Sara Tahir
Associate Director of Professional Learning, Global Online Academy (GOA)
Austin, TX
Sarojani Mohammed
Founder & Principal, Ed Research Works
Austin, TX
Scott Kley Contini
Director of Experiential Learning, University Middle School
Memphis, TN
Shanna Peeples
Dr. John G. O'Brien Distinguished Chair in Education, West Texas A&M University
Amarillo, TX
Sheri Lawson
EL Teacher, Hazelwood West High School
St. Louis, MO
Stefan Neuber
Founder, MatheX
Petersberg, Germany
Stephan Turnipseed
EVP & Chief Strategy Officer Emeritus, Pitsco Education
Pike Road, AL
Stephanie Sandifer
Senior Director Academic Operations & Professional Learning, Kenzie Academy from Southern New Hampshire University
Houston, TX
Steve Amos
CEO, HealthCode
Austin, TX
Sualeha Irshad
Learning Designer, School of Humanity
Mansfield, TX
Sunanna Chand
VP, Systems Reinvention, The Reinvention Lab at Teach For America
Oakland, CA
Susan Nozick
Senior Manager, State Shared Services, K12 Online School
Westminster, CO
Teddy Hartman
Head of Privacy & Data Policy, GoGuardian
Washington DC,
Therese Laux
Educator, EF Academy
Pasadena, CA
Todd Groves
Retired Trustee, www.wccusd.net
El Cerrito, CA
Tracy Coffin
Founder & CEO, 504U
Austin, TX
Trisha Callella
Chief Experience Architect, Lead Learner Associates
Los Angeles, CA
Wietse van Bruggen
Senior Advisor Technical Innovation in Education, Kennisnet Foundation
Zoetermeer, The Netherlands
Members of the Launch advisory board committee share their time and expertise by evaluating startup applications for the Launch competition, and providing instrumental insight as it relates to the education marketplace.
Amrutha Vasan
COO, Inspirit Learning, Inc.
New York, NY
Andy Bell
Chief Executive Officer, Thinkery
Austin, TX
Cabral Thornton
Founder, Frame Change
Atlanta, GA
Chris Cook
Senior Director of Sales, Lexia Learning (a Cambium Learning company)
East Grand Rapids, MI
Don Fraser
Chief Program Officer, Education Design Lab
Washington DC,
Eileen Rudden
Principal, Sankaty Growth Partners
Cambridge, MA
Eric Nentrup
Consultant, Stoked for Learning
Indianapolis, IN
Erin Mote
Executive Director, InnovateEDU
Brooklyn, NY
George Damian
Principal, press PLAY
Calgary, Canada
Harish Kolli
Founder & CEO, Guardial
Austin, TX
Janine Walker-Caffrey
Chief Product Officer, EPS
Nashua, NH
Jennifer Chidsey
Associate Commissioner of Organizational Development, Texas Education Agency
Austin, TX
Jessica Millstone
Managing Director, Copper Wire Ventures
New York, NY
Jessica Falkenthal
Community Experience Director, Prenda
San Francisco, CA
Joan Hughes
Professor, University of Texas
Austin, TX
Kent Charugundla
CEO, EAGLE NET LLC
New York, NY
Leslie Omaña Begert
Co-founder & Head of Pedagogy, FabuLingua
Austin, TX
Lucy Kosturko
Chief Product Officer, Social Cascade
Raleigh, NC
Matthew Cohen
Managing Director, Cohen Strategy Group, LLC
New York, NY
Mike Wang
Head of Platform, Long Journey Ventures
Oakland, CA
Mike Yates
Senior Managing Director, Product Designer, The Reinvention Lab at Teach for America
Dallas, TX
Riyaz Gayasaddin
Vice President, Program & Talent, Camelback Ventures
Loveland, CO
Scott Lipton
Consultant/Data Specialist, The Holdsworth Center
Austin, TX
Steven Freidmutter
CEO, SF Ventures
Ithaca, NY
Sunil Gunderia
Chief Innovation Officer, Age of Learning
Glendale, CA
Taylor McLemore
Managing Director, Techstars Workforce Accelerator, Techstars
Denver, CO
Ted Kalomiris
Founder, Pivotal Sales 360, LLC
Austin, TX