What's Happening Today: Monday, March 6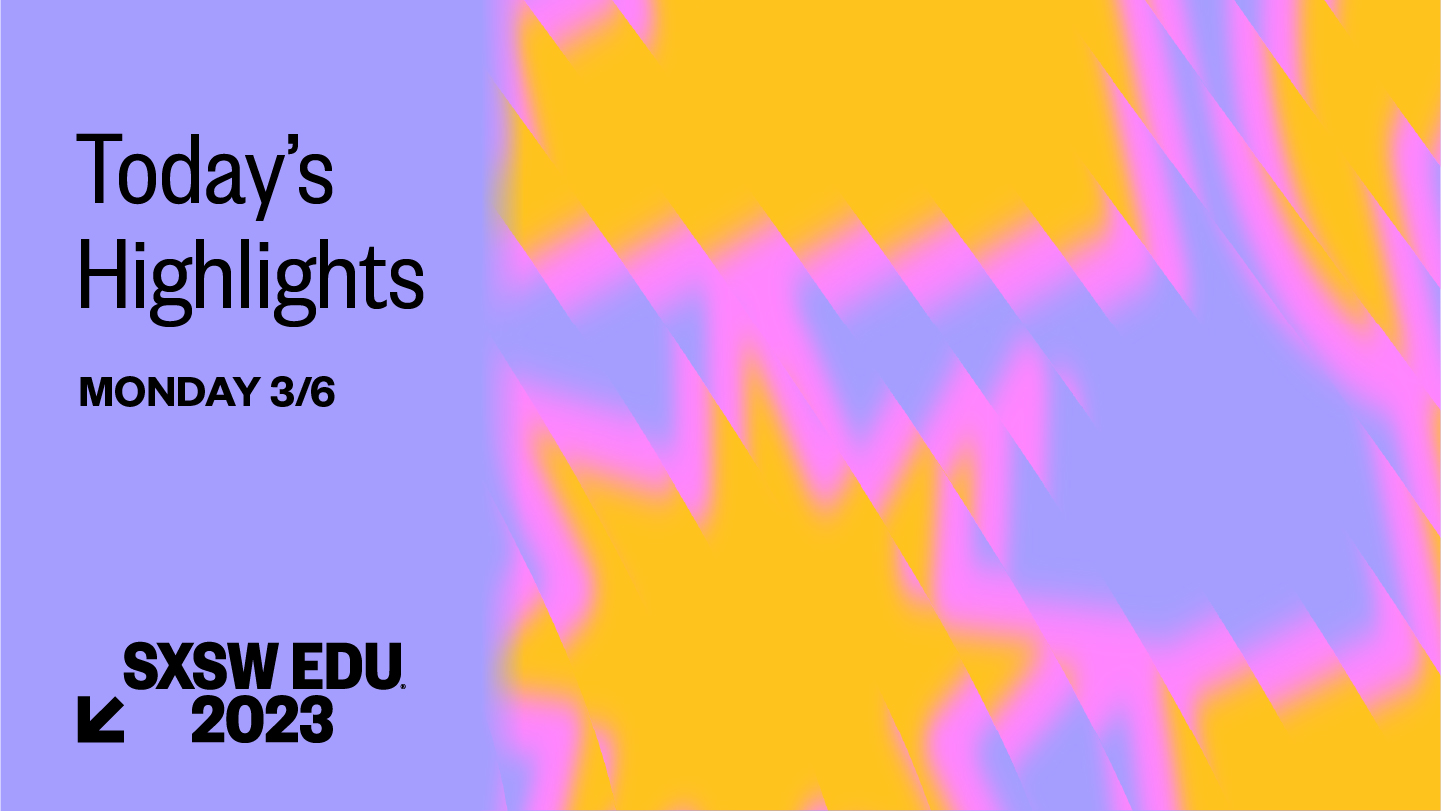 Welcome to day one of SXSW EDU 2023! We have been counting down the minutes and are so excited to kick off the first full day of programming with you.
If you didn't get the chance to pick up your badge yesterday, make that your first stop today. Badges can be picked up from 8:00am-8:00pm at Registration, so head over to Exhibit Hall 1 of the Austin Convention Center and grab yours today. Remember that without your registration, you will not be able to attend any programming.
Be sure to download the SXSW EDU GO app, available on iOS and Android, for the most up-to-date information throughout the week. Check out some cool mobile app features!
This morning, Luma Mufleh will be taking the Keynote stage to discuss how she is working to provide innovative and accessible education for everyone, setting a powerful tone for the week ahead. The Keynote will begin promptly at 10:00am in Ballroom D of the Austin Convention Center and all registrants can tune in live. You won't want to miss this!
Today's Highlights
Keynote: Teaching America: How We Fail Our Newcomers, Why It Matters, & How We Can Do Better
10:00am-11:00am | ACC, Ballroom D
Athletes Advancing Education
11:30am-12:30pm | ACC, Ballroom EF
Empowering Youth for Impact
12:30pm-1:00pm | ACC, Room 15
Fostering the Next Generation of Storytellers
1:00pm-2:00pm | ACC, Ballroom EF
Kitchen Convos: Creating Trans Inclusive Spaces
1:00pm-2:00pm | Hilton, Room 406
Film Screening: Seeds of Greenwood & Q&A
1:30pm-2:35pm | ACC, Ballroom A
How New Attention to R&D Will Transform Learning
2:30pm-3:30pm | ACC, Ballroom EF
Disability as a Creative Source
3:30pm-5:00pm | ACC, Room 16AB
The Pedagogical Power in a Playlist
3:30pm-5:00pm | Hilton, Salon E
Changing Course: Re-imagining the Role of Schools in Communities
4:00pm-5:00pm | Hilton, Salon A
Engaging Men in Campus Sexual Assault Prevention
4:00pm-5:00pm | ACC, Room 17AB
SXSW EDU Opening Party
7:30pm-11:00pm | Fourth & Co, The Courtyard
Stay up to speed by following along on social media: Twitter, Facebook, LinkedIn, TikTok, and Instagram.