Enhance Your SXSW EDU Experience with these Mobile App Features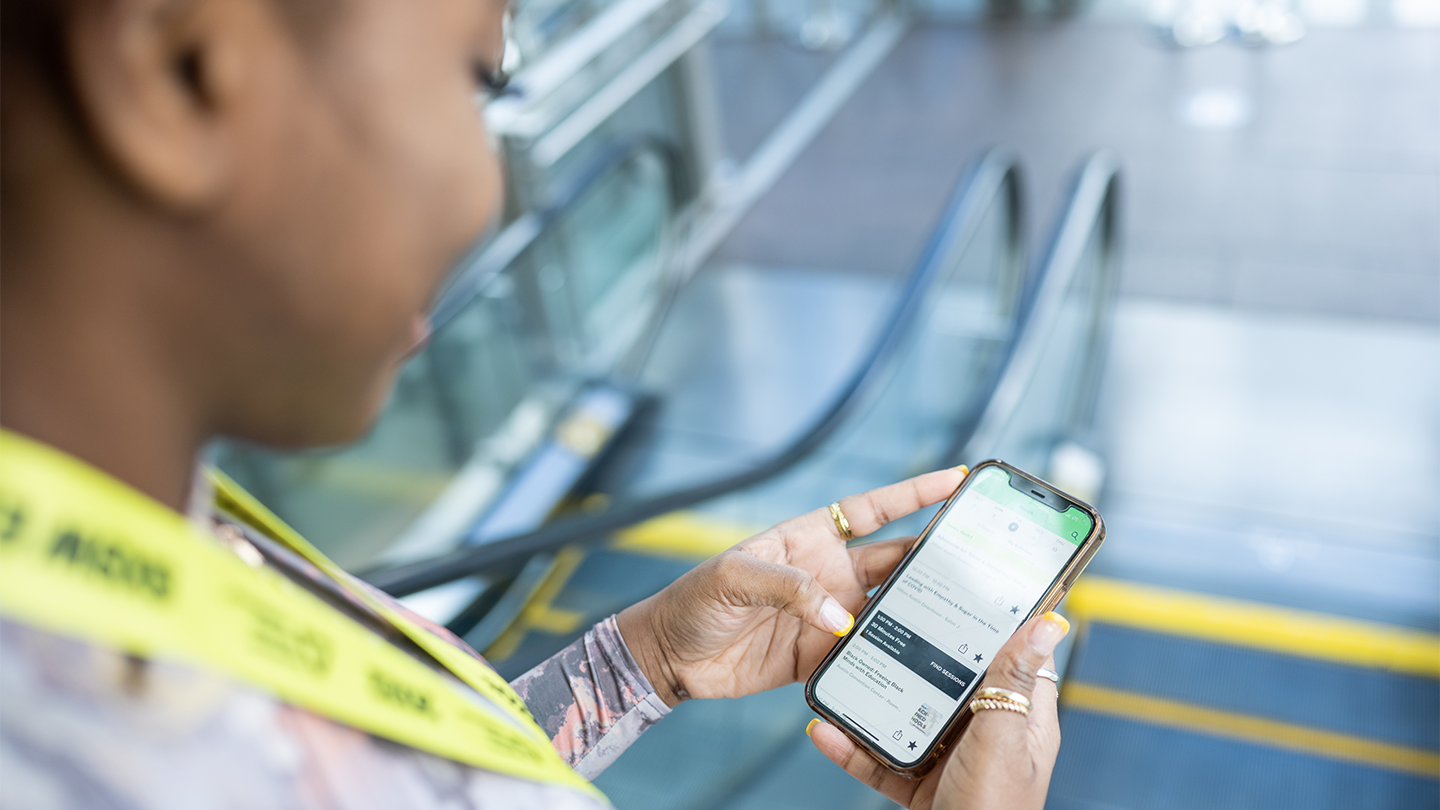 There is so much excitement going on at SXSW EDU, and a great way to keep organized is through the SXSW EDU GO App presented by American Student Assistance. With so many beneficial features, the mobile app is a great tool to help you make the most of your time at the event.
Take Notes on Sessions
With so much great information to take away from each session, you don't want to forget any of it. Keep your notes in one place by taking them directly in the mobile app. To find the notes tab, click the session on which you want to take notes and tap "Notes." Here, you can jot down ideas you want to implement, things you thought were interesting, or anything else you would like to remember. These notes are not visible to anyone but you — and once you're done, you can email the notes from a single session, or every session you attended, to yourself or a colleague.
Get Personalized Recommendations
Find attendees with similar interests and sessions that best align with your goals through personalized recommendations. To get started, sign into the mobile app and from the left side navigation menu, select "SXSW EDU Recommends" for programming recommendations and "Connect With Attendees" for networking recommendations. Remember, the more sessions, events, and people that you favorite, the better your personalized recommendations will be.
Browse Exhibitors
The SXSW EDU Expo, presented by LearnPlatform, will host a number of dynamic exhibition spaces designed to encourage attendees to discover and learn. Through the mobile app, you can easily explore and learn about the exhibitors participating in 2023. To find this list, select "Exhibitors" from the left side navigation menu. Star the exhibitors you are interested in so that you don't forget to pay them a visit during the event.
Connect with Attendees
Whether you meet attendees in person or find someone through your personalized networking recommendations in the mobile app, you can easily search for other registrants and chat with them directly in the mobile app. To start a chat, you can either click on the person's profile and tap "Chat Now" or click on "My Profile" in the menu, then "Inbox" where you can view all your past conversations. Or, use the search button to find an attendee to start a new conversation.
View Maps & Floorplans
We've got you covered so you know where you're going when you arrive at SXSW EDU. In the mobile app, you can find the programming venue list, venue floor plans, and a map of all event locations in Austin. To find these maps and floor plans, select "Maps & Floorplans" from the left side navigation menu.
Participate in Session Q&As and Chats
SXSW EDU has continued its partnership with Slido to enhance the Q&A portion during keynote and featured sessions. This tool, integrated in the SXSW EDU GO mobile app, makes it easy for attendees to submit questions throughout the presentation directly to the presenters to answer at the end of their session. To use Slido during the event, choose the session you want to send in questions for and tap on "Q&A."
In the same area, the community can digitally come together through our session chat function. Share your thoughts, opinions, favorite takeaways and more from Keynote and Featured sessions and see what the rest of the community thought as well!
Submit Your Feedback
During the event, attendees will have the option to confidentially rate and provide feedback on all of the sessions that they attend. Your feedback is important to us and allows us to improve the SXSW EDU experience continuously. To review sessions, open the mobile app after the session has ended and navigate to that session listing in the app. Click "Submit your Feedback" to enter your review.
Join Your Community in March
Register to attend in Austin or experience SXSW EDU Online. Celebrate education through compelling sessions, networking opportunities, and so much more at SXSW EDU from March 6-9, 2023.
Be the first to know of any information leading up to the event through Twitter, LinkedIn, Instagram, Facebook, TikTok and our newsletter.
Photo provided by Tico Mendoza