Personalize Your 2023 Programming & Networking Experience Through Recommendations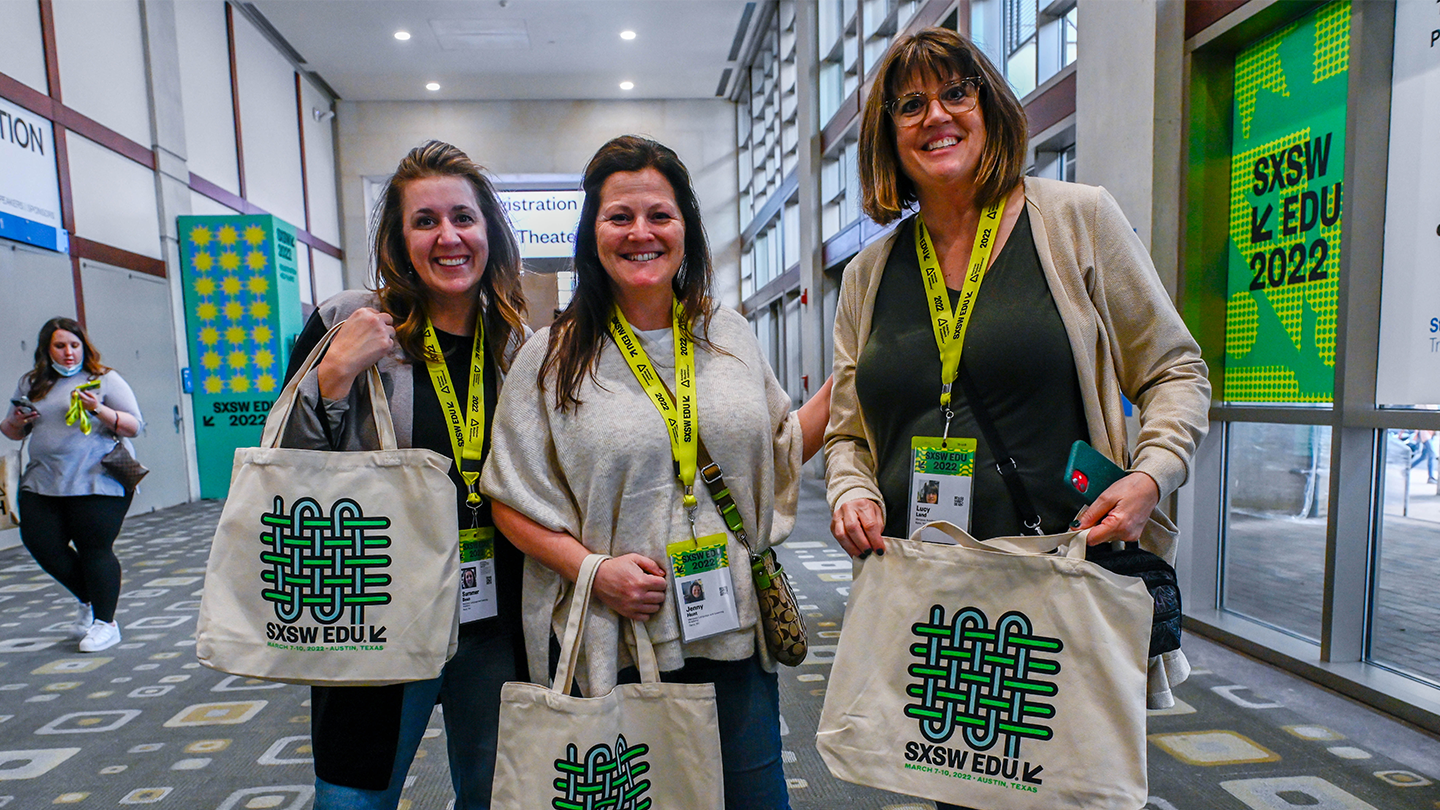 We want you to have the best SXSW EDU experience, and when you find programming and networking opportunities that best suit your goals for the event, we believe that your experience will be even better. Find personalized recommendations for programming and networking in the SXSW EDU Schedule and SXSW EDU GO mobile app presented by American Student Assistance.
Learn how to find your personalized recommendations:
Programming Recommendations
When looking for personalized programming recommendations a variety of factors come into play such as type of events, time, location, and popularity. The more sessions and events that you favorite the better the algorithm can find more programming that you would enjoy. These recommendations can be viewed in the schedule or mobile app.
Get started by exploring the schedule and making an initial list of programming that you are interested in. To do this, you can explore the schedule in many ways:
Browse by Track – Tracks are broad topics used to organize the program and help illuminate overarching focus areas. There are 11 total tracks for SXSW EDU 2023.
Browse by Format – The format reflects the structure, presentation style, and length of the session. Explore the 2023 formats.
Browse by Tag – Tags are specific subtopics designed to help attendees find popular content areas on the program. Each session on the schedule has one to two tags associated with it.
Find your personalized programming recommendations after you start favoriting events: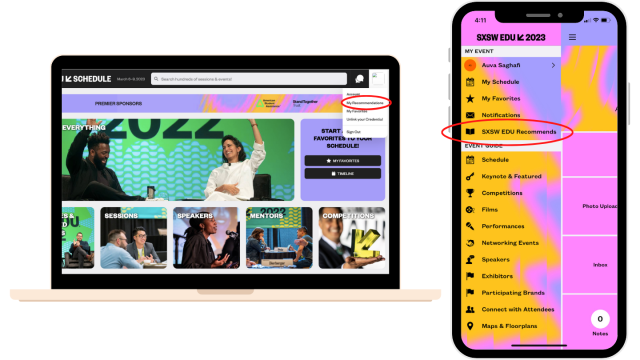 Schedule - To get started, log in to the schedule and link your 2023 badge. You can find your recommendations in your profile or visit schedule.sxswedu.com/recommends.
Mobile app - To get started, go to your profile and log in to your account to link your 2023 badge. Your can find your recommendations in the "SXSW EDU Recommends" tab in the app menu.
Networking Recommendations
A variety of networking recommendations will be available to you based on several factors including people, events, and tags that you have in common. You can add unique tags to your EDU Social profile to help you find people with similar interests. Continue to favorite more people and events to help the algorithm find more networking connections for you. These networking recommendations can only be viewed in the mobile app.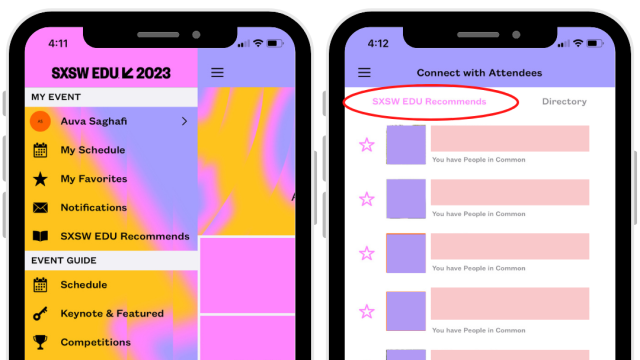 To view your personalized networking recommendations, go to your profile in the mobile app and log in to your account to link your 2023 badge. Head to the "Connect with Attendees" tab in the app menu, and then "SXSW EDU Recommends" to view your recommendations. From here, you can view the list of attendees that you have been matched with, along with the reason why the algorithm thinks you would be a good match (ie: "You have Tags in common").
You can then review your list of networking matches and begin messaging in the mobile app to connect. Select on the attendee profile and "chat now" to utilize the in-app chat feature.
In order to use this feature and allow the app to start looking for your recommendations, you will need to adjust your privacy setting preferences. Navigate to your profile in the app after logging into your account and select the settings gear in the top right corner where you can toggle on both "opt-in for the attendee list" and "allow analytics to collect user data."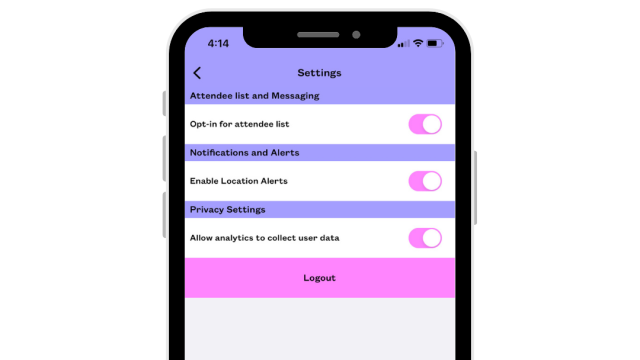 Use these recommendations to enhance your 2023 experience. We can't wait to see you in Austin in just a few short weeks!
Join Your Community in March
Register to attend in Austin or experience SXSW EDU Online. Celebrate education through compelling sessions, networking opportunities, and so much more at SXSW EDU from March 6-9, 2023.
Be the first to know of any information leading up to the event through Twitter, LinkedIn, Instagram, Facebook, TikTok and our newsletter.
Photo provided by Amanda Stronza