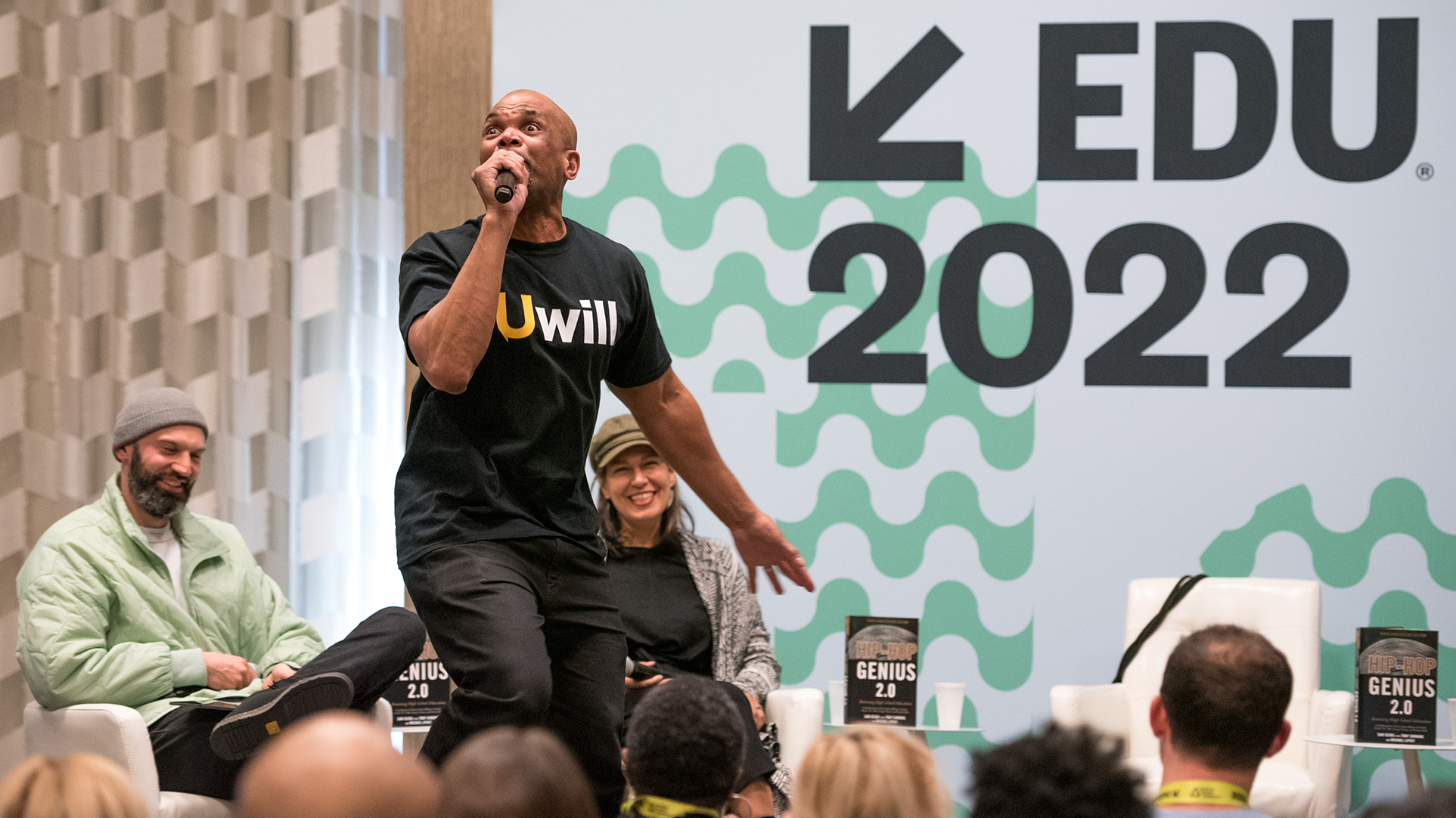 Leading education podcasts recorded conversations in front of a live audience for the first time at SXSW EDU 2022 on the inaugural Podcast Stage presented by Cognizant Foundation. Sixteen podcasts were hosted including episodes for the DO WIT Podcast featuring teen entrepreneurs, The Teachers Caucus Podcast featuring Congresswoman Harris, and Hip-Hop Genius the Podcast featuring DMC of Run DMC.
Tune in now to hear timely discussions across the educational landscape on topics such as how podcasts can be used to amplify voices and tell stories, including A Hero's Journey: Producing a Podcast in a Pandemic from Live from Mount Olympus, The NPR Student Podcast Challenge, and more. Explore the list of newly released podcast episodes that were produced at this year's SXSW EDU.
Listen Now: New Podcast Episodes
A SXSW EDU Bonus Episode: Real Talk: Discussing Race, Racism, & Politics with Tara Blackshear & Marcus Croom by Entrepreneurial Appetite's Black Book Discussions
Educators are Demoralized: What's the Way Forward? by EdSurge Podcast
Food Fight: Live from SXSW EDU by The Imagine Neighborhood
Hip Hop Genius Podcast Episode 1 - Ft. DMC and Martha Diaz at SXSW EDU 2022 by The Hip-Hop Genius Podcast
Kenny Rodrequez and Paul McCorkle on Culturally Responsive Real World Learning (Live from SXSW EDU) by Getting Smart Podcast
Lessons Learned from Empathy, a Blues Bar, and Sports by Trending in Education
"LIVE" DO WIT podcast recording from SXSW EDU by DO WIT Podcast
LIVE from SXSW EDU 2022 by The Higher Ed Geek Podcast
Live from SXSW EDU 2022 with Congresswoman Hayes & Juliana Urtubey by The Teachers Caucus Podcast
Podcast Hiatus Update + SXSW EDU Talk with Armel Talla by Declassified College Podcast
Special Episode: Live from SXSW EDU! by Education Disruption
WorkingNation @ SXSW EDU: Expanding Opportunities in Tech by Work in Progress
Episodes produced on our Podcast Stage from Why Don't We Know and Time Capsule Dance Party: A Podcast are coming soon!
Get Involved at SXSW EDU 2023
SXSW EDU's first Podcast Stage was a hit! If you would like to participate in the Podcast Stage for SXSW EDU 2023, be sure to keep an eye out for PanelPicker, which will be open for entry from June 28 - July 24, 2022.
Photo provided by Camille Mayor