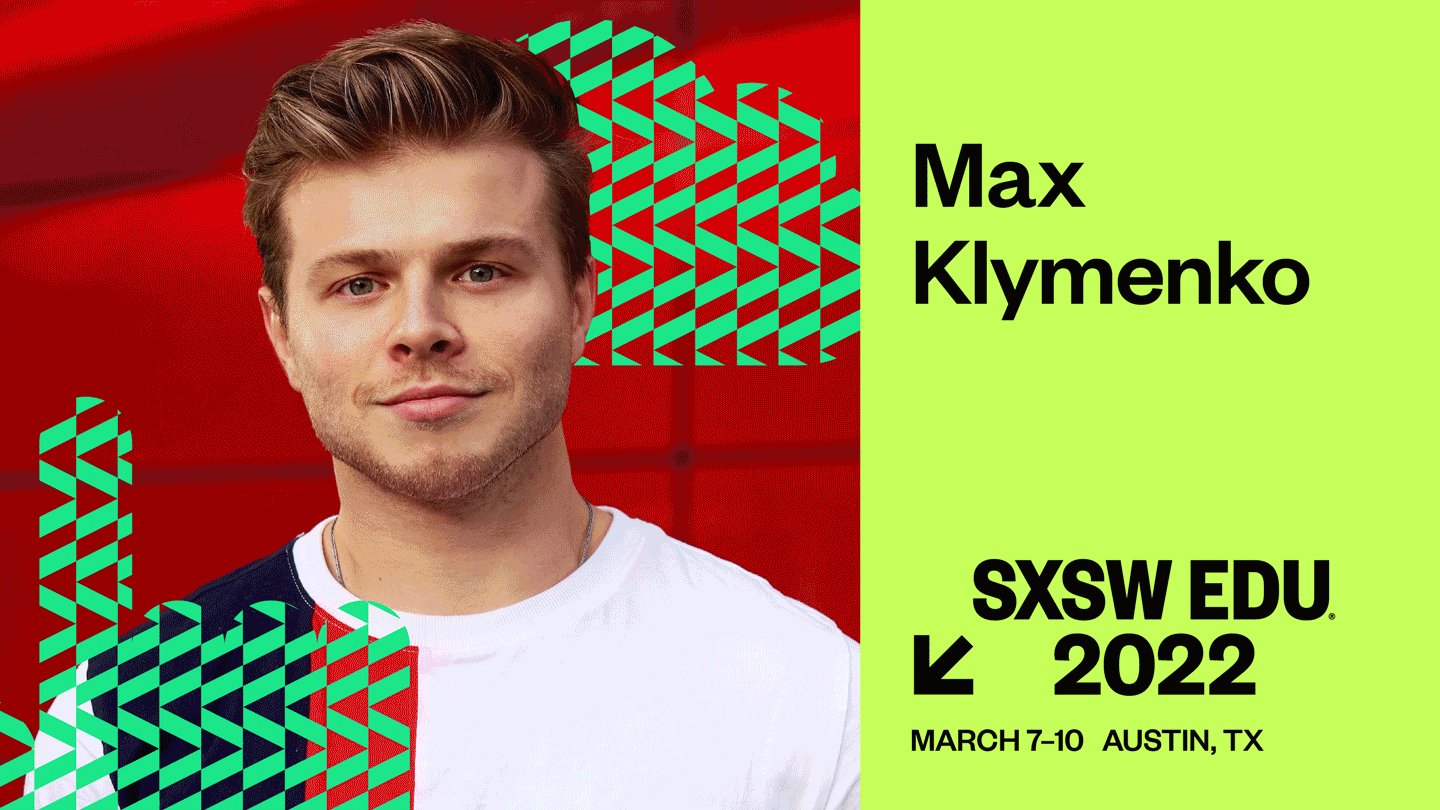 Today we're announcing two new featured sessions centered on timely topics -- as well as interactive learning experiences offered via special programs and social events at SXSW EDU.
Join Max Klymenko, social media edutainer and creative director, for Misinformation On Social Media: What Can Be Done? Learn about the opportunities created by decarbonizing public schools in Advancing Climate Action in Schools.
Dive into the Stanford d.school Future(s) Museum and learn from celebrated futurists while participating in hands-on maker space activities. At the Leadership Summit on Authentic Human Connection, join for a series of talks focused on the critical importance of humanity in leadership.
Don't miss opportunities to connect and interact at social events including Leadership Journeys, and James Miles and Mike Kleba Present: Spread Love.
In other programming news... we're thrilled that Harvard University Teaching Fellow, Mona Hamdy is joining the previously announced featured session, World Building: Prototyping Future of Education; Riyaz Gayasaddin, vice president of program and talent at Camelback Ventures is confirmed as the final judge for the exciting Launch Competition; and Raise Your Voices: Songs for Social Change has rounded out the performance lineup!
Browse all of the latest programming in the SXSW EDU schedule and be sure to download the mobile app ahead of the event.
Featured Sessions
Misinformation On Social Media: What Can Be Done?
Social media has rules for virality: bold statements, polarising topics, expressive delivery. As a creator, I've used them and benefited from them. But as a founder of an agency, working with the UN to tackle vaccine hesitancy, I realized that they can work against us as a society. It's hard for expert verified information to rise to the top of the algorithms. This session uncovers how misinformation spreads on social media, why it matters and what individuals and platforms can do about it.
Max Klymenko, Creative Director, Klym&Co
Advancing Climate Action in Schools
With nearly 100,000 public schools across the country, America's schools are among the largest consumers of energy in the public sector, operate the largest mass transit fleet, sit on over 2 million acres of land, and serve over 7 billion meals each year.
Decarbonizing our schools also creates opportunities for the over 50 million students in school to learn about climate solutions firsthand, better preparing the rising generation to advance a sustainable future.
Maya Green, Organizing Director, Student Voice John King, President, The Education Trust Becky Pringle, President, National Education Association Randi Weingarten, President, American Federation of Teachers
Special Programs
Stanford d.school Future(s) Museum
The Stanford d.School Future(s) museum is a radical invitation toward shaping collective futures for education and beyond. We'll experience facilitated workshops with celebrated futurists, artists, and educators while bringing our visions to life through an open maker space and exploratory lounge. Our work will come together in an exhibition showcasing our collective, multiple, expansive visions for the future.
Leadership Summit on Authentic Human Connection
Ground-shaking change has come to education. While systems must evolve, many of us have come to reckon with how important the actual humans are inside of our institutions, organizations, and markets. Join us for a series of profound conversations and talks focused on the critical importance of humanity in leadership. We'll hear from teachers, entrepreneurs, innovators, academics, policy-makers, and poets as we explore the unprecedented challenges of leadership in our time.
Tony Wagner, Senior Research Fellow, Learning Policy Institute Michael Kleba, Partner, Leaders Don't Lead Alfie Kohn, Author, Lecturer & Founder, Alfie Kohn Nadia Lopez, Chief Visionary Officer and Principal, The Lopez Effect James Miles, CEO, Mentor Washington
Social Events
Leadership Journeys
We know that the paths of educators and leaders of color are not without obstacles. They work in and with communities who themselves are often barraged with conflict. And yet, they're often tasked with being courageous and stern in the face of adversity. To withhold love and mask vulnerability. We wholeheartedly reject this premise. We invite educators of color, and allies of the equity in education movement, to join exceptional system level leaders from across the country who embrace the notion that sharing deeply personal stories of vulnerability is the path forward toward collective dopeness. This multi-media, DJ-fueled collaboration replaces turntables with slide decks, but without the sacrifice of soul. Light snacks, beverages and real talk will be served.
James Miles & Mike Kleba Present: Spread Love
Join James Miles and Mike Kleba in celebrating the educators, innovators, policy-makers, and artists that are helping us through the most unprecedented challenges of leadership in our time. March 9, 2022 also marks the 25th anniversary of the death of Christopher Wallace, aka The Notorious B.I.G., and we will honor his passing by 'spreading love' in the best way possible. When people feel seen, heard, and loved, we ALL thrive.
Performance
Raise Your Voices: Songs for Social Change
Raise Your Voices (Songs Celebrating the Kids Who Are Changing the World) is a new album inspired by young people nationwide who are positively impacting their communities. Jenn Hartmann Luck, songwriter and producer, invites you to this intimate concert and conversation. Joined by her Co-Producer, Antonio F. Delgado, "Musician with a Message", SaulPaul, and some of the young changemakers themselves, we will celebrate music's ability to break down barriers and inspire us all to make change.
See You at SXSW EDU 2022
Mark your calendars for March 7-10, 2022! Register to attend in-person or online today.
Sign up for SXSW EDU email updates, check out the News feed, watch videos, and follow us on Twitter, Facebook, LinkedIn and Instagram.
Featured Speaker photos courtesy of the speakers. Special Programs photo courtesy of Stanford d.school Future(s) Musuem. Performance photo of performer Jenn Hartmann Luck by Rueben Caballo.