Announcing Keynote Session with Secretary Miguel Cardona & Dana Brown of A Starting Point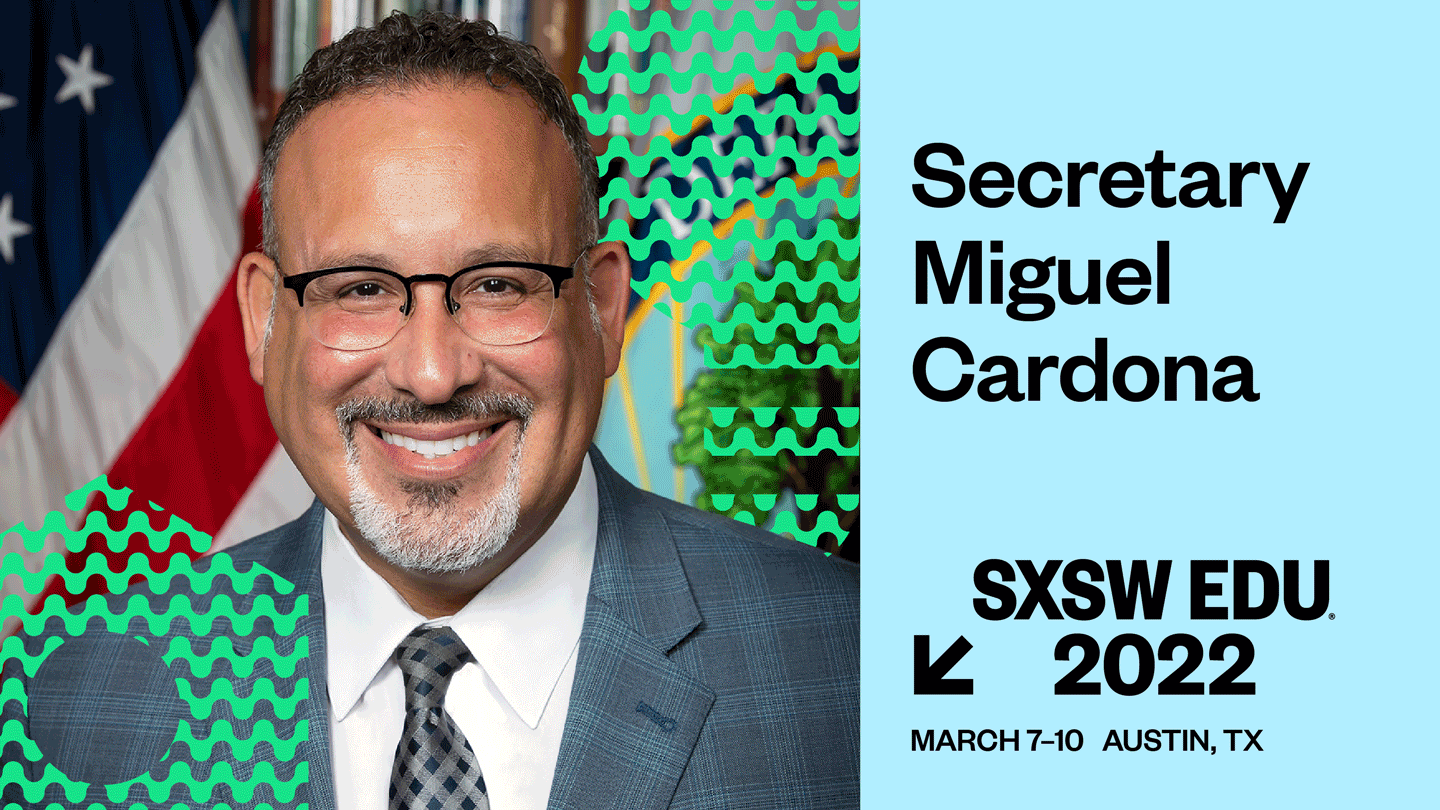 As we look forward to the upcoming SXSW EDU Conference & Festival, we are thrilled to share another exciting announcement celebrating a powerful keynote discussion with Secretary Miguel Cardona and A Starting Point's Chief Content Officer, Dana Brown, as well as a new featured session with Pencils of Promise CEO, Kailee Scales and Ghana Country Director, Freeman Gobah.
The Keynote, Reimagining Education with Students at the Center will focus on meeting the needs of today's students as we continue to recover from the pandemic. In the featured session, Global Access to Education: Knowledge is a Human Right, Scales and Gobah will be in conversation on their commitment to help those in under-resourced communities.
Start building your personalized agenda today by favoriting can't-miss programs in the schedule and SXSW EDU GO mobile app.
Keynote Session
Reimagining Education with Students at the Center
The pandemic created a massive upheaval on our education system—from the shift to remote learning to mental health challenges many students face. A Starting Point (ASP) and the U.S. Department of Education will host a conversation about how to put student voices at the center of our recovery and ensure their experiences inform how we build an even stronger education system than before. The panel will discuss how we can create education systems that meet the needs of today's students.
Secretary Miguel Cardona – Miguel A. Cardona is the 12th U.S. Secretary of Education. Secretary Cardona has dedicated his career to serving students, educators, and families as an elementary school teacher, school principal, district administrator, and, most recently, as commissioner of education for the state of Connecticut. Secretary Cardona's focus on equity and excellence for all learners has driven his work at all levels of the education sector. Secretary Cardona has led the federal government's effort to support states in reopening America's public schools for in-person learning amid the recovery from the pandemic, moving from only 46 percent of schools open when President Biden took office to nearly 100 percent of schools open today.
Dana Brown – Dana is the Chief Content Officer of Like Minded Media Ventures and A Starting Point. He is the former deputy editor of Vanity Fair, where he was responsible for hundreds of feature stories on topics ranging from geopolitics to business, pop culture to crime, and high-society scandal to the art world, a number of which were recognized by the National Magazine Awards. He has also written and developed films and television pilots for Miramax, Hulu, AMC, Imagine Entertainment, and CBS. His memoir, Dilettante: True Tales of Excess, Triumph, and Disaster is being published by Ballantine Books in March 2022.
Featured Session
Global Access to Education: Knowledge Is a Human Right
Join Pencils of Promise CEO Kailee Scales and Ghana Country Director Freeman Gobah in conversation on their commitment to help those in under-resourced communities by providing high-quality educational opportunities, adequate tools to promote good health, and school-based emotional and social support. This comes in the form of programming around teacher support, school builds and more. Listen in to learn more about PoP's mission and ways to take action in transforming the global education landscape.
Kailee Scales – From 2017 to 2020, Kailee served as the first Managing Director of the Black Lives Matter Global Network. In June 2021, she was tapped by Adam Braun to serve as the CEO of Pencils of Promise. Kailee's work, at the intersection of global development and social justice, spans nearly two decades in the U.S. and 14 countries throughout Africa, Asia, the Caribbean, Europe, and North and South America. Kailee has collaborated with the WHO, UN, global CEOs and heads of state including Her Majesty Queen Silvia of Sweden, in developing solutions to the world's most complex problems.
Freeman Gobah – Freeman Gobah has worked in the non-profit sector for two decades and led impactful initiatives throughout Ghana. His work for the first half of his career focused on projects in the areas of HIV/AIDS counseling, Nutrition and Care, and Support for Vulnerable Children. During this time, Freeman led teams at a number of non-profit organizations, developed strong collaborative relationships with Ghanaian government officials, and established himself as a social impact leader in Ghana.
See You at SXSW EDU 2022
Mark your calendars for March 7-10, 2022! Register to attend in-person or online today.
Sign up for SXSW EDU email updates, check out the News feed, watch videos, and follow us on Twitter, Facebook, LinkedIn and Instagram.
SXSW EDU 2022 Keynote & Featured Speaker photos courtesy of the speakers