200+ Sessions Accredited by ATPE for Continuing Professional Education Credits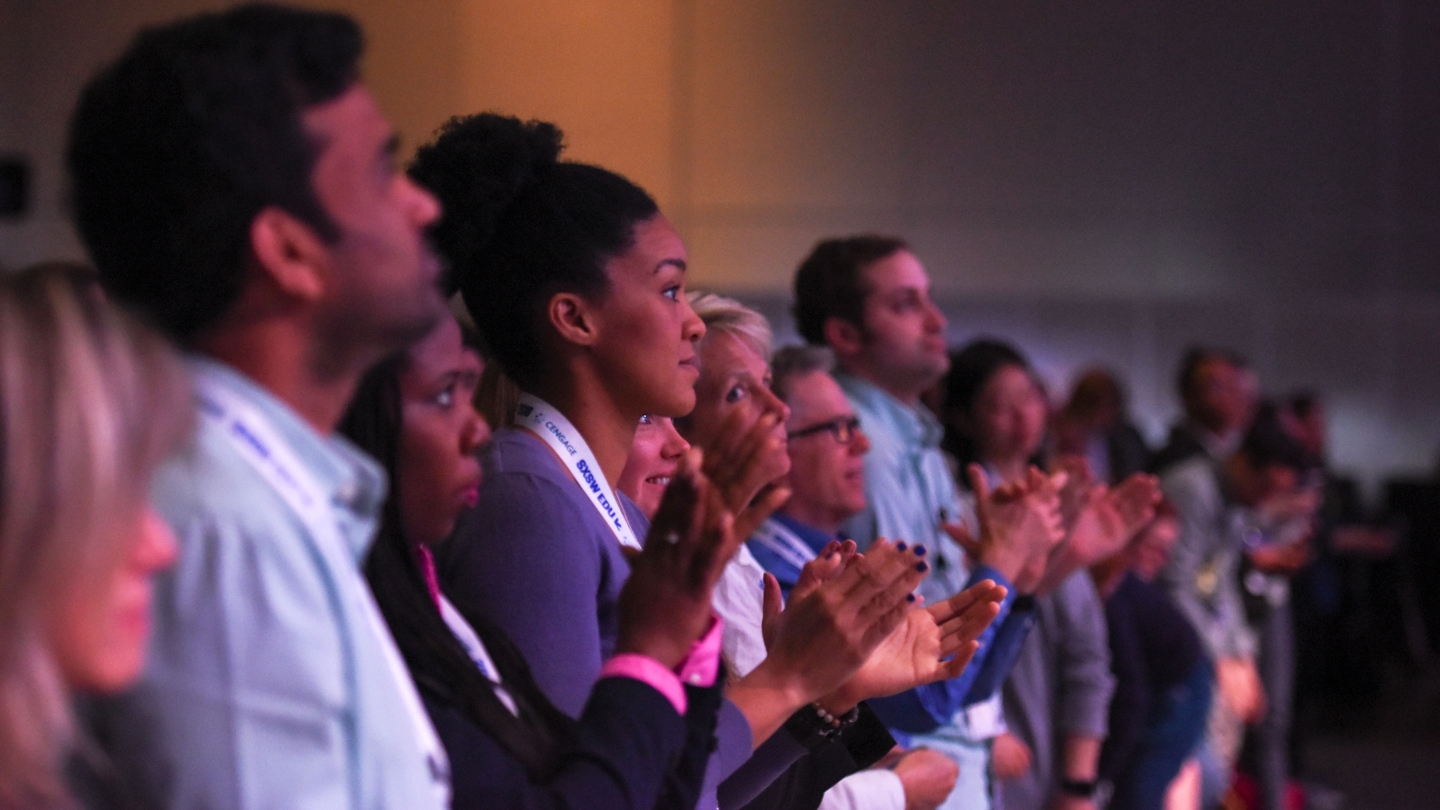 SXSW EDU has partnered with the Association of Texas Professional Educators to provide conference attendees with the opportunity to earn continuing professional education (CPE) credits.
The ATPE team has reviewed the SXSW EDU program to identify the sessions and workshops that meet CPE criteria. Qualified programming will be tagged both in the SXSW EDU Schedule and mobile app.
SXSW EDU attendees who attend the CPE-eligible sessions will receive a code after attending a session that they can use to login to the ATPE Professional Learning Portal and receive the related credit. You don't have to be an ATPE member to use the ATPE system, login as a guest to claim credit for your CPE hours.
CPE codes will be printed on placards and placed on tables in the back of the session room and for online attendees, codes will be included on a slide at the end of the video.
For on-site support, please visit the ATPE table outside of Ballroom D in the Austin Convention Center.
Add CPE Sessions to Your Schedule
A Hero's Journey: Producing a Podcast in a Pandemic (Live from Mount Olympus) (Podcast)
A New Measure that Matters: The Possibility Index (Talk)
A Path to Equity: Girls, STEM, a Moonshot (Talk)
ABCs of Equity: Assumptions, Bias, & Consciousness (Workshop)
Accessible, Tech-Powered Family Engagement (Future20)
Advancing Climate Action in Schools (Talk)
Algorithms Toward Justice: Reimagining CS Spaces (Talk)
All In: Transforming Education in Nevada (Talk)
Applying the Lessons Learned of Pandemic Education (Talk)
Art & Animation to Spark Courageous Conversations (Workshop)
Arts & Critical Race Theory (Workshop)
Asian-American Women Leading in EdTech (Talk)
B-Unbound: Wellbeing Through Interest Exploration (Future20)
Be the Bridge: Guiding ELL Families in Special Ed (Workshop)
Beyond COVID: Fostering Student Healing & Growth (Talk)
Beyond CRT: Creating Equitable Models for Learning (Talk)
Beyond Fact-Checking: How to Teach Media Literacy (Talk)
Beyond Word Bubbles: Superpowered Virtual Exchange (Talk)
Black Owned: Freeing Black Minds with Education (Talk)
Bringing Climate Change into the Classroom (Workshop)
Bringing Joy Back to Learning (Talk)
Building & Improving Real World Learning (Workshop)
Building Advocacy & Classroom Connection (Future20)
Building an Inclusive Maker Community (Talk)
Building Pathways to STEM with Space (Talk)
Building the Future of Learning with a Sneaker! (Future20)
Caminos: Leveraging Art in Youth Driven Programs (Talk)
Can Education Move Beyond Silver Bullet Syndrome? (Talk)
Can Speech Recognition Help Kids Learn to Read? (Talk)
Can You Buy Improved Educational Outcomes? (Talk)
Canopy Career Chronicles: Drawing Paths to Science (Talk)
Career Readiness in America: An Inaugural Report (Talk)
Centering Youth Voice in DEI Training (Future20)
Changing Girls' Mindsets on Financial Education (Talk)
Cheating, Or? Reading & Writing in the Digital Age (Talk)
#ChoppedEDU: Cooking Up Powerful High Schools (Workshop)
Climate Resilient Schools, Future Ready Students (Talk)
Closing the Digital Divide Once & for All (Talk)
Co-creating Justice-Centered SEL with Students (Workshop)
Co-Designing Communities for Playful Learning (Talk)
Coherent & Sustainable Change for Deeper Learning (Talk)
Community Classrooms: A Radical Learning Model (Workshop)
Compassion Fatigue: Classroom Care and Exhaustion (Talk)
Confronting Iniquity to Close the Achievement Gap (Future20)
Connecting Students to the Trade Industry (Talk)
Cracking the Code for Improved Family Engagement (Talk)
Creating an Equitable Early Childhood System (Talk)
Creating Culturally Responsive Real World Learning (Getting Smart Podcast) (Podcast)
Creating Ecosystems for Civic Engagement for Youth (Talk)
Creating Kind School Communities (Workshop)
CS Education for a Tech Driven Future (Talk)
Cultivating Creative Capacity K-12 to Higher Ed (Workshop)
Cultivating Mathematicians: When DEI Drives Design (Talk)
Data & the Whole Child: Equity Matters (Talk)
Data of Our Lives: Hook & Engage Students (Workshop)
Democracy in Classrooms: Giving Students a Voice (Talk)
Design-Reflect-Iterate: Practices That Empower (Workshop)
Designing a New Normal with Pandemic Practices (Talk)
Designing XR for Hybrid Learning (Talk)
Developing Racially Conscious School Leaders (Future20)
Difference Making Through Youth Entrepreneurship (Talk)
Disrupting Racial Inequities in K-12 Schools (Featured)
Draw with Drew & Rosie!: How to Teach Creativity (Future20)
Dreaming a Just Future Through Hip Hop & Comics (Workshop)
Drop the Facade: Building Healthy Relationships (Workshop)
E-V-O-L-V-E: Reimagining the Scripps Bee (Featured)
EdTech Imperatives: Interoperability & Privacy (Workshop)
Educating a Diverse, Inclusive Digital Workforce (Talk)
Education Politics & the 2022 Cycle (Future20)
Educator PD: Key to Increasing Student Achievement (Talk)
Educators are Demoralized: What's the Way Forward? (EdSurge Podcast) (Podcast)
Elevating the Voices of Our Future Innovators (Workshop)
Eliminating the School-to-Prison Pipeline (Talk)
Emerging Tech and Design Thinking for All (Talk)
Empathy InEquity (Talk)
Empathy to Action (Future20)
Empower Students with 21st Century Classroom Jobs (Future20)
Equity & Assessments: Coexistence Is Possible (Talk)
Equity & Inclusion (The Imagine Neighborhood) (Podcast)
Erasing Red Lines: Overcoming Inequity in Schools (Talk)
Expanding Educational Equity: Writing Boot Camps (Future20)
Exploring AI Ethics Through CS, Literacy, & Design (Workshop)
Exploring Empathy in Design Thinking (Workshop)
Financial Literacy Beyond the Classroom (Future20)
From Our Perspective: Impactful Parent Organizers (Talk)
From Teardrops to Mic Drops with Math Music Videos (Future20)
Full Bellies, Full Minds in ECE (Future20)
Global Access to Education: Knowledge Is a Human Right (Featured)
Global Action Projects Can Change the World (Talk)
Go Beyond the Textbook to Create Lifelong Learners (Workshop)
Good Food: The Essential School Supply (Talk)
Hacking Diversity in Education Leadership (Workshop)
Healthy Buildings: Unlocking Student Performance (Talk)
Helping Youth Address Public Health Problems (Talk)
Hip Hop Genius: Remixing High School Education (Talk)
Hip-Hop Genius The Podcast: DMC (of Run DMC) & Martha Diaz (Podcast)
Hip-Hop's Emerging Educational Industry (Talk)
How Can We Save Teacher Professional Development? (Future20)
How COVID-19 Changed the Early Childhood Workforce (Talk)
How Ed Funds Can Step Up to Support Districts (Future20)
How Music Education Helps Students Thrive (Talk)
How One District Future-Proofed the Classroom (Talk)
How to Use the Science of Learning in Real Schools (Workshop)
In 2032, Work Will Be Data Centric. Are We Ready? (Talk)
Infrastructure for the Future of Education R&D (Featured)
Innovating for College & Career in Rural Districts (Talk)
Innovation, Inclusion, & Discovery….by Design (Talk)
Interactive Media Arts with Paper Circuitry (Workshop)
"Is That Your Mom?": Supporting Multiracial Kids (Workshop)
It's More than an Exhibition (Talk)
Justice for All: Equity & Science Assessment (Talk)
K-12 Student Demographic Trends in Texas (Talk)
Keynote: Priya Parker & Baratunde Thurston (Keynote)
Landmark Study: High-quality, Non-college Pathways (Talk)
Leadership Summit on Authentic Human Connection (Special Program)
Learning from Building a Healing-Centered District (Talk)
Libraries: Partners in Equity (Talk)
Limitless Mind: Learn, Lead, & Live Without Barriers (Future20)
Lyrical Engagement with K-12 Science & History (Workshop)
Make Beats. Learn Code. Promote Equity. (Talk)
Make Learning Fun (Future20)
Mars STEM Education During a Pandemic (Talk)
Mathematical Rigor Mortis: The Quest for a Cure (Future20)
Media Literacy in the Age of Big Data (Talk)
Mentorship Matters: Empowering Those with Learning Differences (Future20)
Mindsets, Inclusion & Stress: A Global Perspective (Talk)
Moonshots: Bold Ideas for the Future of Learning (Future20)
Native American Narratives and Extended Reality (Talk)
New Roadmap for Civics & History Makes Inroads (Talk)
Next Education Workforce: Beyond Teacher Shortage (Talk)
NFTs & Blockchain in Education (Talk)
No 'Great' Kids of Color in Performing Arts...? (Future20)
'On Our Minds': Teens Speak up About Mental Health (Talk)
Open Access Design Thinking for your Classroom (Workshop)
Optimizing the Mind-Body Connection for Education (Workshop)
Out Youth: Be a Beacon for LGBTQIA+ Youth (Workshop)
People-Centered, Tech-Powered: A New Era (Talk)
Personalized Reading Formats Make Better Readers (Talk)
Phenomenon-Based Learning for Global Competence (Workshop)
Policies to Support the Whole Child Post-COVID (Talk)
Power of Place: Exploring Local Events in Class (Talk)
Power to the Families: Doing School Differently (Talk)
Powerful Teaching: Unleash the Science of Learning (Keynote)
Powering Inclusion & Access with Personalization (Talk)
Practicing Emergent Strategy in Non-Profits (Future20)
Promoting Early Learning via Government Reform (Talk)
Re-envisioning Accessibility in an Online World (Future20)
Real Money, Real Power: Participatory Budgeting (Workshop)
Real Talk: Discussing Race, Racism, & Politics (Entrepreneurial Appetite's Black Book Discussion) (Podcast)
Reckoning with Race in America's Classrooms (Talk)
Redefine & Grow Your WHY in Uncertain Times (Workshop)
Redefining Digital Literacy: Algorithms & You (Talk)
Reimagining Disciplinary Alternative Education (Talk)
Reimagining Education in a Disrupted Economy (Talk)
Reimagining Education to Support Students of Color (Talk)
Reimagining Education with Students at the Center (Keynote)
Reinventing Schools: Recovery Through Innovation (Talk)
Reinvention: Enduring Solutions from Communities (Talk)
Rethinking College Access Counseling (Future20)
Rethinking Digital Citizenship in Schools (Future20)
Revolutionizing Assessment Through Research (Talk)
Scaling Equity in Health Careers (Talk)
Searching for Meaning: The Future of EdTech Talent (Talk)
Seeds of Change: Advancing Girls' Leadership (Workshop)
Skate, Create & Educate (Talk)
Solving the Pandemic of Educator Fatigue with Love (Workshop)
Start Daydreaming to Stop Wasting Time in School (Workshop)
Start Early: Change the Image of Entrepreneurship (Talk)
State Actions to Advance Student-Centered Policy (Talk)
Stories from the Margins (Education Disruption) (Podcast)
Storymakers & Shakers: Storytelling Off the Page (Workshop)
Student Voices: Solving the College Access Gap (Talk)
Students Speak: Merging the Partisan Divide (Talk)
Subverting the Racist Trap of SEL (Talk)
Suicide Prevention Through Storytelling (Future20)
Supporting Student Agency in the Age of Uncertainty (Workshop)
Supporting Vulnerable ELL Student Development (Workshop)
Supporting Youth Identity, Agency & Belonging (Talk)
The Building of Dreams (Talk)
The Educator-Advocate: A New Hybrid Teacher Role (Future20)
The Hidden Costs of the EdTech Boom (Future20)
The Intersection of Informal & Formal Learning (Talk)
The New EdTech Creators, Gig Work & Side-Hustles (Talk)
The NPR Student Podcast Challenge (Talk)
The Pedagogy of Horror (Future20)
The Power of Data, and it's Limits (Featured)
The Power of Family in Child-Led Digital Learning (Talk)
The Soundtrack of Teaching (Workshop)
The Teachers Caucus Covers the Latest in Ed Policy (The Teachers Caucus Podcast) (Podcast)
The Transformative Potential of Learning Hubs (Talk)
The Tyranny of Low Expectations: Ableism in EDU (Future20)
Time Capsule Dance Party: A Podcast (Podcast)
Trauma Informed Design: Healing & Resilience (Talk)
Turn Over the Mic to Teen Entrepreneurs (DO WIT Podcast) (Podcast)
Unknown Jobs in Entertainment for Diverse Students (Talk)
Unreal Futures for All Students: Epic Games + XIAB (Talk)
Using the Teenage Brain to Study the Brain (Future20)
VR Remix Party 3.0 (Workshop)
What Happens When You Eliminate the Cafeteria? (Talk)
What My Kid Taught Me About EdTech During COVID (Talk)
What to Say When You Hear Something Racist (Workshop)
What We Can Learn from Fred Rogers' Blueprints (Talk)
Who Is American Today? Digital Storytelling (Talk)
Why 'MESSY' Leaders Are the Future (Future20)
Why Teach Everyone Sign Language from Birth (Future20)
World Building: Prototyping Future of Education (Featured)
Writing in Middle School = Success in High School (Talk)

See You at SXSW EDU 2022
Mark your calendars for March 7-10, 2022! Register to attend in-person or online today.
Sign up for SXSW EDU email updates, check out the News feed, watch videos, and follow us on Twitter, Facebook, LinkedIn and Instagram.
SXSW EDU photo by Tico Mendoza.