Zaila Avant-garde, Emily Oster, Featured Speakers & 60+ Sessions Announced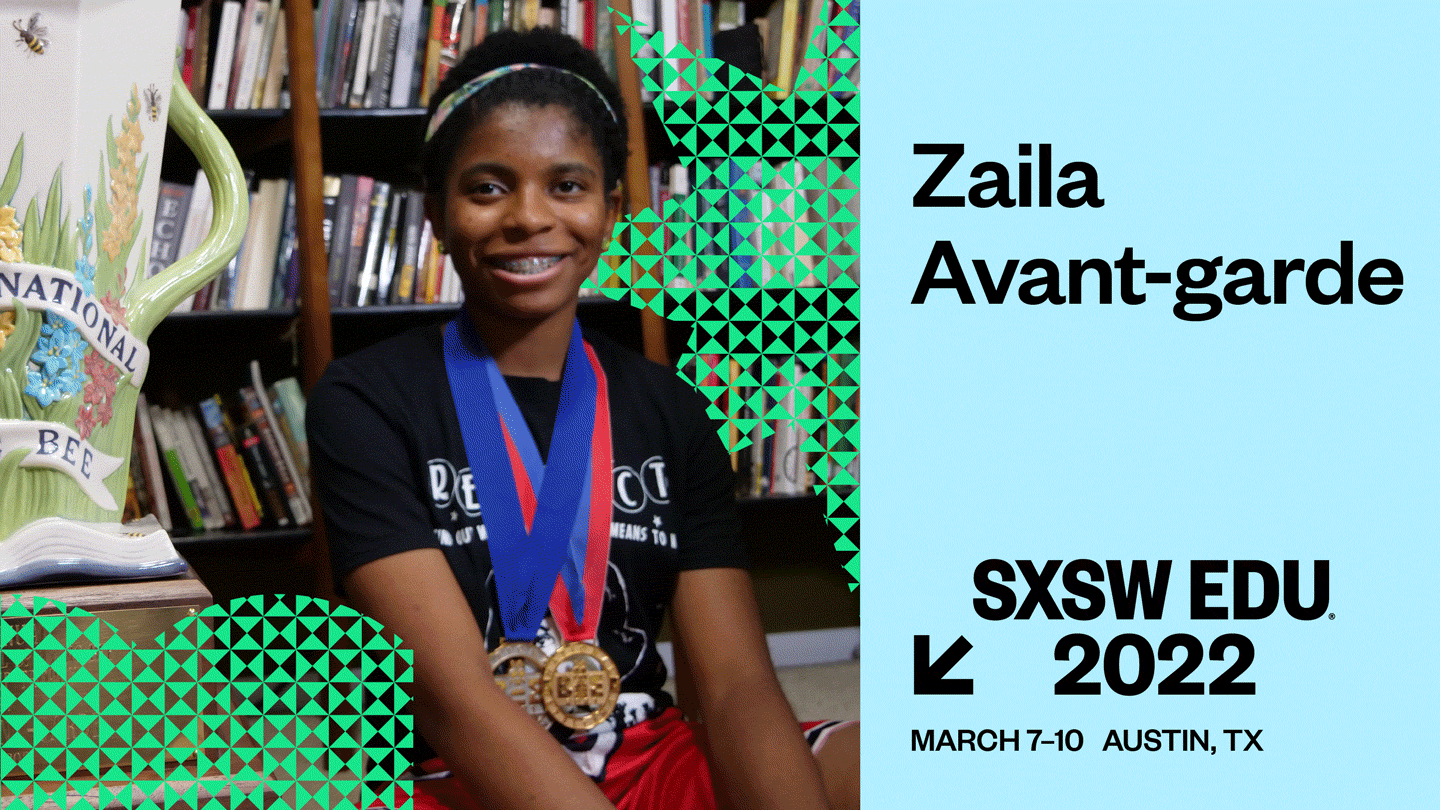 We're buzzzzzzzing with excitement about this announcement for SXSW EDU 2022! ? ?
Scripps National Spelling Bee Champion and three-time Guinness World Records Title Holder Zaila Avant-garde has joined the SXSW EDU Featured Speaker lineup in conversation with Dr. J. Michael Durnil, Executive Director of Scripps National Spelling Bee.
Emily Oster, PhD, author of Expecting Better, Cribsheet and The Family Firm, and Professor of Economics at Brown University will also be taking the stage as a featured speaker for a talk on the power of data to inform the decisions educators, schools and parents make.
Co-Founder and President of E-Line Media, Alan Gershenfeld and Co-Founder and Creative Director of Experimental Design, Alex McDowell will explore how the practice of world-building can create research grounded, evocative, visual stories that inspire aspirational but achievable preferred futures for education.
That's not all! In addition to the 180+ sessions previously announced, check out 60+ PanelPicker sessions below and start adding can't miss programing to your SXSW EDU Schedule.
Featured Speakers
Zaila Avant-garde – Zaila Avant-garde is the 2021 Scripps National Spelling Bee Champion and the first African American to win the Scripps National Spelling Bee in 93 editions of the competition. Capturing the 2021 spelling title is only her latest entry in the history books. Avant-garde holds three basketball-related records in the Guinness Book of World Records: the most bounce juggles in one minute with four basketballs, the most basketball bounces in 30 seconds with four basketballs, and ties of the record for most basketballs dribbled at once.
Dr. J. Michael Durnil – Dr. Durnil, Executive Director of the Scripps National Spelling Bee, leads all aspects of the Bee's year-round educational program and builds additional opportunities for the iconic and mission-focused brand to connect with and inspire audiences across the country. Durnil has more than 35 years of professional experience in leading teams and charting operations across nonprofit, educational and media-based organizations, with a track record of bettering communities through diversity and philanthropic initiatives.
Emily Oster, PhD – Emily Oster is a Professor of Economics at Brown University and author of Expecting Better, Cribsheet and The Family Firm. She holds a PhD in Economics from Harvard. Prior to being at Brown she was on the faculty at the University of Chicago Booth School of Business.
Alan Gershenfeld – Alan Gershenfeld is Co-Founder/President of E-Line Media, a developer of games that help players understand and shape the world. E-Line titles include the BAFTA award winning Never Alone, Gamestar Mechanic, Beyond Blue, The Endless Mission and MinecraftEdu. Prior to E-Line, Alan was member of the executive management team that rebuilt game publisher Activision from bankruptcy into a global industry leader
Alex McDowell – Alex McDowell has worked with directors Steven Spielberg, David Fincher, Anthony Minghella, Tim Burton, Terry Gilliam, Zack Snyder and many others. Alex is currently a professor at USC School of Cinema, where he directs the World Building Media Lab and World Building Institute, and teaches world building as a media-and platform-agnostic post-cinematic narrative design practice. Alex also is Co-Founder and Creative Director at Experimental Design, a design and production studio that uses world building and storytelling to prototype the future and provoke change.
Sessions
Accessibility & Inclusion
Be the Bridge: Guiding ELL Families in Special Ed
Why Teach Everyone Sign Language from Birth

Arts & Storytelling
Canopy Career Chronicles: Drawing Paths to Science
Dreaming a Just Future Through Hip Hop & Comics
Experience Design Meets Deep Science
Hip Hop Genius: Remixing High School Education
How Music Education Helps Students Thrive
Interactive Media Arts with Paper Circuitry

Business & Investment
Changing Girls' Mindsets on Financial Education
Direct-to-Consumer Brand Thinking for Higher Ed
Pathways to Impact: New Approaches for Funders

Community Initiatives
A Path to Equity: Girls, STEM, a Moonshot
Innovation, Inclusion, and Discovery….by Design

Emerging Tech
A Passel of Higher Education Privacy Perspectives
Democratizing Access to AI
Envisioning the Future of Adult Literacy

Equity & Justice
3 Ways to Teach Students to Decolonize Curriculum
ABCs of Equity: Assumptions, Bias, & Consciousness
Black Owned: Freeing Black Minds with Education
Building an Inclusive Maker Community
Cultivating Mathematicians: When DEI Drives Design
Driving Social Justice in Higher Education
Education Access for Incarcerated Learners
Equity & Inclusion with the Imagine Neighborhood
Hacking Diversity in Education Leadership
How Elite Colleges Are Tackling Education Equity
Is Test-Optional an Equitable Fix in Admissions?
Power to the Families: Doing School Differently
Real Talk: Discussing Race, Racism, & Politics
Reckoning with Race in America's Classrooms
Shifting Power in Educational R&D
Student Voices: Solving the College Access Gap
The Impact of Student Loan Debt on Black Students
U Good Sis? Black Women Surviving Return to Campus
Womxn of Color on the Front Lines for Liberation

Global Impact
Beyond Word Bubbles: Superpowered Virtual Exchange
Ensuring Inclusive & High-quality Global Exchange
Local Engagement for Global Citizenship

Policy & Civic Engagement
All In: Transforming Education in Nevada
Arts and Critical Race Theory
Climate Resilient Schools, Future Ready Students
New Roadmap for Civics and History Makes Inroads
Real Money, Real Power: Participatory Budgeting
State Actions to Advance Student-Centered Policy

Practice & Pedagogy
A New Measure that Matters: The Possibility Index
Bringing Climate Change into the Classroom
Building Pathways to STEM with Space
Cultivating Creative Capacity K-12 to Higher Ed
Data of Our Lives: Hook & Engage Students
Future-Proof Higher Ed: Serving New Demographics
Helping Youth Address Public Health Problems
How One District Future-Proofed the Classroom
Innovating for College & Career in Rural Districts
Mars STEM Education During a Pandemic
Supporting Youth Identity, Agency & Belonging
The Power of Family in Child-Led Digital Learning
Transforming Higher Ed: Practical Tips & Insights
VR Remix Party 3.0
What Happens When You Eliminate the Cafeteria?

SEL & Wellness
Compassion Fatigue: Classroom Care and Exhaustion
Drop the Facade: Building Healthy Relationships
Education Disruption: Stories from the Margins
Optimizing the Mind-Body Connection for Education
Subverting the Racist Trap of SEL
Suicide Prevention Through Storytelling

Work Reimagined
How COVID-19 Changed the Early Childhood Workforce
Searching for Meaning: The Future of EdTech Talent
The Best Weapon in the War for Talent: Education

See You in 2022
Mark your calendars for March 7-10, 2022! Register to attend today.
Sign up for SXSW EDU email updates, check out the News feed, watch videos, and follow us on Twitter, Facebook, LinkedIn and Instagram.
Featured speaker Emily Oster photo by Rachel Hulin. All other featured speaker photos courtesy of the speakers.