PanelPicker & Featured Sessions Announced for SXSW EDU 2022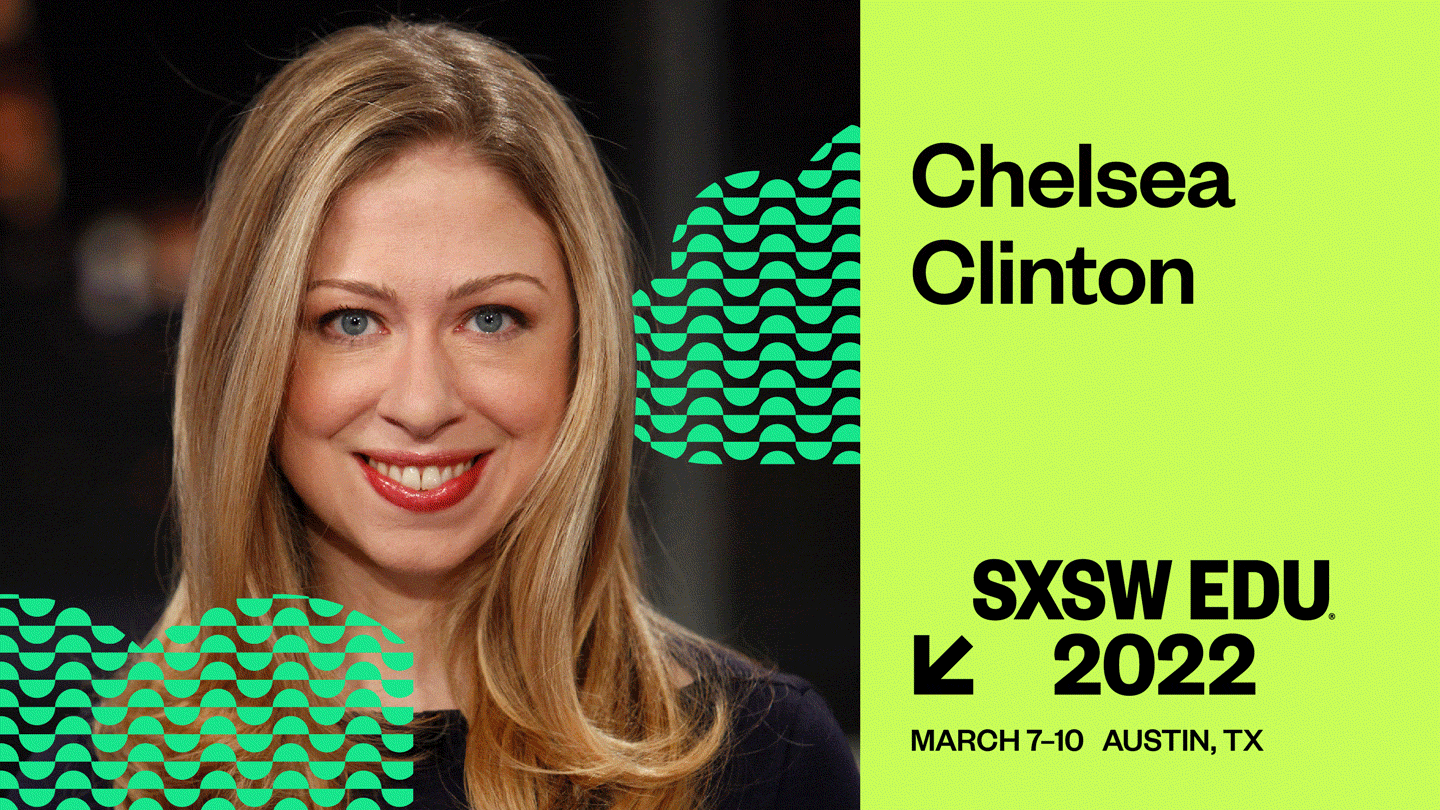 Today we are thrilled to share a first look at programming including initial Featured sessions as well as Future20, Meet Up, Podcast, Talk, and Workshop sessions -- all selected from PanelPicker® for SXSW EDU, March 7-10, 2022.
The community continues to be at the heart of the event with SXSW EDU selecting a majority of its programming through the crowd-sourced PanelPicker process. This year, PanelPicker saw hundreds of submissions which the public was invited to review and vote on.
Dive into the lineup below and login to the official SXSW EDU Schedule to begin saving your favorite sessions. Be sure to secure your pass for SXSW EDU at the current rate of before passes sell out.
Featured Sessions
Talking Student Mental Health with RUN DMC
The impact on students' mental health and well-being may be the pandemic's most lasting legacy. What's worse, more than three-quarters of college students are not taking advantage of the counseling and support services that their institutions offer. At this panel, hear how hip-hop legend and mental health advocate Darryl DMC McDaniels, founder of RUN DMC, is tackling this challenge with a new approach that connects students with the support they need.
Darryl McDaniels, Mental Health Advocate, Hip-Hop Legend, Author, RUN DMC Michael London, Founder & CEO, Uwill
How Student Developers Are Saving the World
As humanity faces multiple existential threats, students have stepped up like never before, joining the ranks of developer activists. Through programs like Call for Code, they are crafting practical and scalable solutions to address the COVID-19 pandemic, climate change, and racial injustice. Student participation is crucial to the success of this movement, as students across the globe contribute revolutionary ideas grounded in their own experiences and iterate upon ideas from fellow students.
Bob Lord, Senior Vice President, Worldwide Ecosystems, IBM Chelsea Clinton, Vice Chair, Clinton Foundation Chimegsaikhan (Chimka) Munkhbayar, Developer Activist and COO, Agrolly Trey Buck, Student Representative of YMCA Los Angeles Community; President of Palisades-Malibu Youth and Government
Confronting Systemic Barriers in Higher Education
Racial disparities in education continue to exist between white students and students of color at all levels of learning, stemming from systemic barriers that prevent students of color from achieving the next level of success. This talk will bring together the perspectives of both researchers and students to analyze the reasons why, offer concrete solutions for increasing diversity throughout educational levels, and improve opportunities for students to succeed in college, careers, and beyond.
Joel Bervell, Medical Student/ Social Media Medical Content Creator, Elson S. Floyd College of Medicine Anthony Abraham Jack, Harvard Assistant Professor of Education, Harvard Graduate School of Education Janel George, Georgetown Associate Professor of Law/ Director, Racial Equity in Education Law and Policy Clinic, Georgetown Law Jonah Martinez Goldstein, Education Student Advocate, Williams College
HBCUs Embracing the Future of Work
As companies commit to building better, more equitable recruiting and career advancement practices, many are looking to build relationships with HBCUs as one way to create and sustain more diverse talent pools. Seizing the opportunity, leaders at Morehouse College, Paul Quinn College, and Spelman College are developing unique education-to-career pathways that help both traditional and non-traditional students get the skills and experience needed to stay competitive in a post-pandemic economy.
Dr. Michael Sorrell, President, Paul Quinn College Dr. Mary Schmidt Campbell, President, Spelman College ​​Dr. David A. Thomas, President, Morehouse College Danielle Douglas-Gabriel, Reporter, The Washington Post
Sessions
Accessibility & Inclusion
Advancing Accessibility and Inclusion in Education
Cheating, Or? Reading & Writing in the Digital Age
Exploring Empathy in Design Thinking
From Publisher to Student: Accessibility in Action
Powering Inclusion and Access with Personalization
Re-envisioning Accessibility in an Online World

Arts & Storytelling
Building the Future of Learning with a Sneaker!
Can Hip Hop and Academia Peacefully Coexist?
Cancer Storytelling & Enhancing Empathy in Artists
Draw with Drew & Rosie!: How to Teach Creativity
Hip-Hop's Emerging Educational Industry
It's More than an Exhibition
Native American Narratives and Extended Reality
No 'Great' Kids of Color in Performing Arts...?
Storymakers and Shakers: Storytelling off the Page
Teaching Science and Literature Together
The Value of Play Beyond the Playground
Who Is American Today? Digital Storytelling

Business & Investment
Hope Forward: College Without Tuition
How to Launch Your Startup Successfully
Reimagine How We Fund Entrepreneurs of Color
Turn Over the Mic to Teen Entrepreneurs
What My Kid Taught Me About EdTech During COVID

Community Initiatives
A Summer of Learning and Enrichment
ASCD Professional Learning Community LIVE
Co-Designing Communities for Playful Learning
Community Classrooms: A Radical Learning Model
Confronting Iniquity to Close the Achievement Gap
Creating Culturally Responsive Real World Learning
Designing Tri-Sector Partnerships for HBCU Success
Full Bellies, Full Minds in ECE
Kareem+Chand+Friends: In Conversation
Moonshots: Bold Ideas for the Future of Learning
Reimagining Education in a Disrupted Economy
The Building of Dreams
The Transformative Potential of Learning Hubs
Unknown Jobs in Entertainment for Diverse Students
What We Can Learn from Fred Rogers' Blueprints

Emerging Tech
A Balancing Act: Mental Health and Privacy
Adapting to the Hybrid University
Can Education Move Beyond Silver Bullet Syndrome?
Can Speech Recognition Help Kids Learn to Read?
Designing XR for Hybrid Learning
Edtech Imperatives: Interoperability and Privacy
Exploring AI Ethics Through CS, Literacy & Design
Fail Safe Experiential Learning with Immersive VR
From Teardrops to Mic Drops with Math Music Videos
How Good AI Can Be AI for Good in Higher Education
Media Literacy in the Age of Big Data
NFTs & Blockchain in Education
Pathway to Professional Careers in Esports
Personalized Reading Formats Make Better Readers
Revolutionizing Assessment Through Research
The Shift from Content to Community
The State of XR in Education: Trends and Insights
Unreal Futures for All Students: Epic Games + XIAB

Equity & Justice
A Critical Review of Human-Centered Design
Algorithms Toward Justice: Reimagining CS Spaces
Art & Animation to Spark Courageous Conversations
Asian-American Women Leading in Edtech
Be a Beacon for LGBTQIA+ Youth in K-12 Schools
Beyond CRT: Creating Equitable Models for Learning
Building an Equitable School Leadership Pipeline
Confronting Systemic Barriers in Higher Education
Creating an Equitable Early Childhood System
Critical Dialogues: Teaching Pan-Asian Americans
Deconstructing White Supremacy
Difference Making Through Youth Entrepreneurship
Educational Justice for the Formerly Incarcerated
Eliminating the School-to-Prison Pipeline
Empathy as a Radical Act
Empathy InEquity
Equity and Assessments: Coexistence Is Possible
Expanding Educational Equity: Writing Boot Camps
Finding Your Voice in Decentering Whiteness
It's Time to Decolonize Your Curriculum—Here's How
"Is That Your Mom?" Supporting Multiracial Kids
Learning from Building a Healing-Centered District
Libraries: Partners in Equity
Literacy: The Key to Equity and Economic Recovery
Make Beats. Learn Code. Promote Equity.
Managing Difficult Conversations on Bias & Equity
#MeToo on Campus: Title IX's Cloak of Silence
Pipeline to Equity: Black/LatinX Students Speak
Practicing Emergent Strategy in Non-Profits
Recruiting You for Higher Ed's Anti-Racist Future
Redefining Digital Literacy: Algorithms and You
Refresh, Rejoice, Renew
Rethinking College Access Counseling
Start Early: Change the Image of Entrepreneurship
The Tyranny of Low Expectations: Ableism in EDU
Tools for Intergroup Dialogue & Building Empathy
Unlocked Potential: Devices Yield Equity & Success
What to Say When You Hear Something Racist

Global Impact
American Diplomats Should Look Like America
Educating Changemakers for Global Impact
Educating for Democracy: Resources and Strategies
Global Action Projects Can Change the World
Global Leaders Discuss Emerging Online Governance How Student Developers Are Saving the World
Skate, Create and Educate

Policy & Civic Engagement
Climate Resilient Schools, Future Ready Students
Creating Ecosystems for Civic Engagement for Youth
Data and the Whole Child: Equity Matters
Elevating the Voices of Our Future Innovators
Free Speech in the Age of 'Cancel Culture'
Gen Z Young Women: Future of Democracy & Politics
Good Food: The Essential School Supply
Great IDEA: Dig into Special ED Data Meet Up
Power of Place: Exploring Local Events in Class
Promoting Early Learning via Government Reform
Students Speak: Merging the Partisan Divide
The Educator-Advocate: A New Hybrid Teacher Role

Practice & Pedagogy
Academic Ghost Hunters: Stop Student Ghosting
Accessible, Tech-Powered Family Engagement
All the World's a Lab: Inquiry-based Science
Beyond Fact-Checking: How to Teach Media Literacy
Bringing Joy Back to Learning
Building Advocacy and Classroom Connection
#ChoppedEDU: Cooking Up Powerful High Schools
Climate Anxiety:Negative Energy -> Positive Action
Coherent & Sustainable Change for Deeper Learning
Cracking the Code for Improved Family Engagement
CS Education for a Tech Driven Future
Democracy in Classrooms: Giving Students a Voice
Designing a New Normal with Pandemic Practices
Developing Racially Conscious School Leaders
Empower Students with 21st Century Classroom Jobs
Financial Literacy Beyond the Classroom
Go Beyond the Textbook to Create Lifelong Learners
Harmonizing DEI, Free Expression, and Academics
How Can We Save Teacher Professional Development?
How to Use the Science of Learning in Real Schools
Limitless Mind: Learn Lead & Live Without Barriers
Lyrical Engagement with K-12 Science & History
Mathematical Rigor Mortis: The Quest for a Cure
Phenomenon Based Learning for Global Competence
Reinventing Schools: Recovery Through Innovation
Reinvention: Enduring Solutions from Communities
Seeds of Change: Advancing Girls' Leadership
Start Daydreaming to Stop Wasting Time in School
Supporting Vulnerable ELL Student Development
Teaching Creative Authenticity
The Soundtrack of Teaching
Trauma Informed Design: Supporting the Whole Child
Using Tattoos & Mario Bros to Teach English Comp
When They See Me: Pedagogy & Sense of Belonging
Writing in Middle School = Success in High School

SEL & Wellness
Talking Student Mental Health with RUN DMC
Policies to Support the Whole Child Post-COVID
How Colleges Can Support Mental Health on Campus
Redefine and Grow Your WHY in Uncertain Times
Using the Teenage Brain to Study the Brain
Kindness: The Crucial Curriculum
'On Our Minds': Teens Speak up About Mental Health
Solving the Pandemic of Educator Fatigue with Love
Advocates for Youth and Digital Well-Being
Make Learning Fun
Co-creating Justice-Centered SEL with Students
Reimagining Disciplinary Alternative Education
Doing More for Parenting & Mental Health on Campus
Beyond COVID: Fostering Student Healing & Growth

Work Reimagined
HBCUs Embracing the Future of Work
Unlocking Creativity Through Inclusion
Six Mindset Shifts for #SustainableTeaching
Next Education Workforce: Beyond Teacher Shortage
Badges or Bachelor's Degrees: What Do We Need Now?
The New EdTech Creators, Gig Work & Side-Hustles
The Unique Needs of Non-Traditional Students
The Grand Challenge of Reskilling America
Scaling Equity in Health Careers
Career Success Through Transferable Skills
Is College Ready for Your 60-year Career?
Landing the First Job: Employment in Time of COVID
The Next Generation: Tech Students Discuss Work
Connecting Students to the Trade Industry
SXSW EDU is BACK! Have the Best Event Ever
Educating a Diverse, Inclusive Digital Workforce
In 2032, Work Will Be Data Centric. Are We Ready?
Building Innovation Hubs Outside of Silicon Valley
Don't Leave Older Workers out of the Jobs Recovery
Closing the Latino Digital Skills Gap
Learning Will Never Be the Same
Learn-and-Earn: A Proven Workforce Model
Adapting SoftSkills Training for Today's Workforce
The Apprenticeship Revolution
Government's Next Generation

See You in 2022
Mark your calendars for March 7-10, 2022! Register to attend today.
Sign up for SXSW EDU email updates, check out the News feed, watch videos, and follow us on Twitter, Facebook, LinkedIn and Instagram.
SXSW EDU 2022 Featured speaker photos courtesy of the speakers. Darryl "DMC" McDaniels photo by Robert Bredvad.