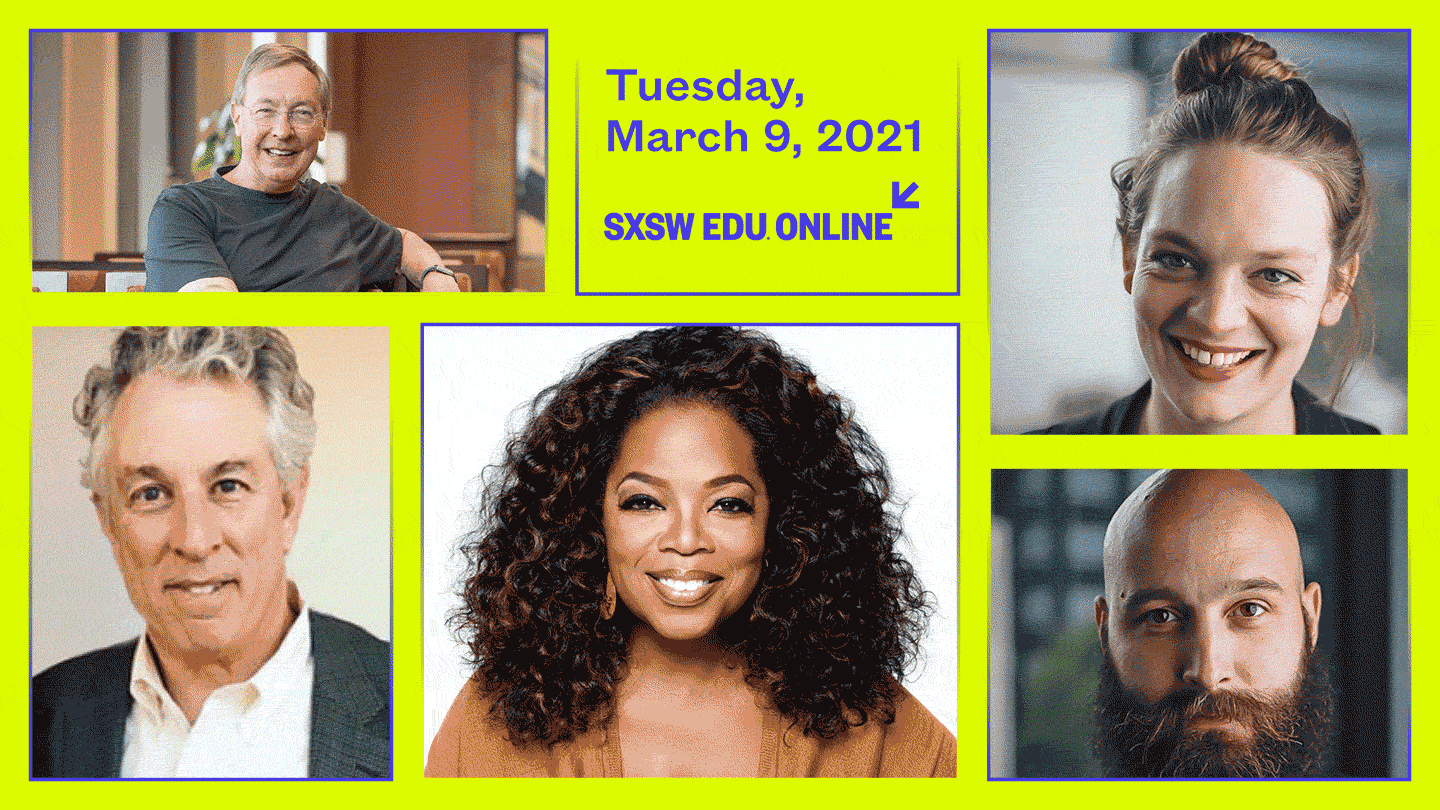 Welcome to SXSW EDU Online! We are thrilled to begin this year's virtual event with you today, Tuesday, March 9.
If you haven't linked your pass yet, be sure to do so. Also, check out all of the helpful tools and resources located on the SXSW EDU Online attendee services hub.
Access the SXSW EDU Online Platform at online.sxswedu.com or download the SXSW EDU Online Mobile App for iOS or Android devices. The platform and mobile app provide an almost identical experience with the app being great for those on the go.
This morning's keynote, Oprah Winfrey & Dr. Bruce Perry in Conversation explores the impact of childhood trauma on who we become, the decisions we make, and how healing must start with one question 'what happened to you?' in anticipation of a new co-authored book of the same name. The keynote will begin streaming promptly at 9:30am CT.
A Few Highlights for Today
Check out the virtual Exhibition and chat with exhibitors daily from 10:00am – 5:00pm CT.
Mentors will be available throughout the day to share their insights. Check the schedule for availabilities and book a meeting with a mentor.
The interactive Work session, Creative Hustle will help you recognize and build the mindsets, skills, and networks to design your own creative hustle at 10:30am CT.
Today's featured programming begins at 11:30am CT with session Sir Ken Robinson: Looking Back, Looking Forward discussing the immense impact Sir Ken Robinson has had on education and ways we can take his legacy forward. Join speakers after the session for a live Q&A.
At 1:30pm CT join three university presidents for a discussion on how colleges are playing a more active role in upskilling employees to stay competitive in a post-pandemic economy in featured session, How Universities Can Power the Future of Work.
Engage in a conversation with two leading special education experts in the Converse session, COVID-19 & Reaching Students with Disabilities Online at 2:30pm CT.
In Talk session, More than a Subject: Civics, Teens, & Storytelling at 4:30pm CT, attendees will hear from teens about how student-driven initiatives helped them make sense of the elections and learn how to rethink civics education through programs like PBS NewsHour Student Reporting Labs.
Watch an exciting performance from the Paramount Story Wranglers as they transform students' stories from page to stage (or YouTube video) and give a glimpse into how students are processing this unprecedented time at 6:00pm CT.
Don't miss the evening film screening of BLACK BOYS, a rare glimpse into the emotional landscape of Black men and boys, illuminating their full humanity, vulnerability and resilience at 7:00pm CT.
Sign Up for SXSW EDU Online Updates
While you're attending SXSW EDU Online, sign up for the SXSW EDU email updates and stay up to speed by following us on Twitter, Facebook, LinkedIn and Instagram.
GIF photos clockwise starting top left: Ted Dintersmith, Paramount Story Wranglers photo by Benedict Jones, Dr. Paul LeBlanc, Kate Robinson, BLACK BOYS film still courtesy of Chad Williamson, Anthony Dunn, Oprah Winfrey photo by Chris Craymer, Dr. Michael Sorrell, Dr. Bruce Perry, Dr. Mary Hawkins.