Announcing Keynote Priya Parker & Baratunde Thurston in Conversation, Plus Networking Opportunities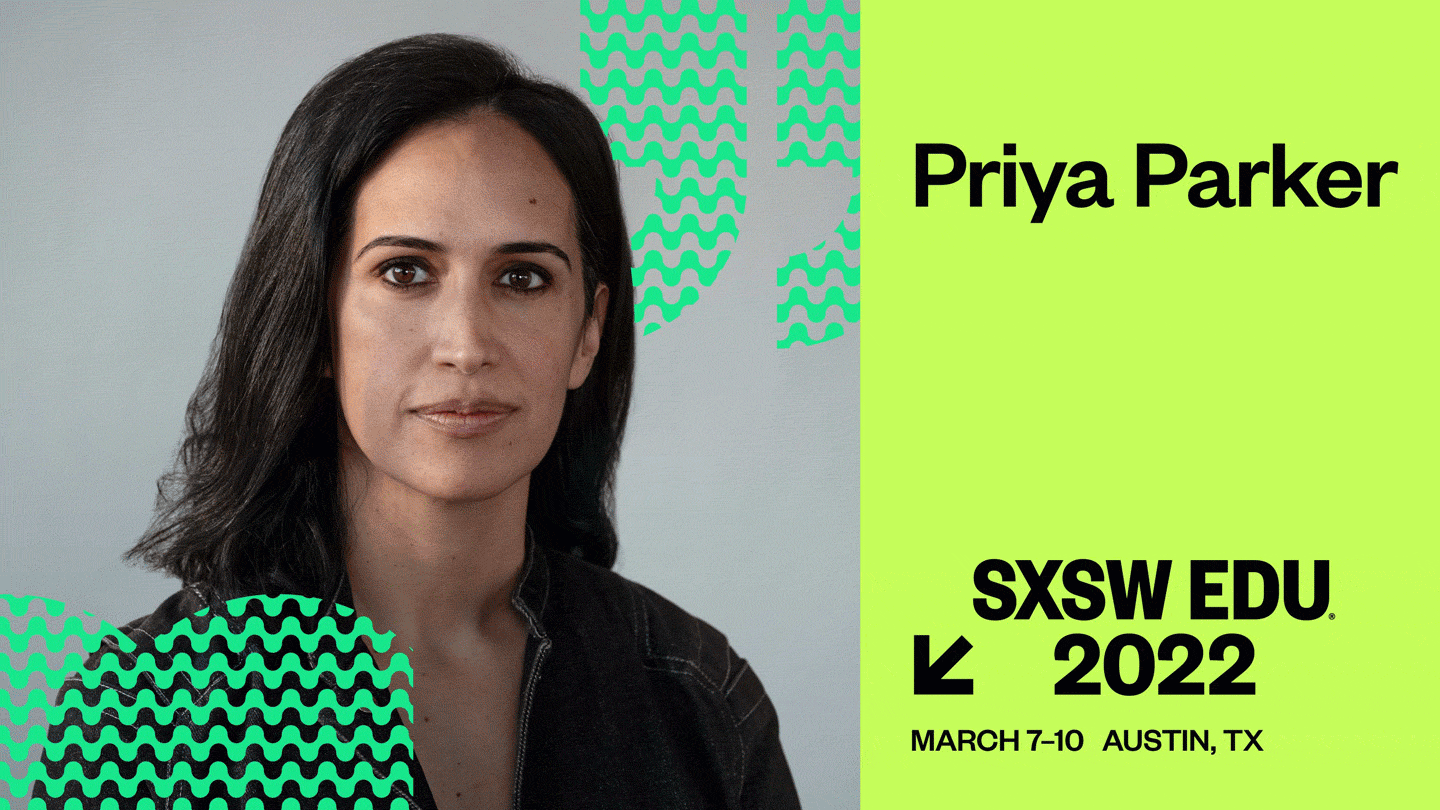 Gather 'round y'all… we're celebrating the announcement of the SXSW EDU 2022 Keynote conversation with Priya Parker and Baratunde Thurston! ?
We are thrilled that Parker and Thurston will be joining for a discussion on gathering and togetherness as the education community moves forward from the pandemic. With communities, schools, and institutions at the forefront of learning and connection throughout the COVID-19 crisis, and now working to rebuild and recover, Parker and Thurston will share their powerful, unique and inspirational perspectives.
But wait, there's more! Dive into the many exciting networking opportunities at SXSW EDU — from meeting one-on-one with a mentor to exploring the city of Austin, there are fun and meaningful ways to connect with fellow attendees.
Keynote Speakers
Priya Parker – Priya Parker is a facilitator, strategic advisor, acclaimed author of The Art of Gathering: How We Meet and Why it Matters, and executive producer and host of the New York Times podcast, Together Apart. Trained in the field of conflict resolution, Parker has spent 20 years guiding leaders and groups through complicated conversations about community, identity, and vision at moments of transition. She lives in Brooklyn, NY, with her husband and two children.
Baratunde Thurston – Baratunde Thurston holds space for hard and complex conversations with his blend of humor, wisdom, and compassion. He is an Emmy-nominated host, author of the New York Times bestseller How To Be Black [baratunde.com], and creator/host of How To Citizen with Baratunde [baratunde.com] which Apple named one of its favorite podcasts of 2020. He's also a founding partner of the new media startup Puck [puck.news]. In 2019, he delivered what MSNBC's Brian Williams called "one of the greatest TED [baratunde.com] talks of all time." Baratunde is unique in his ability to integrate and synthesize themes of race, culture, politics, and technology to explain where our nation is and where we can take it. Baratunde lives in Los Angeles, California but mostly in the cloud.
Coffee & Snack Breaks
Swing by the Expo for morning coffee breaks and afternoon snack breaks while visiting exhibitor booths.
Coffee Break (Monday | Tuesday | Wednesday) Snack Break (Monday | Tuesday | Wednesday)
Hikes
An outdoor adventure awaits! Explore Austin's Greenbelt, from Barton Springs to Barton Skyway, on a guided 1.5 mile hike to make deeper connections with nature and each other. Come away with endorphins and new strategies to include the outdoors into your curriculum.
Greenbelt Hike with Explore Austin (Tuesday) Greenbelt Hike & Toolkit with Explore Austin (Wednesday)
Meet Ups
Check out the 20+ Meet Ups scheduled to give attendees the chance to connect with others who share similar passions or interests. Go in-depth on tech, discuss the critical role of early care and education, and much more.
Mentors & Roundtable Discussions
Mentors bring a wealth of expertise across many areas of education. Attendees seeking solutions and advice are encouraged to sign up to meet with a mentor through the Mentorly platform starting in February.
New for 2022, the mentor program expands with the addition of Roundtable Discussions, which will feature topic-focused group discussions between mentors and a small group of attendees. Each roundtable discussion is 60 minutes, consisting of three 20-minute group discussions before mentors rotate to the next table of attendees.
Pop-Up Dinners
Network with fellow registrants while enjoying a taste of Austin at pop-up dinners across downtown. Dinner reservations have already been made, just show up hungry and ready to mingle with other attendees interested in meeting new people.
Pop-Up Dinners at Cannon & Belle (Monday | Tuesday | Wednesday) Pop-Up Dinners at Corner Restaurant (Monday | Tuesday | Wednesday)
Social Events
Join us for a number of social events including happy hours, parties, and a very special International Women's Day celebration.
Walking Tours
Guided, hour-long walking tours around downtown provide a unique opportunity to experience Austin like a local, meet fellow attendees, and connect with the vibe and culture on a new level.
Downtown Austin Walking Tour (Sunday | Tuesday | Thursday)
Austin Music Walking Tour (Monday | Tuesday | Wednesday)
Austin East Side Art Walking Tour (Monday | Wednesday)
EDU Social
EDU Social is a tool that allows SXSW EDU registrants to search for other conference attendees, as well as book or modify your hotel reservation.
New for 2022, chat with fellow attendees by using the "Search All Registrants" field and clicking the chat bubble icon next to their name. Upload your photo and bio today, and connect with new colleagues and friends before, during and after the SXSW EDU Conference & Festival.
See You in 2022
Mark your calendars for March 7-10, 2022! Register to attend today.
Sign up for SXSW EDU email updates, check out the News feed, watch videos, and follow us on Twitter, Facebook, LinkedIn and Instagram.
SXSW EDU 2022 Keynote speaker Priya Parker photo by Adam Ferguson. Keynote speaker Baratunde Thurston photo by Erik Carter.