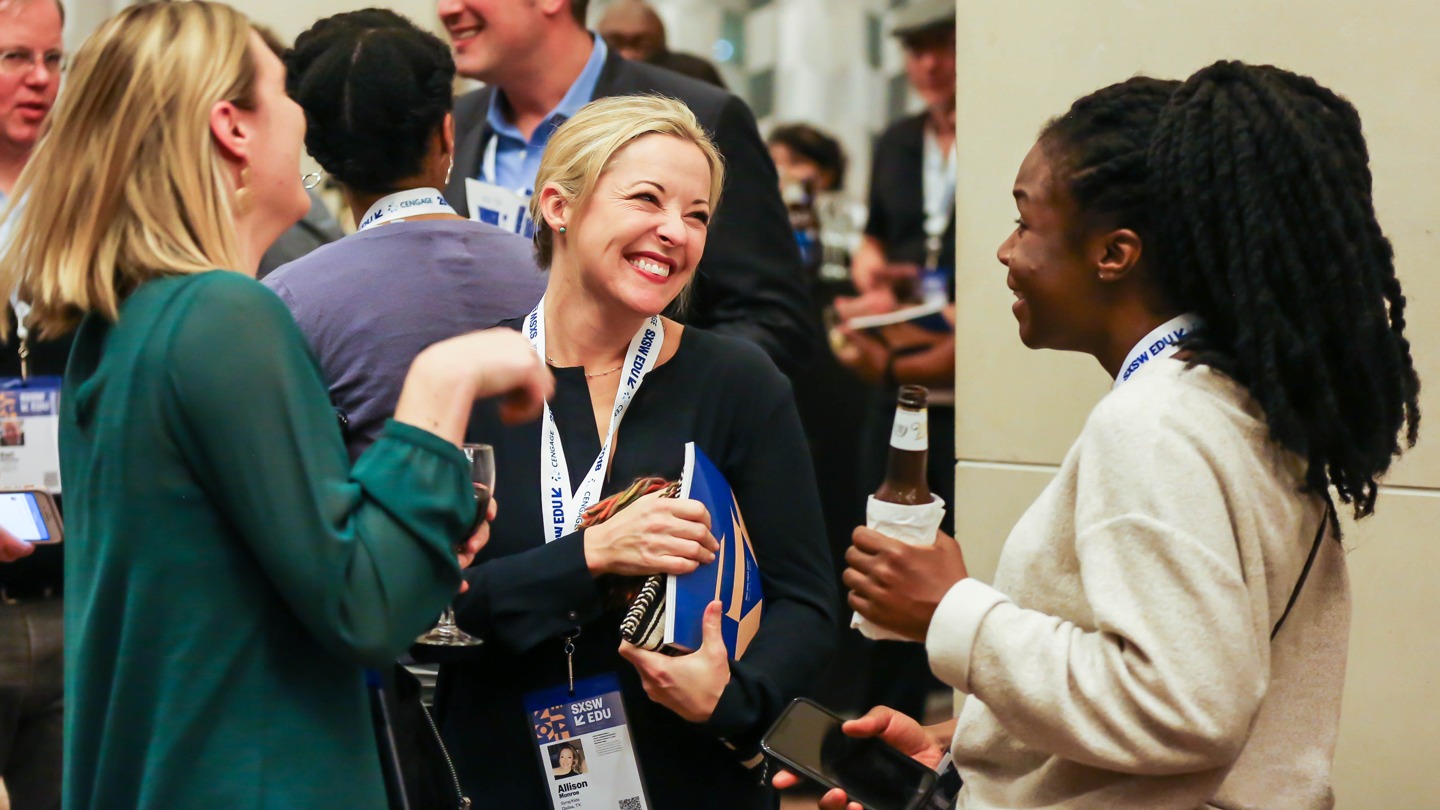 The opportunity to form and foster connections is a principal goal for many attendees at SXSW EDU. The connections that we establish within our industry, workplace, professional and personal lives have a profound impact on us because let's face it, it's not always what you know, it's who you know. We've been working hard to double down on these opportunities at SXSW EDU 2019 with a variety of formal and informal networking options for attendees. We are thrilled to share a host of announcements for March 4-7, including new formats such as pop-up dinners, fitness events, and walking tours!
Fitness Events
From morning bootcamps to a wellness studio, fitness events offer an opportunity to get grounded, focus on you, and meet like-minded wellness enthusiasts. Swing by the Wellness Studio in the Expo for daily yoga and meditation classes, along with SEL workshops.
Morning BOKS Bootcamp
Wellness & SEL Workshop
Wellness Studio
Lounges
Sponsor-supported lounges are scattered throughout both the Austin Convention Center and the Hilton Austin Downtown. The uniquely customized spaces provide attendees a haven to relax, recharge, and connect.
Room 13AB – Austin Convention Center
IDEA Public Schools Lounge
Room 406 – Hilton Austin Downtown
The Google Lab
Meet Ups
These speaker-facilitated, hour-long networking opportunities encourage communities to connect around similar topics, passions, roles, or interests.
Black Teachers Matter: Community Meet Up
Building a High-Quality Workforce Meet Up
Community College Meet Up
Data Science in the Classroom Meet Up
EdTechWomen Meet Up
Education Community Builders Meet Up
First Time to SXSW EDU Meet Up
Higher Ed Tech Meet Up
iNACOL & CompetencyWorks Meet Up
Influencing Youth in 2019 & Beyond Meet Up
It Gets Better!: An LGBTQ+ Meet Up
Lessons Learned Meet Up — Boundaries
Lessons Learned Meet Up — Networking
Lessons Learned Meet Up — Visioning for Outcomes
Libraries Transform Texas Meet Up
Mindful Meet Up for an Intentional Conference
Museums & Cultural Centers Meet Up
PanelPicker & More: Engaging at SXSW EDU 2020 Meet Up
Playful Assessment Meet Up
Podcasting in the Classroom Meet Up
Student Meet Up
Supporting College Transfer Students Meet Up
Teaching the Unified Generation Meet Up
The Secret to Effective Online Learning Programs
Wonka, Unicorns, & the Interoperability Imperative Meet Up

Mentors*
The mentor program at SXSW EDU facilitates purpose-driven, one-on-one 12-minute connections between experienced professionals and solution-seeking attendees. The first wave of mentors was announced in November and today's update completes the mentor lineup for March 2019.
Amelia Bachleda (Institute for Learning & Brain Sciences): Mentor
Amy Parry (Kindergo): Mentor
Brent Engelman (CCSSO): Mentor
Bonnie Sanborn (DLR Group): Mentor
Celia Alicata (BrighterGood): Mentor
Charles Reynolds (Real Rap with Reynolds): Mentor
Cindy Goldrich (PTS Coaching): Mentor
Dawn Kurtz (Child360): Mentor
George Stein (Geostein Education): Mentor
James Butler (Austin ISD): Mentor
James Campbell (Inspire 2 Impact): Mentor
Jeff Kuhn (Ohio University): Mentor
Jill Bronfman (Common Sense Media): Mentor
Julie Willcott (zSpace): Mentor
Kareem Edouard (ExCITE Center, Drexel University): Mentor
Kristen Corliss (DCPS): Mentor
Kristina Moss Gunnarsdottir (Hampshire College): Mentor
Marjee Chmiel (Howard Hughes Medical Institute): Mentor
Marcus Duvoisin (Digital Media Academy): Mentor
Maureen Nicol (The University of Texas at Austin): Mentor
Michael Hernandez (Mira Costa High School): Mentor
Patrick Benfield (Magellan International School): Mentor
Sheryl Hosler (The Roving Naturalist): Mentor
Tim Bailey (The Gilder Lehrman Institute of American History): Mentor

Pop-Up Dinners*
Connect with fellow registrants while enjoying a taste of Austin at pop-up dinners across downtown. Dinner reservations have already been made, just sign up to reserve a seat and show up hungry to enjoy a bite and conversation with other attendees interested in meeting new people. Attendees are responsible for their own dinner expenses.
Pop-Up Dinner at Cannon & Belle (Monday | Tuesday | Wednesday)
Socials
Happy hours, coffee breaks, parties, and various social events take place throughout the SXSW EDU week to encourage attendees to kick back while mixing and mingling with fellow attendees.
A Toast to Educators!
Arabian Nights Happy Hour
Coffee Break (Monday)
Coffee Break (Tuesday)
Competition Awards Party
Closing Party
Early Bird Social
Families & the Future of Learning: #RemakeDays
Hechinger Happy Hour, aka The Jargon Free Zone
Higher Ed Happy Hour
Opening Party
Power of Us Party
Spotlights
Spotlights offer attendees an opportunity to engage and get hands on with innovative new projects and companies. The Startup Spotlight features Launch finalists alongside some of the brightest education startups in the Startup Village and the Design Spotlight features finalists from Learn by Design in the Playground.
Design Spotlight
Startup Spotlight
Walking Tours
Guided, hour-long walking tours around downtown provide a unique opportunity to experience Austin like a local, meet fellow attendees, and connect with the vibe and culture on a new level.
Austin Music Walking Tour (Monday | Tuesday)
Downtown Austin Walking Tour (Sunday | Monday | Tuesday)
*Limited capacity and requires RSVP sign up in advance. Registrants can RSVP for a spot in an event before and during SXSW EDU in the online schedule or mobile app. RSVP will open on February 18.
Join Us March 2019
Keep an eye on SXSW EDU for more information about networking tips, tools, and events. Register by February 15 to save $50 on the walk-up rate.
Photo by Diego Donamaria.