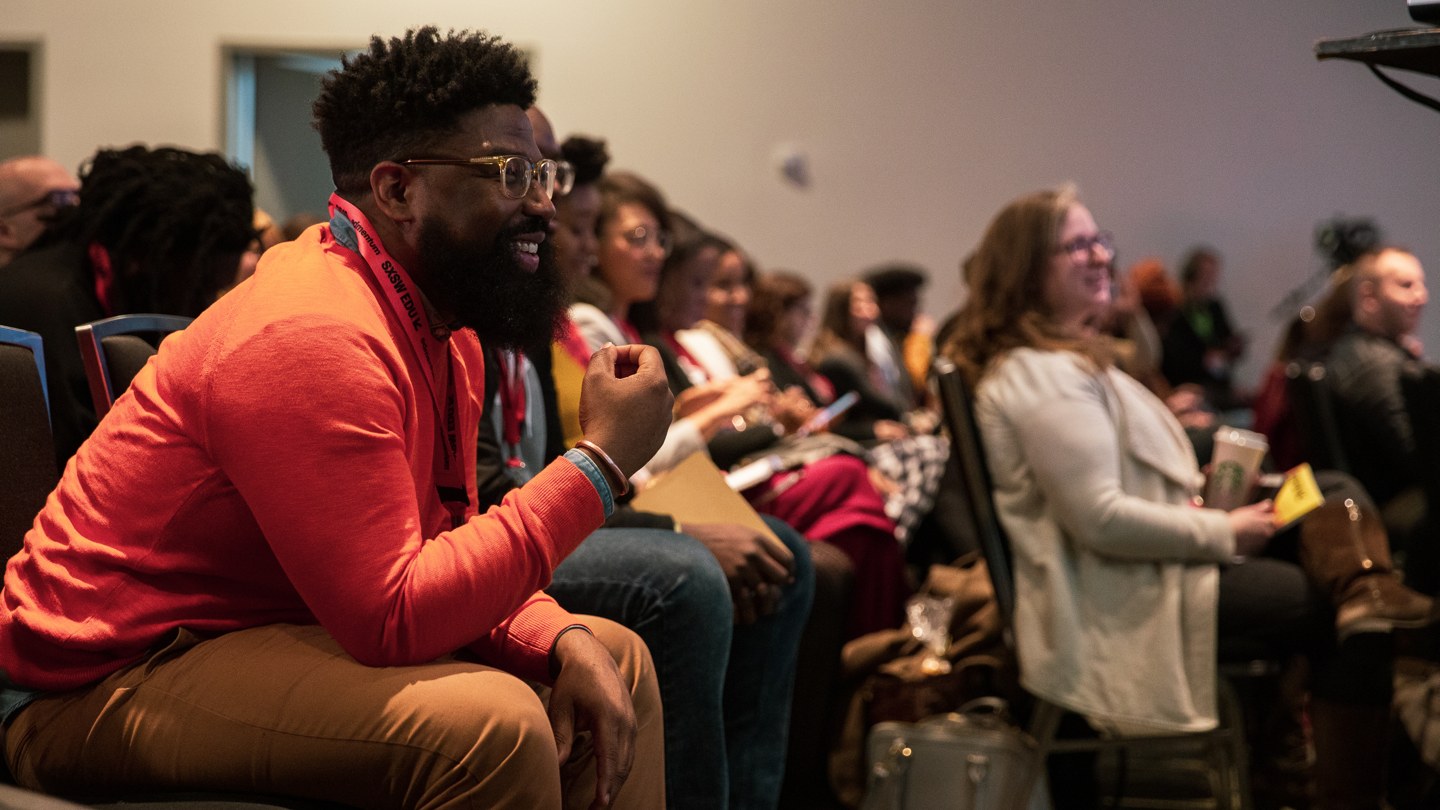 As we prepare to head into the new year, our excitement is teeming because SXSW EDU is looming on the horizon. Now is the time to start locking in your travel plans for the 10th annual Conference & Festival. With travel in mind, we would be remiss not to remind you that we have a new approach to the last day of the event. In past years, Thursday has been a slightly shorter day, but Thursday, March 12, 2020, will feature a full day of dynamic programming and events. Here are 10 reasons to stay for SXSW EDU through Thursday, March 12!
If you need help booking or extending your hotel stay, don't fret because we still have hotel rooms available for Thursday night in downtown Austin at protected rates. Our Housing & Travel team can help accommodate your request online through the SXSW Shopping Cart.
1. Laura Huang & Arlan Hamilton on Changing the Narrative on Obstacles & Adversity
Laura Huang is the MBA Class of 1954 Associate Professor of Business Administration at Harvard Business School. She has spent her academic career studying interpersonal relationships and implicit bias in entrepreneurship and in the workplace. Arlan Hamilton built a venture capital fund from the ground up, while homeless. She is the Founder and Managing Partner of Backstage Capital, a fund that is dedicated to minimizing funding disparities in tech by investing in high-potential founders who are people of color, women, and/or LGBT. Drawing on award-winning research and personal experiences, these breakthrough leaders will provide vital takeaways on the opportunities and challenges of turning adversity into your great advantages.
2. Paul LeBlanc & Dan Rosensweig on the Future of Higher Education
Chegg's CEO Dan Rosensweig and Dr. LeBlanc, President of Southern New Hampshire University, will discuss how academia can empower their students, strengthening the future. This featured session is particularly timely as education continues to shift towards online, on-demand, and personalized learning, bringing questions to light about the future for America's higher education system.
3. The Inaugural Amazon Alexa EdTech Skills Challenge
Amazon Web Services (AWS) and SXSW EDU announced the launch of the Amazon Alexa EdTech Skills Challenge this summer with the goal of finding the best application of voice technology in education. After a competitive application process, six creative and groundbreaking ideas have been selected as finalists. These edtech companies – Blast Learning, Healthy Teen Network, NuMoola, SayKid, StrongMind, and VOGO Voice – will develop their Alexa skills and then showcase them at SXSW EDU in a pitch competition.
4. Special Focus on the Talent Pipeline & Leadership Development
Programming on the final day of SXSW EDU will lean heavy into corporate learning, the talent pipeline, upskilling, cities of learning, public policy, and leadership development. Leaders such as Girls Who Code COO Tarika Barrett, Slack's Head of Product Jules Walter, and Texas Workforce Commission's Julian Alvarez are scheduled to speak. Sessions include "Shaping Education for the Future of Work" and "Hacking Tech's Equity Gaps."
5. Must-See Film Screenings
Poignant narratives and documentaries with a focus on education screen during SXSW EDU. These timely films conclude with a Q&A session featuring the filmmakers, film subjects, or experts of the topic at hand. SXSW EDU will extend the film program to Thursday, March 12, with soon-to-be-announced screenings throughout the day.
6. Bold Policy Forum Programming
The Policy Forum brings diverse and impactful discussions around critical policy issues in education to the forefront. Sessions in the forum feature civic leaders, policymakers, and community voices that are directly impacting the education landscape. The 2020 election, safe schools, and fiscal transparency are just a few of the topics slated for Thursday in the Policy Forum.
7. Podcast Recordings
The programming for SXSW EDU 2020 has been expanded to include podcasts. Podcast conversations will explore a variety of topics relevant to the education landscape. Each podcast session will be hosted by media or influencers and recorded in an intimate setting amongst a live audience at the event.
8. Immersive Wellness Experiences
Networking opportunities at SXSW EDU come in many shapes and sizes. Immersive wellness experiences, scheduled throughout the event, provide attendees fun and casual ways to connect with others who share their interests. The Wellness Studio features no sweat exercises, workout classes, and meditation before and during programming on Thursday. Similarly, walking tours that explore Austin music and downtown provide a fun excursion through the city.
9. Customary SXSW EDU Closing Party
The Closing Party has been akin to SXSW EDU since the first event in 2012. It's a can't-miss, and event for attendees to connect with friends, new and old. Details are still being finalized, but we can promise that the party won't disappoint!
10. Connect with SXSW Interactive, Film, & Music Attendees
Many SXSW Interactive, Film, and Music attendees will be arriving Thursday in preparation for the SXSW event kicking off Friday. In our ongoing endeavor to help creative people reach their goals, we are excited to provide opportunities for the SXSW EDU community to converge with these technologists, filmmakers, and musicians. Select programming on Thursday will be open to both SXSW EDU and SXSW badgeholders, paving the way for new and serendipitous connections.
Don't miss out on all of the excitement and learning. Make sure that your SXSW EDU plans include Thursday, March 12. If you haven't already, register to attend SXSW EDU before Friday, January 17, to save.
Photo by Alexa Gonzalez Wagner.