Teen Entrepreneur Aarushi Machavarapu on Starting a Business, Social Impact, & More [INTERVIEW]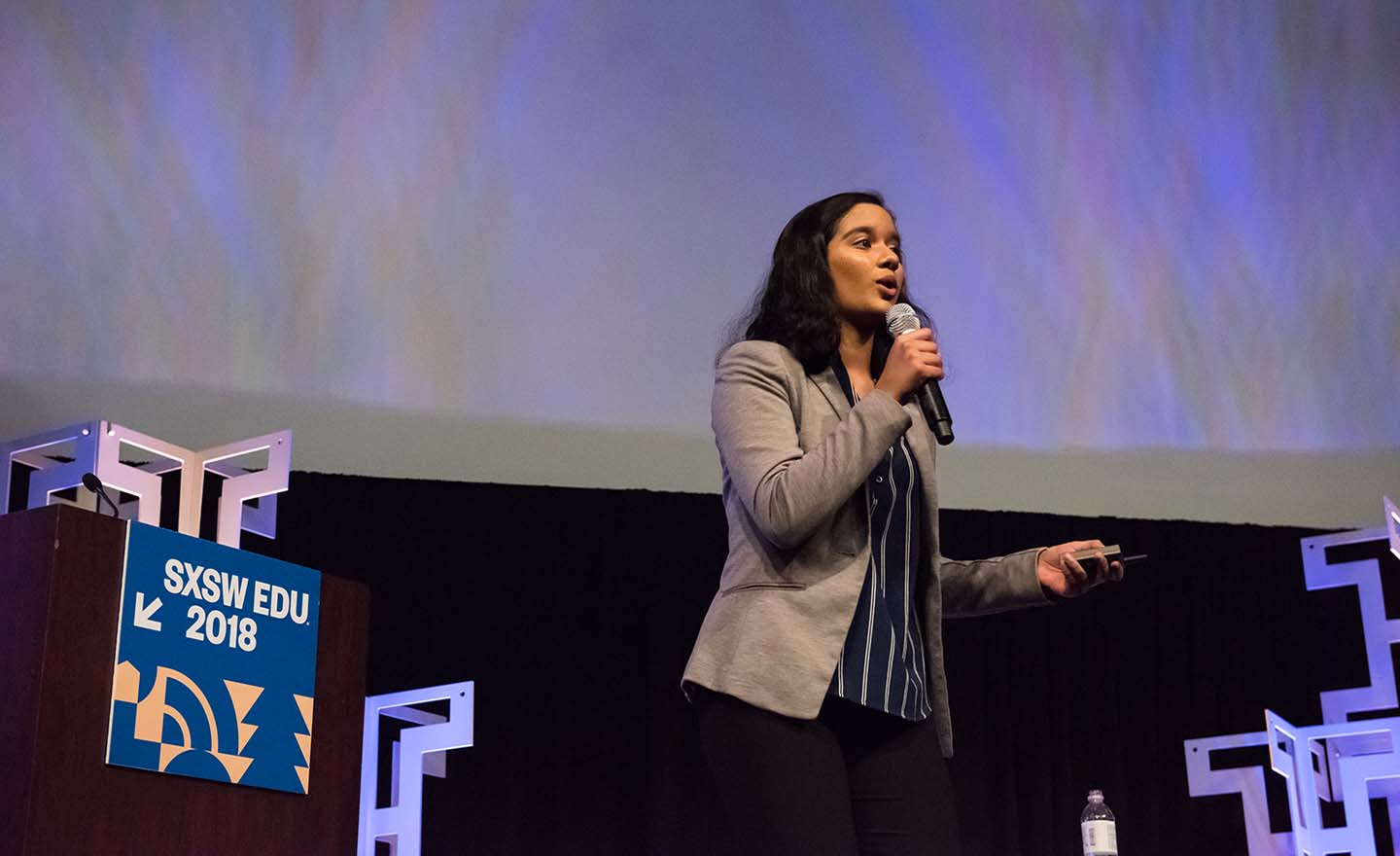 Last year, Aarushi Machavarapu won the SXSW EDU Student Startup competition when she pitched her social impact media business, Threading Twine. In 2019, she returns to the conference and festival as a speaker discussing ways to spark an interest in entrepreneurship starting at an early age.
Q. What advice do you have for teens who are considering starting their own business?
A. My biggest advice to teens who are considering entrepreneurship is to just start. Start before you think you're ready, because you'll never be certain if you are. I had no idea what I was doing in the beginning, but I just took my idea and executed it as I saw fit. Eventually I began connecting with friends, teachers, and potential mentors who ended up supporting me and advising me. Beginning is always the most difficult part, but developing the momentum and drive to keep working brings the most rewarding results.
Q. As the SXSW EDU 2018 student startup competition winner, tell us about your experience competing and pitching your company, Threading Twine, in front of a live audience at the event.
A. It was so scary!! The previous summer I attended Quarter Zero's Catapult program, a startup incubator for high schoolers, which ended with a Demo Day where we pitched to VC's and legendary businesspeople. While I had worked all weekend with my team to develop the pitch and design the slide deck, one of my other team members pitched on Demo Day. SXSW was essentially the first time I pitched in front of a large audience.
Before the competition, I spent Saturday through Tuesday refining and perfecting the pitch with my dad's previous manager, who is also an entrepreneur. I was incorporating all of his edits, finalizing my slide deck, and memorizing the pitch until an hour before the event. It was one of the most busy few days of my life. Getting to the venue Tuesday morning and finalizing my pitch with the professionals SXSW EDU provided really gave me the boost of confidence I needed to execute on the main stage.
I think there were around 500 people in the room when I pitched, which felt overwhelming. I felt scared, however, the important business of the moment overrode my nervosity because I was ready to show the audience and judges that I was ready to secure funding and further my company. I'm so grateful to have won, because the rest of the youth entrepreneurs I pitched alongside had really innovative and well-executed ideas.
Q. Who are your inspirations when it comes to business and entrepreneurialism?
A. I have so many inspirations! There are many Generation Z entrepreneurs I look up to, such as Nadya Okamoto, the founder of PERIOD, a non-profit aiming to combat the stigma surrounding menstruation. I also look up to Ziad Ahmed, CEO of Juv Consulting, and Amanda Southworth, founder of Astra Labs. These three Gen Z entrepreneurs empower me to dream of what my success can look like as a young person.
I'm lucky enough to be best friends with many youth changemakers as well, such as Sofia Ongele who developed her app ReDawn for women's safety in one month, and some of my old roommates who are social entrepreneurs who I'll be speaking with at SXSW this year. These friends are the reason I continue to work and do what I do--they're sources of constant inspiration, support, and advice.
Q. Why was it important to you to start a business in the social impact media sector?
A. If there's one thing I know about myself, it's that I'm meant to work in social impact for the rest of my life and will never feel fulfilled unless I do. Addressing fundamental human rights is the key to closing any kind of disparity in the world, whether that be between countries, genders, etc. Social impact can come in thousands of forms, but I believe that global progress will best occur when we collectively work together to provide equal opportunity and rights to those who are unable to fight by themselves. We need to incorporate underrepresented communities in decision-making processes which affect them, in order to lift them up from oppressive structures.
These beliefs strictly guide all my decisions regarding how I spend my time outside of school. I perceive social entrepreneurship as the current most effective method for me to be a disruptive leader and work towards equality.
Q. What's the best/most rewarding experience you've had as an entrepreneur?
A. I can't choose between two, so I'll tell you about both of the most exciting experiences I've had.
The first revolves around SXSW and SXSW EDU. Winning the Student Startup Competition in March 2018 lifted me up and empowered me to continue working and dreaming big. In January, I had lost a competition for a business club at school, not making it to the state level. I lost hope in my entrepreneurial abilities. But when I was invited to pitch Threading Twine at SXSW EDU, I felt revived and ready to give the pitch my all. Winning gave me even more of a reason to keep going, and I'm very thankful for the judges and participants at the competition who helped me continue my passion. This year, I'll be speaking at both SXSW and SXSW EDU, speaking on a panel and giving a talk. I've dreamed of this since middle school, and never thought I'd be invited to speak at the age of seventeen with some of my best friends! A smile erupts on my face from even thinking about it.
Second, I was invited to the T-Mobile Headquarters in Bellevue, Washington this summer to work on social innovation with T-Mobile and Ashoka, the organization that invented the concept of social entrepreneurship. Through this, we got to meet the CEO of T-Mobile, secure funding from them, and gain mentors who we would have never had access to otherwise. The T-Mobile Ashoka Changemaker Lab was a dream I never thought I'd be able to turn into a reality. Due to consistent hard work and my mentors and parents who always support me, I was able to.
Q. We're excited to have you back at SXSW EDU this year as a speaker on the session "Fostering Youth Entrepreneurship." Tell us about why this was an important topic for you, and what we can expect to discuss and takeaway.
A. I'm speaking with two of my good friends, Crystal Wang and Melissa Khasbagan, on how educators and any adult can support youth entrepreneurship. Our talk is intended for educators and anyone else who is interested in youth innovation. We're going to address how adults can influence youth to implicitly grasp basic concepts of business and apply them creatively to solve problems. Kindergartners are the world's creative geniuses, and if we support their mentalities from the young age of five, they can blossom into the world's most influential innovators. We'll also discuss how to support these youth as they move forward and as their passions mature.
This topic was critical for us to speak about because educators are the most influential aspect of a student's life, and are always ready to support youth passions outside of academics but often don't know the best way to do so. We hope our talk changes that, so we can support educators in supporting us.
SXSW EDU 2018 Student Startup Competition photo by Amanda Stronza