Leland Melvin, Maria Konnikova, David Hogg, & More Featured Speakers Announced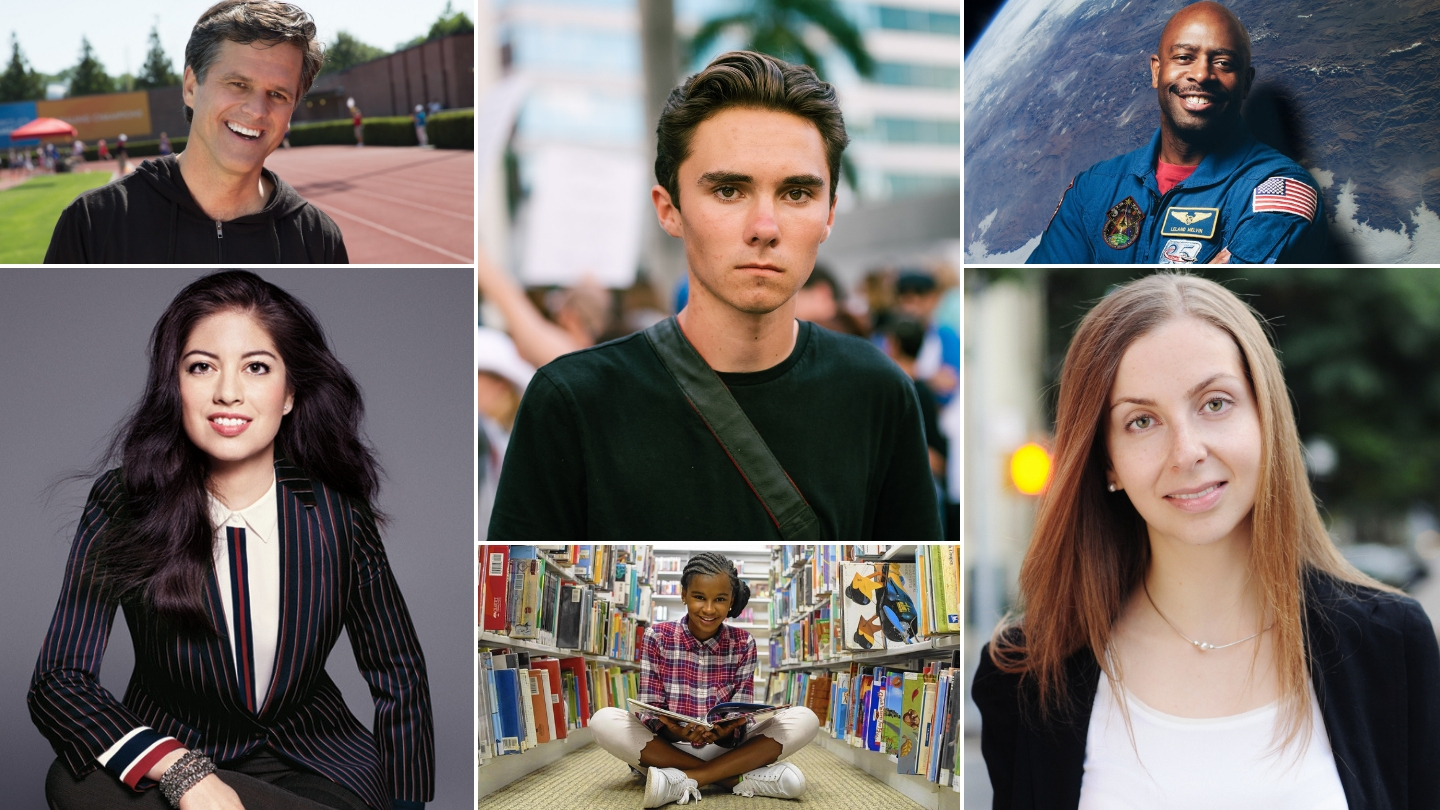 SXSW EDU spotlights education visionaries, industry leaders, and change-makers working towards a brighter future on the featured session stage. Today's announcement of featured speakers includes former NASA Astronaut Leland Melvin, author and professional poker player Maria Konnikova, March For Our Lives Co-Founder David Hogg, and more.
David Hogg – As a senior at Marjory Stoneman Douglas High School in Parkland, Florida, David Hogg's life forever changed when he survived the largest school shooting in American history. Joining with his friends from his school, David co-founded March For Our Lives, a youth led gun violence prevention movement that organized one of the largest mass mobilizations this nation has ever seen on March 24, 2018. With his younger sister, Lauren, also a student at Marjory Stoneman Douglas High School, he co-wrote #NeverAgain, a New York Times best seller.
Jack Lynch – With an extensive background in the K–12 education and technology space, Jack Lynch joined Houghton Mifflin Harcourt in 2017 as President and Chief Executive Officer. Prior to HMH, Jack was the CEO at Renaissance Learning, a leader in K–12 learning analytics. He has been active in the K–12 education industry since 1999 and was the founding CEO of bigchalk.com, where he created an education network serving 40,000 schools. He later served as President and CEO of the Pearson Technology Group.
Leland Melvin – Former NASA Astronaut Leland Melvin's story of passion and perseverance led him from the NFL to NASA. After playing professional football with the Detroit Lions and the Dallas Cowboys, Leland, who has a BS in Chemistry and a MS in Materials Science Engineering, traveled off-planet twice on Space Shuttle Atlantis to help build the International Space Station. Upon hanging up his space boots, he led NASA Education and co-chaired the White House's Federal Coordination in STEM Education Task Force, developing the nation's 5-year STEM education plan.
Maria Konnikova – Author and professional poker player, Maria Konnikova, is a Russian-American writer and psychologist. Her New York Times best sellers, The Confidence Game, won the 2016 Robert P. Balles Prize in Critical Thinking, and Mastermind: How to Think Like Sherlock Holmes, was an Anthony and Agatha Award finalist. Having amassed over $260,000 in poker tournament earnings within one year and captured a major poker title during research for her upcoming book, Maria joined PokerStars Team Pro as an official ambassador. Maria also hosts The Grift podcast from Panoply Media, a show that explores con artists and the lives they ruin, and is currently a visiting fellow at NYU's School of Journalism.
Marley Dias – Precocious and purpose-driven 13-year-old Marley Dias is the founder of #1000BlackGirlBooks and author of Marley Dias Gets It Done: And So Can You! Leveraging the power of social media, she surpassed her goal to collect 1,000 books featuring Black female protagonists with over 11,000 books collected to-date. Marley is the youngest member of the Forbes 30 under 30 list for 2018. Marley also serves as Editor in Residence of her own digital 'zine Marley Mag on Elle.com where she's interviewed Ava DuVernay, Misty Copeland, and Hillary Clinton.
Michele Sullivan – Michele Sullivan has held various globally influential leadership positions during her 30-year career at the Caterpillar Foundation where she currently serves as President of the Caterpillar Foundation and Director of Corporate Social Innovation at Caterpillar, Inc. With a belief that sustainable change for our largest global challenges can only happen through partnerships between public, private and non-profit entities, Michele is well known for her global expertise and collaborative approach to philanthropic investing. She's been named by Inside Philanthropy as one of the 50 most powerful women in philanthropy and served as a U.S. delegate to the United Nations Commission on the Status of Women.
Natalia Oberti Noguera – Dubbed "The Coach" by Marie Claire, Natalia Oberti Noguera is Founder and CEO of Pipeline Angels, an organization changing the face of angel investing and creating capital for women and non-binary femme social entrepreneurs. Natalia is also Creator & Host of Pitch Makeover, a podcast on pitching and investing that spotlights startups launched by women, non-binary people, and men of color. She has been named one of "The Most Impressive Women Entrepreneurs of 2016" by Inc. Magazine and included in Latina.com's list of "25 Latinas Who Shine in Tech." She's also been honored (a cis queer Latina) by StartOut, a network of LGBTQ entrepreneurs, with the 2017 Nixon Peabody Trailblazer Award, "recognizing an entrepreneur whose pioneering approach or vision has set a trend for an entire industry."
Ron Suskind – Author and Pulitzer Prize winning journalist Ron Suskind, wrote the New York Times best sellers Confidence Men, The Way of the World, The One Percent Doctrine, The Price of Loyalty, and A Hope in the Unseen. His most recent book, Life, Animated, chronicles his family's twenty-year journey raising and connecting to their autistic son through his passion for the Disney canon. The Suskinds are also the subject of an Oscar-nominated documentary feature of the same name. Their story has driven activism and research about the compensatory strengths of those with autism and others who are "differently-abled" due to distinctive neurology or sociocultural backgrounds.
Timothy Shriver – Timothy Shriver is the Chairman of the Board of Directors for Special Olympics International, and in that capacity, he serves with over 5.6 million Special Olympics athletes in 172 countries, all working to promote health, education, and a more unified world through the joy of sports. Before joining Special Olympics in 1996, Shriver was and remains a leading educator focusing on the social and emotional factors in learning. He co-founded and currently chairs the Collaborative for Academic, Social, and Emotional Learning (CASEL), the leading school reform organization in the field of social and emotional learning.
Don't Miss SXSW EDU This March
Register now to hear firsthand from these speakers and more at SXSW EDU, March 4-7, 2019. Purchase your registration badge by Friday, December 7, to save $150 off the walk-up rate. SXSW EDU also offers group and student discounts.
Stay in the know with SXSW EDU by signing up for the SXSW EDU Event Update and follow us on Twitter, Facebook, and Instagram for daily updates.
SXSW EDU Featured Speakers (t-b, l-r) Tim Shriver (photo by Corman), Natalia Oberti Noguera, Leland Melvin, David Hogg, Marley Dias (photo by Andrea Cipiani Mecchi), and Maria Konnikova.