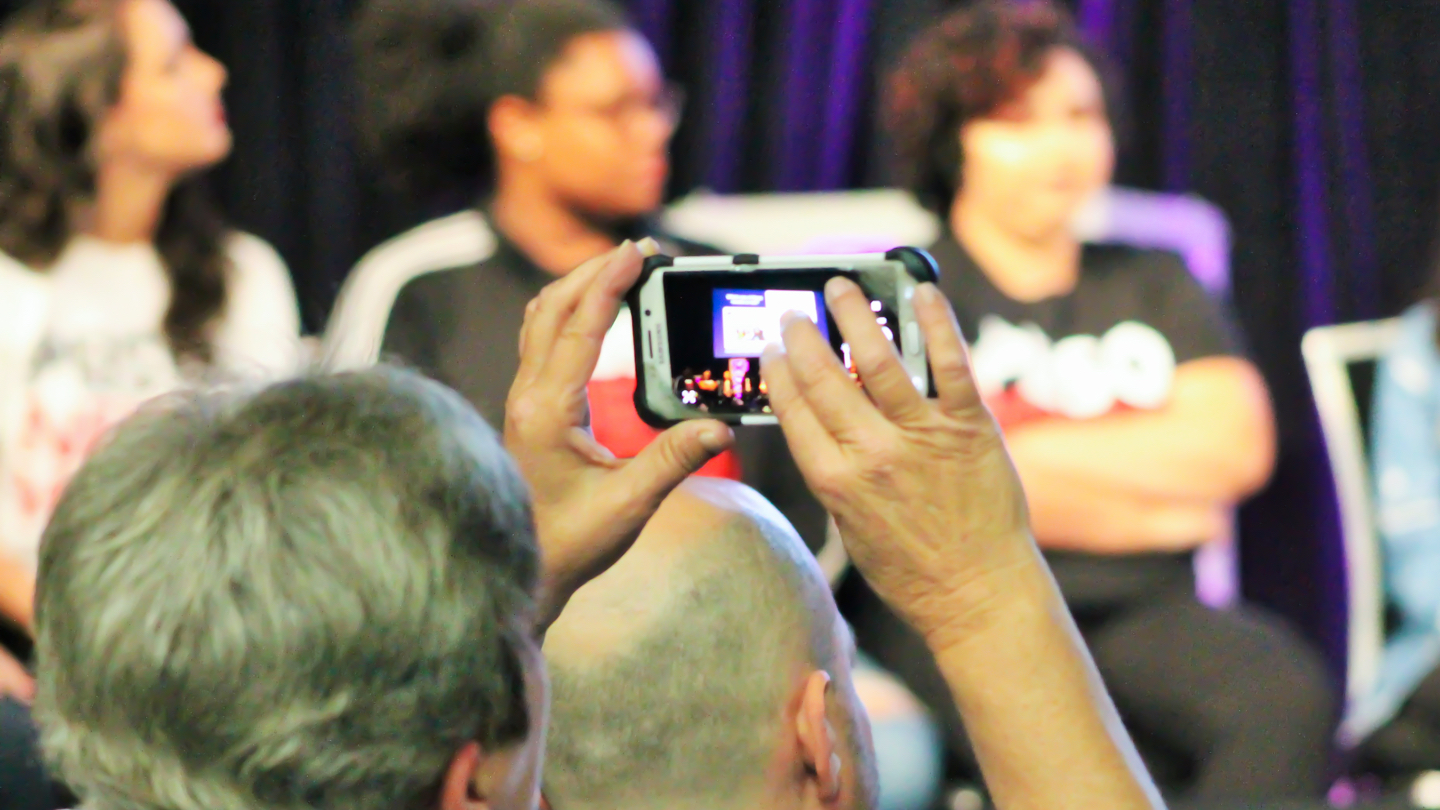 After weeks of anticipation, we are thrilled to announce more than 220 sessions that have been selected via PanelPicker for the 2018 SXSW EDU Conference & Festival!
Each year SXSW EDU looks to the community to help program the Conference & Festival. Using PanelPicker, a two-step, digital crowd-sourced platform, the community is encouraged to enter session ideas for SXSW EDU 2018. This summer an overwhelming 1,400+ session ideas were received. Voting and evaluation of these ideas took place in three parts: community, SXSW EDU Advisory Board and SXSW EDU staff review. As a result of this crowdsourced process for programming the event, we are excited to celebrate more than 220 sessions and over 500 speakers today.
A rich array of topics are represented throughout these sessions with an emphasis on leadership and a shared eagerness to better learning for all students, both in and out of the classroom.
Highlights from Today's Announcement:
Newly announced speakers include Houston Police Chief Art Acevedo, U.S. Representative Scott Peters, National Teacher of the Year Sydney Chaffee, Black Girls CODE Founder Kimberly Bryant and more!
Citizen-Ready and Crime-Free: The PreK Advantage was the most popular session in PanelPicker.
How Data & Automation Humanize Student Experience received the highest number of public votes.
Equity is the most robust programming track on the program thus far.
Popular topics in this announcement include design, development, leadership, EdTech, innovation, access and skills.
The highest scored sessions by the SXSW EDU Advisory Board are Beating Those 'Mon. Morning Social Media Blues', Personalizing the Online Experience, Equity Innovations for Low-Skill Adults and Teach For Equity: Building Communities of Practice.
Browse the full list of announced sessions below and begin building your schedule for SXSW EDU 2018 by logging in at schedule.sxswedu.com and starring your favorites.
Explore the Session Lineup
Arts
National Arts Networks and Stories of Impact (Featured)
Art Education and Sensory-Friendly Programming (Talk (Playground))
The Music Experience Design Lab and #HipHopMusicEd (Workshop)
Creative Youth Development: A Movement and Mindset (Panel)
Soundtrack '63: Social Justice Through Music+Tech (Panel)
The Moth in the Classroom: Telling True Stories (Workshop)
Using Hip Hop Culture in Architecture Education (Talk (Playground))
Creative Education in the Era of AI - Beyond Arts (Future20)
Creative Collaborations (Workshop)
Business
Tales from EdTech Accelerators (Panel)
What is & Who should be afraid of Global Pedagogy? (Panel)
Developing US EdTech in International Markets (Talk (Industry))
AI in Education: Opportunities and Challenges (Panel)
Stimulating Urban Renewal through Entrepreneurship (Talk (Higher Ed))
The Case For Strategic Social Listening On Campus (Talk (Higher Ed))
Play It Forward: Sports & Higher Education (Talk (Industry))
Cognitive Process
Fidget Spinners, Mindfulness and Flow (Future20)
Using Art & Self-reflection for Cultural Inclusion (Workshop)
The Breakthrough of Drone Education (Campfire)
Brain & Environment: Implications for Learning (Panel)
Continuing Education
Helping Student Athletes Diversify Their Portfolio (Panel)
The Evolution of MOOCs: Six Years Later (Talk (Higher Ed))
Adult Education: It Ain't Your Granddad's GED (Future20)
Credential Value Beyond the Degree (Workshop)
Business Minded Adult Education (Panel)
Data
What Hath We Wrought? (Keynote)
Capturing Data in Authentic Writers Workshop (Workshop)
Unions and Charters: Who's the Bad Guy? (Future20)
Data Diagnosis: US Higher Education in Peril? (Panel)
Personalizing Education Using Deep Learning (Future20)
Standardized Data, Extraordinary Insights (Talk (Industry))
Don't Let Data Hold You Back (Workshop)
You Can't Solve What You Don't Understand (Case Study)
Marrying Analytics with Action (Talk (Industry))
How Data & Automation Humanize Student Experience (Talk (Higher Ed))
Accidental Consequences of Student Privacy Laws (Panel)
Practitioner Perspective: Finding Edtech Efficacy (Panel)
Bringing the Science: Teaching with Authentic Data (Case Study)
Early Learning
Teach Artificial Intelligence in Kindergarten (Future20)
Passion Based Learning: Child-Guided Curriculum (Talk (Playground))
Citizen-Ready and Crime-Free: The PreK Advantage (Policy Forum)
Zero to Eight: The Media Habits of Young Children (Future20)
Art as a Pathway to Health and Wellness (Panel)
Innovation in the Early Learning Workforce (Panel)
Employability
Why Tech-Enabled Teachers Flee the Classroom (Future20)
Redesigning a Modern-day College of 'Fine' Arts (Talk (Higher Ed))
How to Teach Designing a Creative Career (Workshop)
Educating Across the Aisle (Panel)
How To Prepare Kids For Jobs That Don't Exist Yet (Panel)
Teacher Externships Improve Student Employability (Panel)
Leveraging Student Interests: Internships at Scale (Future20)
Breaking Tech Teaching Norms (Future20)
Not "Random Acts of STEM": Planned Career Success (Talk (Industry))
Getting Graduates Employed - A New Job For K-12 (Panel)
Why Science Fairs May Be Humanity's Best Hope (Panel)
Startup: 21st Century Intrapreneurship (Talk (Learning Expo))
How Will Big Data Evolve Career and Job Search? (Panel)
Equity
Delivering on the Digital Promise (Featured)
How Educators Lead With Equity In Mind (Featured)
Justice and Opportunity through Disruption (Featured)
Rethinking History (to Redesign our Present) (Workshop)
Beyond Buzzwords: Competency, Culture & Equity (Campfire)
Black Educators Supporting One Another (Future20)
Yo Privilege Is Showing: Social Justice In School (Workshop)
Design Thinking has a Pedagogy Problem (Future20)
Engaging Long-Term Stopouts (Talk (Higher Ed))
Digital Inclusion in Schools: Partnership & Policy (Case Study)
Inclusion in the Making: Maker Experience for ALL (Panel)
The Messy Living Room of Racism: Time to Clean Up (Campfire)
The Invisible Million: Homeless Students in the US (Panel)
SHAPE OF AN ABSENCE (Panel)
The Struggle is Real-Rural, High Poverty Districts (Case Study)
Hidden Among Us: Reaching Out To Student Outliers (Campfire)
Collaboration as a Path to Digital Equity (Policy Forum)
Let's Teach About Race (Panel)
Hate Online & in School:Building a Tech Resistance (Workshop)
Let's Debunk Some Edu-Lies You've Been Told (Future20)
Hip Hop in the Science Classroom (Workshop)
Equity Innovations for Low-Skill Adults (Policy Forum)
Racial Equity & Restorative Practices in Schools (Workshop)
Bringing World Class Partnerships to Rural Schools (Talk (Learning Expo))
Diversity in Edtech: It's Not a Pipeline Problem (Panel)
Teach For Equity: Building Communities of Practice (Panel)
Achieving Equity with Open Educational Resources (Panel)
The Invisible 34%: First-Gen College Students (Panel)
Close the STEM Gender Gap? Start in Kindergarten (Panel)
The 7%: Preparing Men of Color for the Classroom (Workshop)
Unlocking the Promise of Public Education (Future20)
The Best Ideas in TX EDU: The Rather Prize (Panel)
Internet, Education, and Overlooked Populations (Panel)
From DC to Memphis, Solving the #StudentDebtCrisis (Policy Forum)
Implementation
Getting Uncomfortable with Urban School Reform (Future20)
Why Innovate Alone? Harness the Power of Networks (Workshop)
Rumble: Native Americans in Pop and the Classroom (Panel)
Computation & Kids: High School Digital Humanities (Future20)
Change Testing Forever: Teachers Leading the Cause (Panel)
The Power of a Problems-Led Engineering Program (Future20)
Building A High School With Meaning For The Youth (Case Study)
(Un)Affordability in Higher Education (Panel)
Family and Community Engagement 2.0 (Panel)
No, I Won't "See You at McDonalds" & Other Stories (Case Study)
Integrating Non-Curricular Programs in School (Panel)
Butterfly Effect: Build Diverse Learning Networks (Workshop)
Crawl, Walk, LEAP:Lessons on Personalized Learning (Future20)
Beating Those 'Mon. Morning Social Media Blues' (Workshop)
The Perfect Blend: Practices for Blended Learning (Summit)
Transforming LA's K-12 Public Schools (Future20)
Are We Coming into the Golden Age of OER? (Panel)
Partnering With Museums For Hands-On Learning (Future20)
Personal Sensors: Seing Through Engineered Eyes (Talk (Playground))
What Kids Say About Games -- And Can We Listen? (Panel)
Strategies to Help Lower-Income Kids Go To College (Talk (Higher Ed))
Innovation Underground (Campfire)
Informal Education
Connect the Dots: Engaging District's Educators (Future20)
MUSEUM, LIBRARY, & OUT-OF-SCHOOL-TIME ED MEET UP (Meet Up)
Podcasting for Education Meet Up (Meet Up)
Student Mindfulness Through Yoga and Hip-hop (Hands On)
EduTuber Meet and Greet: All Are Welcome! (Meet Up)
How Dungeons & Dragons can save the world (Workshop)
Answering Questions & Concerns About Immigration (Workshop)
The Best Internet Filter is Between a Child's Ears (Panel)
1 New Person Everyday: When Strangers Connect (Future20)
Family Engagement in Hands On Learning (Talk (Playground))
Inspiring Curiosity in Mathematics (Hands On)
Youth Publishing: How to Energize Emerging Writers (Future20)
Immersive Learning: Teaching History through GBL (Case Study)
Driving engagement amongst youth of color in tech (Case Study)
The Dumpster Project: Inspiration as Education (Hands On)
Taking Your Educational Videos to the Next Level (Workshop)
Instruction
STEM in the City—Experiential Learning at Its Best (Show & Tell)
Domo Arigato: Robotics in Public Education (Talk (Learning Expo))
MetaRubric: Playful Assessment Design Workshop (Workshop)
Design Tools for Creative Ethics Education (Workshop)
Mission Critical: Train Like the Army (Panel)
Transcending Language & Learning Barriers in STEM (Case Study)
Media Literacy in the Era of Fake News (Campfire)
Beyond Mastery: The Six Elements of CBE (Workshop)
Invention Studio: Students Design for Social Good (Talk (Playground))
Get Ready for Maker-Based Instruction (Workshop)
Modernizing Learning Using Experiential Education (Talk (Higher Ed))
Make a Food Computer: Open-Sourced Tech in Classes (Hands On)
Design Thinking, Social Good & Breaking Higher Ed (Case Study)
Our Teacher is Wrong: Using Conflict To Succeed (Future20)
Teaching in the Machine Age (Future20)
5 Questions Empower Everyone With Design Thinking (Workshop)
Talking Social Justice: Discussions that Matter (Workshop)
Community Voices: An Immersive Project Based Learn (Summit)
Exploring Global Citizenship (Case Study)
Empathy Machines: Global Education via "Portals" (Case Study)
The Spiderman Principle: Teaching Ethical Hacking (Campfire)
We're Doing Gamification Wrong: Kids Want to Learn (Future20)
4 State Approaches to Personalized Learning (Panel)
Designing Your Life (Workshop)
Language Learning
Immersion Education: A Clear Route to Success (Future20)
Science or art? Online teaching and learning (Case Study)
When Silence Isn't Golden: Speaking and ELLs (Campfire)
But does it help learning?Tools to evaluate EdTech (Workshop)
Dance is a Story: How TPR Makes Learning Personal (Talk (Playground))
Supporting Refugee Students (Campfire)
Teaching the First Majority-Minority Generation (Panel)
Leadership
Engaging Millennials to Support Local Education (Featured)
Being Bossy: Female Leaders in Ed Entrepreneurship (Panel)
The Changemaker's Challenge (Workshop)
How EdTech in Latin America is Driving Change (Talk (Industry))
Lead Like Max (Campfire)
Starting Fresh: Designing an Innovative School (Panel)
Design Protocol for Teacher Competency Development (Workshop)
HBCU Leadership on Race, Education, and Democracy (Panel)
Future of Organizations:6 Keys to Evolving Schools (Talk (Industry))
Blending Leadership: Strategies for Leading Change (Workshop)
Philanthropy 2.0 for HigherEd & Workforce (Panel)
Using Entrepreneurship as a Vehicle to Develop EQ (Future20)
Putting Learning Science Research to Work (Panel)
Lessons learned from scaling an innovation center (Talk (Higher Ed))
2018 Higher Education Horizon Report Summit (Summit)
Developing Leaders for Future Ready Schools (Campfire)
Aligning Networks So Every Student Thrives (Panel)
Using POG to Become a 21st Century District (Summit)
The Tough Love Advice EdTech Needs to Hear (Talk (Industry))
Finding the Balance: Freedom of Speech on Campus (Panel)
Cultivating Millennials to be Authentic Leaders (Panel)
Leading Across Boundaries (Summit)
Baller Teachers & Companies Who Work With Them (Panel)
Scientist in Residence: In-Classroom STEM Mentors (Talk (Learning Expo))
The United States of Student Civic Engagement (Summit)
Learning Spaces
Educating Maker Kids in India (Future20)
World's First Makerspace in a Children's Hospital (Future20)
Expanding Maker Education Through Community Hubs (Case Study)
LIVE FROM THE QUAD: Higher Ed & Live-Streaming (Panel)
Thriving Makerspaces in Low Income & Rural Schools (Panel)
Who Cares What Young People Think (Panel)
Learning Environments reDesigned to Inspire (Panel)
Education by Design (Summit)
Learning Space Genius Bar (Summit)
Bringing Entrepreneurship to K-12 Academia (Panel)
Impact of School Design on Student Engagement (Panel)
Innovative Learning Environments & Teacher Change (Workshop)
SEL
Mindfulness & Student Voice (Panel)
Deeper with Data: Evaluating SEL Implementation (Case Study)
Tools for Building Sustainable SEL Implementation (Workshop)
Educating Students in Recovery from Addiction (Panel)
Makerspaces: Making Space for Diversity (Panel)
Combat Bias, Interrupt Privilege, Include All (Workshop)
#FailFest - A Learnshop on Risk-Taking (Workshop)
25 Ways to Drive Student Agency Using Goal-Setting (Workshop)
Look at Me! Artistically Addressing Behaviors (Workshop)
Localizing Global Ed to Strengthen Communities (Future20)
Create a Generation of Super-Students With Fitness (Case Study)
Why I Won't Ask for Help: Self-Advocacy for All (Panel)
Special Needs
Improvised Assistive Tech $5 Mystery Box Challenge (Hands On)
How "Special" Education Impedes Social Justice (Future20)
Call to Action: Closing the Accessibility Gap (Summit)
Inclusion of Students with Emotional Disturbance (Future20)
Curating Accessibility (Case Study)
I've Got Rhythm: Poetry in Autism Education (Talk (Playground))
Specially Designed Digital Instruction (Future20)
Empathetic By Design (Panel)
AT Innovations that change the education landscape (Panel)
Tactile Technology for Youth with Disabilities (Talk (Playground))
Administrator Supports for Co-teachers (Future20)
VR/AR
VR—beyond virtual field trips to building empathy (Panel)
Taking Over Higher Education with VR (Talk (Higher Ed))
The Reality of AI in Education (Talk (Playground))
Pandora's Headset: The Ethics of VR in Education (Campfire)
Field Tripping: The Future of Learning & VR (Panel)
The Future of Learning: Convergence of VR, AR & AI (Talk (Industry))
Who wants to outsource relationships?VR/Chatbot/AI (Summit)
Black Gotham: Immersive Storytelling & Technology (Workshop)
Join Us at SXSW EDU
Early registrants benefit from discount savings and the best SXSW EDU rates and hotel locations – register to attend and book your hotel before Friday, October 20 to save $200 off the walk-up rate.
There's more exciting announcements coming soon – stay tuned for news for SXSW EDU 2018 including the first PanelPicker programming announcements. Be sure to sign up on the SXSW EDU newsletter and follow us on Twitter, Facebook, and Instagram.
Photo by Nicole Burton.