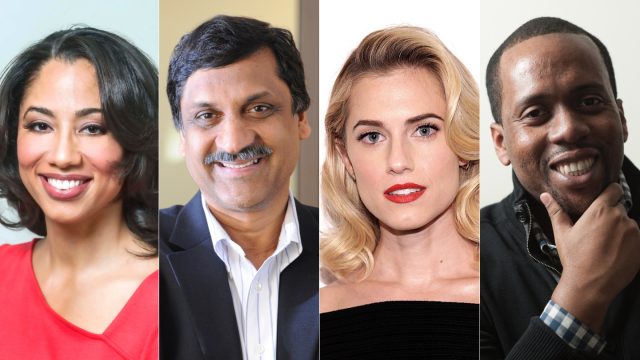 SXSW EDU spotlights inspiring and thought provoking visionaries impacting the future of teaching and learning. We are thrilled to share the first announcement of featured speakers for SXSW EDU, March 5-8, 2018.
Today's announcement of voices includes Chicago Beyond Managing Director and lifelong educator Liz Dozier, entrepreneur and founder of edX Anant Agarwal, actress (Girls, Get Out) and education ambassador Allison Williams, educator, author and activist José Luis Vilson and more.
This exciting lineup of voices will explore a number of critical topics including equity, the future of work, educator empowerment and emerging research.
Get to Know These Featured Speakers
Allison Williams – Allison Williams is the star of HBO's Emmy and Golden Globe-winning television series, Girls, and in Jordan Peele's critically-acclaimed film, Get Out. Off the screen, Williams is the Ambassador for Horizons National, an organization working to close the education gap for children from low-income households.
With a passion for education advocacy instilled by her parents, Allison has dedicated herself most recently to work on summer enrichment programs that serve children from low-income families.
Anant Agarwal – edX CEO, Anant Agarwal, is a successful entrepreneur and respected leader in online learning. edX is a MOOC (massive open online course) platform founded in collaboration with Harvard and MIT, where Anant taught the first course on circuits and electronics, drawing 155,000 students from 162 countries.
In his role at edX, Anant is exploring ways to shape future job opportunities and develop lifelong career and work success for individuals through unique training pathways.
Derrick Feldmann – Derrick Feldmann is the president of Achieve and is a researcher, author and thought leader on social causes. He is the lead researcher of the often cited Millennial Impact Project, a multi-year study of how the next generation of supporters and consumers engage with causes, as well as a guest lecturer at Indiana University.
Derrick, who will speak at SXSW EDU 2018 alongside Allison Williams, brings an unique perspective having invested significant research into topics that are influencing both education and advocacy work more broadly.
José Luis Vilson – José Luis Vilson is a New York City math educator, blogger, speaker, and activist. He is the author of This Is Not A Test: A New Narrative on Race, Class, and Education and has spoken out on a number of topics including educators owning their expertise, teachers of color and education equity.
José's recent blog post, Why Teachers Need To See Themselves as Experts, powerfully advocates for educators to embrace and speak out on issues impacting their work. At SXSW EDU 2018, he'll do just that.
Karen Cator – President and CEO of Digital Promise, Karen Cator, is a leading voice for transforming American education through technology, innovation and research. Having previously served at the U.S. Department of Education as the Director of the Office of Education Technology, Karen has been a prominent voice in the intersection of education policy and research, emerging technologies, and the reality faced by teachers, students and administrators.
With a $6.5 million-dollar grant from Google for research and implementation, Digital Promise recently announced a global initiative to support teacher training for educators in low-income communities.
Liz Dozier – Lifelong educator, Liz Dozier, has spent her career working to interrupt the culture of inequity that is often pervasive in urban education. In her current role, Managing Director of Chicago Beyond, she works to create opportunity and access for Chicago's youth.
At Chicago Beyond, Liz is working with a number of organizations including The Dovetail Project, a project with young black fathers, and Genesys Works, placing high school students in professional internship programs. Most recently, Chicago Beyond collaborated with Chance the Rapper to announce their annual Go Innovate Challenge, in which winning nonprofits can receive up to a $2 million investment.
Mario R. Rossero – Senior Vice President for Education at the John F. Kennedy Center for the Performing Arts, Mario R. Rossero, has overseen the center's education division impacting all fifty states since 2015. Through his work at the Kennedy Center and in previous roles, Mario has led the charge to increase equity and access to arts education.
Mario's exploration and perspective on the role of arts in learning provides a unique lens into the conversation on equity in education. Working heavily with the community, he's led the charge on a number of initiatives creating school and community-based partnerships that have a direct impact on teachers, students, administrators and artists.
Join Us at SXSW EDU 2018
Register to attend SXSW EDU, March 5-8, 2018, to access this exciting line up of speakers and more. Register before Friday, September 8 for the early-bird rate and the best selection of downtown hotels.
There's more exciting announcements coming soon – stay tuned for news for SXSW EDU 2018 including the first PanelPicker programming announcement this October. Be sure to sign up on the SXSW EDU newsletter and follow us on Twitter, Facebook, and Instagram.
SXSW EDU 2018 featured speakers (l-r) Liz Dozier, Anant Agarwal, Allison Williams and José Luis Vilson.