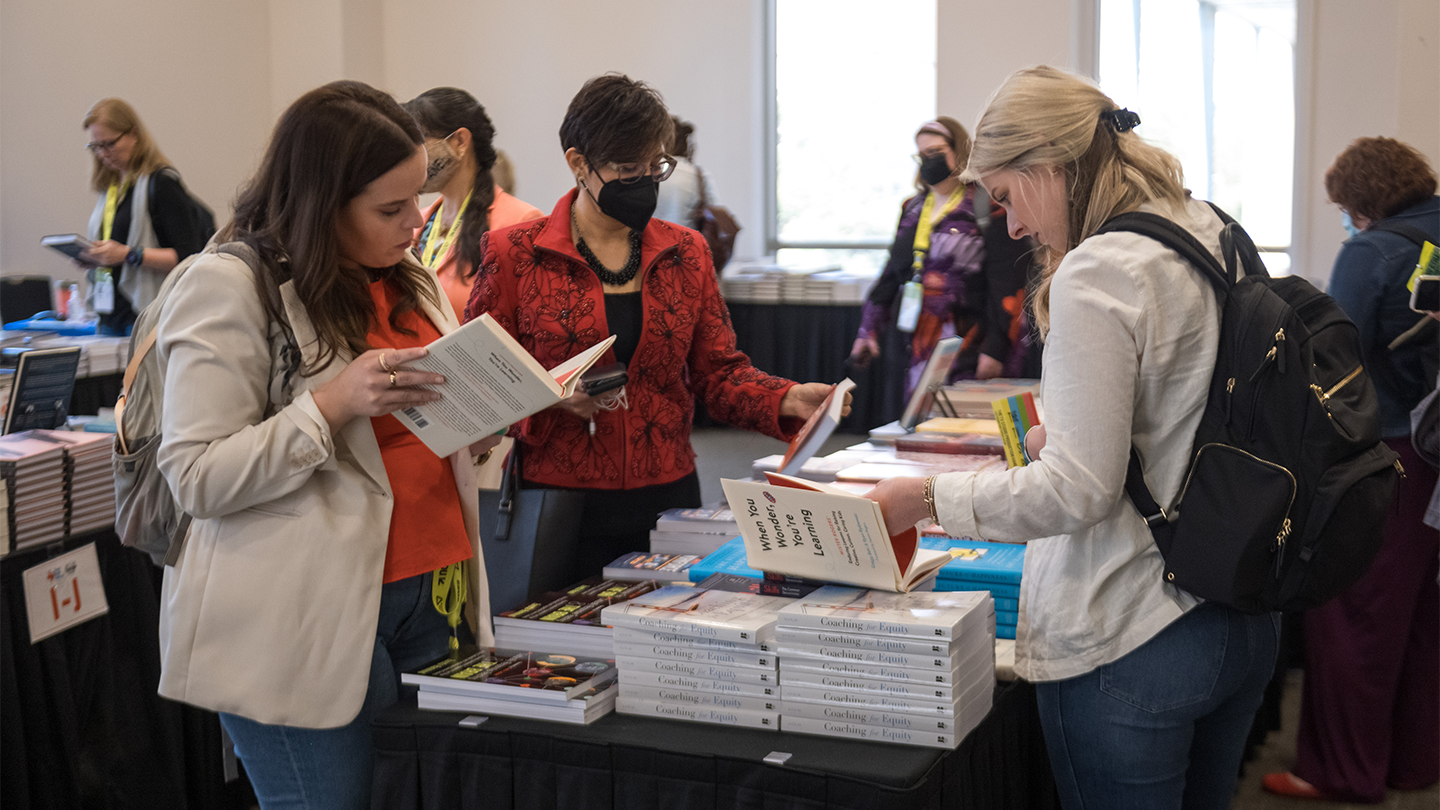 Continue learning beyond the sessions by visiting the SXSW EDU Bookstore, presented by BookPeople, where books written by 2023 speakers and participants will be available for purchase.
Many of these authors will be spending time in the bookstore, where they will be hosting a book signing before or after their session.
The SXSW EDU Bookstore will be located in Room 10C on Level 3 of the Austin Convention Center and will be open:
Check out the initial titles you can purchase from the bookstore, including books written by some of this year's Keynote and Featured Speakers. Additionally, browse the lineup of speakers below who are confirmed for a book signing during the event, with more to be announced soon.
Book Signings
Monday, March 6
Luma Mufleh: 11:30am-12:30pm
Kristi Yamaguchi: 1:00pm-2:00pm
Katie Powell: 1:15pm-1:45pm
Barbara Bray: 2:15pm-2:45pm
Aila Malik: 2:30pm-3:30pm
Samara Bay: 3:15pm-3:45pm
Anne Helen Petersen: 4:00pm-4:30pm
Punam Saxena: 4:15pm-4:45pm
Tuesday, March 7
Doreen Gehry Nelson: 11:30am-12:30pm
Joy Harjo & Michaela Goade: 1:00pm-2:00pm
Clyde Boyer: 1:15pm-1:45pm
Olatunde Sobomehin & Sam Seidel: 2:00pm-2:30pm
Chris Emdin: 2:30pm-3:30pm
Angel Jones: 2:30pm-3:30pm
Wednesday, March 8
Amra Sabic-El-Rayess: 11:15am-11:45am
Adam Harris: 11:30am-12:30pm
Meghan Everette: 12:15pm-12:45pm
Amber O'Neal Johnston: 1:00pm-1:30pm
Kendra Scott: 1:15pm-1:45pm
Afrika Afeni Mills: 2:15pm-2:45pm
Lil Miss Hot Mess: 2:30pm-3:30pm
Elizabeth Bishop: 3:15pm-3:45pm
Darcy Bakkegard: 4:00pm-4:30pm
Barbara Kurshan & Kathy Hurley: 4:15pm-4:45pm
Available Books
Keynote & Featured Authors
Cultivating Curiosity: Teaching and Learning Reimagined by Doreen Gehry Nelson
Dream Big Little Pig! by Kristi Yamaguchi
If You're a Drag Queen and You Know It by Lil Miss Hot Mess
Male Supremacism in the United States From Patriarchal Traditionalism to Misogynist Incels and the Alt-Right Chapter by Maeve Park
Mommy, Am I American? by Aila Malik
Pocket Mommy by Aila Malik
Ratchetdemic: Reimagining Academic Success by Chris Emdin
Remember by Joy Harjo & Michaela Goade
Stem, Steam, Make, Dream: Reimagining the Culture of Science, Technology, Engineering, and Mathematics by Chris Emdin
Street Scholar: Using Public Scholarship to Educate, Advocate, and Liberate (Hip-Hop Education) by Angel Jones
The Hips on the Drag Queen Go Swish, Swish, Swish by Lil Miss Hot Mess
The State Must Provide: Why America's Colleges Have Always Been Unequal―and How to Set Them Right by Adam Harris
Participating Authors
A Place to Belong: Celebrating Diversity and Kinship in the Home and Beyond by Amber O'Neal Johnston
Awareness High School: A Practical Guide to Self Discovery and Mastery for Students, Teachers and Parents by Barbara Abbate
Becoming Activist: Critical Literacy and Youth Organizing by Elizabeth Bishop
Better Together: How 30 Days of Service Changed My Life by Alex Quian & Greg Weatherford
Blue Is the Sea by Sofia Lopez-Ibor
Boredom Busters: Transform Worksheets, Lectures, and Grading into Engaging, Meaningful Learning Experiences by Katie Powell
Born to Shine by Kendra Scott
Bring Your Brain to Work by Art Markman
Creative Hustle: Blaze Your Own Path And Make Work That Matters by Olatunde Sobomehin & Sam Seidel
Culture To The Max! Culturally Responsive Teaching and Practice by David McDonald, Danielle Ross, Andre Ross, & Shontoria Walker
Define Your Why: Own your story so you can live and learn on purpose by Barbara Bray
Finding The Flow: How Dalcroze Eurhythmics and A New Approach to Music Education Can Improve Public Schools by Patrick Cerria
Forces of Influence: How Educators Can Leverage Relationships to Improve Practice by Meghan Everette
From Behind All the Veils: The Story of Táhirih by Susan Ahmadi Hansen
From Wibbleton to Wobbleton by James Harding
Frustration Busters: Unpacking and Responding to Classroom Management Challenges by Katie Powell
Girl Out of Time by Clyde Boyer
Handbook of Adolescent Digital Media Use and Mental Health Edited compilation From UNC-Chapel Hill Winston National Center on Technology Use, Brain, and Psychological Development
Handle the Horrible: Change. Triage. Joy. by Chasta Hamilton
How to Get the Most out of College: 127 Ways to Make Connections, Make it Work for You, and Make a Difference by Elliot Felix
Hyperlocal: Place Governance in a Fragmented World by Jennifer S. Vey & Nate Storring
If You're a Drag Queen and You Know It by Lil Miss Hot Mess
InnovateHERs: Why Purpose-Driven Entrepreneurial Women Rise to the Top by Barbara Kurshan & Kathy Hurley
INTENTION: Critical Creativity in the Classroom by Dan Ryder
kid-grit: THE BOOK Presented By Julia Gabor & Jeffrey Jordan
Make Yourself Clear: How to Use a Teaching Mindset to Listen, Understand, Explain Everything, and Be Understood by Reshan Richards
My Mama Says Inside Me Lives a Village / My Mama Says Inside me Lives A Superhero by Nadine Levitt
Open Windows, Open Minds: Developing Antiracist, Pro-Human Students by Afrika Afeni Mills
Parent Power: Navigate School and Beyond by Punam Saxena
Permission to Speak by Samara Bay
Pizza, Pedagogy, and the Brain: The SACRED Framework for Teaching and Learning by Marc Cicchino
Pure Love, Or Is It? by Sean Gold
Reclaiming Personalized Learning by Paul France
REP Magazine: Build a Bot by Ariam Mogos
Starsworn by Michael Low & Daniel Hinds
Start Here, Start Now: A Guide to Antibias and Antiracist Work in Your School by Liz Kleinrock
Street Scholar: Using Public Scholarship to Educate, Advocate, and Liberate (Hip-Hop Education) by Angel Jones
Community by Liz Kleinrock
Teach Like it's Music: An Artful Approach to Education by Doug Goodkin
Teaching Talk: A Practical Guide to Fostering Student Thinking and Conversation by Kara Pranikoff
The ABC'S of Education: A Primer for Schools to Come by Doug GOODKIN
The Cat I Never Named: A True Story of Love, War, and Survival by Amra Sabic-El-Rayess
The Good Boss: 9 Ways Every Manager Can Support Women at Work by Kate Eberle Walker
THE KEY, A Social Emotional Toolkit for Teens by Romi Grossberg
The Lost Art of Connecting by Susan McPherson
The Next Education Workforce: How Team-Based Staffing Models Can Support Equity and Improve Learning Outcomes by R. Lennon Audrain
The Startup Teacher Playbook by Darcy Bakkegard
THRIVing After Burnout: A Teacher's Compassionate Guide by Jen Johnson
Trash the Trophies: How to Win Without Losing Your Soul by Chasta Hamilton
Out of Office: Unlocking the Power and Potential of Hybrid Work by Anne Helen Petersen

Join Your Community in March
Register to attend in Austin or experience SXSW EDU Online. Celebrate education through compelling sessions, networking opportunities, and so much more at SXSW EDU from March 6-9, 2023.
Be the first to know of any information leading up to the event through Twitter, LinkedIn, Instagram, Facebook, TikTok and our newsletter.
Photo provided by Camille Mayor