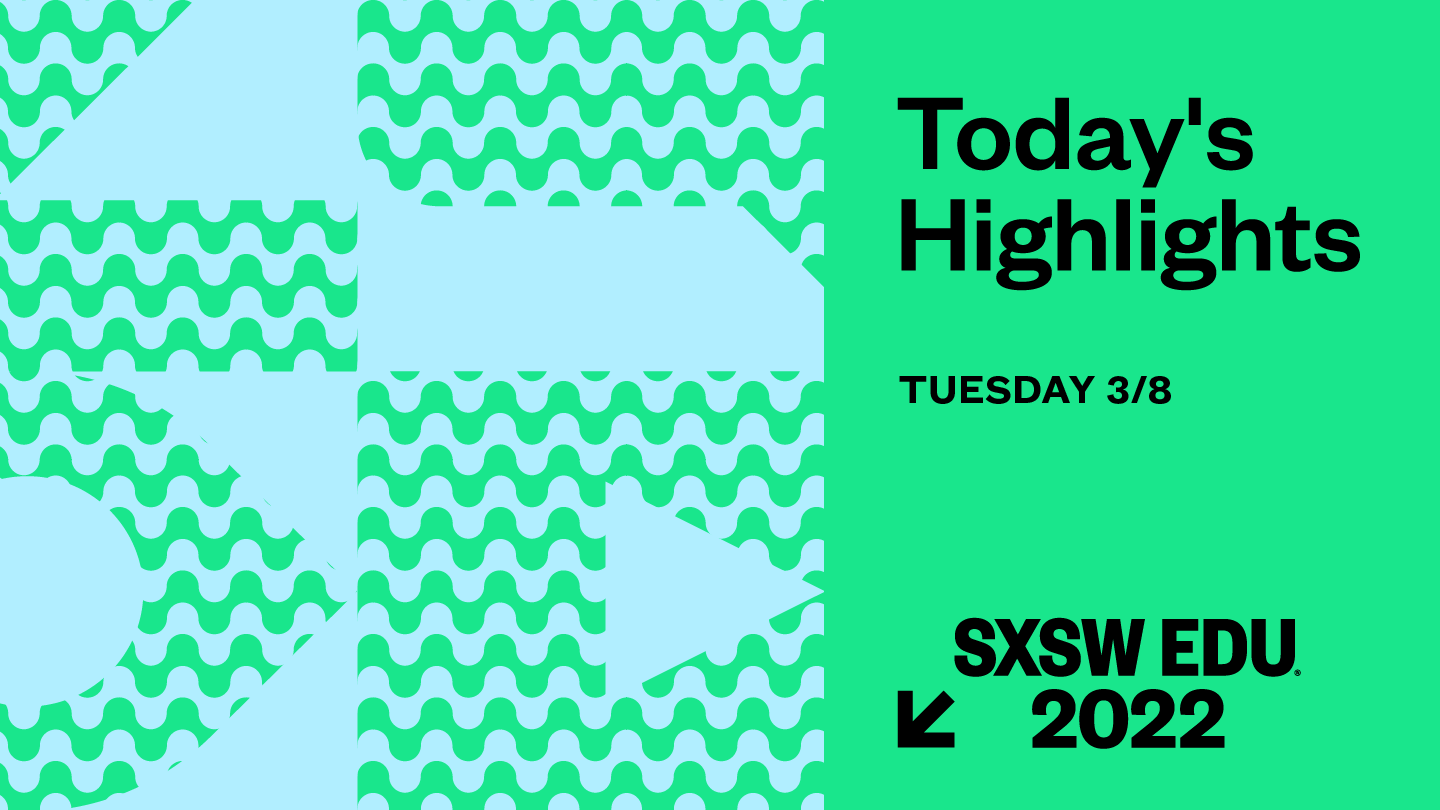 It's day two of SXSW EDU! Wow, yesterday was an incredible day filled with powerful conversations and so many new connections. The energy all around the event is absolutely palpable from being together again. Let's bring that big day one energy into another exciting day — we hope you're ready for more!
Catch this morning's keynote, When Culture Wars Come to School, with Antonia Hylton, Mike Hixenbaugh, George M. Johnson, and Carolyn Foote. Join us this evening for a special International Women's Day Celebration that you won't want to miss, starting at 6:00pm at the legendary Austin music venue, Antone's!
Browse through the highlights below as you continue to plan your day.
Today's Highlights:
When Culture Wars Come to School
9:30am–10:30am | ACC, Ballroom D
Misinformation On Social Media: What Can Be Done?
11:00am–12:00pm | ACC, Ballroom EF
Academic Ghost Hunters: Stop Student Ghosting
11:00am–12:30pm | Hilton, Salon A
How to Use Your Teacher Voice
12:00pm–1:00pm | ACC, Exhibit Hall 4 Meet Up Pavilion
Disrupting Racial Inequities in K-12 Schools
12:30pm–1:30pm | ACC, Ballroom EF
Advocates for Youth & Digital Well-Being
12:30pm–1:30pm | Hilton, Salon B
Film Screening: Let the Little Light Shine Screening
1:30pm–3:30pm | ACC, SXSW Film Theater
From Bankrupt Teacher to Millionaire Entrepreneur
2:00pm–2:30pm | ACC, Exhibit Hall 4 Next Stage
Erasing Red Lines: Overcoming Inequity in Schools
3:30pm–4:30pm | Hilton, Salon C
Digital Culture: HBCU Student Success Transformed
3:30pm–4:30pm | ACC, Room 18CD
Drag Queen Story Hour
4:00pm–5:30pm | ACC, Room 16AB
Healthy Buildings: Unlocking Student Performance
5:00pm–6:00pm | Hilton, Salon C
Launch Startup Spotlight
6:00pm–7:30pm | Hilton, 6th Floor Prefunction
International Women's Day Celebration
6:00pm-10:00pm | Antone's
Film Screening: Beyond Men and Masculinity
7:00pm-9:00pm | ACC, SXSW Film Theater