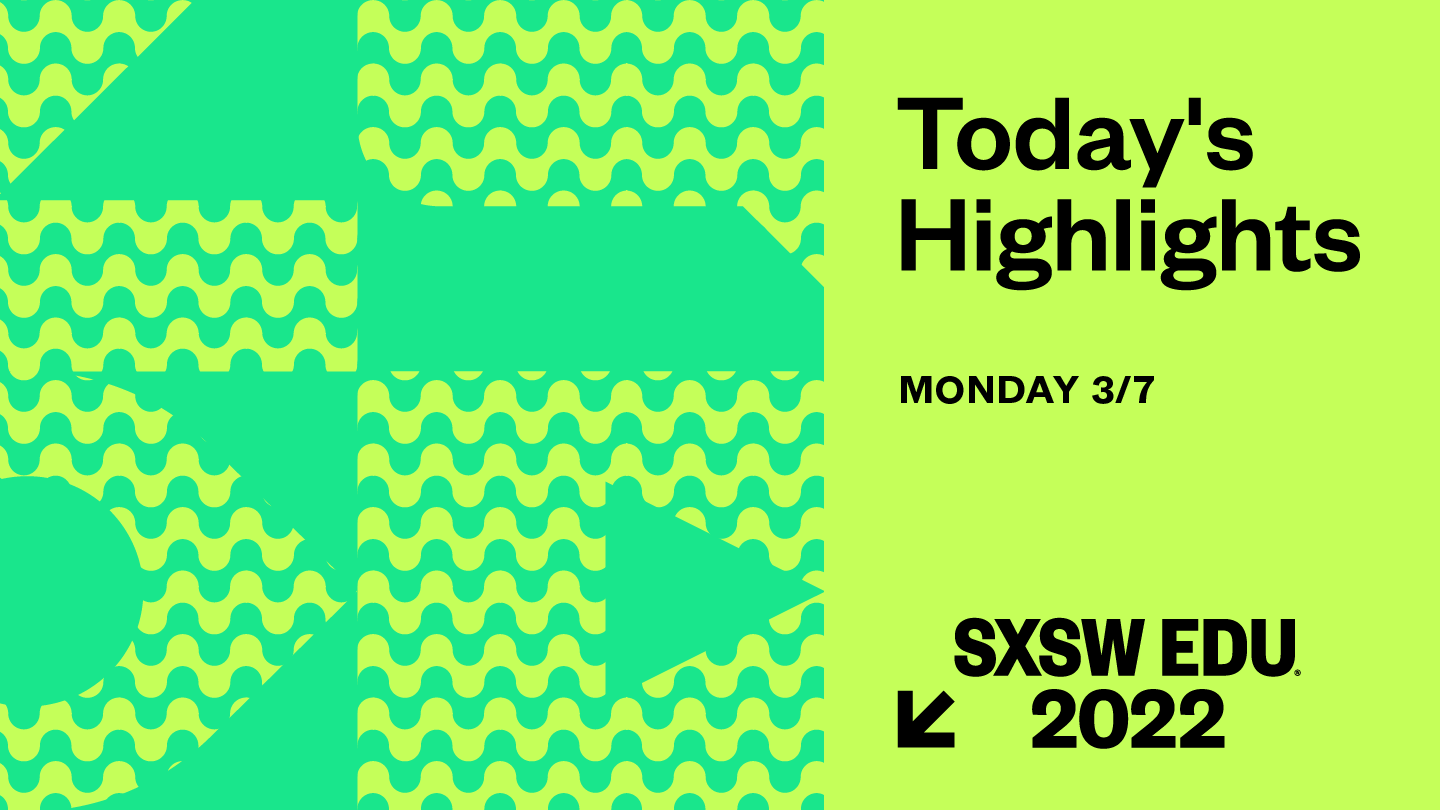 Welcome to day one of SXSW EDU! We are so excited to have you back in Austin or online for our first-ever hybrid SXSW EDU Conference & Festival.
If you are attending in-person and didn't get the chance to pick up your badge yesterday, be sure to head over to the Austin Convention Center. Badges can be picked up today from 8:00am-8:00pm. You will be required to provide proof of a completed primary vaccination series against Covid-19 or a recent negative Covid-19 test in order to collect and maintain your credentials.
Make sure to download the SXSW EDU GO app on iOS and Android for the most up-to-date information throughout the week.
This morning's keynote, Powerful Teaching: Unleash the Science of Learning with Pooja Agarwal, explores practical teaching strategies that dramatically improve student learning, setting a powerful tone for the week ahead. The keynote will begin promptly at 9:30am in ACC Ballroom D and on the SXSW EDU Channel so don't be late!
Today's Highlights:
Powerful Teaching: Unleash the Science of Learning
9:30am–10:30am | ACC, Ballroom D

Art & Animation to Spark Courageous Conversations
11:00am-12:30pm | Hilton, Salon K

In with the New: Rating Higher Ed by Economic Mobility
11:00am-12:00pm | Hilton, Salon C

HBCUs Embracing the Future of Work
12:30pm-1:30pm | ACC, Ballroom EF

SXSW EDU is BACK! Have the Best Event Ever
12:30pm-1:30pm | Hilton, Salon B

Augmented Reality in the Classroom
1:30pm-2:30pm | ACC, Exhibit Hall 4 Meet Up Pavilion

From Our Perspective: Impactful Parent Organizers
2:00pm–3:00pm | ACC, Room 9C

Infrastructure for the Future of Education R&D
3:30pm–4:30pm | ACC, Ballroom EF

Eating or Reading: Can We Solve Student Hunger
5:00pm–6:00pm | Hilton, Salon C

Show U How To Do This: Hip-Hop Educators Rock Mics
4:00pm–5:30pm | ACC Room 16AB

Film Screening: Us Kids
7:00pm–9:00pm | ACC, SXSW Film Theater

SXSW EDU Opening Party
7:30pm–11:00pm | Speakeasy