Stop By the SXSW EDU Bookstore and Expand Your Book Collection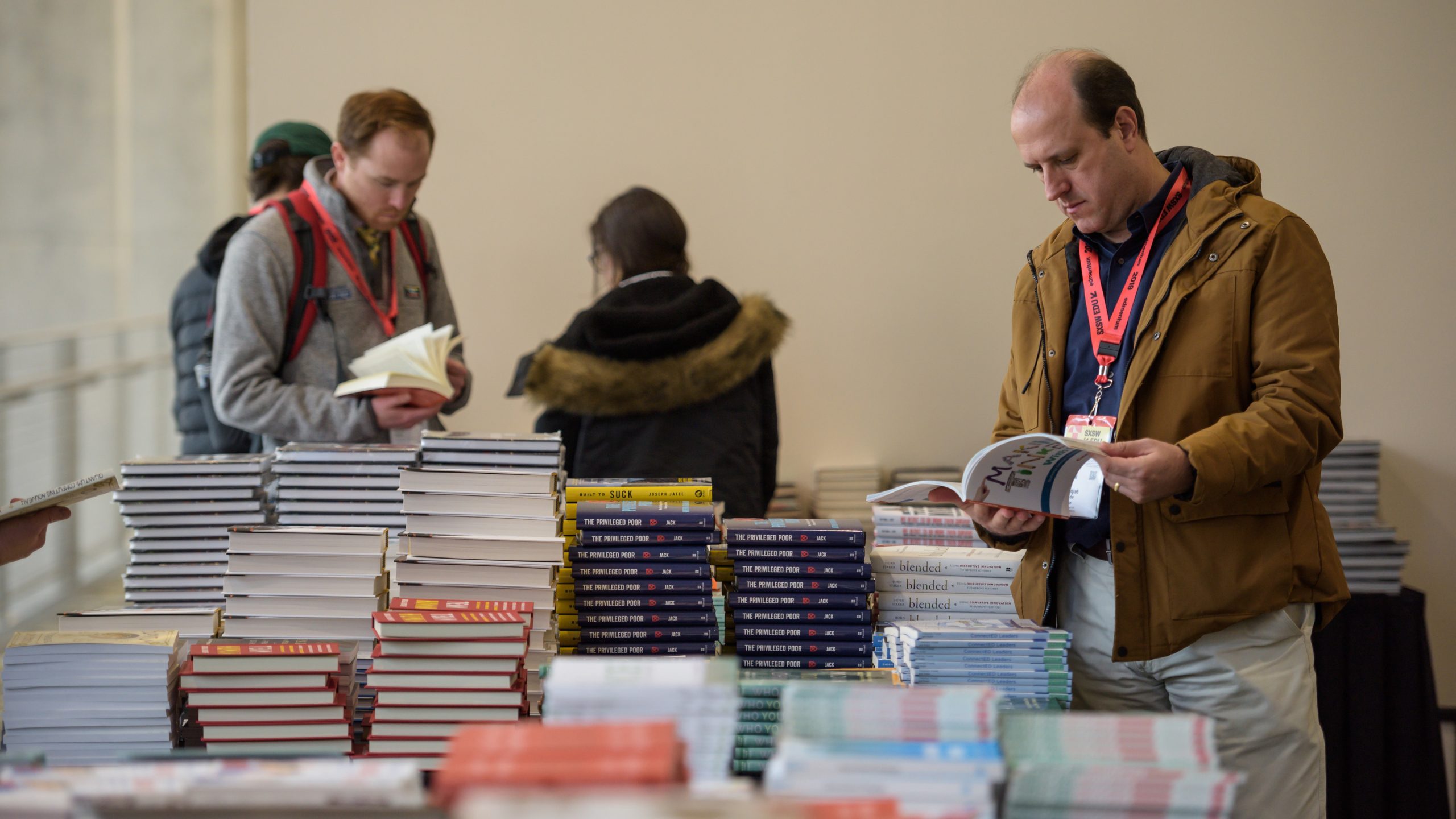 If you fear you will walk out of a SXSW EDU program wanting more, look no further than the SXSW EDU Bookstore! The SXSW EDU Bookstore has partnered with BookPeople and will be selling books authored by speakers and participants of our programs, so you can continue the SXSW EDU experience well after March 10.
Bookstore Location and Hours
The SXSW EDU Bookstore will be located in Room 10C on Level 3 of the Austin Convention Center and will be open:
Monday, March 7: 9:00am – 6:00pm
Tuesday, March 8: 9:00am – 6:00pm
Wednesday, March 9: 9:00am – 6:00pm
Thursday, March 10: 9:00am – 6:00pm
Check out what books will be available at the SXSW EDU Bookstore:
Keynote & Featured Authors
Converge By Bob Lord
Designing Reality: How to Survive and Thrive in the Third Digital Revolution By Alan Gershenfeld
Grit: The Power of Passion and Perseverance By Angela Duckworth
How to Be Black By Baratunde Thurston
Powerful Teaching: Unleash the Science of Learning By Dr. Pooja K. Argarwal
She Persisted: 13 American Women Who Changed the World By Chelsea Clinton
The Art of Gathering: How We Meet and Why It Matters By Priya Parker
The Family Firm: A Data-Driven Guide to Better Decision Making in the Early School Years (The ParentData Series) By Emily Oster
The Privileged Poor: How Elite Colleges Are Failing Disadvantaged Students By Anthony Jack
We Are Not Broken By George Johnson
Participating Authors
Adventures of ROYBI Robot: Crash Landing By Elnaz Sarraf
"All the Real Indians Died Off" and 20 Other Myths About Native Americans By Dina Gilio-Whitaker
As Long As Grass Grows: The Indigenous Fight for Environmental Justice from Colonization to Standing Rock By Dina Gilio-Whitaker
Because of a Teacher: Stories of the Past to Inspire the Future of Education By George Couros
Before the Raj: Writing Early Anglophone India By James Mulholland
Building Courage, Confidence, and Capacity in Learning and Teaching through Student-Faculty Partnership: Stories from across Contexts and Arenas of Practice By Chanelle Wilson
C-Spark: CEO-led Workforce Education for the AGE of AND By Vivek Sharma
Changeable By Stuart Ablon
Circuit Sticker Sketchbook By Jie Qi
Coaching for Equity: Conversations that Change Practice By Elena Aguilar
Critical Thinking By Jonathan Haber
Culturally Responsive Teaching and the Brain By Zaretta Hammond
Dear Martin By Nic Stone
Define Your Why: Own your story so you can live and learn on purpose By Barbara Bray
Difference Making at the Heart of Learning: By Tom Vander Ark
Digital for Good: Raising Kids to Thrive in an Online World By Richard Culatta
Finding the Flow: How Dalcroze Eurhythmics and a New Approach to Music Education Can Improve Public Schools By Patrick Cerria
Footprint of Success: Stories of Impact from Leaders & Entrepreneurs By Shauna Sobers
From Sabotage to Support: A New Vision for Feminist Solidarity in the Workplace By Joy Wiggins
Hacking Classroom Management: 10 Ideas to Help You Become the Type of Teacher They Make Movies About By Mike Roberts
Hacking Modern Teaching By Mike Roberts
Hip-Hop Genius 2.0: Remixing High School Education By Sam Seidel, Tony Simmons, and Michael Lipset
How do I learn? By NarayanKripa Sundararajan
Human Work In the Age of Smart Machines By Jamie Merisotis
I'm Single, So What? By Heather Burton
If We Want to Win: A Latine Vision for a New American Democracy By Hector Mujica
Innovate Inside the Box: Empowering Learners Through UDL and the Innovator's Mindset By George Couros
Instructional Change Agent: 48 Ways to be the Leader Your School Needs By Adam Drummond
It Was Always Four By Renee Jones
Live at Jackson Station: Music, Community, and Tragedy in a Southern Blues Bar By Daniel Harrison
Love to Code: Volume 1 By Jie Qi
My Mama Says Inside Me Lives A Superhero By Nadine Levitt
My Mama Says Inside Me Lives A Village By Nadine Levitt
No Struggle No Progress By Howard Fuller
Otherful: How to Change the World (and Your School) Through Other People By Michael Kleba
Pathways to Personalization: A Framework for School Change By Shawn Rubin and Cathy Sanford
Period Power: A Manifesto for the Menstrual Movement By Nadya Okamoto
Radio Free Imagine Neighborhood By Scotty Iseri
Segregation by Experience: Agency, Racism and Learning in the Early Grades By Jennifer Adair

Skills: The Common Denominator By Asha Aravindakshan
Suicide in Schools: A Practitioner's Guide to Multi-level Prevention, Assessment, Intervention, and Postvention By Jonathan Singer
The Bridge to Brilliance and Teaching in the Fourth Industrial Revolution By Nadia Lopez
The Future Economy and Inclusive Competitiveness® How Demographic Trends and Innovation Can Create Economic Prosperity for All Americans By Johnathan Holifield
The Future of Happiness By Amy Blankson
The Innovator's Mindset: Empower Learning, Unleash Talent, and Lead a Culture of Creativity By George Couros
The School Discipline Fix By Stuart Ablon
The School Wellness Wheel: A Framework Addressing Trauma, Culture, and Mastery to Raise Student Achievement By Mike Ruyle
The TV Studio Production Handbook By Lucy Brown
Trans+: Love, Sex, Romance, and Being You By Kathryn Gonzales
VentureGirls - Raising Girls to Be Tomorrow's Leaders By Cristal Glangchai
Violent Subjects and Rhetorical Cartography in the Age of the Terror Wars By Heather Ashley Hayes
Visionistas VOLUME 2: Women Who Think Outside the Box By Shauna Sobers
Voices of America: Veterans and Military Families Tell Their Own Stories By Maria Brown-Spence
What Words Are Worth, vol 1: New Beginning By Vinson Johnson
When You Wonder, You're Learning: Mister Rogers' Enduring Lessons for Raising Creative, Curious, Caring Kids By Gregg Behr and Ryan Rydzewski
Who Said What?: A Writer's Guide to Finding, Evaluating, Quoting, and Documenting Sources (And Avoiding Plagiarism) By Kayla Meyers
See You at SXSW EDU 2022
The event is just a few days away! Register to attend in-person or online today.
Sign up for SXSW EDU email updates, check out the News feed, watch videos, and follow us on Twitter, Facebook, LinkedIn and Instagram.
Photo provided by Tico Mendoza