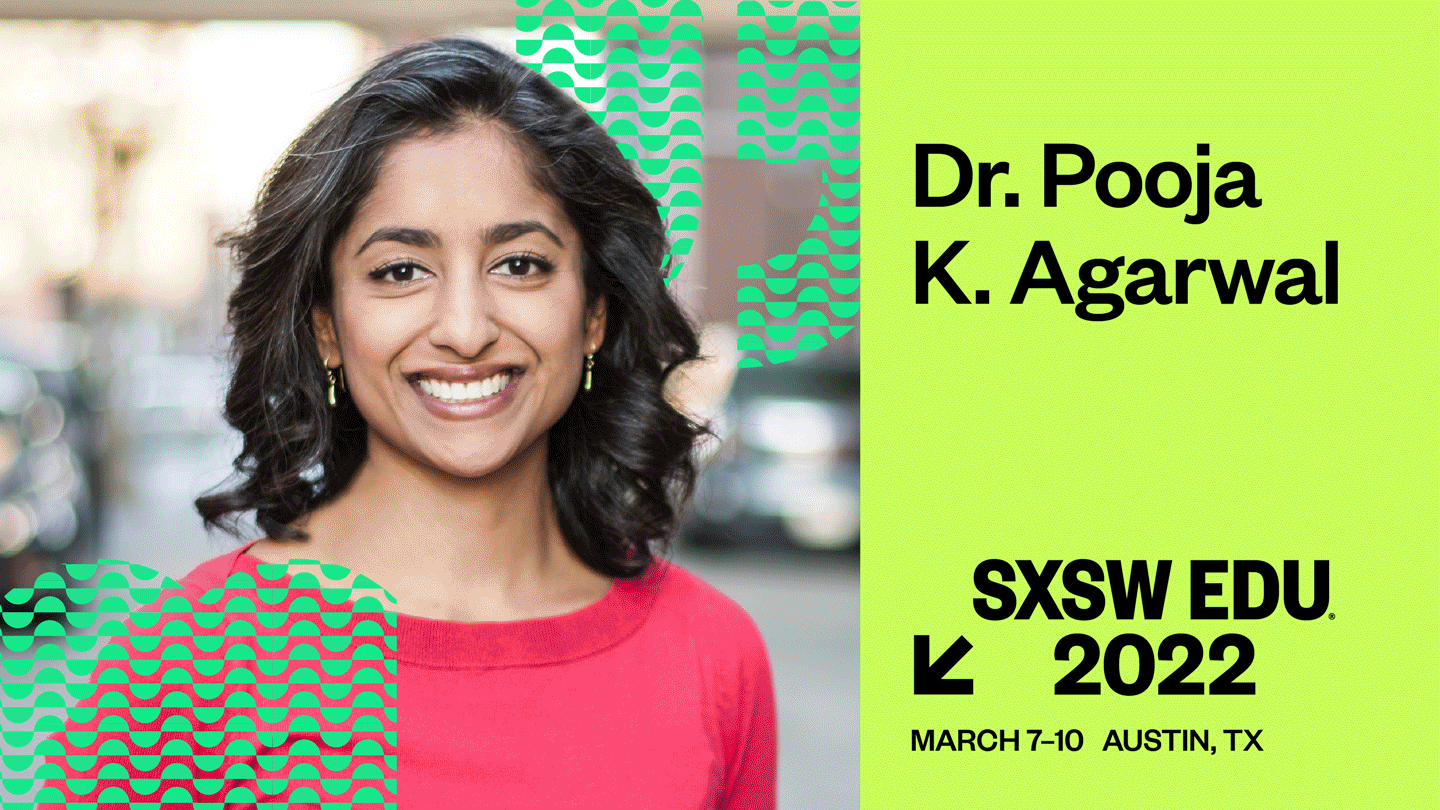 Exciting news, y'all!
Today we're announcing the SXSW EDU 2022 Opening Keynote session Powerful Teaching: Unleash the Science of Learning with Pooja K. Agarwal, Ph.D. Cognitive scientist, author, and educator, Dr. Agarwal will be sharing practical teaching strategies–based on 100 years of research–that dramatically improve student learning.
Plus, explore three new powerful featured conversations centered on education policy, social impact filmmaking, and tech development.
Presented by the Cognizant Foundation, the Podcast Stage will debut at this year's SXSW EDU. This unique component brings podcasts to life by delivering critical content and compelling storytelling.
Keynote Session
Powerful Teaching: Unleash the Science of Learning
Teaching might be an art, but learning is a science! In this keynote, Pooja K. Agarwal, Ph.D. (@RetrieveLearn), cognitive scientist and author of the book Powerful Teaching: Unleash the Science of Learning, shares practical teaching strategies–based on 100 years of research–that dramatically improve student learning. Equipped with scientific knowledge and evidence-based tools, turn your teaching into POWERFUL teaching and unleash the science of learning in your classroom.
Pooja K. Agarwal, Ph.D. Cognitive Scientist & Author, Powerful Teaching: Unleash the Science of Learning
Featured Sessions
Disrupting Racial Inequities in K-12 Schools
Dr. Tequilla Brownie is the first-ever Black leader of TNTP, a nationally-renowned education advocacy and policy organization. In leading this $100 million organization, Dr. Brownie seeks to disrupt racial inequities so that all kids - especially young Black and brown students - can succeed. Learn from Dr. Brownie in this discussion with UT African Studies department chair and Austin school board member Dr. Kevin Michael Foster, as they discuss ways to break barriers so that all kids can succeed.
Dr. Tequilla Brownie, CEO, TNTP Dr. Kevin Michael Foster, Chair, Black Studies Department, The University of Texas at Austin
Infrastructure for the Future of Education R&D
Scientific innovation in education proceeds at a snail's pace. Meanwhile, the innovations that do emerge rarely work outside of the population they were tested with, slowing the path to system-level changes. This panel features leaders who will reveal how a commitment to shared R&D infrastructure across sectors can unleash a wave of scientific discovery and accomplish real-world impact, finally delivering on the promise of education science to change the world.
Angela Duckworth, Founder & CEO of Character Lab, and Rosa Lee and Egbert Chang Professor at the University of Pennsylvania Kumar Garg, Senior Managing Director & Head of Partnerships, Schmidt Futures Mary Murphy, Founder & Director of Equity Accelerator, and Professor at Indiana University Bloomington Mark Schneider, Director, Institute of Education Sciences, US Department of Education
Momentum & Movement: Black Women in Film
Join Never Whisper Justice and Procter & Gamble as they outline their parallel efforts to address systemic inequality in advertising and media. Our discussion centers NWJ's new film which provides an exposé on the paradoxes of Black womanhood, resistance, and healing. But elevating Black stories is only one-half of the impact, through P&G's Widen the Screen Campaign we dive deeper into how investment and talent development enables Black creators to explore the full richness of their capabilities.
Tina Charles, WNBA Olympic gold medalist & Founder of 100th Street Films Crystal Harrell, Senior Director Corporate Communications, Procter & Gamble B. Monét, Director, Never Whisper Justice Rosemonde Pierre-Louis, Chief Operating Officer, NYU McSilver Institute for Poverty Policy and Research
Podcasts
A Hero's Journey-Producing a Podcast in a Pandemic (Live from Mount Olympus) Adapting to the Hybrid University (The Higher Ed Geek Podcast) Creating Culturally Responsive Real World Learning (Getting Smart Podcast) Equity & Inclusion (The Imagine Neighborhood) Educators are Demoralized: What's the Way Forward? (EdSurge Podcast) Expanding Career Opportunities in Tech (Work in Progress) Hip-Hop Genius The Podcast: DMC (of Run DMC) & Martha Diaz Lessons in Empathy, A Blues Bar, & Sports (Trending in Education) #MeToo on Campus: Title IX's Cloak of Silence (Why Don't We Know) Real Talk: Discussing Race, Racism, & Politics (Entrepreneurial Appetite's Black Book Discussion) Stories from the Margins (Education Disruption) The NPR Student Podcast Challenge The Teachers Caucus Covers the Latest in Ed Policy (The Teachers Caucus Podcast) Time Capsule Dance Party: A Podcast Turn Over the Mic to Teen Entrepreneurs (DO WIT Podcast) What Gen Z Wishes Higher Ed Knew About Us (Declassified College)
SXSW EDU Schedule
As you plan for the upcoming event, be sure to explore the SXSW EDU Schedule. Begin favoriting must-see programming and browse the new schedule listings with date, time, and venue information as you build a personalized agenda.
See You at SXSW EDU 2022
Mark your calendars for March 7-10, 2022! Register to attend in-person or online today.
Sign up for SXSW EDU email updates, check out the News feed, watch videos, and follow us on Twitter, Facebook, LinkedIn and Instagram.
Keynote and Featured photos courtesy of the speakers.