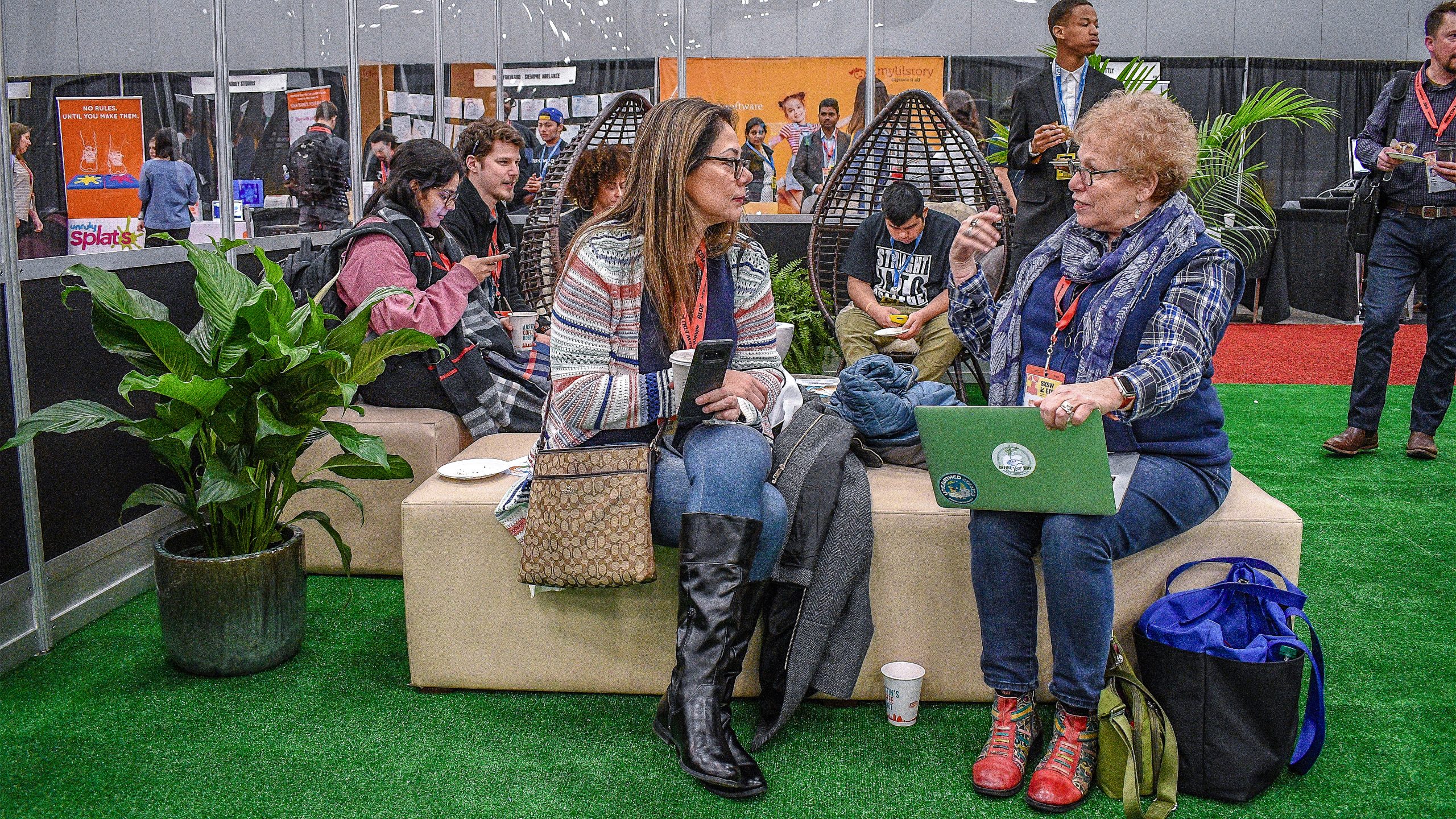 The opportunity to form and foster connections is a principal goal for many attendees at SXSW EDU. The connections that we establish within our industry, workplace, professional, and personal lives have a profound impact on us. The team has been working hard to provide attendees an exciting variety of formal and informal networking opportunities at SXSW EDU 2022.
See the networking opportunities available to help you accomplish your networking goals:
Online Networking
SXSW EDU GO
With the SXSW EDU GO app for iOS and Android, you have direct access to the registrant directory, where you can connect with and send messages to other attendees. Once you adjust your personal settings, you will get networking recommendations to help personalize your experience at SXSW EDU.

EDU Social
Using EDU Social, the world of SXSW EDU is at your fingertips. Once you have signed into the schedule, you can search for other conference attendees and send them a chat, as well as book or modify your hotel reservations.
Physical Events
Hikes | On Tuesday, March 8, and Wednesday, March 9, explore Austin's Greenbelt on a 1.5 mile hike with a group guided by Explore Austin.
Walking Tours | Experience Austin like a local with group walking tours of downtown Austin, Austin's Music Culture, and art in the East Side.
Social Events
Pop-Up Dinners | Enjoy a taste of Austin while networking with fellow SXSW EDU attendees at pop-up dinners across downtown. Dinner reservations have already been made, just show up hungry and ready to meet new people.
Coffee & Snack Breaks | Swing by the Expo for morning coffee breaks and afternoon snack breaks while visiting exhibitor booths.
Meet-Ups | Connect with attendees over similar passions and interests at the 20+ meetups scheduled.
Early Bird Social | After picking up your badge, head over to the Hilton Austin Downtown on Sunday for the Early Bird Social and make new connections before programming kicks off on Monday!
International Women's Day | Celebrate International Women's Day on Tuesday, March 8 with SXSW EDU, featuring thought-provoking programming, networking opportunities, and a live performance from DJ Yung Mijita.
Opening Party | Celebrate the first day of programming Monday evening with your fellow conference-goers at the opening party!
Closing Party | Toast to the closing of SXSW EDU 2022 with friends, new and old, at the closing party Thursday afternoon!
Mentorship Opportunities
One-On-One Sessions | Meet with mentors in one-on-one, purpose-driven sessions between experienced professionals and attendees.
Roundtable Discussions | New for 2022, attend roundtable discussions which will feature group discussions between mentors and a small group of attendees
See You at SXSW EDU 2022
The event is just a few days away! Register to attend in-person or online today.
Sign up for SXSW EDU email updates, check out the News feed, watch videos, and follow us on Twitter, Facebook, LinkedIn and Instagram.
Photo provided by Deborah Eynon Finley