Hear From Electrifying Students at SXSW EDU 2022 [VIDEO]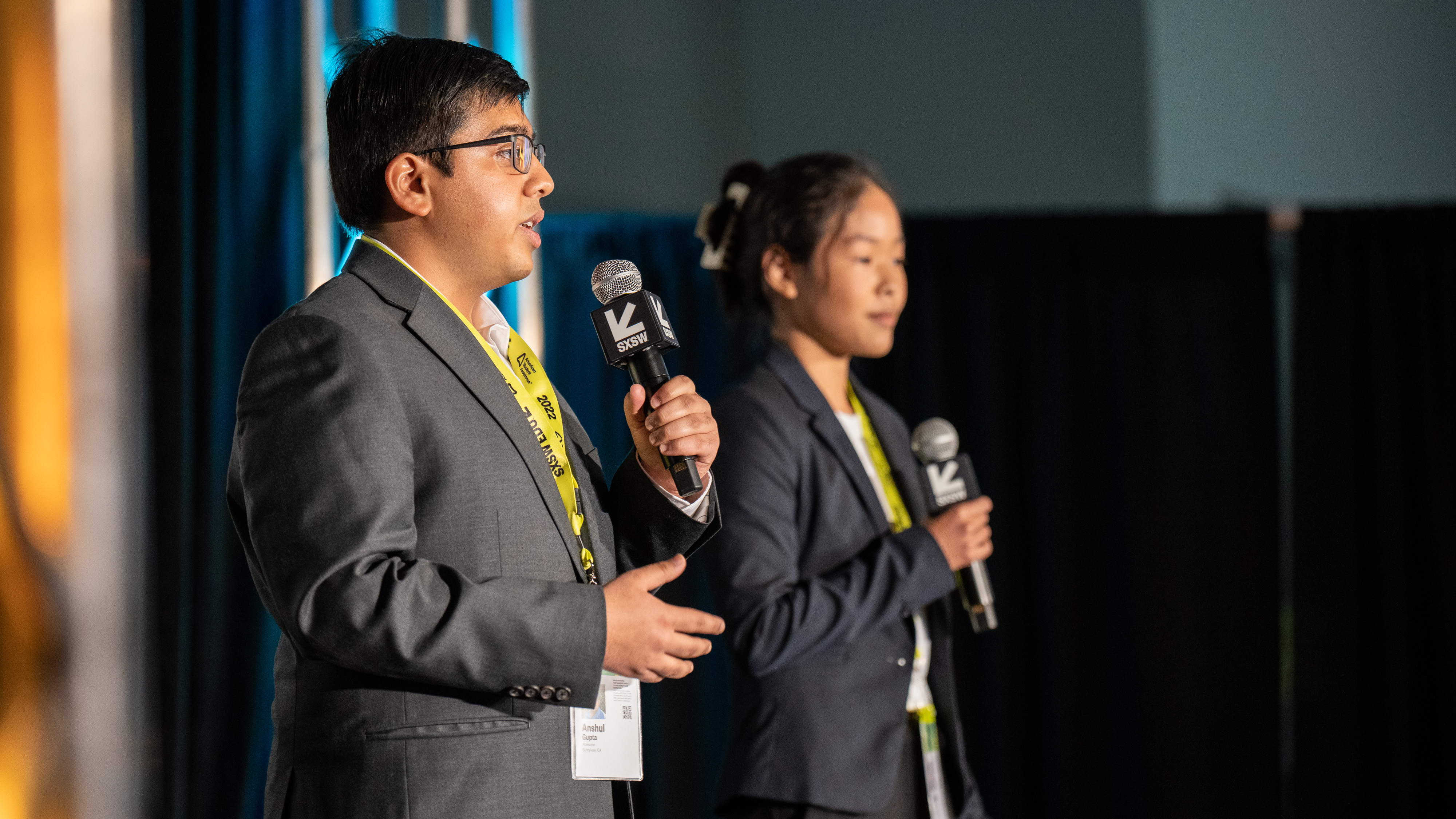 "Learning has the potential to make a young person feel worthy and valued." - Sarah Hernholm
When it comes down to it, education is about students - and when there are discussions held about the future of education, it is important to put their voices at the center. Students from all levels of education captured audiences as they shared their experiences and ideas at SXSW EDU 2022.
In these sessions, students shared their perspective on solutions for issues including climate change and racial injustice, showcased business ideas to a panel of judges, gave insights into the current state of education, and more. Dive into our YouTube Channel to hear more from student voices.
Some highlights include…
E-V-O-L-V-E: Reimagining the Scripps Bee
Zaila Avant-garde and Dr. J. Michael Durnil discuss the positive impact of spelling bees on students and education in this Featured Session.
"Make education fun and engaging so that the kid will be learning what you want them to learn, but they will be having fun doing it. And, as we all know, when we have fun doing something, we are going to look forward to doing it and we are going to do it our absolute best." - Zaila Avant-garde
How Student Developers Are Changing the World
Chelsea Clinton, Bob Lord, Chimegsaikhan (Chimka) Munkhbayar, and Trey Buck demonstrate how student developers can save us from our biggest crises in this Featured Session.
"You have so many immigrants and first generation Americans who are potential voters but maybe they don't have the information that they need accessible, and it's so hard to find. If you're having people who are prevented by these roadblocks that don't have enough access to information to vote, that's just horrible because they're not getting their voices heard." - Trey Buck
Student Startup Competition
High school student entrepreneurs from around the world pitched their innovative business idea to a panel of judges. Finalists include Accordia Power, LLC. (Texas), AUesome (California), CorteX Wellness (Dubai), Fia Technologies, Inc. (Indiana), and Guardial (Texas).
AUesome was selected as the winner for the 2022 Student Startup Competition powered by WIT - Whatever It Takes. They were recognized for their work to make therapy more accessible and affordable for children on the autism spectrum.
"One of the things that's really important to me as an entrepreneur and that I really think is important in young entrepreneurs is the idea and the truth that we go further together. When we collaborate, especially in the space of young entrepreneurship, we can help even more young people." - Sarah Hernholm
Reimagining Education with Students at the Center
Dana Brown, Secretary of Education Miguel Cardona, Gesenia Alvarez, Audra Garcia, and John Mark Wesley Hunter discuss how we can create education systems that meet the needs of today's students in this Keynote.
"A lot of the time with students and teachers or students and professors the relationship is supposed to be human to human. You want someone who supports you and who's in your corner but you also want someone who's not afraid to say 'this is what you need to do in order to move forward.'" - John Mark Wesley Hunter
Watch SXSW EDU 2022 On-Demand Content
Before we see you again next March 6-9 for the 2023 SXSW EDU event, take a look back at SXSW EDU 2022.
Relive exciting Keynotes, Featured Sessions, Performances, and more now available to watch on our official YouTube Channel and to listen to in the SXSW EDU Schedule.
Stay tuned for more 2022 recaps as well as information about 2023 registration and participation opportunities coming later this summer.
Photo provided by Stephen Olker