Announcing Keynote Doreen Gehry Nelson and Frank Gehry in Conversation, Plus Networking Opportunities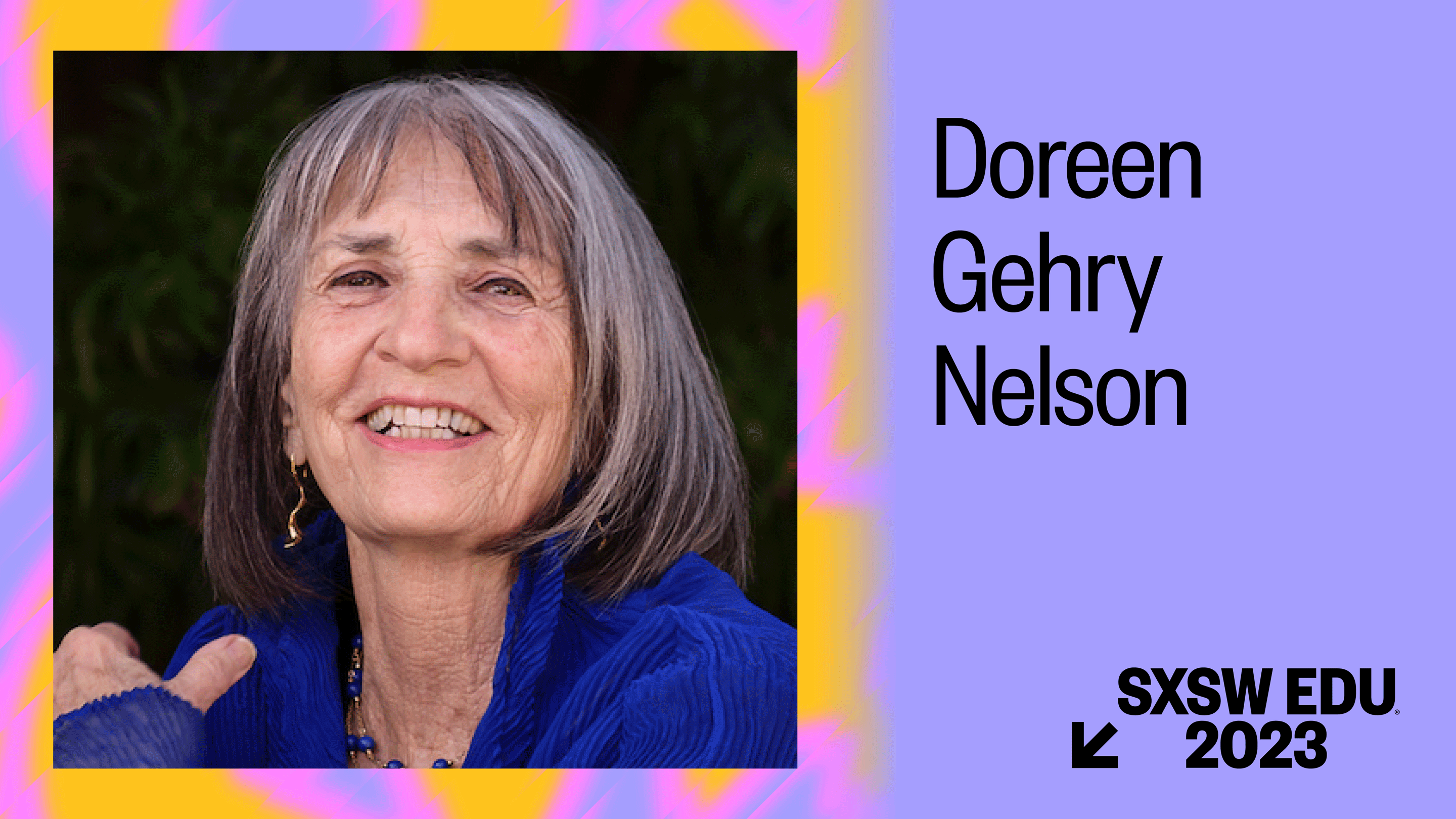 Are you ready for this? We are thrilled to reveal the first Keynote speakers for SXSW EDU 2023, Doreen Gehry Nelson and Frank Gehry!
The highly accomplished siblings will celebrate the culmination of their life's work, and share their perspectives on the roles that creativity, critical thinking, and collaboration must play in education, particularly through the implementation of the Design-Based Learning methodology.
Wait, it doesn't stop there! Explore the plethora of networking opportunities available at SXSW EDU, and dive into the extensive list of mentors that has just been revealed. Networking events are a great way to deepen your connection with your community and build relationships that will last long after the event.
Keynote Speakers
Doreen Gehry Nelson - Doreen Gehry Nelson is Professor Emerita of California State Polytechnic University, Pomona, School of Education and Integrative Studies; Adjunct Professor at the Cal Poly College of Environmental Design; former Professor at ArtCenter College of Design in Pasadena, California (2002-2019). In 2019, she was named Founding Director of Design-Based Learning by the UCLA School of Education & Information Studies — Center X for the UCLA Design-Based Learning Project.
An award-winning, 50-year veteran educator and published author in the field of education, Nelson taught all grades in public schools for 15 years. She began developing her Design-Based Learning methodology (formerly called City Building Education) in the late 1960s to ignite creativity, promote high-level transfer of learning, and foster cross-curricular critical thinking skills among K-12 students using the spatial domain.
She was named one of 30 top American innovators in education by The New York Times in 1991 and is the recipient of both the American Institute of Architecture's prestigious Lifetime Honorary Membership (the highest honor for a non-architect) and the California State University's statewide, 2006 Wang Award for Excellence in Education.
Frank Gehry - Raised in Toronto, Canada, Frank Gehry moved with his family to Los Angeles in 1947. Mr. Gehry received his Bachelor of Architecture degree from the University of Southern California in 1954, and he studied City Planning at the Harvard University Graduate School of Design. In subsequent years, Mr. Gehry has built an architectural career that has spanned over six decades and produced public and private buildings in America, Europe and Asia. His work has earned Mr. Gehry several of the most significant awards in the architectural field, including the Pritzker Prize.
Notable projects include Guggenheim Museum in Bilbao, Spain; the Walt Disney Concert Hall in Los Angeles, California; Eight Spruce Street Residential Tower in New York City; Opus Residential Tower in Hong Kong; Foundation Louis Vuitton Museum in Paris, France; the Dr. Chau Chak Wing Building for the University of Technology in Sydney; Australia; the Dwight D. Eisenhower Memorial in Washington D.C; the Philadelphia Museum of Art in Philadelphia, Pennsylvania; the LUMA / Parc des Ateliers in Arles, France; Children's Institute Inc. in Watts, California, a new center for the Youth Orchestra Los Angeles (YOLA) in Inglewood, California, and the Grand Avenue Project in Los Angeles, California. Projects under construction include Facebook Campuses in Menlo Park, California and Redmond, Washington; the Guggenheim Abu Dhabi in the United Arab Emirates, and a new headquarters for Warner Brothers in Burbank, California.
Coffee & Snack Breaks
Swing by the Expo for morning coffee breaks and afternoon snacks to help keep your energy up while visiting exhibitor booths.
Coffee Break (Monday | Tuesday | Wednesday)
Snack Break (Monday | Tuesday | Wednesday)
Hikes
Do you love the outdoors? Start your morning with a 1.5 mile guided hike around Austin's Greenbelt, from Barton Springs to Barton Skyway, and get a glimpse of one of the most popular trails in Texas' capital city while making new connections and learning how you can include the outdoors in your curriculum.
Greenbelt Hike with Explore Austin (Tuesday | Wednesday)
Meet Ups
Find people who share your passions and interests at one of the many exciting meet ups. Go in depth on content creation, discuss the challenge of talking about mental health, and much more.
Calling All EDU Content Creators!
Circling Around Circles of Reflection Meet Up
Co-Conspirators for Equitable Education
Data Science for Everyone? How to Move the Needle
Education Leaders of Color Meet Up
Envisioning the Future of EDU Networking Event
Esports & Education: Changing the Learning Game
Global Civics Meet Up
Global Connections Meet Up
Let's Talk About Mental Health in Schools
PanelPicker & More: Engaging at SXSW EDU 2024 Meet Up
Prioritizing Anti-Racism in Education Research
Reimagining the Creative Workforce
Reimagining the Role of Philanthropy in Education
Sips & Strums
The Village Meet Up: Advocates for Neurodiversity

Mentors & Roundtable Discussions
Take the next steps in your career and make meaningful connections in the education space through the mentor program in one-on-one or roundtable discussions.
Attendees seeking a more personalized, one-on-one mentorship are encouraged to learn more about 2023 mentors before sign ups open in February.
Attendees can participate in group conversations through Roundtable Discussions, where mentors and a small group of attendees rotate between tables, allowing for insight from multiple perspectives.
Pop-Up Dinners
Make new connections while enjoying a bite to eat at pop-up dinners across Austin's downtown area. No need to worry about beating the crowds. Dinner reservations have already been made, so just show up hungry and ready to meet your fellow attendees.
Pop-Up Dinners at Cannon & Belle (Monday | Tuesday | Wednesday)
Pop-Up Dinners at Corner Restaurant (Monday | Tuesday | Wednesday)
Social Events
Mix and mingle with attendees and celebrate the power of education at a number of social events, including happy hours, parties, and more.
Early Bird Social (Sunday)
SXSW EDU Opening Party (Monday)
Launch Competition Party (Wednesday)
SXSW EDU Closing Party (Thursday)

Walking Tours
Experience Austin like a local with guided walking tours around downtown. Austin's culture and history are unique, and these hour-long tours allow you to embrace the culture while meeting fellow attendees.
Austin Music Walking Tour (Monday | Tuesday | Wednesday)
East Side Art Walking Tour (Monday | Wednesday | Thursday)
Downtown Austin Walking Tour (Sunday | Tuesday)

EDU Social
Start making connections early with EDU Social. With EDU Social, registrants can browse the directory, chat directly with other attendees before, during, and after the event, and book or modify your hotel reservation. Upload your photo and a bio today and start networking.
Join Your Community in March
Register and book your hotel today to celebrate education through compelling sessions, in-depth workshops, mentorship, film screenings, future-focused competitions, an expo, networking opportunities, and so much more at SXSW EDU from March 6-9, 2023.
Be the first to know of any information leading up to the event through Twitter, LinkedIn, Instagram, Facebook, and our newsletter.
SXSW EDU 2023 Keynote speakers Doreen Gehry Nelson photo provided by speaker and Frank Gehry photo by Alexandra Cabri.