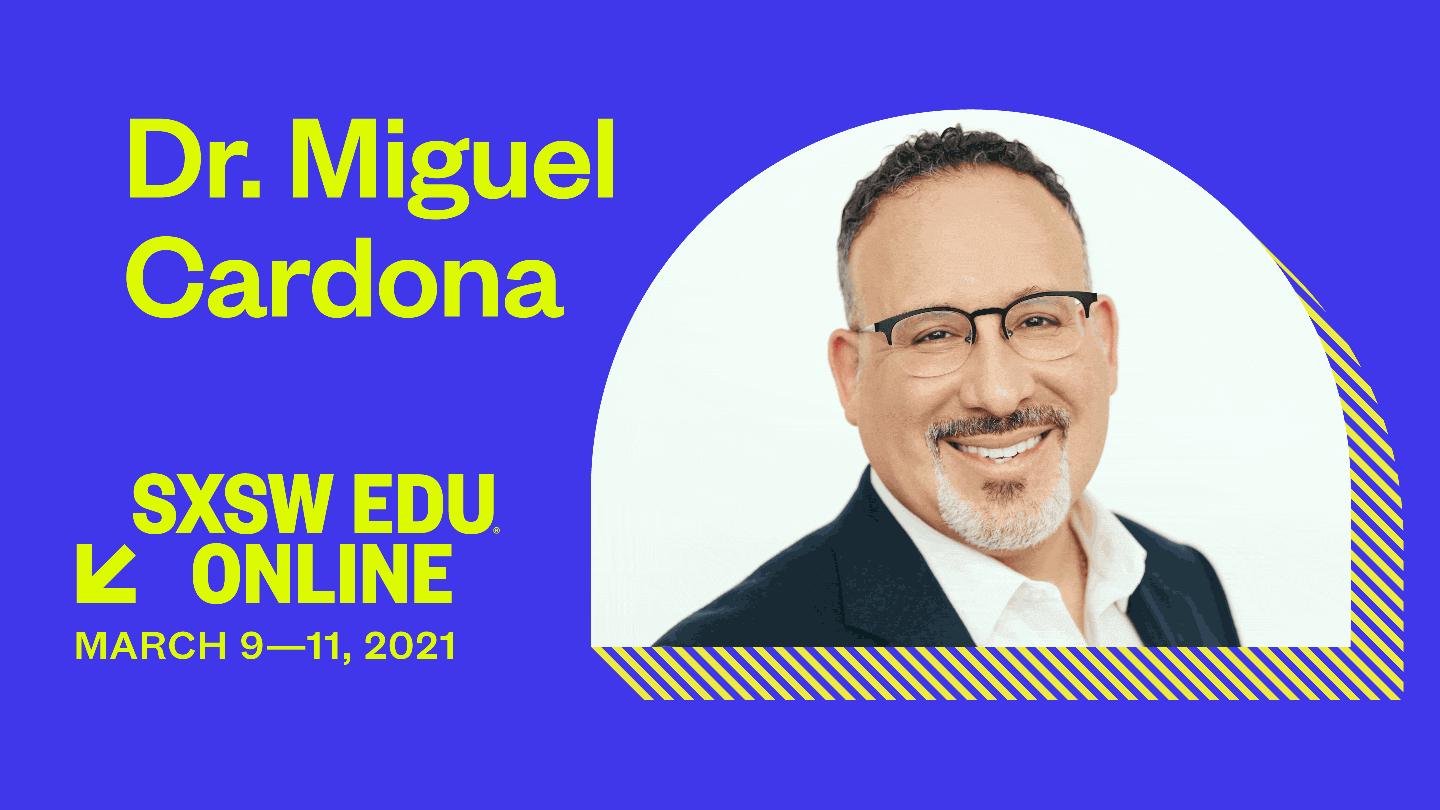 SXSW EDU Online is just getting started and we have more news to share.
Join us for a powerful final keynote session this Thursday with U.S. Education Secretary, Dr. Miguel Cardona, Connie Britton, and Dr. Tinisha Parker. ​ Secretary Cardona & Dr. Tinisha Parker in Conversation Moderated by Connie Britton
Students' social emotional wellbeing goes hand in hand with improving student achievement and outcomes beyond school. Join Connie Britton as she moderates a conversation between U.S. Education Secretary Miguel Cardona and Dr. Tinisha Parker as they discuss how schools and communities can meet the social, emotional, mental health and academic needs of students, particularly as we grapple with the extraordinary disruption caused by COVID-19 and the disproportionate impact of the pandemic on communities of color and other underserved communities.
Dr. Miguel Cardona – Dr. Miguel A. Cardona was sworn in as the 12th Secretary of Education on March 2nd, 2021. Secretary Cardona previously served as the Commissioner of Education in Connecticut, a position he held after being appointed by Governor Ned Lamont in August 2019. Secretary Cardona's approach to leadership in Connecticut focused on partnerships: within his Education Department; between State agencies; and with local boards, educator unions, school administrator associations, child advocates, and most importantly, students and families. He attributes his success in Connecticut in part to the strong backing of those partners, as well as support from the members of the Connecticut State Board of Education and his staff at the Connecticut State Department of Education. Secretary Cardona has two decades of experience as a public school educator from the City of Meriden. He began his career as an elementary teacher.
Dr. Tinisha Parker – Dr. Tinisha Parker has dedicated her life and twenty-year career to educating and supporting young people as they navigate life's challenges. She has served students directly in the capacity of teacher, counselor, and administrator. She spent seven years supporting school counselors directly at the district level and was promoted to a executive leadership position where she currently serves as the Executive Director of Student Services for Gwinnett County Public Schools. In this role, Dr. Parker supports school counselors, social workers, and school nurses in addition to several student service programs including homeless, foster care and the career academy programs. She is also the Chair of the Board for the American School Counselor Association, which represents over forty thousand counselors nationwide, and a Past President of The Georgia School Counselor Association.
Connie Britton – Four-time Emmy® and Golden Globe nominated Connie Britton, is an actress who continually receives accolades for her work in television and film. After stand-out roles on series such as "Spin City," "24," and "The West Wing," she starred in one of the best reviewed shows on television, NBC's "Friday Night Lights" created by Peter Berg. Britton returned to the small screen fall of 2012 starring in ABC's "Nashville," in which she played Rayna James, a legendary country music superstar, earning Britton her first Golden Globe nomination and fourth Emmy® nomination. She has also starred in a number of other hit shows including American Horror Story, SMILF, 9-1-1 and Dirty John. April 2014 Britton was appointed as a Goodwill Ambassador for the United Nations Development Programme. In this role, she raises awareness of UNDP's work in poverty eradication and women's empowerment, advocating to the American and global public.
Sign Up for SXSW EDU Online Updates
While you're attending SXSW EDU Online, sign up for the SXSW EDU email updates and stay up to speed by following us on Twitter, Facebook, LinkedIn and Instagram.
U.S. Education Secretary Miguel Cardona and Dr. Tinisha Parker photos courtesy of the speakers. Connie Britton photo by Austin Hargrave.