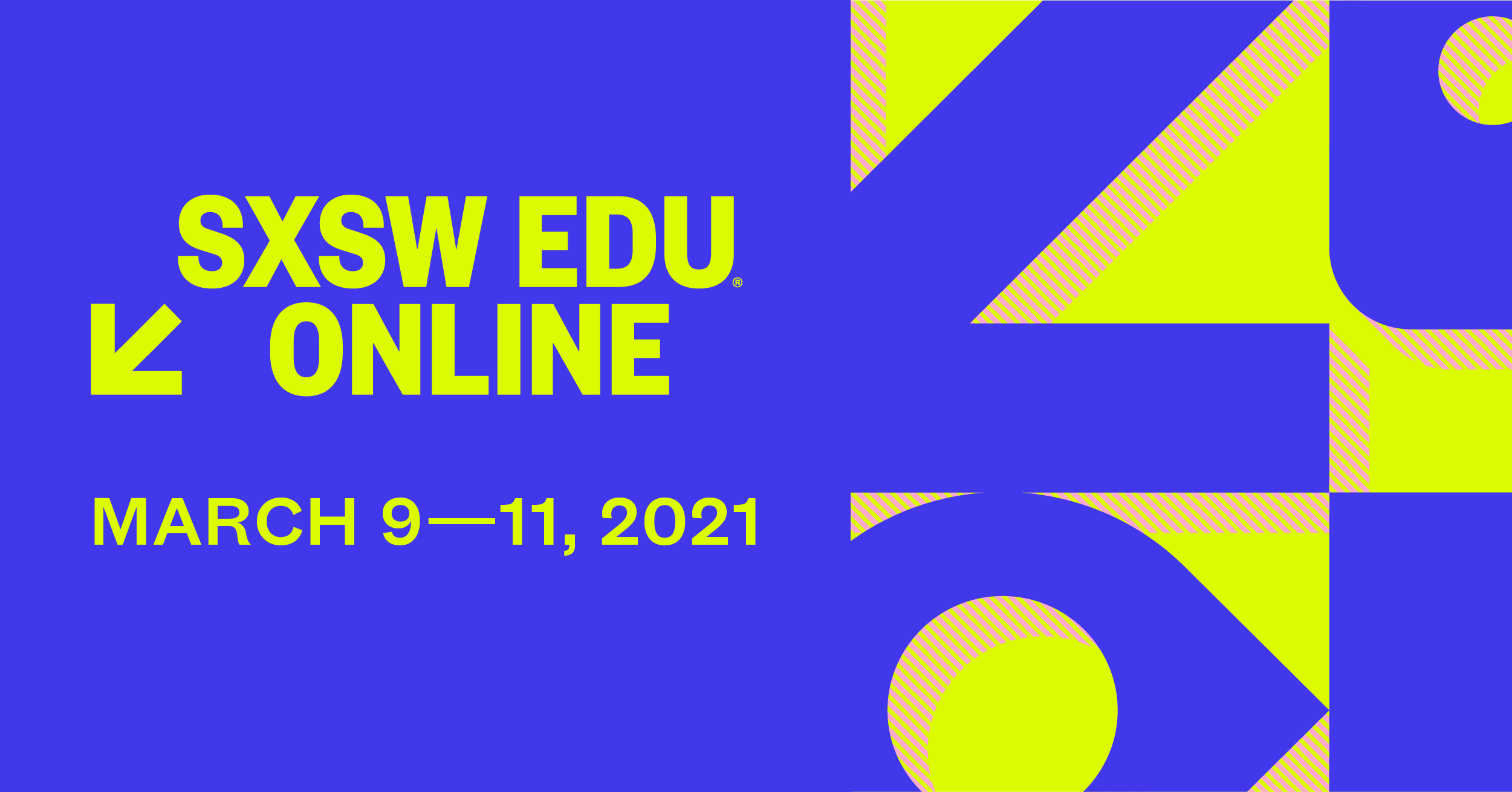 Be part of the optimistic, forward-thinking, and purpose-driven community of teachers and leaders at SXSW EDU.
Join us from March 9-11 for SXSW EDU Online, an exclusive digital experience. Connect with others who share your passion and discover the ideas that will improve your practice, challenge your thinking, and inspire you forward. The digital experience will feature conference keynotes and sessions, screenings, showcases, networking, exhibitions, and more.
Secure your spot at the lowest rate of the season! For SXSW EDU Online, we're offering one pass that covers the entire event, allowing attendees to take in programming and connect with others across the many industries that SXSW EDU serves. A limited number of SXSW EDU Online Passes at the $115 rate are available. Register now before prices go up!
"Education has the power to break down barriers, cross borders, and empower the next generation to change the course of the future.

Never has the conversation around teaching and learning been more critical and we are honored to help shine a light on the innovators, policymakers, practitioners and learners at the center of it all.

As we open registration for SXSW EDU Online 2021, we are excited to offer this format to convene virtually." – Ron Reed, Founder & Executive Producer of SXSW EDU
Latest Programming Announcement
SXSW EDU Online recently revealed the largest programming announcement for the 2021 digital experience including featured speakers, Director, Producer, Actor Bryce Dallas Howard, Director of Educational Equity & Diversity for the Rockwood School District Brittany Hogan, and Dr. Michael Sorrell, President of Paul Quinn College.
Plus, browse 84 sessions selected from PanelPicker® spanning eight thematic tracks and organized by conference formats including Converse, Featured, Talk, and Work sessions, explore the full lineup of sessions.
Get Involved
There are numerous ways for the community to get involved and participate in the SXSW EDU Online event. We are also currently accepting applications for our Launch startup competition as well as applications for press credentials. Visit sxswedu.com/participate to learn more!
Stay in the Know
Sign up for the SXSW EDU email update and be sure to follow us on Twitter, Facebook, LinkedIn and Instagram for the latest news and updates.
SXSW EDU 2019 happy hour, photo by Stephen Olker.