PanelPicker & Featured Sessions Announced for SXSW EDU Online 2021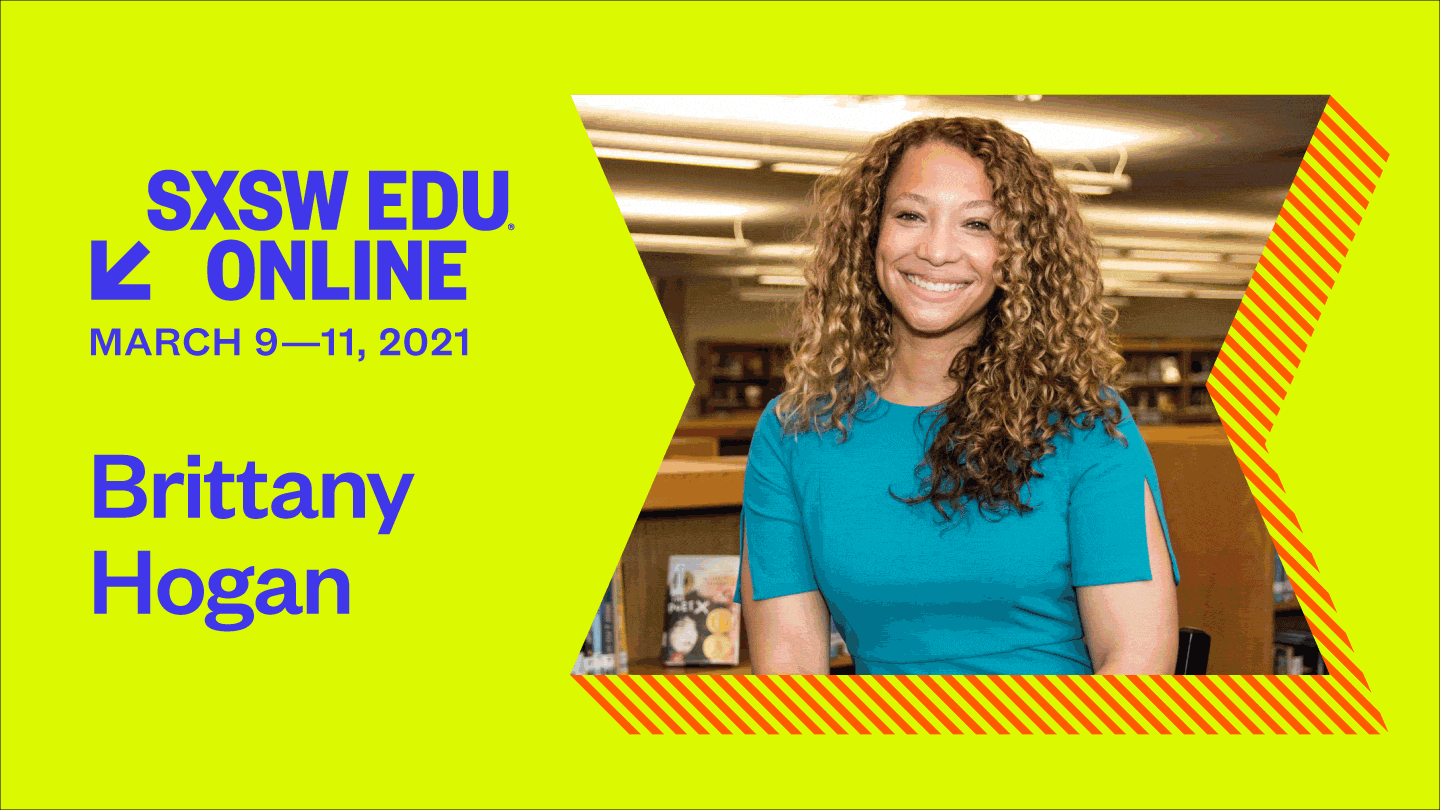 SXSW EDU spotlights educators and thought leaders in learning. Today's exciting announcement introduces the first round of programming including Featured Sessions as well as Converse, Talk, and Work sessions selected from PanelPicker for SXSW EDU Online, an exclusive digital experience March 9-11, 2021.
Community input has always been an essential ingredient of SXSW EDU and this year is no different. A few months ago we invited the community to enter session proposals and then weigh in by reviewing and voting, using PanelPicker, a crowd-sourced platform. The programming listed below is a direct reflection of this process.
The sessions span eight thematic tracks. This year we saw the highest concentration of sessions tagged "diversity & inclusion," "K-12 education," "higher education," "COVID-19," and "social justice." Speakers included in this announcement hail from across the globe including Brazil, Kenya, New Zealand, Colombia, the Netherlands, and more.
Get to know the initial announcement of featured speakers and browse the sessions accepted from PanelPicker, listed below. Select the session title to preview the description and speakers. We look forward to sharing additional information about each of these when our full schedule launches in the coming weeks.
Sign up for the SXSW EDU email update for all the latest news and secure your pass for SXSW EDU Online 2021 at the current rate of $115 before passes sell out.
Featured Speakers
Creating Curricular Partnerships: Nine Muses Lab
Bryce Dallas Howard – Director, Producer, Actor Bryce Dallas Howard is a versatile and dynamic talent, both on-screen and behind the camera. Her love of storytelling has led her to create Nine Muses Entertainment and become part of the guest faculty at NYU Tisch Drama.
Nia Farrell – Creator, performer, and Mundane Afrofuturist who focuses on developing new work that celebrates the dreams and stories of Black communities. Nia Farrell is the Development Coordinator and Nine Muses Lab Research Associate for Nine Muses Entertainment.
Rachel Friedman – As head of the NYU Tisch Drama Office of Career Development & Alumni Engagement Rachel Friedman manages new initiatives and programs to support and prepare students and alumni for sustainable careers in the entertainment field. She is also an adjunct professor at NYU Tisch Drama and consults on various projects relating to entertainment and education.
Empathy in Equity: Author & Educator
Brittany Hogan – A native of Chicago with a Bachelor of Art in Psychology from Hampton University and a Master of Social Work from Washington University in St. Louis. Brittany Hogan serves as the Director of Educational Equity & Diversity for the Rockwood School District in the St. Louis region.
Nic Stone – Author Nic Stone was born and raised in GA, the only thing she loves more than an adventure is a good story about one. After graduating from Spelman College, she worked extensively in teen mentoring and lived in Israel for a few years before returning to the US to write full-time. Growing up with a wide range of cultures, religions, and backgrounds, Stone strives to bring these diverse voices and stories to her work.
How Universities Can Power the Future of Work
Dr. Michael Sorrell – The longest-serving President in the 148-year history of Paul Quinn College. During his 13 years of leadership, Paul Quinn has become a national movement for its efforts to remake all of higher education to become more responsive to student and societal needs.
Dr. Paul LeBlanc – President of Southern New Hampshire University (SNHU). Since 2003, under Dr. LeBlanc's leadership, SNHU has grown from 2,800 students to over 170,000 learners and is the largest nonprofit provider of online higher education in the country.
Sir Ken Robinson: Looking Back, Looking Forward
Anthony Dunn – Acclaimed brand strategist with a gift for creative marketing and a passion for immersive events and experiences, Anthony Dunn, is founder of Imagine If, an initiative inspired by Sir Ken's passionate advocacy of human potential, that culminates each year in a week-long festival. He is Director of Nevergrey, which served as the global head office for his father-in-law, Sir Ken Robinson, and is now fully dedicated to his legacy.
Kate Robinson – Kate Robinson is a writer, speaker, and Director of Nevergrey, which served as the global head office for her father, Sir Ken Robinson, and is now dedicated to his legacy. She was the founding Editor in Chief and Head of Strategic Operations of HundrED, a Finnish-based initiative designed to seek and share the most inspiring innovations in education globally.
Ted Dintersmith – Ted Dintersmith is consumed with issues at the intersection of education, career and citizenship skills, and democracy. His films, books, keynotes, and philanthropy focus on the urgency of reimagining school to keep pace with the tsunami of innovation that is reshaping society.
Converse Sessions
(2-3 speakers / 45 min)
A speaker-facilitated, open conversation that focuses on driving dialogue and connecting communities around a particular topic rather than offering a structured presentation
Community
Difference Making: The Superpower of Every Learner
Difference Making is the superpower of the new economy — spotting opportunities and delivering valuable, real-world impact. Students need learner-centered environments and community-connected projects to grow these leadership skills. When educators are intentional about prioritizing character development, students are empowered to contribute and make a difference. In this session, participants will become familiar with the components and vocabulary of Difference Making from practicing educators.

Deion Jordan (Crosstown High)
Lillian Hsu (Latitude High School)
Tom Vander Ark (Getting Smart)
Sheltered-In-Place Art & Design with STEM Academia
Our online personas are "Cat" and "Cowboy" – we are a father and daughter duo learning Science, Technology, Engineering and Math (STEM) through art history and interior design. In July, 2020 we coined our experiential learning innovation "Cov-ED Garde" over the duration of 31 structured lessons. During our session we will deliver one of our popular Cov-Ed Garde garage-side chats live from our garage, similar to lessons captured in our ongoing Instagram documentary ("SIPDesigns").

Alex Manders (Shelter In Place Designs ("SIPDesigns"))
Liliana Manders (Shelter In Place Designs ("SIPDesigns"))
Using Community to Revolutionize Student Networks
What if students no longer asked, "How am I going to use this in real life?" When you invite a scientist, engineer, developer or designer from the community into a classroom, you are opening up students to new opportunities and career paths. When students see themselves in diverse and multicultural volunteers, they create a new narrative of possibilities for their learning. When mentors partner with a teacher on experiential learning, students become producers, not just consumers of knowledge.

Antia Thomas (Sherwood Githens Middle School)
Nadia Selby (Citizen Schools)
Ted Amdur (Harvard University)
Emerging Tech
Never Going Back: How COVID-19 Changed EdTech Forever
2020's worldwide school closings put a spotlight on what schools, teachers, parents, and students could do with educational technology. With a return to normalcy and in-person learning on the horizon, what's changed about how these personas use technology to teach and learn? In this interactive session, we'll invite our audience to think about what the new baseline of edTech is, and how we can best support users as we create digital teaching tools.

Jessica Millstone (Copper Wire Ventures)
Sean Oakes (Backpack Interactive)
Equity & Justice
COVID-19 & Reaching Students with Disabilities Online
How can we provide a quality education to students with disabilities through remote learning in the middle of a pandemic? Engage in a conversation with two leading special education experts, ask questions, and hear suggestions on how to provide support and accommodations, from how to implement universal design for remote learning, how to address IEPs in this "new normal" to ensuring students are participating and engaging.

Elizabeth Barker (NWEA)
Stephanie Cawthon (The University of Texas at Austin)
Global Impact
Designing Green Future(s): High School Program
2020, the year everything changed. Our virtual social existence forever shifted. In the midst of extreme uncertainty and social and economic reckoning, we had an opportunity to construct an international high school program with the goal to empower students to use design thinking methods to generate solutions to our environmental crisis. Join us as we share learnings and student artifacts. How might we ignite collective imagination to develop future(s) that are more just and inclusive?

Barrie Adleberg (Split Ends Media LLC)
Lance Weiler (Columbia DSL)
No More Poverty Porn: Teaching Global Activism
From Black Lives Matter to the Red Umbrella movement, activists around the globe are rising up to demand new futures. Learn how to incorporate stories of contemporary global activism into your curriculum to humanize global struggles and movements without pitfalling into poverty porn or the "exotic other". This session will include leading educators, activists, and storytellers using new tools to teach today's global social movements as pathways to connection, engagement, and shared liberation.

Lori Adelman (Global Fund for Women)
M Adams (Freedom Inc)
Media & Public Engagement
Misinformation, Ethics, & Protecting Societies
As leaders in the digital world, we take a moment to discuss protecting the younger generation from the risks of misinformation, with respect to digital media literacy. We've witnessed that misinformation is a serious issue that puts societies at risk. Hence, we raise critical questions on the ethical role of product teams in institutions. As we discuss how to contribute positively to a student's digital citizenship, in order to grow as responsible, critical, and aware digital citizens?

Cindy Otis (Alethea Group)
Claire Hartfield (Accelerate Institute)
Jeremy Spencer (Britannica Digital Learning)
Policy & Civil Discourse
Civic Education: Who Engages & Who Should?
The U.S. saw a massive push in 2020 across sectors to educate citizens for participating in a monumental election. Amid a global pandemic, social movements, and economic insecurity, people from all over were discussing key aspects of civic life: voter registration, ways to contact elected officials, rights of protestors, etc. In this conversation, participants will discuss and reflect upon civic education, especially issues of why, when, where, and how we create engaged citizens.

Bridget Trogden (Clemson University)
Marissa Corrente (Students Learn Students Vote Coalition)
Nicole Costa (Democracy Works)
Funding Creativity: An Education Funder Rethink
The COVID-19 pandemic, combined with heightened focus on racial equity, sparked discussions on a reimagining of America's schools. How can education funders adapt to this moment? Facilitated by leaders of the Grantmakers for Education Arts Education Impact Group, this session will take a laser focus on education funder practice — creating a space to discuss failure, new opportunities, and transparency in grantmaking that supports all learners and culturally relevant, community-connected schools.

Jessica Mele (The William and Flora Hewlett Foundation)
Lakita Edwards (National Endowment for the Arts)
Mac Howison (The Heinz Endowments)
From "What Works" to Moonshots in Universities
We are at a critical moment where HigherEd needs to move from "what works" to "what is possible." During COVID-19, Concordia University's leadership created an innovation lab for teaching and learning where ideas around the future of HigherEd are unencumbered by bureaucratic red tape and deadlines. Our goal? To build solutions and re-imagine HigherEd with students, faculty, and industry partners. In this open discussion, we will present what we've learned so far and talk with you about what's next.

Nikitasha Kapoor (Pure & Applied)
Remi Aro (Concordia)
Robert Cassidy (Concordia University)
Work Reimagined
School Climate Is a Leader's #1 Job
In challenging times, it's not technology or curriculum that holds everyone together — it's a positive school climate where teachers feel valued and trusted and where students feel cared for and seen. Creating a supportive environment is the chief responsibility of the school leader, and adult and student learning can only soar once they get this right. More art than science, it's not a skill taught in most training programs. So how do good leaders do it? What does it look like in practice?

Lindsay Whorton (The Holdsworth Center)
Melanie Patterson (Arlington High School, Arlington ISD)
Shahveer Dhalla (Arlington High School, Arlington ISD)
Featured Sessions
(45 min)
A groundbreaking conversation focusing on leading trends and topics across the education space
Equity & Justice
Empathy in Equity: Author & Educator
Author Nic Stone & Director of Educational Equity & Diversity, Brittany Hogan discuss their love of literature, empathy, and equity and how these topics play a role in classrooms and schools. Both ladies give their individual and collective thoughts and ideas about how diverse literature can change the hearts and minds of students. How great books allow all people to see themselves and others. Both give tips and suggestions on how to embed these books into all curriculum.

Brittany Hogan (Rockwood School District)
Nic Stone (Logolepsy Media Inc)
Practice & Pedagogy
Creating Curricular Partnerships: Nine Muses Lab
A panel with the creators of the Nine Muses Lab, a course at NYU for multi-hyphenate students about what it takes to "make it" and master their craft. Each panelist will share the unique opportunities this curricular partnership presents as a professional artist, education institution, and student. The Lab model adapts to reflect the practice of the artist-teacher's work, the expertise of the students, and the shifting entertainment landscape — an applicable model to any educational setting.

Bryce Dallas Howard (Nine Muses Entertainment)
Nia Farrell (Nine Muses Entertainment)
Rachel Friedman (New York University)
Sir Ken Robinson: Looking Back, Looking Forward
This session will focus on the immense impact Sir Ken Robinson has had on education. It will highlight ways he changed people's views, and lives. And it will underscore ways we can take his legacy forward with renewed passion and creativity — which is what he would hope all of us will do.

Anthony Dunn (Nevergrey)
Kate Robinson (Nevergrey)
Ted Dintersmith (WhatSchoolCouldBe.org)
Work Reimagined
How Universities Can Power the Future of Work
As the threat of COVID-19 and a looming recession disrupt the nation's higher education system, some colleges are defying the drop in enrollment by collaborating with employers. With a renewed focus on workplace-ready skills and reaching non-traditional learners, colleges like Paul Quinn College and Southern New Hampshire University are playing a more active role in upskilling employees to stay competitive in a post-pandemic economy.

Dr. Michael Sorrell (Paul Quinn College)
Dr. Paul LeBlanc (Southern New Hampshire University)
Talk Sessions
(1-4 speakers / 30 min)
A focused, high-energy presentation centered on breakthroughs and insights
Community
Building a Home-School Connection: Lessons Learned
When COVID-19 shut down schools in the spring of 2020, parents' and caregivers' roles shifted overnight, requiring them to be co-teachers and support children with distance learning. More than than ever, families needed support with academics, social-emotional learning and mental health. In this conversation, we'll discuss lessons learned about building a home-school connection, especially during a time when parents are the main essential link from schools to students.

Renee LaHuffman-Jackson (Fairfax County Public Schools)
Tonia Casarin (Fireworks Education)
Viviana Reverón (Common Sense Media)
Connecting T(w)eens in Virtual Communities
Hear how a t(w)een virtual summer camp created during COVID-19 turned into the inspiration for building a new virtual community for t(w)een entrepreneurs around the world. This session is full of tips for how to create connections, build community, and foster innovation in a virtual classroom. Speakers will also share how they navigated the setbacks and failures that occurred along the way. Hear from adult + t(w)een creators of virtual communities.

Cj Finley (ThriveOnLife)
Sarah Hernholm (WIT - Whatever It Takes)
Empowered Educators: Art & Race Talk
Empowered Educators is an ongoing partnership between the Carnegie Museum of Art, Center for Urban Education at U Pitt, Remake Learning, and the Western PA Writing Project. For 4 years, the program has worked with hundreds of educators with an ongoing core community of practice to use the exhibits of the museum as a catalyst to practice engaging in "Race Talk." Our talk will review four years of collective learning, including specific questions and activity modules to take with you.

Hattie Lehman (Carnegie Museum of Art)
J. Kalonji Rand (University of Pittsburgh- Center for Urban Education)
Karen Howard (Western Pennsylvania Writing Project)
Everyone In!: Bridging Sectors to Tackle COVID-19
Navigating COVID-19 has required leaders to work at the nexus of education, health, and innovation practices. Learn about two cross-sector partnerships, Equity by Design and the Parabola Project, and how their unique combinations of expertise led to innovative solutions that helped schools minimize risks to students and staff while maximizing safety and learning. Experts will also share how these partnerships can continue after the pandemic to further strengthen schools and benefit other sectors.

Asaf Bitton (Ariadne Labs)
Beth Rabbitt (The Learning Accelerator)
Eric Tucker (Brooklyn Laboratory Charter School)
Tricia Forrest (Urban Projects Collaborative (UPC))
Revelations from Our Pandemic Pivots
For four groups that inspire young women to pursue tech careers and healthy, balanced lifestyles, the pandemic was more than an operational challenge. It was an existential crisis. How do you comply with COVID-19 lockdown and distancing protocols when direct, in-person interaction between students, instructors and mentors is the backbone of your organization's mission? Join a panel of executives from TechGirlz, Black Girls Code, Tech Sistas and Girls on the Run who have some answers to share.

Amy Cliett (TechGirlz, a program of Creating IT Futures)
Ashley Turner (Swarthmore College)
Charles Eaton (Creating IT Futures / CompTIA Tech Career Academy)
Isis Miller (Black Girls CODE)
The STEM Future Is Female 2.0 Leading & Empowering
Today's students are the Artemis generation and they will take space exploration farther than we've ever gone before. The Artemis program will send the first woman and next man to the Moon and build a sustainable presence to prepare for missions to Mars and beyond. Women leaders from NASA will discuss how the agency's broad STEM outreach opportunities can be tailored to support girls in STEM to become the future women leading the way in STEM discoveries, policies, and careers.

Ellen Ochoa (National Science Board)
Kris Brown (NASA)
Teresa Drew (STEM Next Opportunity Fund)
Emerging Tech
A New Vision for EdTech Accelerators
The one-size-fits-all, 90 day, education accelerator model has often overlooked the complexities of building a scalable and impact-driven startup in the education sector. Leading EdTech accelerators are taking note, and changing course. In this panel, leaders from top education accelerators will explain how they're updating their models to upend this dynamic and create more personalized experiences for ed-entrepreneurs, and stronger accountability systems to measure learning outcomes.

Benjamin Bungert (LearnLaunch Accelerator)
Katie Boody (LEANLAB Education)
Raphael Gang (4.0 Schools)
Sandro Olivieri (AT&T Aspire Accelerator)
Can We Design Bias Out of EdTech?
Human biases can worm their way into tech with harmful consequences. One study identified up to a 16% difference in number the of misidentified words from speech recognition systems when used by Black and white speakers. The application of AI-enabled technologies like speech recognition in school holds profound opportunity but also poses serious risk. But is eliminating bias in AI possible? How can research play a role? What should practitioners know about the power and peril of AI in the classroom?

Nicole Patton Terry (Florida Center for Reading Research at Florida State University)
Patricia Scanlon (SoapBox Labs)
Yaacov Petscher (Florida Center for Reading Research at Florida State University)
EduCast: Legacy Tech Is a Bridge to Broadband
Datacasting is a legacy technology that supports the one-way transmission of data over a terrestrial broadcast signal. Traditionally used for public safety, datacasting is now being used to deliver instructional content to students with broadband challenges. Public media stations in South Carolina and Pennsylvania are a part of the group pioneering this concept. This session will discuss the pilot projects while facilitating conversations around access, equity, and decreasing the digital divide.

Cari Kozicki (Lehigh Valley Public Media (LVPM))
Stephanie Frazier (South Carolina Educational Television (SCETV))
Learning Science & Remote Learning During COVID-19
With the COVID-19 pandemic shifting learning online for millions of students in K-12 and higher education, what has learning science taught us about effective online learning and the challenges it presents? The learning scientists on this panel will discuss how pandemic era learning affects students and teachers. What are the challenges? What are the opportunities? How can students overcome the effects of self-isolation, stress, and more to succeed in school and college?

Robert Feldman (University of Massachusetts Amherst)
Simon Allen (McGraw-Hill)
Tanya Joosten (University of Wisconsin-Milwaukee)
Equity & Justice
A Trauma-Engaged, Culturally Responsive District
Chicago Public Schools recently released the first-of-its-kind blueprint for developing a trauma-engaged, culturally responsive school district, and has launched several initiatives in support of this effort. Hear a team of leaders in education and mental health share the vision for the third largest school district in the country: a healing-centered district that promotes wellness for all students, staff, families, and communities.

Nneka Tapia (Chicago Beyond)
Hellen Antonopoulos (Chicago Public Schools)
Liz Dozier (Chicago Beyond)
Black Women in the Academy: A Seat that Serves All
The purpose of this conversation is to highlight the need and opportunity for doctoral programs to employ a universal design approach that integrates culturally relevant social support for Black women. An educator, a historian, and a chemist will converse about their experiences as Black women securing mentorship, finding community, and combatting imposter syndrome while pursuing their doctorates, illustrating how connection based on common experiences facilitates healing.

Elissia Franklin (Purdue University)
Ijeoma Kola (Cohort Sistas)
Wenimo Okoya (The Jed Foundation)
Decolonize Textbooks: Racist & Sexist Curricula
This period of massive social upheaval has only been exacerbated by the 2016 election and the global pandemic. The rise of intertwining social justice movements - notably #MeToo and #BlackLivesMatter - have deep roots. As we collectively start to grapple with systemic change, education rises to the fore. How are implicit and explicit biases reinforced, revealed and redirected? Let's unpack racist and sexist stereotypes in modern curricula with the goal of decolonizing textbooks and pedagogy.

Ivy Cargile (CSU Bakersfield)
Sarah Hayes (University of California, Riverside)
Sole Anatrone (Vassar College)
Detroit Speaks: Reclaiming the Right to Literacy
In 2018, Detroit students sued the state of Michigan for depriving children of their right to literacy, citing underfunded and underperforming schools. Just a year later, Detroit students' ELA scores showed the greatest single-year improvement on state tests (M-STEP) in the history of the exam! What changed? Hear from a Detroit student, teacher, and leader about the powerful new literacy curriculum, professional learning, and vision that are transforming Detroit schools into engines for equity.

Jauhnell Miller (Burns Elementary Middle School)
Pamela Hornbuckle (Detroit Public Schools Community District)
Tawana Jordan (Detroit Public Schools Community District)
From HBCU to PhD: Social Capital & Student Success
This talk will feature four experts who began their collegiate careers as students at Historically Black Colleges and Universities (HBCUs). It will provide insight into how HBCUs are uniquely suited to be the center of a higher education ecosystem that produces Black scientists and scholars in both STEM and education. We will address how the diversity of thought and social capital cultivated at HBCUs produces professionals who are capable of navigating the highest levels of education and STEM.

Brittany Patrick (The University of Maryland and DC Public Schools)
Langston Clark (The University of Texas at San Antonio)
Reanna Roby (Vanderbilt University)
Terrell Morton (The University of Missouri)
It Gets Better With LGBTQ+ Youth Voices
As youth-serving educators and professionals at conferences like SXSW EDU, we spend a lot of time talking about our kids and on behalf of them. It's time to turn over the mic. Please join us for this incredible panel featuring the It Gets Better Project's Youth Voices - a group of LGBTQ+ young ambassadors sharing their perspectives, insights, and ideas on how to make safer and more inclusive schools for all.

Hammy Hamilton (It Gets Better Project)
Isabella Jimenez (It Gets Better Project)
Jace Deininger (It Gets Better Project)
LGBTQ-Inclusive Curriculum Mandates: A Discussion
Currently in the United States, only a handful of states have passed laws that mandate the contributions of the LGBTQ+ community to our society today be incorporated into all K-12 social studies and history curriculum. An opposing handful ban it. Join representatives from the It Gets Better Project and EducationCounsel as they discuss what existing mandates entail or restrict, the importance of inclusive curriculum for LGBTQ+ students, and what it might take to pass such laws in every state.

Justin Tindall (It Gets Better Project)
Student Speak: The Equity Reality
Amid a pandemic and difficult conversations about race and equity, we face a pivotal moment that can either widen the opportunity gap in higher ed, or bridge it. By amplifying voices of Black, Latinx, and Indigenous students, poverty-affected, and first-gen students, we can improve faculty practices and improve student outcomes. Join the discussion on how advances in digital courseware paired with evidence-based, equity-first, innovative teaching can close those gaps and serve today's students.

Hannah Petronek (GlobalMindED and The Equity Project, LLC)
Jessica Rowland Williams (Every Learner Everywhere)
Jules Joe (GlobalMindED and The Equity Project, LLC)
Yonus Harris (GlobalMindED and The Equity Project, LLC)
Undocumented & Undeterred: Today's Dreamer Student
Of the 65,000 undocumented students who graduate annually from U.S. high schools, less than 10% continue on to college. Hear directly from Dreamers and those who advise them on the current state of DACA and best practices to help undocumented students complete college during a global pandemic. Together, we'll dive into navigating the legal, social, academic, health, and financial barriers that exist for undocumented students with the goal of increasing graduation rates.

Cristel Martinez (Law Offices of Martinez, Nguyen & Magaña)
Darwin Velasquez (College Track)
Nancy Jodaitis (Immigrants Rising)
Global Impact
Beyond Blended: Crossing Borders to Transform
Most of us acknowledge that education is at the heart of global efforts to adapt to social change. But how can we organise international learning experiences, with on- and off-campus interaction and learning, and make sure they are truly connected? In this session best practices from Europe will be shared and illustrated with two cases: a campus network open to education brands and the Digital Society School offering transformational learning for a responsible, digital, and global mindset.

Frank Uffen (The Student Hotel)
Marco Van Hout (Digital Society School)
Sabine De Zeeuw (Growth Tribe)
Tech & Games to Empower Young Creative Changers
How can we raise bright talents among most unprivileged youngsters? How can we use tech training and games to develop future professionals for emerging industries? NAVE is an award-winning educational programe, recognized by Microsoft and Quatar Foundation as one of the most innovative schools in the world. We bring NAVE's lessons on how to enhance autonomy, critical thinking, social involvement, and tech skills. Its methodologies will be launched at SXSW EDU, ready to be applied at your school.

Carla Uller (Oi Futuro Institute)
Igor Moreno (NAVE / CESAR)
Sara Crosman (Oi Futuro Institute)
Vinnícius Rodrigo Ferreira Nazaré (NAVE)
Media & Public Engagement
COVID-19's Disruption to Education Journalism
COVID-19 has upended learning as we know it. And education headlines have followed suit. Immediately, the implications of the pandemic on education dominated headlines and coverage of education technology surged. Reporters have been challenged to take on entirely new issues and beats. Now, nearly a year in, let's take stock of the state of education coverage -– What big issues in 2020 were pushed aside? What's driving the news today? What's being overlooked in the midst of the crisis?

Caroline Howard (Forbes)
Chris Quintana (USA TODAY)
Liz Willen (The Hechinger Report)
More than a Subject: Civics, Teens, & Storytelling
Young people in America engaged in democracy in new and innovative ways during the 2020 election. When the coronavirus pandemic forced everyone to rethink civic engagement for our country's youngest voters, Gen Z sprung into action and found new means through social media and media making. Attendees will hear from teens about how student-driven initiatives helped them make sense of the elections and learn how to rethink civics education through programs like PBS NewsHour Student Reporting Labs.

Elis Estrada (PBS Newshour Student Reporting Labs)
The Rather Prize: Innovative Ideas in TX Ed
Awarding $10,000 to the the best idea in Texas education, the Rather Prize at SXSW EDU 2021 will help identify not only the strongest ideas to improve Texas schools from the submissions we receive, our session will highlight the plan for implementation. Alongside Dr. Kevin Foster from The University of Texas at Austin who chairs our submission committee, speaking will be Dan Rather, Martin Rather, and the 2021 award winner (TBD).

Dan Rather (News & Guts)
Kevin Foster (The University of Texas at Austin)
Tweens, Teens, & Public Media: The Missing Middle
While most young kids watch PBS, they leave public media behind in their tween and teen years. But youth still need engaging and educational content as they form their identities, opinions, and sense of purpose. With its mission to inform and educate, public media must envision a future in which young people are equipped with the knowledge and skills to build the world they want to live in. We'll discuss our latest research and how public media can serve this "missing middle" audience.

Debra Sanchez (Corporation for Public Broadcasting (CPB))
Mary Madden (Joan Ganz Cooney Center at Sesame Workshop)
Michael Preston (Joan Ganz Cooney Center at Sesame Workshop)
Milton Chen (Edutopia.org, Sesame Workshop, Kellogg Foundation)
Policy & Civil Discourse
A New Roadmap for K-12 History & Civics Education
A cross-ideological, demographically and professionally diverse national network of 140+ scholars, educators, and practitioners have created a roadmap for excellence in civic and history education for all K-12 students. Funded by $1.1mm from NEH and U.S. Department of Education and led by ASU, Harvard, iCivics, and Tufts, the Educating for American Democracy initiative gives national guidance on content and instructional strategies that are a starting point for the design of state standards, curricula, and resources.

Danielle Allen (Harvard University)
Louise Dubé (iCivics)
Paul Carrese (Arizona State University)
Do Pods & Public Schools Have to Be at Odds?
Critics of the learning pod movement point to the inability of low and middle-income parents to afford the high cost of hiring a teacher for a small group of students, and concerns of extracting resources from public schools. But, if public dollars could offset costs to enable more equitable participation in learning pods — and districts embraced them as a way to support more individualized instruction — could this COVID-19 trend emerge as a long-term solution for improving educational outcomes?

Chris Bennett (Wonderschool)
Michael Horn (Forbes)
Teresa Ruiz (New Jersey Senate)
Jeremiah Cota (San Carlos Micro School)
Future of Work Starts with Caring for the Future
As parents and caregivers confront the COVID-19 challenge of working amidst disruption of traditional child care, it is clear that early childhood education is at the core of our economic recovery. Despite increased need for child care options, enrollment has declined as families hesitate to send children to large centers and/or prefer to stay closer to home. This session will explore how stakeholders are rethinking child care models in light of COVID-19, and implications for the future.

Chris Bennett (Wonderschool)
Amy Cubbage (The North Carolina Partnership for Children)
Powerful Education Policy: Learning to Leading
The Texas Education Agency has developed programs to generate interest in teaching, build positive school cultures, and develop instructional leaders. This session will focus on how three programs — Grow Your Own, Lesson Study, and the Principal Residency grant — lead to a quality and diverse educator workforce by building on and integrating with existing district and campus systems.

Angeles Muñoz (Denton ISD)
Christine Bedre (Westwood Independent School District)
Ron Coleman (Texas Education Agency)
School Lunch, Food Insecurity, & National Security
During World War II, more than one-third of military recruits were rejected due to malnutrition. As a result, Congress created the National School Lunch Program in 1946 with the strong support of military leaders. As COVID-19 has shuttered brick and mortar schools and worsened child food insecurity, retired admirals and generals will lay out a roadmap to modernize and adapt this vital national security program to meet the challenges of the future.

Barry Ford (Council for a Strong America)
Juan Ayala (Mission: Readiness)
Malcolm Frost (Mission: Readiness)
Marcia Anderson (Mission: Readiness)
Students Deserve Privacy Protections Too
Efforts to keep students safe and provide meaningful education during distance learning can at times be at odds with student privacy or overshadow student privacy concerns. There are huge equity implications when student privacy is not considered, especially for specific populations such as students experiencing homelessness or of the LGBTQ community. Panelists will discuss key student privacy issues along with ways to prioritize student privacy and mitigate risk.

Aseret Hesse (Indiana University)
Chris Wood (LGBT Tech)
Patricia Julianelle (Schoolhouse Connection)
The 'Kids' Aren't Alright: Higher Ed Reform Now
For too long, we've romanticized the 'Hollywood' version of college. But the campus-based experience is a reality for just 13% of today's college students. The majority of today's students work while in school, half are financially dependent, and a quarter are parents. Traditional higher ed isn't designed to serve these students and it shows: low graduation rates, high levels of debt, and poor outcomes. Higher ed's most innovative thinkers are calling for a new era in higher education.

Goldie Blumenstyk (The Chronicle of Higher Education)
Julie Peller (Higher Learning Advocates)
Marni Baker Stein (Western Governors University)
Michelle Weise (Imaginable Futures)
United States of Trauma
This panel shines a spotlight on the excessive trauma facing BOTH children and their teachers in the age of COVID-19. Prior to the pandemic, nearly 60% of kids and 75% of teachers suffered from unaddressed trauma which has only grown worse in recent months. This trauma has led to an exponential increase in the high school dropout rate as well as a dramatic increase in teachers quitting the profession. What can we do to address the trauma crisis in our schools and bring our kids and teachers back?

Arne Duncan (President Barack Obama)
Rob Carpenter (USC Media Institute for Social Change)
Tim Shriver (Special Olympics)
What 2021 Holds for Education Policy
In 2020, 44 states held legislative elections, 11 states held gubernatorial elections, 9 states held state board elections, 4 states held elections for chief state school officers and board of regents. What does this mean for education policy in 2021 and beyond? Join us for a discussion on how issues ranging from early childhood education to workforce development are trending across the states, and what impact the 2020 elections are having on state policy.

Aaron Thompson (Kentucky Council on Postsecondary Education)
Brian Sponsler (Education Commission of the States)
Carmen Ayala (Illinois State Board of Education)
Practice & Pedagogy
DC's New Partnership to Raise College Graduation
Since 2015, DC Public Schools (DCPS) has grown college enrollment by 13 percentage points, but still sees many students stopping short of college graduation. DCPS Persists, a new alumni support program, addresses that gap with a goal to raise the graduation rate 10% by 2025. We work across the higher ed/K-12 divide with five partner colleges to build feedback loops that will improve readiness at the K-12 level. We will discuss tackling the readiness gap from many angles to best serve students.

Arthur Mola (Cardozo Education Campus)
Irma Becerra (Marymount University)
Lewis Ferebee (DC Public Schools)
Harry L. Williams (The Thurgood Marshall College Fund)
Enrollment Surge! Surviving & Thriving in COVID-19
March, 2020. Within a day of COVID-19 sending all your teams home to work fully remotely – something your organization never embraced or really prepared for - they start showing up. First hundreds, and then thousands of students and families seeking academic engagement they are no longer finding in school. By August , your organization has served 15,000 students, more than you serve in an entire year, maintaining your mission and quality. Learn how what seemed impossible one day became possible.

Luke Kasim (Johns Hopkins Center for Talented Youth)
Robert Arena (Johns Hopkins Center for Talented Youth)
From COVID-19 to Social Justice: Meeting the Moment
From a pandemic to social justice shocks, educators across the K-20 spectrum have had to lead their institutions with purpose, passion, and flexibility. In this talk a group of diverse leaders will discuss how they have met these moments with student care and success at heart, and how they are looking to the future for their schools and communities. "What did we learn?", "What will we bring forward?" and other questions will be answered and encouraged to be explored by the audience as well.

Mark Milliron (Western Governors University)
Suzanne Walsh (Bennett College)
William Serrata (El Paso Community College)
Mission: Impossible? Successes in Online Pre-K
Early childhood educators are on the frontlines of the unique challenges of our time. The screen time debate has been flipped on its head, early learning centers are navigating ever changing transitions between in-person and remote instruction, and parents have added "teacher" to their resumes. What does equitable, developmentally appropriate early learning look like from a distance? Is it possible? Learn how educators are embracing the challenge to ensure our young children are not left behind.

Anita Totty (Detroit Public Schools Community District)
Breeyn Mack (Teaching Strategies LLC)
Jackie Mader (The Hechinger Report)
Martha Strickland (South Carolina First Steps)
Outdoor Learning for EVERY School
There is a call from the top-down that outdoor learning should be prioritized during in-person instruction. But very few public school leaders, especially those in under-served communities, feel they have the resources needed to successfully take learning outside. Outdoor learning experts, as well as principals and teachers who have moved instruction outside, will share how ANY school can use simple outdoor spaces to increase safety and improve academics.

Jeanne Mccarty (Out Teach)
Reymundo Cervantes-Guajardo (Henry B. Gonzalez Personalized Learning Academy – Dallas ISD)
Sean Splawski (Mableton Elementary School)
Tectonic Mergers: Frictions in Music Education
Formal music education remains regressive, focused on replication rather than innovation. Non-profits had stepped into the gap, embracing modern music-making and industry readiness. The pandemic's tectonic shift to virtual creative technologies has disrupted both traditional and non-traditional teaching. Will virtual and non-traditional strategies connect these worlds post-pandemic? Will these disruptive additions help us merge into more pluralist instructional approaches?

Akira Nakano (Los Angeles Inception Orchestra)
David Sears (Grammy Foundation)
Frank Heuser (UCLA Herb Alpert School of Music)
Gigi Johnson (Maremel Institute, Center for Creative Futures)
What Educators Can Learn from Athletes
In the wake of a year of unprecedented trauma, asking educators to prioritize SEL right now can feel unrealistic. But honing SEL skills like goal-setting and resilience, and understanding student motivation may just be the linchpin to recovery and success. Just ask Olympic and Paralympic athletes whose life work was punted to 2021. Join us for a discussion with educators who are partnering with Olympic and Paralympic athletes to bring a new twist to SEL.

Arianna Prothero (Education Week)
Jennifer Regruth (Seymour Community Schools)
Lex Gilette (U.S. Paralympic Athlete)
Steve Mesler (Classroom Champions)
Why Teach Students About Zombies & Superheroes
Learn how and why an innovative public policy educator features superheroes and a zombie apocalypse in his teaching. Glean creative ideas and tips for using negotiation exercises, movie screenings, and experiential games to make learning memorable. Get inspired by Patient Zero, a groundbreaking simulation project combining robust learning objectives with a professional-grade media experience to immerse students in learning. Walk away with new ideas to alleviate Zoom fatigue and engage students.

Christopher Robichaud (Harvard Kennedy School)
Lucy Swedberg (Harvard Business Publishing)
Work Reimagined
Back to School at Midlife
On a mission to transform higher education to address shifting demographics (lower birthrates and increasing lifespans), Stanford University launched an innovative program to help adults in midlife pivot, discover and design their next chapter. Notre Dame, University of Minnesota and others have started or are exploring similar transition programs to fit their school's unique culture and needs. Join us to discuss why and how integrating multiple generations can benefit your college and community.

Kate Schaefers (University of Minnesota Advanced Careers Initiative)
Katie Connor (Stanford University, Distinguished Careers Institute)
Tom Schreier (University of Notre Dame, Inspired Leadership Initiative)
Bias, Bias Everywhere: Toward Fairer Hiring
As we think about an equitable economic recovery, how do we deal with the structural issues and biases that ultimately narrow job prospects for people of color and other underestimated groups? Listen to experts and practitioners in the field talk about the biases built into our systems and how we move toward fairer and more transparent hiring practices.

Alexandra Bernadotte (Beyond 12)
Sheila Sarem (Project Basta)
Female Leaders Who Are Closing the Opportunity Gap
In the wake of the COVID-19 recession, 40 million Americans have lost jobs that may never return as automation infiltrates roles that were previously held by blue collar workers. And while women are dropping out of the workforce in astounding numbers, these three female executives are implementing forward-thinking programs to help workers adapt and drive a more equitable recovery.

Kimarie Yowell (Rock Central)
Lorraine Stomski (Walmart)
Getting Back to Work: Upskilling & Retooling
Challenged with upskilling and connecting two million unemployed workers to in demand careers during the pandemic and providing services to support those workers, Texas Workforce was forced to rethink service delivery and training. Strategic out of the box thinking helped workers upskill or reskill into new in demand jobs and helped businesses retool to connect to new markets. Learn about the strategies put in place during the pandemic that helped to sustain the Texas economy.

Courtney Arbour (Texas Workforce Commission)
Desi Holmes (Texas Workforce Commission)
Julian Alvarez (Texas Workforce Commission)
How Skills & LER Are Shattering the Glass Ceiling
Imagine a day when employers are able to seamlessly match skilled talent with opportunity. Imagine a day when learners gain immediate return on their educational investment by earning workforce relevant skills on their way to degree. Imagine a day when every individual is empowered with career and educational pathway insights to pursue their next best opportunity. This day is now, and it is enabled through the power of skills and the Learning and Employment Record.

Alex Kaplan (IBM)
Darin Hobbs (Western Governors University)
Kacey Thorne (Western Governors University)
Ricardo Torres (National Student Clearing House)
Will Robots Displace Minority Workers?
In the rural South, Blacks disproportionately perform repetitive tasks that will disappear with increasing use of automation, AI, and robotics. How do we ensure they are prepared for the work that will replace these lost jobs, human work?

Jamie Merisotis (Lumina Foundation)
Spencer Overton (The Joint Center for Political and Economic Studies)
Work Sessions
(2-3 speakers / 60 min)
An instructional program with hands-on learning activities and specific takeaways
Emerging Tech
Unboxing Schooling
2020 has provided us with a unique living lab to understand the challenges of education at the Digital Age since it forced advocates and non-advocates to use the digital world. At the same time, it opened up real opportunities for innovation, increasing significantly the number of early adopters. This session will open a conversation about what should be eliminated, reinforced and added to the new "schooling" paradigm and suggest a relevant roadmap to students, parents, educators and policy makers.

Avi Warshavsky (MindCET)
Cecilia Waismann (MindCET)
Equity & Justice
Accessibility in the Digital Classroom
Classrooms have moved online, making accessibility more important than ever. Do your digital materials work for students with disabilities? How do you know if a digital tool is accessible? If you're creating or building digital content, and want to know if it works for all of your students, this session is for you. Bring a site or tool to review, and your questions. We'll show you simple ways to test the accessibility of your materials, and broaden your understanding of accessibility in 2021.

Jules Khong (ThinkShout)
Sadiyah Ali (ThinkShout)
Actualizing Anti-Racism: A Radical Classroom Model
Many people read theory about what it means to be an anti-racist educator: we put the theory to work. In this session, we will engage with a model of teacher development that flips the structural power dynamic between a teacher and a student on its head to achieve what we believe is possible only when students have real power in academic space: radically re-imagined urban classrooms that restore all that is possible with student voice, ownership, and empowerment.

Claire Miller (Restorative Practices in Action)
Jaleel Townsend (UNC-Chapel Hill School of Medicine)
Sean Hamilton (Catalyst Maria High School)
Authenticity & Culturally Responsive Education
How do we focus on authenticity to create brave learning environments that support all students? What does it take to invite students' full authentic selves into learning? What does it take for educators to bring their full authentic self to their work? In this hands-on workshop, we will use creativity exercises and guided reflection to dig into the role of authenticity in education and demonstrate our authenticity-based SEL framework for creating culturally-responsive practices.

Alexander Kopelman (Children's Arts Guild)
Nakeisha Daniel (ND Theatricals)
CampusForward: Inclusive Campus Design Workshop
Inclusive design emerges from a core assertion: we experience space differently. While designers have engaged domains like mobility and perception, few have made attempts to confront negative cultural messaging in the built environment. Critical Race Theory provides a lens for exploring and dismantling these expressions of socioeconomic power. Building on applied student research from Portland Community College, workshop participants will explore socio-spatial attributes of an inclusive campus.

Amara Perez, Phd (Curriculum, Research, and Training of Intent & Purposes (I&P) LLC)
Christina Avila (Oregon State University)
David Johnson, Aia, Leed Ap (Smithgroup)
Fostering Storytelling Using Unspoken History
The thriving black community of Greenwood in Tulsa, Oklahoma lost everything on May 31, 1921. The Tulsa Race massacre is an exemplar of what happens when people cannot tell their stories. The events were not spoken of nor taught widely in classrooms for 100 years. We will share their story, and promote storytelling as vital human experience which can be taught to all grade levels with (XR(AR/VR), video) or without technology (art, writing). Takeaways: lesson plans & strategies for teachers.

Ashley Coffey (Xalter)
Mike Lang (Intelligent Hoodlums)
Terri Cullen (Arkansas Tech University)
Leading Brave Conversations About Race & Racism
Given nationwide events involving race, racism, and social justice, many educators are looking for the best ways to discuss these sensitive and important matters with their students. They know that children not only hear about racism, many experience it. In this session, learn actionable strategies for engaging in effective, courageous conversations about race and social justice with children from 0 to 18, using every educator's tried and true tool: books.

Jason Reynolds (Children's Book Council and Every Child a Reader)
Liz Kleinrock (Teach and Transform)
Teaching Finance as an Act of Social Justice
Where we spend our money is a representation of what we value. This holds true for individuals and communities. Teaching our youth about finance impacts much more than wallets, it's critical to self-advocacy, promoting social justice, and addressing educational equity. Together we'll look at the transformative power of having money conversations to enrich learning and equip diverse learners with tools to create change.

Andrea Ferrero (Pockets Change)
Mc Dyalekt (Pockets Change)
Yes, It Really Is OK to Talk About Race at School
Has your students' use of the N word turned into a viral social media post? Do you worry about anti-immigrant sentiment erupting on the playground? Does fear of potentially saying the wrong thing keep you from talking about race? In this workshop, you will learn how to engage in conversations about race. Participants will emerge with a clearer understanding of the role and impact of race on K-12 campuses and leave with practical tools to help build more inclusive teaching and learning spaces.

Jillian Bontke (ADL Austin)
Sherasa Thomas (ADL Texoma)
Media & Public Engagement
Media, Digital Literacy, & Civil Discourse
Join staff from The New York Times, the Council on Foreign Relations and the American Democracy Project for a deep dive into digital literacy, global awareness, and deliberative dialogue. We will provide techniques and resources to improve students' digital literacy, global awareness, and civil discourse. We will include an in-depth discussion of how to engage students in deeper understanding of current events as a springboard for deliberative dialogue and to combat fake news and malinformation.

Charlie Hopkins (Council on Foreign Relations)
Felice Nudelman (American Association of State Colleges and Universities (AASCU))
Kandace Rusnak (The New York Times)
Policy & Civil Discourse
Virtual Classrooms: How to Talk Politics with Kids
Kids ask important questions about politics. In class and at home, adults are struggling to find answers that are developmentally appropriate and non-partisan. Research shows that student behavior grows worse in schools that avoid conversations on politics. Teachers feel the school culture is more civil and caring when politics and students' fears are addressed. Virtual classrooms and teachers need advancements. We'll discuss new tools and strategies that promote emotional and civic leadership.

Joy Jenkins (The University of Tennessee)
Lacey Hilliard (Suffolk University)
Michelle Millben, Esq. (Explanation Kids)
Practice & Pedagogy
Culturally Relevant Making... During a Pandemic
Due to COVID-19, our partner schools and after school programs have been shut down. To address this challenge we have created a suite culturally relevant and personalized do-it-yourself projects to tap into students' personal interests and cultures as part of our efforts to personalize learning. Our culturally relevant approach to making and STEAM supports student identity formation and affirmation, as well as student-teacher relationships, and a focus on and commitment to academic equity.

Kreg Hanning (Lesley University)
Nettrice Gaskins (Lesley University)
Sue Cusack (Lesley University)
Design 4 Impact: A Student Led, K-12 Revolution
Student change-makers are starting a revolution within K-12 education by promoting the adoption of design thinking curricula, activities, and events that are adaptable to any classroom, free and accessible, and designed and delivered by students. During this workshop, attendees will participate in demo challenges; explore resources, curricula, and online content — designed by students for students and teachers; and strategize with student leaders about how to democratize and grow this movement.

Ava Laden (Design 4 Impact)
Olivia Morse (Design 4 Impact)
Praharsha Gurram (Design 4 Impact)
Dreamtrack: A Virtual Songwriting Workshop
Creativity invents a universal language that connects people of different backgrounds. Our virtual songwriting workshop specializes in providing best practice strategies on how to collaboratively write songs while also creating a space for aspiring creatives to network with professional musicians. This session will showcase how to incorporate literacy, highlight artists of color, and integrate current events into creative assessments of learning.

Keia Johnson (Dream Create Inspire Tour)
Wayne Watts (Dream Create Inspire Tour)
Engaging Students in Virtual Learning Projects
We admire the resilience educators have demonstrated in the face of this pandemic. Join our session with experienced K-12 and teacher preparation educators in a collaborative space for learning and sharing ideas. How can your students be engaged and accountable during virtual learning? Participate in a station rotation simulation using breakout rooms to engage in Google tools, Bitmoji classroom, Classroom App, and rubric creation. Participants will leave energized with tools for immediate use.

Annuar Ortiz (Colegio Jorge Washington)
Ariel Taylor (The University of Texas at Austin)
Kelli Allen (The University of Texas at Austin)
Press Play: Unlock Youth Voice with Podcasting
In a media landscape where multi-modal content reigns, students need to learn to use their voices to effectively share perspectives and engage in public discourse. This hands-on workshop provides educators with a framework to guide students in developing effective communication skills. We'll focus on presentation skills aligned with professional industry standards for media platforms by creating a short audio commentary using effective presentation, recording and narration skills.

Teresa Wierzbianska (KQED)
Synchronous & Asynchronous Pathways to Learning
The We Speak NYC ESOL video drama series showcases immigrants on learning journeys — pathways to acquiring information and skills they need to solve real-life problems collectively and individually — managing physical and mental health, obtaining careers and securing worker rights, engaging in their children's education, and others. In this workshop, we practice pedagogies and distribute materials for synchronous and asynchronous instruction that empower adult students on their learning journeys.

David Hellman (City University of New York)
David Rowley (NYC Mayor's Office of Immigrant Affairs)
Kareema Hussein (NYC Mayor's Office of Immigrant Affairs)
Teach Data Better: Unpack Analyze & Interpret
There is an explosion of data and data visualizations available online to address data skills currently in math and revised science standards. So, why do many students still struggle with data? Join us to unpack "Analyzing & Interpreting Data." We will leverage perception sciences to our advantage, as well as adapt existing curriculum and data visualizations to better build data skills. Developing data literacy is a marathon not a sprint; let's make sure we have running shoes, not track spikes.

Elizabeth Joyner (NASA)
Kristin Hunter-Thomson (Dataspire Education & Evaluation LLC, Rutgers University)
Teaching the UN's Sustainable Development Goals
COVID-19, the West ablaze, and racial unrest roiling our country. We are experiencing a profound demonstration of how global issues impact local communities and why it's critically important to integrate the United Nations' Sustainable Development Goals into K-12 education. Doing so will empower a new generation of changemakers to tackle the pressing problems of our time — from climate change to global health and equal rights. What is education for if not to equip youth to build a better future?

Mallory Tuominen (World Savvy)
Work Reimagined
Beyond the Buzz: Gamification for Adult Learners
Find yourself wondering, why all the fuss over gamification? We're here to help you sift through the buzzwords and use gamification mechanics in a way that drives towards and never distracts from learning. In this highly interactive workshop, we'll review several popular game mechanics, and you'll get the chance to play, design with, and apply them to real challenges your adult learners are facing. Throughout, we'll share examples from industry and higher ed.

Jesse Harris (Virgin Orbit)
Creative Hustle
"Nine to five is how to survive, I ain't trying to survive, I'm trying to live it to the limit and love it a lot." In the 24 years since Jay-Z first rapped this line, he has released 14 albums, founded a clothing company, served as president of a record label, and is raising three children. This is creative hustle. There will only be one Jay-Z — and there is only one of you. This session will help you recognize and build the mindsets, skills, and networks to design your own creative hustle.

Olatunde Sobomehin (StreetCode Academy)
Make Your Best Practices for Online Collaboration
How do you take care of your community and yourself when you are not able to meet in person? Have the sheer volume of online meetings and professional development programs your team has engaged with since the pandemic contributed to a culture of overwhelm? You can create emotionally safe spaces for tough topics online. Work with a diverse panel of educators, including an arts-activism consultant, a therapist, and a content strategist to create your team's best practices for working online.

Anna Westbrook (Isabel & The Runaway Train)
Junice Rockman (JRock Therapy Institute)
Natalie Khoo (Avion Communications)
Master Class: Leaders Don't Lead
What happens in a master class for leaders-- especially exploring remote challenges? Whether you are a C-level executive, a founder, a superintendent/principal, a coach, or a manager, you work in the relationship business. This not-to-be-missed session for leaders will be the best time you spend outside of closing a deal at SXSW EDU. Join expert teachers Miles and Kleba in this energizing and entertaining workshop as they challenge you to reframe the very fundamentals of what you do as a leader.

James Miles (Leaders Don't Lead)
Michael Kleba (Leaders Don't Lead)