Oprah Winfrey & Dr. Bruce Perry Keynote Announced for SXSW EDU Online 2021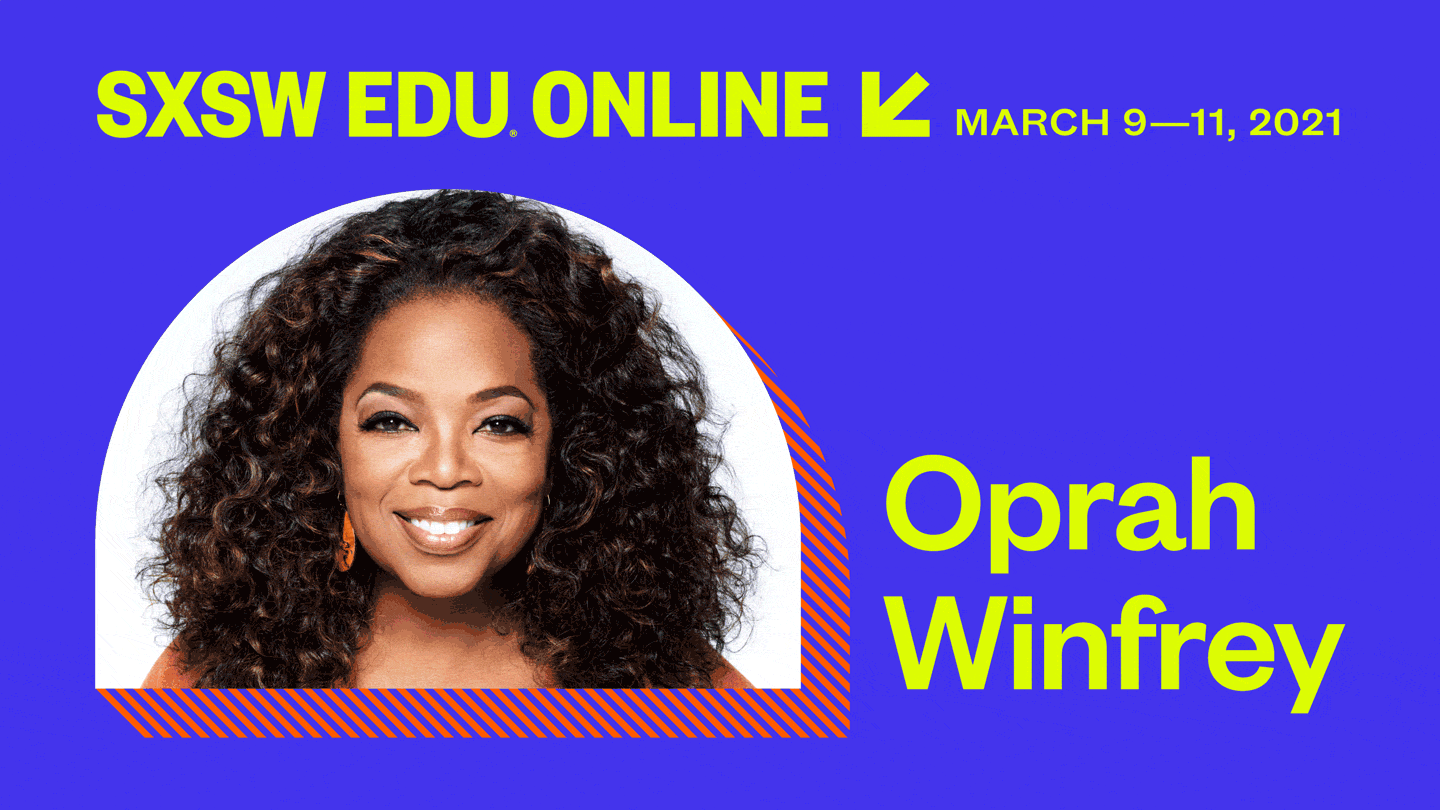 We are thrilled to announce keynote speakers Oprah Winfrey and Dr. Bruce Perry.
In the SXSW EDU Online 2021 keynote session, Oprah Winfrey and Dr. Bruce Perry In Conversation, Ms. Winfrey and Dr. Perry will discuss their forthcoming book, What Happened to You?: Conversations on Trauma, Resilience, and Healing.
"When I first heard Dr. Perry speak about trauma-informed education, it served as a fundamental shift in the way I approached my school in South Africa. I knew I wanted to learn more, study more, and share his work with as many people as I could. I look forward to our conversation at SXSW EDU with educators who understand the long-term impact of addressing trauma from this lens." – Oprah Winfrey
Keynote Session
Oprah Winfrey and Dr. Bruce Perry in Conversation
Oprah Winfrey and leading child psychiatrist and neuroscientist Bruce Perry, MD, PhD explore the impact of childhood trauma on who we become, the decisions we make, and how healing must start with one question 'what happened to you?' in anticipation of a new co-authored book of the same name. Winfrey and Dr. Perry focus on understanding how shifting the approach to trauma and allowing understanding of the past allows for an opening of the door to resilience and healing in a proven, powerful way.
Oprah Winfrey – Over the course of her esteemed career, Oprah Winfrey has created an unparalleled connection with people around the world. As host of the top-rated, award-winning "The Oprah Winfrey Show," she entertained, enlightened, and uplifted millions of viewers for twenty-five years. Winfrey's accomplishments as a global media leader and philanthropist have established her as one of the most influential and admired public figures in the world today.
Dr. Bruce Perry – Over the last thirty years, Dr. Perry has been an active teacher, clinician and researcher in children's mental health and the neurosciences holding a variety of academic positions. His work on the impact of abuse, neglect and trauma on the developing brain has impacted clinical practice, programs and policy across the world. Dr. Perry is the author, with Maia Szalavitz, of The Boy Who Was Raised As A Dog, a bestselling book based on his work with maltreated children and Born For Love: Why Empathy is Essential and Endangered. Dr. Perry's most recent book, What Happened to You? Conversations on Trauma, Resilience, and Healing, co-authored with Oprah Winfrey, will be released on April 27, 2021.
Join Us for SXSW EDU Online
Secure your pass for SXSW EDU Online, March 9-11, 2021 at the current rate of $115 before passes sell out. SXSW EDU Online also offers group and student discounts.
Sign up for the SXSW EDU email update for all the latest news and be sure to follow us on Twitter, Facebook, LinkedIn and Instagram for the latest news and updates.
Keynote Speaker Oprah Winfrey photo by Chris Craymer. Keynote Speaker Dr. Bruce Perry photo courtesy of the speaker.