Launch Finalists, New Featured Session, Exhibitors & More Announced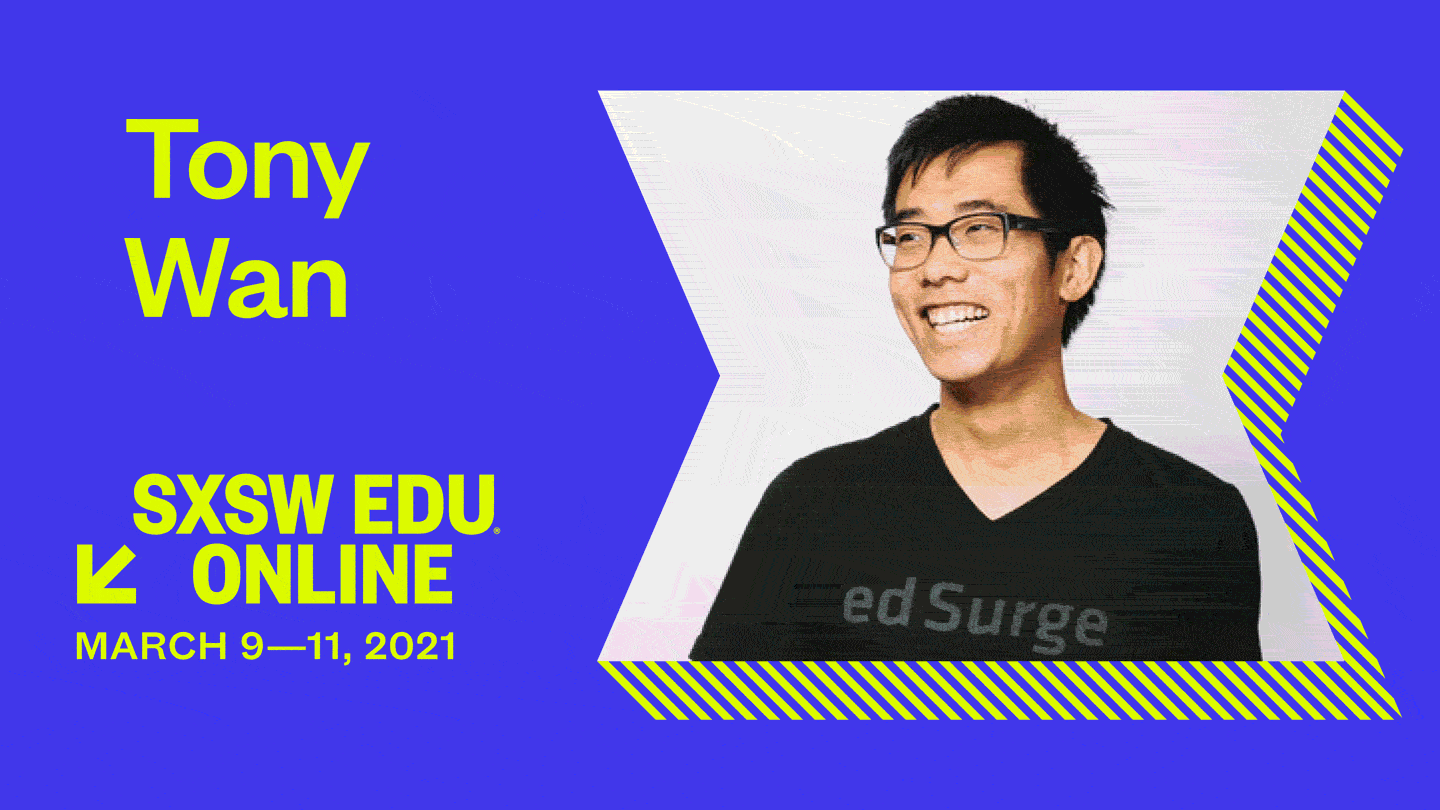 As SXSW EDU Online approaches, there is more exciting news to share.
Five startups from across the country have been announced as finalists to pitch their ideas in the SXSW EDU Online Launch competition, presented by the Walton Family Foundation.
Featured speakers Carlos Moreno and Elisa Villanueva Beard will be speaking on Educator Leadership for Equity & Justice. The High School for Recording Arts joins the performance lineup and is included in the list of over 70 sessions accredited by the Association of Texas Professional Educators (ATPE).
Plus, check out a preview of the Exhibition below and browse the current lineup of exhibitors.
The full schedule for SXSW EDU Online is now available to view in the event platform. Explore programming and begin building your schedule for the upcoming digital experience.
Launch
The Launch competition debuted in 2012 and has been a pillar of SXSW EDU ever since. Launch is a catalyst for innovative startups at the intersection of education, technology, and entrepreneurialism.
We are thrilled to reveal five finalists selected from across the country that will be pitching their startup at SXSW EDU Online.
Finalists
Judges & Emcee
The competition will be judged by author and 2015 National Teacher of the Year Shanna Peeples, founder and managing partner at Zeal Capital Partners Nasir Qadree, and co-founder and CEO of Course Hero Andrew Grauer. The Launch Competition will be emceed by co-founder and managing editor at EdSurge, Tony Wan.
Coaches Susan Badger and Matthew Cohen have signed on to help Launch finalists refine and perfect their pitch.
Featured Session
Educator Leadership for Equity & Justice
Millions of children come to school every day with talents and brilliance, but also with needs that our education system isn't designed to meet. What will it take to reimagine education so that it centers on equity and the aspirations of students? How can we develop the next generation of equity-oriented leaders in the field? What will the classroom of the future look like? Join two educators who are tackling these questions every day and helping to define a new era in education leadership.
Carlos Moreno – A proud native New Yorker, Carlos Moreno is a passionate educational leader committed to supporting school and district leaders who are creating high-quality, non-traditional schools. He is a Co-Executive Director for Big Picture Learning, a nonprofit organization that, since 1995, has developed over 150 such schools in the United States and throughout the world. Elisa Villanueva Beard – Elisa Villanueva Beard's journey with Teach For America started as a 1998 corps member in Phoenix. In 2015, Elisa became chief executive officer of Teach For America. Today, under her leadership, Teach For America corps members impact hundreds of thousands of students each year in nearly 2,300 schools across the country. The Teach For America network of 64,000 leaders is working inside and outside the education field to ensure that all children have the access and opportunity to reach their full potential and achieve their dreams.
Performance
High School for Recording Arts – Creation Meets Vocation
For over 20 years High School for Recording Arts (HSRA) has been transforming the lives of young people who dropped out, felt left behind, or not engaged in a traditional school setting. Through the power of music and tapping into a young person's inherent genius, HSRA students earn a high school diploma while discovering a career and becoming life-long learners. HSRA students will showcase their brilliant creative skills through performing original music as well as share stories on how they discovered viable professional careers through content creation.
Exhibitors
The SXSW EDU Online Exhibition serves as the central hub for innovations in learning for this year's online experience. The Startup Village will feature early-stage companies from all over the world.
The virtual experience offers exciting opportunities for attendees to connect and interact with exhibitors. Explore dynamic, trailblazing organizations that are changing the game and looking to share their stories and ideas with thousands of education professionals from around the globe.
Featured Exhibitors
Communities In Schools Doha Debates EdChoice Edmentum Educator Impact FeedbackFruits Mango Languages Texas SmartBuy WGU Labs
Exhibitors
ASUS ATPE Charles Koch Foundation Dell Technologies Eriksen Translations Everspring Every Learner Everywhere Infosys Foundation USA Rice University Special Olympics Unified Champion Schools® TeachersCan TEL Education Walton Family Foundation
Startup Village
Almost Fun Boddle Cognitive ToyBox Fiveale GiveThx Immersed Games KlickEngage Purpose Project Social Cipher Squixy TechRow WeThrive
Media Partners
WorkingNation
View Exhibition
CPE Accredited Sessions
SXSW EDU has partnered with the Association of Texas Professional Educators for several years to provide conference attendees with continuing professional education (CPE) credits.
This year, over 70 sessions at SXSW EDU Online are accredited. View the list of sessions below and locate accredited sessions in the event platform with a "CPE Credit" tag.
View Accredited Sessions
A New Roadmap for K-12 History & Civics Education (Talk) A Trauma-Engaged, Culturally Responsive District (Talk) Accepting That a Degree Is Not a Panacea (Talk) Accessibility in the Digital Classroom (Work) Actualizing Anti-Racism: A Radical Classroom Model (Work) Align-Build-Context: The ABCs of Tech Inclusivity (Talk) Authenticity & Culturally Responsive Education (Work) Beyond Representation: Measures to Ensure Justice (Talk) CampusForward: Inclusive Campus Design Workshop (Work) Can We Design Bias Out of EdTech? (Talk) Civic Education: Who Engages & Who Should? (Converse) Connected in Class: A Starting Point & Close Up (Featured) Connecting T(w)eens in Virtual Communities (Talk) COVID Lessons: A New Era in Education (Talk) COVID-19 & Reaching Students with Disabilities Online (Converse) Cry Havoc Theater Company - Once Upon a Moon (Performance) Culturally Relevant Making... During a Pandemic (Work) Decolonize Textbooks: Racist & Sexist Curricula (Talk) Design 4 Impact: A Student Led, K-12 Revolution (Work) Designing Green Future(s): High School Program (Converse) Detroit Speaks: Reclaiming the Right to Literacy (Talk) Difference Making: The Superpower of Every Learner (Converse) Do Pods & Public Schools Have to Be at Odds? (Talk) Dreamtrack: A Virtual Songwriting Workshop (Work) Education Equity: Reengaging Students post COVID (Talk) Education Policy & Equity in a Pandemic World (Talk) Empathy in Equity: Author & Educator (Featured) Empowered Educators: Art & Race Talk (Talk) Engaging Students in Virtual Learning Projects (Work) Everyone In!: Bridging Sectors to Tackle COVID-19 (Talk) Fostering Antiracist Culture: Start at the Top (Talk) Fostering Storytelling Using Unspoken History (Work) From COVID-19 to Social Justice: Meeting the Moment (Talk) Generation Unified: Guide to an Inclusive Mindset (Talk) High School for Recording Arts - Creation Meets Vocation (Performance) It Gets Better with LGBTQ+ Youth Voices (Talk) Learning Science & Remote Learning During COVID-19 (Talk) Media, Digital Literacy, & Civil Discourse (Work) Misinformation, Ethics, & Protecting Societies (Converse) Mission: Impossible? Successes in Online Pre-K (Talk) More than a Subject: Civics, Teens, & Storytelling (Talk) Multiple Future Paths: Expanding Youth Awareness (Talk) Never Going Back: How COVID-19 Changed EdTech Forever (Converse) No More Poverty Porn: Teaching Global Activism (Converse) Offline & Left Behind: The Lost Generation (Talk) Oprah Winfrey and Dr. Bruce Perry in Conversation (Keynote) Outdoor Learning for EVERY School (Talk) Paramount Story Wranglers - Processing through Performance (Performance) Personalizing Reading: One Size Doesn't Fit All (Talk) Press Play: Unlock Youth Voice with Podcasting (Work) Reimagining Accessible Modern STEM Education (Work) Revelations from Our Pandemic Pivots (Talk) Safeguarding Youth Mental Health Behind the Screen (Talk) School Climate Is a Leader's #1 Job (Converse) Sheltered-In-Place Art & Design with STEM Academia (Converse) Sir Ken Robinson: Looking Back, Looking Forward (Featured) Standing Out in Today's College Admissions Process (Talk) Students Deserve Privacy Too (Talk) Tackling the Digital Divide (Talk) Teach Data Better: Unpack Analyze & Interpret (Work) Teaching Finance as an Act of Social Justice (Work) Teaching the UN's Sustainable Development Goals (Work) Tectonic Mergers: Frictions in Music Education (Talk) The Future of Learning with Ozy Media & HMH (Talk) The STEM Future Is Female 2.0 Leading & Empowering (Talk) Unboxing Schooling (Work) United States of Trauma (Talk) Upskilling for the Future (Talk) Using Community to Revolutionize Student Networks (Converse) Virtual Classrooms: How to Talk Politics with Kids (Work) What Educators Can Learn from Athletes (Talk) Yes, It Really Is OK to Talk About Race at School (Work) Zooming in on CS When You're All Zoom'd Out (Talk)
After participating in an accredited session during SXSW EDU Online, a unique code will appear after the session. To claim your CPE credit visit ATPE and log in to your ATPE online account (or create a guest account). Access the Professional Learning Portal and click on Add Live Event and enter your Secret Code then, click Validate and Submit. Access and print or save your CPE certificate by visiting your Education Tracker.
Join Us for SXSW EDU Online
Secure your pass for SXSW EDU Online, March 9-11, 2021 at the current rate of $139 before passes sell out. SXSW EDU Online also offers group and student discounts.
Sign up for the SXSW EDU email update for all the latest news and be sure to follow us on Twitter, Facebook, LinkedIn and Instagram for the latest news and updates.
Launch emcee Tony Wan photo courtesy of the participant. Launch judges Shanna Peeples, Nasir Qadree, Andrew Grauer photos courtesy of the participants.