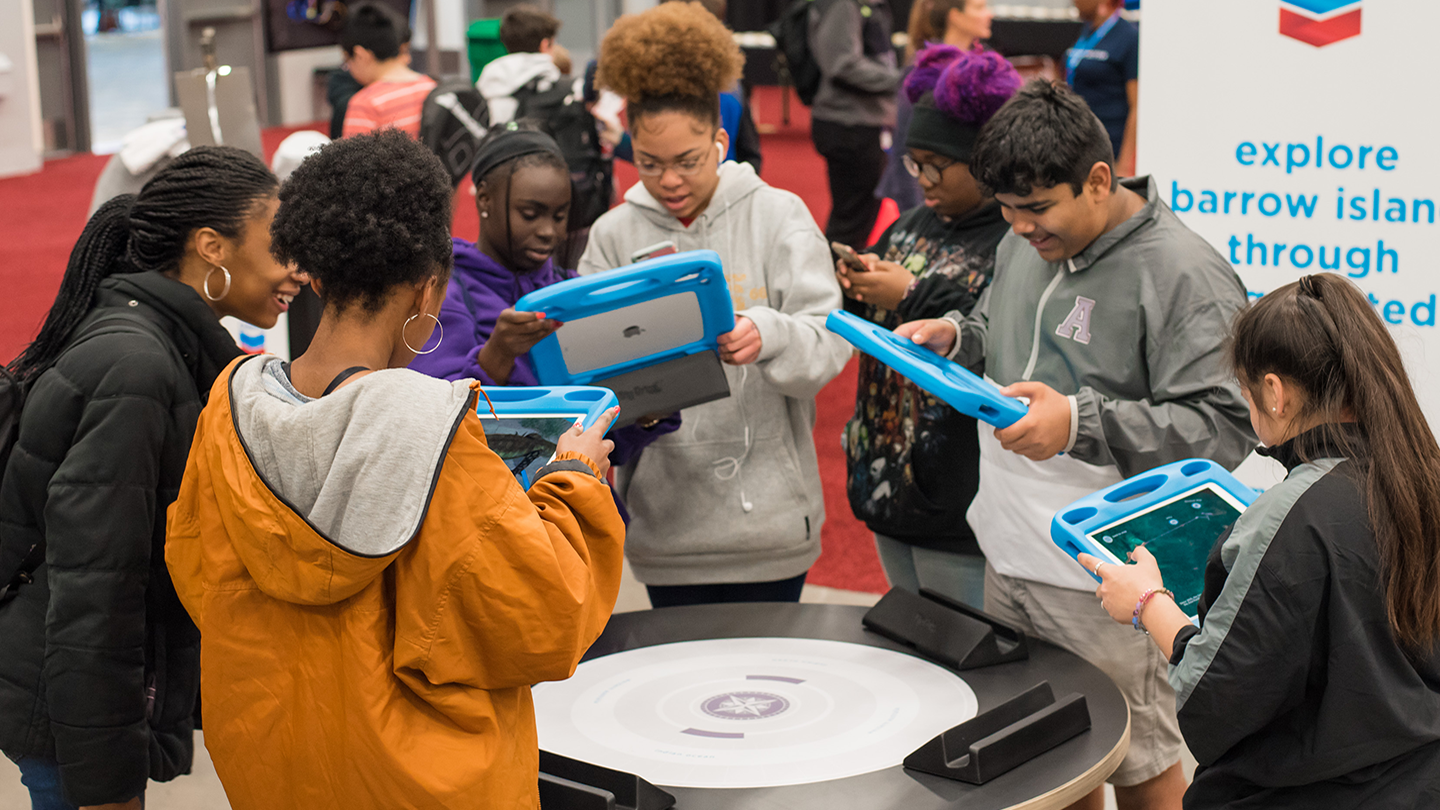 After celebrating the initial lineup recently, we are thrilled to share a full and complete lineup of Playground goodness including new displays, talks, and sessions. You can fully expect for the Playground to spark your childhood curiosity with creative approaches to learning.
Displays encompass educational techniques ranging from implementing SEL through soccer, to comprehending computer science concepts through hip hop. Programming is also robust on the Next and Playground stages. Check out sessions on subject matter such as learning to lead a revolution using your school garden and lessons from games in the classroom.
Browse the full lineup below and be sure to add the Playground to your schedule. You can also view the Expo floorplan including the Playground to help you navigate during the event.
Displays
3DuxDesign (Bridgeport, CT) - Leave the rules behind as you enter 3Dux's Urban Design Lab. You'll work as a team to imagine, design and build a model City of the Future. We'll address topics like culture, diversity, environment and modern technology as we redefine community.
American YouthWorks (Austin, TX) - Learn how American YouthWorks provides young people with opportunities to build careers, strengthen communities, and improve the environment through education, on-the-job training, and service to others.
The Austin History Center, African American Community Archives (Austin, TX) - The Austin History Center, African American Community Archives presents the Great Migration Interactive Playground Experience. Visually take a moment to learn about the Great Migration and discuss and create an activity about this era in U.S. history.
CodeScty (New York, NY) - Learn how CodeScty uses culturally relevant connections to boost confidence and awaken a sense of ownership over the learning experience. Through original hip hop music, videos and engaging activities, attendees will experience how to comprehend computer science concepts (CS).
Digital Promise (Washington, DC) - The Digital Promise team will share playful, interactive activities from several of their research and development partnerships with schools designed to support maker learning, VR, computational thinking, and learner variability.
Eidos Global (Bristol, United Kingdom) - Combining the power of storytelling, alternate reality games and live debates, Eidos Global brings together different future scenarios for participants to experience and reflect about the future they want to live in.
Firia (Madison, AL) - Stop by and check out how Firia Labs can offer real-world Python coding to your students. Through teacher-friendly, low-cost PD, experience hands-on standards-aligned curriculum with CodeBot and micro:bit kits.
FIRST (Round Rock, TX) - Engage with young science and technology leaders of of all ages through exciting, mentor-based, research and robots. Come by and learn how to code and control robots from LEGO based to 150 lb robots that are 5 foot tall.
FoodCorps (New York, NY) - The School Cafeteria Table of the Future — a welcoming, joyful place where everyone has a seat at the table. You are invited to share your school food vision, enjoy healthy snacks and speak up for healthy food in schools in the FoodCorps Action Center.
Huddle Storm by Design Case (Fort Collins, CO) - Join the mission to help spark creative and innovative solutions that solve real-world problems. Swing by their display to be the first to try Design Case's newest creativity tool: a brainstorming card game to unleash your inner-creative!
KMD Global Education Project (Tokyo, Japan) - Learn how to design innovative education experiences to nurture visionary global citizens. Through stop-motion animation for global competence, 360° video career development programs, and Sustainable Development Goals (SDG) games, attendees will be a part of the future of global society.
Little, Brown Books for Young Readers & JIMMY Patterson Books (New York, NY) - Discover new picture books, graphic novels, middle grade books, and young books published by Little, Brown Books for Young Readers and JIMMY Patterson Book.
Los Angeles Education Partnership (Los Angeles, CA) - Take part in Los Angeles Education Partnership's (LAEP) wellness lounge to learn how to use the science of the brain and resilience to take action in order to build a sustainable culture of well-being.
Maker Ed (Berkeley, CA) - Harness the potential of making to transform teaching and learning with Maker Ed. Attendees will learn how to create light and shadow objects that integrate with the Maker Ed Values Mapping Grid in 3D.
MOVE Texas (San Antonio, Texas) - Make sure you're Election Day ready with MOVE Texas — a nonpartisan, nonprofit, group working to build power in underrepresented youth communities. Here you can update your voter registration with our youth organizers and prepare for Election Day.
NuVu Studio (Cambridge, MA) - Discover NuVu Studio's "Physical Toolbox" teaching tool for students and teachers. This interactive library demonstrates mechanisms and construction techniques and integrating laser cut and 3D printed parts from a notched cylinder to a gear box.
Out Teach (Washington, DC) - Learn how to engage with experiential outdoor science lessons at Out Teach's pop-up Outdoor Learning Lab, with raised vegetable beds, weather and earth science stations, and a host of other features.
Peeka (Seattle, WA) - At Peeka, families will be able to jump into the pages of beloved picture books and let the stories happen to them. Using just a mobile phone and a simple VR headset, picture books come to life all around you and let you affect what happens!
Revolution Robotics Foundation (San Francisco, CA) - Come by and build your own custom robot, code a remote controller on your mobile phone, and compete with friends! Participants will learn how robotics kits and mobile app-based learning can be paired together to inspire degrees and careers in STEM.
Rock The Street, Wall Street (Nashville, TN) - Take part in Rock The Street, Wall Street's financial literacy program designed to spark the interest of high school girls into careers of finance.
Rhythmo (Austin, TX) - Discover accessible and affordable ways to leverage technology to engage students in powerful learning experiences through music. Have fun with Rhytmo's DIY cardboard drum machines by being a part of the live building process and producing your very own beats.
Soundtrap Education (Chicago, IL) - Soundtrap for Education empowers students and teachers to explore creative sound recording in all subjects, for all ages and ability levels. Experience firsthand how to enable creative collaboration in the classroom or on your spare time using any device.
STEM Scouts (Austin, TX) - Stop by to learn how STEM Scouts re-imagines creative ways to learn about science, technology, engineering and mathematics (STEM).
TuringGame (Great Neck, NY) - Attendees will play interactive coding games on touch-screens and learn from on-screen instructions to build a simple AI program using MIT Scratch to play fun games automatically.
Ubongo International (Dar es Salaam, Tanzania) - Take part in Africa's leading edutainment company, Ubongo International's media lab with learning apps, resource kits for schools, teachers, and caregivers with printables and play materials.
UChicago Financial Education (Chicago, IL) - Journey the pathway to financial-wellbeing as you explore financial decision-making through an interactive experience. Attendees will learn how improving financial decisions can have a positive impact on financial behaviors and outcomes over time.
Unlocking Silent Histories (Austin, TX) - Experience how Indigenous youth voice guides transformative learning. Through hands-on, interactive stations, you will be immersed in how filmmaking facilitates this process, making visible the wisdom we gain when valuing local knowledge.
Upper Ninety (Austin, TX) - Exercise your mind and body with Upper Ninety! Sit in a Restorative Circle, try SEL-based Soccer, and reduce stress with the Mindful Close. Learn how to incorporate SEL into a non-traditional learning space!
Next Stage
The Next Stage showcases Talks focused on innovation in education from student entrepreneurialism to school board leadership.
Questioning Diversity in the K-5 Curriculum Just Do It! Partnerships for Scaling Impact Student Entrepreneurialism in the "Minnow Tank" K-12 Chief Technology Officers: A Profile Lightning Talks: Innovating the K-12 Classroom Be Part of the Learning Revolution with Fortnite Navigating the District Buyer Journey School Board Leadership Really Matters Building a Learning Neighborhood Beyond Engagement: Lessons From Games in the Class Beyond Readiness: Equitable Career Pipeline Get Out the Classroom! The Pitfalls of Incubators
Playground Stage
In addition to the interactive displays, the Playground features a collaborative stage with Hands On and Talk programming with engaging activities and conversations.
There Are No Mistakes, Just Happy Sketchnotes Diverse Stories Using Primary Sources & Artifacts Teacher + Chef = Food as an Engaging Teaching Tool 35 Ideas for Accessibility in 30 Minutes! Using Science to Support Early Learners with AI Teaching for Social Justice with Comics How Improvisation Empowers Diverse Learners AR History Lessons in the Streets & Classroom LIVE Digital Learning Using Museums How to Lead a Revolution Using Your School Garden Math Therapy: From Anxiety to Creative Confidence Easy Is Boring: Design for New Knowledge Cactus Makes Perfect: Garden, Kitchen, & Culture Augmented Learning for Diverse Students Student-Led Conferences
SXSW EDU 2019 photo by Christopher Bouie.