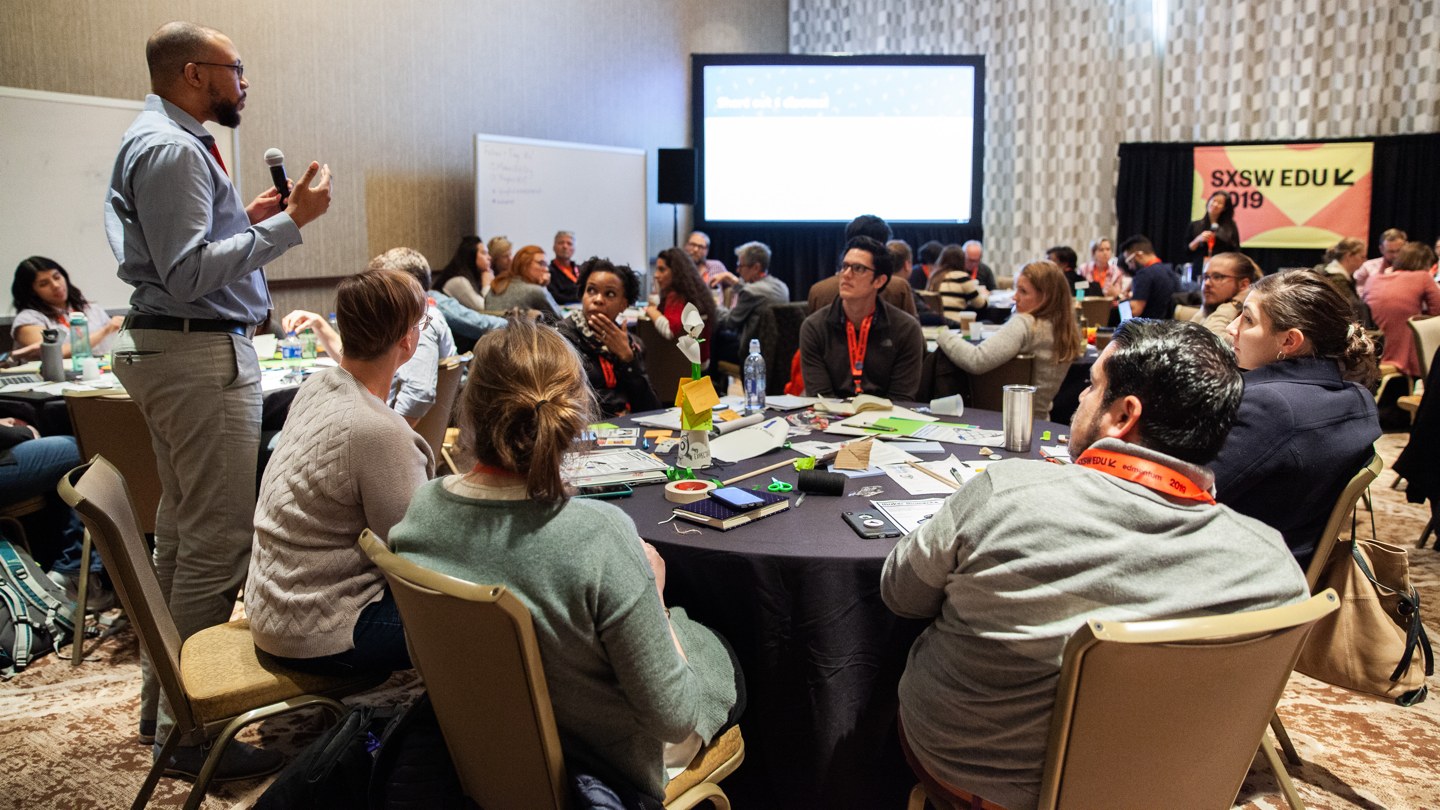 SXSW EDU has partnered with The Association of Texas Professional Educators to provide conference attendees with the opportunity to earn continuing professional education (CPE) credits.
The ATPE team has completed a thorough review of the currently scheduled SXSW EDU programming schedule to identify the sessions and workshops that meet CPE criteria. Qualified programming will be tagged both in the SXSW EDU Schedule and App. SXSW EDU attendees who attend the CPE-eligible sessions will receive a code after attending a session that they can use to log in to the ATPE Professional Learning Portal and receive the related credit. And you don't have to be an ATPE member to use the ATPE system. You can log on as a guest to claim credit for your CPE hours.
Add CPE Sessions to Your Schedule
20 Policy Issues, 50 States: What's Ahead for 2020 (Policy Forum)
29,407 Reasons to Build a Community of Practice (Panel)
49ers STEM Leadership Institute: A Case Study (Panel)
A Changing Texas: How Pub Ed Needs to Respond (Policy Forum)
A Decade of National Teachers of the Year (Featured)
A New 'Whole Child' Era: Creating SEL Ecosystems (Panel)
A Science of Human Motivation for the Next Decade (Keynote)
Acting on Inequity: Busting Bias & Upending Power (Workshop)
Algorithmic Hiring Center Experience (Special Program)
An America to Me "Real Talk" About Racial Equity (Workshop)
Apply Learning Science to Improve Student Outcomes (Case Study)
Art in Motion (Workshop)
Art of Community: Designing & Measuring Community (Workshop)
Arts & Tech to Empower Young Creative Changers (Case Study)
Asian American: Not Your Model Minority (Workshop)
Be the Bridge: Guiding ELL Families in Special Ed (Workshop)
Behavioral Threat Assessment & Community Resources (Panel)
Beyond Diversity Awareness: Redesigning for Equity (Workshop)
Beyond Word Bubbles: Comics & Critical Creativity (Workshop)
Black & Brown Get Down (Panel)
BLACK BOYS: Navigating the Narrative (Panel)
Blackout: The Miseducation of Black Girls (Campfire)
Border Crossing & Sacred Stories (Featured)
Bridging Opportunity Gaps with AI & Tutors (Panel)
Building an Inclusive Maker Community (Case Study)
Building Public Will with Student Voice (Workshop)
Building Schools to Support the Whole Child (Panel)
Building Social Capital at Scale Through Internships (Panel)
CampusForward: Inclusive Campus Design Workshop (Workshop)
Can Fiscal Transparency Lead to Student Equity? (Policy Forum)
Career Exploration: Expand Networks for Opportunity (Panel)
Career Tech: The Brain Drain Antidote (Case Study)
Catalyzing the Next Gen of STEM Global Citizens (Panel)
Celebrating a Decade of Edcamp (Workshop)
Changing Girls' Mindsets on Financial Literacy (Case Study)
Choose Your Pathway: Extended Learning Opportunities (Workshop)
Civics on the Legislative Slate (Panel)
Classroom Collaborations to Save the Planet (Panel)
Closing the Gap for Black Students: New Research (Panel)
Creating A Collaborative Classroom Through Improv (Workshop)
Creating a Space for Genomics in All Classrooms (Panel)
Creativity vs Coding: The Skill Set of Tomorrow (Panel)
Crossing the Line (Performance)
Cultivating & Empowering Social Justice Scientists (Workshop)
Culturally Relevant Learning to Vocational Discovery (Performance)
Culturally Responsive Practices to Advance Equity (Workshop)
Democratizing Early Literacy Through Innovation (Panel)
Design & Refine Solutions to Global Challenges (Workshop)
Design 4 Impact: A Student-Led, K-12 Revolution (Workshop)
Designing for Dancers with Disabilities (Panel)
Devastating Impact of a 2020 Census Undercount (Policy Forum)
Digital Fabrication & Making: Learning for All (Panel)
Does Audio Work for Learning? (Panel)
Don't Hide Your Magic: Becoming Better Grownups (Workshop)
Drag Queen Story Hour: The Power of Storytelling (Workshop)
Dream Big Marathon: Courage & Determination (Panel)
Dream, Create, & Inspire Through Songwriting (Workshop)
Driving K-12 Innovation: Tools for the Future (Workshop)
EdTech Product Dilemmas: Who's the Real User? (Campfire)
Educolor: A Community & Practice of Liberation (Panel)
Elevate Literacy & Empower Readers & Leaders (Panel)
Embrace the Mess: Vulnerable Storytelling with Teens (Workshop)
Empowering ALL Students Through Blended Learning (Workshop)
Engaging Students with a National Podcast Contest (Panel)
Evaluating Impact: A Case for Esports in Schools (Workshop)
Every Course Counts! Data & the Whole Child (Panel)
Evidence-Based Evaluations of Esports in Education (Case Study)
EX Machina: Why Humans Working in Tech Need Stories (Special Program)
Filling in the Gaps: The Precursors Needed for SEL (Workshop)
Finally Moving the Needle for Girls in STEM (Panel)
First Residents of Moon & Mars are in Our Classrooms (Featured)
Focusing on Strengths in a Weakness-Obsessed World (Workshop)
For Us by Us: Community Created Education Policy (Panel)
Foster Collaboration with G Suite for Education (Panel)
Free to Be ME: Action Poster Series (Workshop)
Gen Alpha Can Save Democracy — Will We Let Them? (Campfire)
Generation Regeneration: Hope Through Education (Campfire)
Get That Grant! Tips & Trends From Philanthropists (Panel)
Girls Need Love Too: What Will It Take to Thrive? (Panel)
Hacking Diversity in Education Leadership (Workshop)
Heroes on the Screen to Heroes in Real Life (Case Study)
Hip Hop's Emerging Educational Industry (Panel)
How Anonymous Reporting Is Saving Lives in Schools (Case Study)
How Do We Love Our BLACK BOYS? (Workshop)
How EdTech Developers Partner with Google Cloud (Panel)
How Gen Z Is Covering the 2020 Election (Panel)
How It's Made: The "Data Privacy Decision" Edition (Panel)
How Principals Thrive: Sustaining Urban Leaders (Panel)
How to Teach Social Media Soft Skills (Workshop)
How Trauma Informed Schools Develop Learners (Case Study)
How We Can Save a Generation from Sexual Violence (Featured)
I Have Autism. Let's Talk! (Campfire)
Igniting Classroom Practices with Learning Science (Panel)
Immigration & Healing Through Cross Media Edu (Workshop)
Implicit Bias: Reframing Our Assumptions (Campfire)
Innovations in Girls' Education Around the World (Panel)
Innovative Approaches to Career Exploration in MS (Panel)
Instruction & PL Inclusive of EL Student Needs (Workshop)
Instructional Priorities Educators Care About (Panel)
Interrupting the Pre-Prison to Prison Pipeline (Campfire)
Interrupting the School-to-Prison Pipeline (Case Study)
Intersectional Feminist Lens Classroom Toolkit (Workshop)
Inventing Green with Bioplastics (Workshop)
Is SEL an Appropriate Tool for Addressing Equity? (Campfire)
'Is That Your Mom?': Supporting Multiracial Kids (Workshop)
Is Your Classroom Functioning as a Third Teacher? (Workshop)
Journey Mapping Ed UX Research & Design (Workshop)
Leadership Journeys: Truth, Love, & Vulnerability (Panel)
Learning Online with a Disability #OnMyTerms (Panel)
Learning to Lead on Racial Equity (Workshop)
Learning to Think in 3D: The Time Is Now (Workshop)
Leveraging Policy for Safe & Healthy Schools (Policy Forum)
Leveraging Teacher Leadership to Enact Change (Workshop)
LGBTQ Supports in New York City Schools (Workshop)
Life is Short, Don't Wait to Dance (Featured)
Lights & Shadows of American Life (The Constant) (Podcast)
Make Code You Can Touch (Workshop)
Make It Movement: Everyone CAN Make It (Policy Forum)
Making Big & Small: Scaffolding by Context (Workshop)
Making Educational Videos: Teacher-Created Content (Workshop)
Making Good on the Promise of Brown v. Board (Panel)
Mapping the EdTech Genome: What Works Where & Why (Panel)
Mars Mapping Project: Engaging All Students (Panel)
Masters of Practice (Featured)
Meaningful Play with Virtual Technology in School (Panel)
My Future Job: A Love Story (Panel)
Narrative's Power to Improve Equity (Panel)
National SEL Challenge League (Workshop)
Navigating Bias: Teaching in an Election Year (Policy Forum)
Navigating Research Uncertainty with UI/UX Design (Workshop)
Overcoming Politics to Invest in Public Education (Policy Forum)
Participatory Budgeting: Real Money, Real Power (Workshop)
Partnering for Public Health: A STEM Approach (Panel)
Pass the Mic: Students Discuss Equity in Civics (Panel)
Pathways & Connections to the World of Work (Panel)
Pathways to Personalization: School Redesign (Workshop)
Performing "Equity" as Racial Justice (Workshop)
Playful Assessment Designathon (Workshop)
Podcasting Is Creating a Revolution in Education (Ministry of Ideas) (Podcast)
Poets in Revolt! Amplifying Student Activists (Workshop)
Preparing K-8 Students for the Future of Work (Panel)
Preventing Violent Extremism in the Classroom (Panel)
Proclamation 2020: Texas Delivers Digital Equity (Panel)
Python for Asteroids: NASA Data for the Classroom (Workshop)
Q+ Edu: Meeting the Needs of LGBTQ+ Students (Panel)
Race & Representation in Children's Literature (Workshop)
Radical Joy: Learning Through Games & Play (Workshop)
Redefining Masculinity in Sports (Panel)
Reimagining Civic Education for the 21st Century (Panel)
Reimagining School Lunches for America's Children (Panel)
Relationships to Address Trauma in Early Learning (Workshop)
Revolutionizing Education From the Ground Up (Keynote)
Rikers to Rutgers: Ending School-Prison Pipelines (Workshop)
Satire for Solutions: Laugh While You Learn (Performance)
Saving Superman: Investing in Educator Self-Care (Panel)
School Safety: A Preventative Approach (Panel)
Schools & Philanthropy: SEL Heaven or Hell? (Case Study)
Shaping the Next Generation of Youth Leaders (Panel)
SO UNLADYLIKE: Elevating Hidden History of US Women (Panel)
Social Justice Through Spoken Word (Performance)
Stamping Out Racism (Featured)
Stand & Deliberate: Civil Discourse in Education (Panel)
StepXStep: Connecting Men of Color to College (Case Study)
Storymakers & Shakers: Storytelling Off the Page (Workshop)
STREETS TO STEAM: How STEM Is All Around Us (Workshop)
Student Wellbeing Through Classroom Design (Panel)
Supporting Undocumented Families in Our Schools (Workshop)
Sustainability & Social Justice in K-12 Schools (Panel)
Take the Mic: Amplify & Engage with Storytelling (Podcast)
Takeover: The Offbeat Republic Education Ministry (Workshop)
Teaching Breath: A Powerful Tool for Success (Workshop)
Teaching Kids About News Without Freaking Them Out (Panel)
Teaching Teachers Self Care (Workshop)
Teens as Changemakers: SEL Through Game Design (Case Study)
Tell Your Story: Dream. Design. Deliver. (Workshop)
The 8 Black Hands (Podcast)
The Future Is Now: Games as Assessment (Panel)
The Future of Learning for the Cloud Workforce (Case Study)
The Next Reading Revolution (Panel)
The Nimble Innovator: Prioritizing Prototypes (Workshop)
The Power of Student Voice Amplified Through Performance (Performance)
The Role of Black Parents in Educational Advocacy (Campfire)
The Role of Student Activism in Schools (Panel)
Together! A Tool to Design with & for All Voices (Workshop)
Tools for Bridging Equity & Accessibility Gaps (Panel)
Uncovering Racial Bias (Keynote)
Unifying Student Experience Around Emerging Tech (Panel)
Unlocking Student Behavior Challenges (Mindshift) (Podcast)
Using PBL to Develop Critical Thinking (Workshop)
Virtual Exchange: Global Learning in the Classroom (Panel)
VR Remix Party 2.0 (Workshop)
We Failed. Lessons in Teen Entrepreneurship (Panel)
What Are the Big Education Stories of 2020? (EWA Radio) (Podcast)
What If School Didn't Feel Like School? (Case Study)
What Makes Educational Experiences Transformative? (Campfire)
When Ignorance Isn't Bliss: Equity in Language (Campfire)
When Punishing Tech Use Widens the Social Divide (Panel)
Whole Child & Dual Language for Young Learners (Panel)
Why Build Culturally Relevant Curricula for All? (Panel)
Why Everyone in Texas is Talking About Dallas (Policy Forum)
Will Speech Technology Transform Education? (Panel)
Workforce Counselors Guiding Pathways for Seniors (Panel)
World Changers: Schools That Make a Difference (Campfire)
Yes, It Really Is OK to Talk About Race at School (Workshop)
You Need Hip Hop Ya Heard?: Performance & Workshop (Performance)
SXSW EDU 2019 workshop. Photo by Debra Reyes.