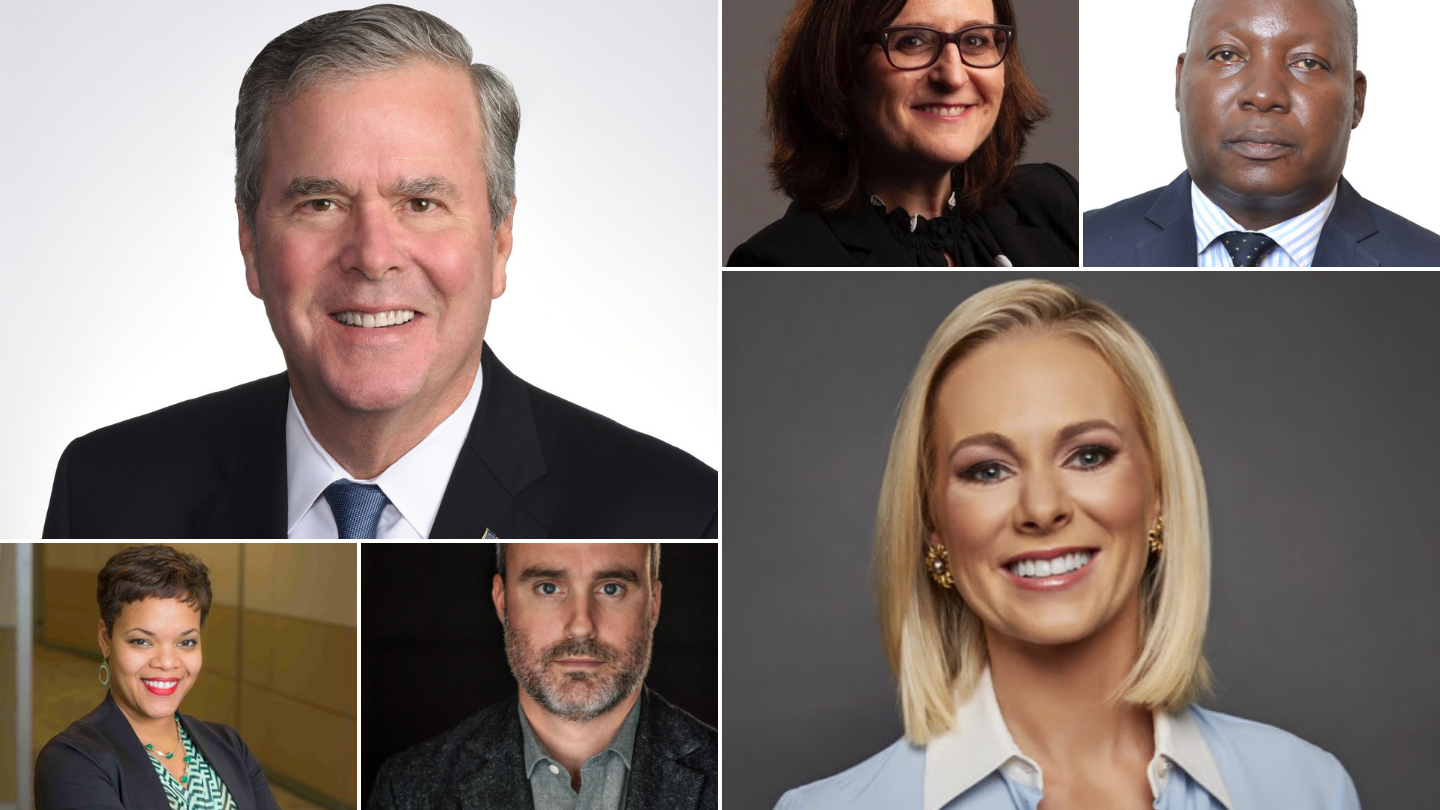 The Policy Forum at SXSW EDU features elevated policy-focused sessions that discuss the impact of public and higher education policy. This year's lineup examines a range of topics including student privacy, designing safer schools, the lack of school counselors, mental health in early learning, gubernatorial elections, campus free speech, and more.
Browse the 2019 Policy Forum programming below and sign in to the schedule or mobile app to favorite the sessions you are interested in attending.
Jay Brotman – Managing Partner, Svigals + Partners
Jim Brewer – Chief Lobbyist, AIA
Karina Ruiz – Principal, BRIC Architecture
Stayton Bonner – Reporter, Condé Nast
Julie Peller – Exec Dir, Higher Learning Advocates
James Kvaal – Pres, The Institute for College Access & Success
Alison Griffin – SVP, Whiteboard Advisors
Celia Simms – VP Government Relations, KinderCare
Jeb Bush – Governor, Foundation for Excellence in Education
Laura Meckler – National Education Writer, The Washington Post
Bridget Burns – Exec Dir, University Innovation Alliance
Melissa Korn – Reporter, The Wall Street Journal
Michael J Sorrell – Pres, Paul Quinn College
Michelle Weise – Chief Innovation Officer, Strada Institute for the Future of Work
Kafi Kumasi – Assoc Professor, Wayne State University
Allison Mackley – NBCT School Librarian, Hershey High School - Derry Township School District
Azadeh Jamalian – Head of Education, The GIANT Room
John Chrastka – Exec Dir, EveryLibrary
Jan Friese – Exec Dir, Texas Counseling Association
Jeremiah Gunderson – Dir, Veterans Svcs, The University of Texas at Austin
Liz Willen – Editor in Chief, The Hechinger Report
Ana Roca Castro – CEO, Genius Plaza
Anthony Anwukah – Honorable Minister of Education, Federal Ministry of Education
Edward Ssebukyu – AC/PSS - Monitoring & Support Supervision, The Republic of Uganda Ministry of Education and Sports
Paul Mavima – Deputy Minister for Primary & Secondary Education, The Ministry of Primary and Secondary Education
Chemene Crawford – Assoc Vice Chancellor of Student Resources, Dallas County Community College District
Rosye Cloud – VP, Strategy & Innovation, College Promise Campaign
Ricardo Lopez – Superintendent, Garland ISD
Alfreda Norman – Senior Vice President , Federal Reserve Bank of Dallas
Michael Hawes – Dir of Student Privacy Policy, US Department of Education
Bryan Westerman – Student Data Privacy Officer, Denver Public Schools
Chad Marlow – Sr Advocacy & Policy Counsel, American Civil Liberties Union
Amelia Vance – Director of Education Privacy Project & Policy Counsel, The Future of Privacy Forum
Ann Mastergeorge – Chairperson, Rockwell Endowed Child & Family Professor, Texas Tech University
Cathy McHorse – VP of Success By 6, United Way for Greater Austin
Jackie Mader – Multimedia Editor, The Hechinger Report
MJ Korpela – Family Services Director, Mainspring Schools
Justin Barra – Dir of Policy, Education, Chan Zuckerberg Initiative
Seth Gerson – Program Dir, National Governors Association Education Division
Matt Kramer – CEO of Wildflower Schools, Wildflower Schools
Sharif El-Mekki – Principal of Mastery Charter School-Shoemaker Campus, Mastery Charter School-Shoemaker Campus
Pedro Martinez – Superintendent, San Antonio ISD
Margaret Hoover – Host of PBS' Firing Line, PBS
Nathan Harden – Education Editor, RealClearPolitics
Heather Mac Donald – Thomas W. Smith Fellow, The Manhattan Institute
Robby Soave – Assoc Editor, Reason Foundation
Gary Forward – Asst Chief, Santa Fe Independent School District
James Norman – Board Pres, Santa Fe Independent School District
Leigh Wall EdD – Superintendent, Santa Fe Independent School District
Pam Wells EdD – Exec Dir, Region 4 ESC
Register to attend SXSW EDU, March 4-7, to discover what's shaping the future of education!
Jeb Bush, Laura Meckler, Edward Ssebukyu, Kafi Kumasi, Stayton Bonner, and Margaret Hoover.