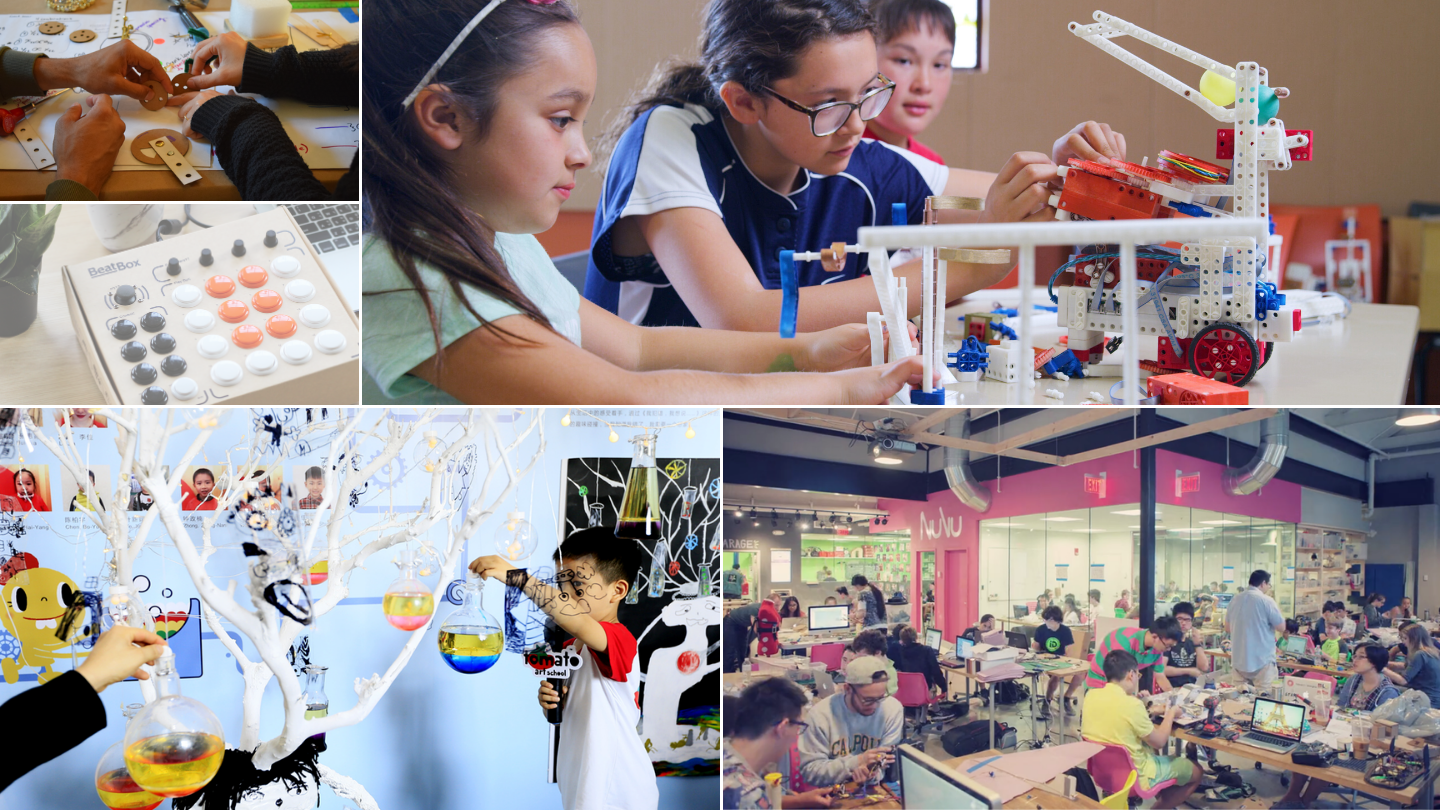 The Expo is a nexus for discovery and innovation during SXSW EDU. It is a physical manifestation of the programming that takes place during the week with similar themes reflected throughout. The dynamic show floor has become a hallmark with a discovery-based learning Playground, short-form programming, stand-out exhibitors, and networking.
The Expo will be open Monday, March 9 - Wednesday, March 11 from 9:00am - 4:00pm. With early hours, the Expo is a starting point for attendees since a majority of programming begins later in the morning. New for 2020, the keynotes will be simulcasted on the Playground and Next stages in the Expo.
With that, we are excited to announce an initial look at the 2020 SXSW EDU Expo including selected Playground displays, startups, networking events, and more!
Playground
The Playground is a unique area within the larger Expo that features talks, hands on sessions, and displays. This space is a pivotal area that brings to life bold and creative approaches to learning. The 2020 Playground will feature thirty-two displays, as well as daily talks and hands on sessions.
Startup Village
Startup energy is vibrant throughout SXSW EDU but it's particularly potent within the Expo. The 2020 Startup Village is in partnership with AWS and AT&T and will feature 50 early-stage companies from all over the world.
Authess (Boston, MA)
Arckit (Dublin, Ireland)
BibliU (London, United Kingdom)
Boddle Learning (Kansas City, MO)
CapSource Education (Brooklyn, NY)
ClassHook (Brooklyn, NY)
Cogniss (Chippendale, Australia)
Cognitive ToyBox (Brooklyn, NY)
Couragion (Denver, CO)
Create & Learn (Palo Alto, CA)
Dynos.io (Oklahoma City, OK)
Eduspire Solutions (Southeastern, PA)
eLumin (McLean, VA)
Ecree (Durham, NC)
FamilyBookForm (North Bondi, Australia)
Hive Digital Minds (Greenwood Village, CO)
Hypocampus (Västra Götaland, Sweden)
Immersed Games (Buffalo, NY)
Inspired Futures AI (Enumclaw, WA)
Knack Technologies (Tampa, FL)
Paperpile (Cambridge, MA)
Pitchboy (New York, NY)
PlayPosit (Galesville, MD)
Presentr (New York, NY)
ROYBI (Mountain View, CA)
SaltyCloud, (Austin, TX)
Sense Education (New York, NY)
Sibme (Houston, TX)
Sidekick Education (Madison, WI)
Sown to Grow (Oakland, CA)
Spelling Shed (Worcestershire, United Kingdom)
Substantial Classrooms, (Oakland, CA)
Team WeThrive (New York, NY)
Unruly Studios (Boston, MA)
UPchieve (Brooklyn, NY)
UR TURN (Minneapolis, MN)
Van Robotics (Columbia, SC
Via TRM (Boulder, CO)
Weird Enough Productions (Lithonia, GA)
Words Liive (Washington, DC)
Exhibitors
Established organizations including publishers, universities, non-profits, and advocacy groups cover the Expo show floor. These organizations embody what's next and new in education.
Next stage
The Next Stage features a powerful lineup of focused, high-energy talks. On Community Day, Wednesday, March 11, the Expo will be free and open to the public including local schools. During this day of the event, the NEXT Stage programming will offer largely student-perspective programming.
Meet Up Pavilion and Networking
The Expo is the largest gathering place at SXSW EDU and as such, plays host to a range of networking events. Coffee breaks in the morning and snack breaks in the afternoon will offer attendees a break from the busy day with complimentary refreshments. The Meet Up Pavilion provides an informal atmosphere for topic-based networking events.
Mindfulnesss Pavilion
The Mindfulness Pavilion is a destination for a mindful moment during SXSW EDU. The space will feature a variety of activities for attendees to participate in such as meditation and no sweat yoga.
Join Us this March
Learn more about the SXSW EDU Expo and be sure to add the programming and events listed above to your schedule for March! Register to attend SXSW EDU through Friday, January 17 to save $110 on the walk-up rate.
SXSW EDU 2020 Playground Displays (l-r, t-b) Maker Ed, Revolution Robotics Foundation, Rhythmo, Tomato Art School, and NuVu Studio.